A quick whisk, a little mix, roll, cut, bake and you have the easiest chocolate sprinkle cookies ready! Pour some milk and enjoy every little crumb of it. It's one of those cookies that you can bake with your toddler. It doesn't require too many tricky steps to put it all together. So, this Mother's Day, if you are looking for some kind of baking activity with your kid, these cookies could do the magic.
There was a time when weekends were about relaxing and taking it slow. Then, our baby boy grew up into a hyperactive toddler and weekends got packed! There are either errands to run, places to visit or things to do. Our little fella wants an agenda every day. I can't even imagine how crazy it will get once all these activity classes start. It's a good thing he shows interest in the kitchen because this is my kind of fun activity. Watching him get involved and put his game face on is just so adorable.
Last Saturday, Arvind had to go to work for the entire day and night. So, keeping Avyan entertained and answering his thousand questions was quite a task. We started with a little bit of gardening, followed by painting and then, he then helped me cook pasta. He then suddenly remembered that I had promised him we would bake cookies together. The boy doesn't forget!
The cookies turned out so good. It was crumbly, tasting almost like a fudgy brownie. The sprinkles were Avyan's idea, which I think added a playful character. Just remember to not over mix the dough.
In the process of photographing the Chocolate Sprinkle Cookies, he had a little too many bites, which then followed by monkey dance for the next 40 minutes. Oh boy, Saturday was so busy and this little fella didn't even get tired. It is exhausting but I push myself to do these things with him because I know that soon a phase will come when he would probably prefer hanging out with friends than with Mumma.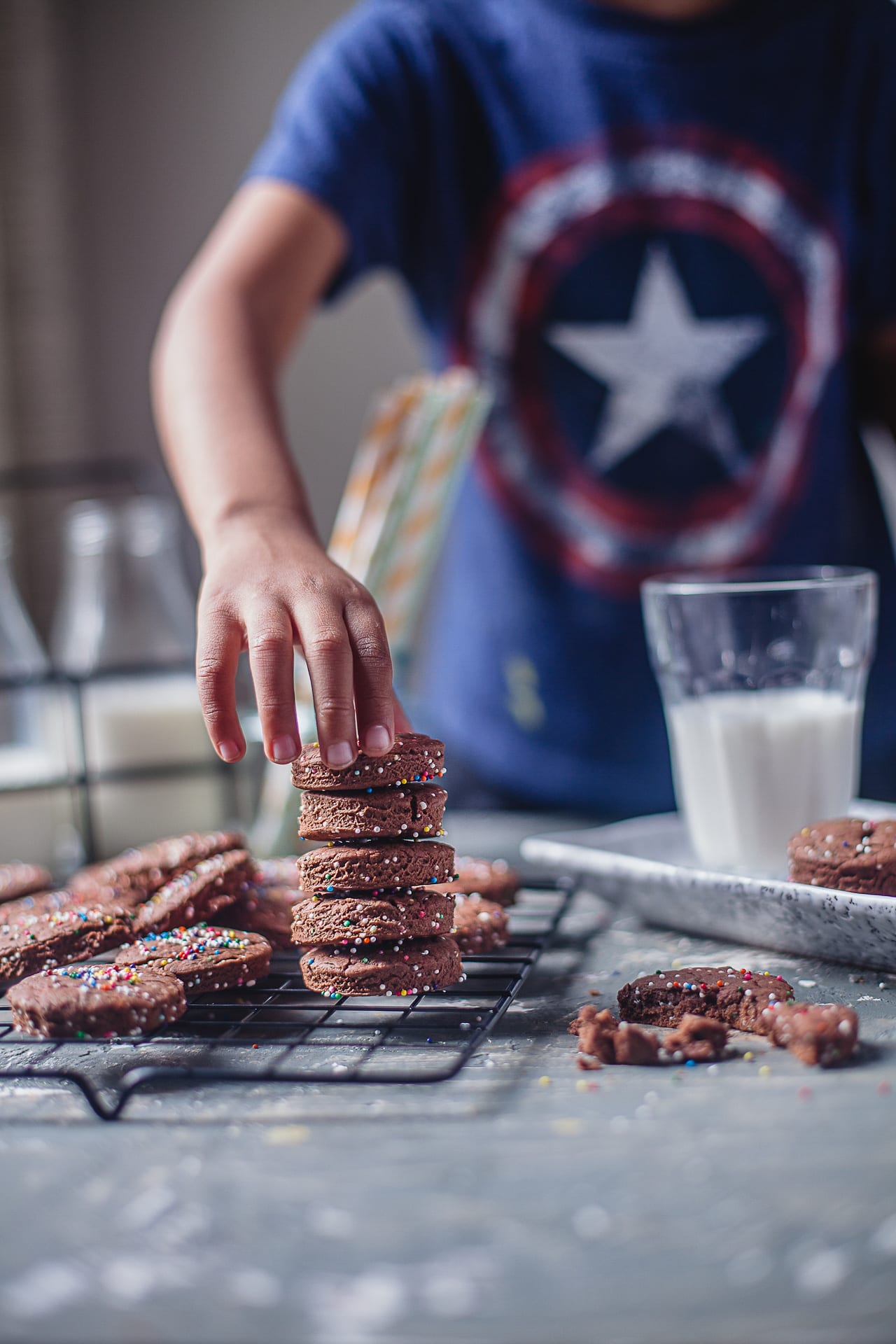 Chocolate Sprinkle Cookies
Yield: 25 cookies

Prep Time: 10 minutes

Cook Time: 15 minutes

Total Time: 25 minutes
Ingredients
Ingredients:
½ cup unsalted butter
¾ cup powdered sugar
1½ cup all-purpose flour
1 teaspoon baking powder
4 tablespoons cocoa powder
¼ cup rainbow sprinkles plus more to sprinkle on top before baking
¼ cup milk
Instructions
Using a stand mixer or an electric hand mixer, whisk the butter to a smooth texture. Add the powdered sugar and whisk it again to form a smooth consistency.
Next, sift the flour, baking powder and cocoa powder into the butter mixture. Add the sprinkles and using a paddle attachment, mix it all together to form a crumb like texture.
Pour the milk and give it another mix. Then, form a dough using your hand. If you are having a tough time forming the dough, add a little more milk. Cover the dough in clear wrap and leave it in the refrigerator for 30 minutes.
After 30 minutes, preheat the oven to 350F and layer a cookie sheet with parchment paper.
Take the dough out of the clear wrap and place in on a parchment paper. Roll it into a thin layer. Cut in your desired shape. Place it on the cookie sheet and then, add more sprinkles on top. Bake for 15 minutes.
Let the cookies cool down completely on a cookie wire rack before you store it in a jar.
Did you enjoy this Chocolate Sprinkle Cookies? Share your creation by tagging
@playfulcooking
on Instagram with the #playfulcooking and I will re-share in my story!