Working from home can easily get you into this habit of munching something every now and then. Although I don't normally get any salt/sugar attack, but we all go through unexplained days of craving. I reach for the bowl of fruits and then slowly switch to the pantry looking for some salty bite like chips! Earlier this week, I had one such day and randomly decided to try baking chips instead. I read a lot about baked potato chips, even drooled at several pictures. So, I went ahead and gave it a try. Garam Masala Baked Potato Chips, earthy, warm and so crispy! We had sandwich for dinner and these chips paired perfectly.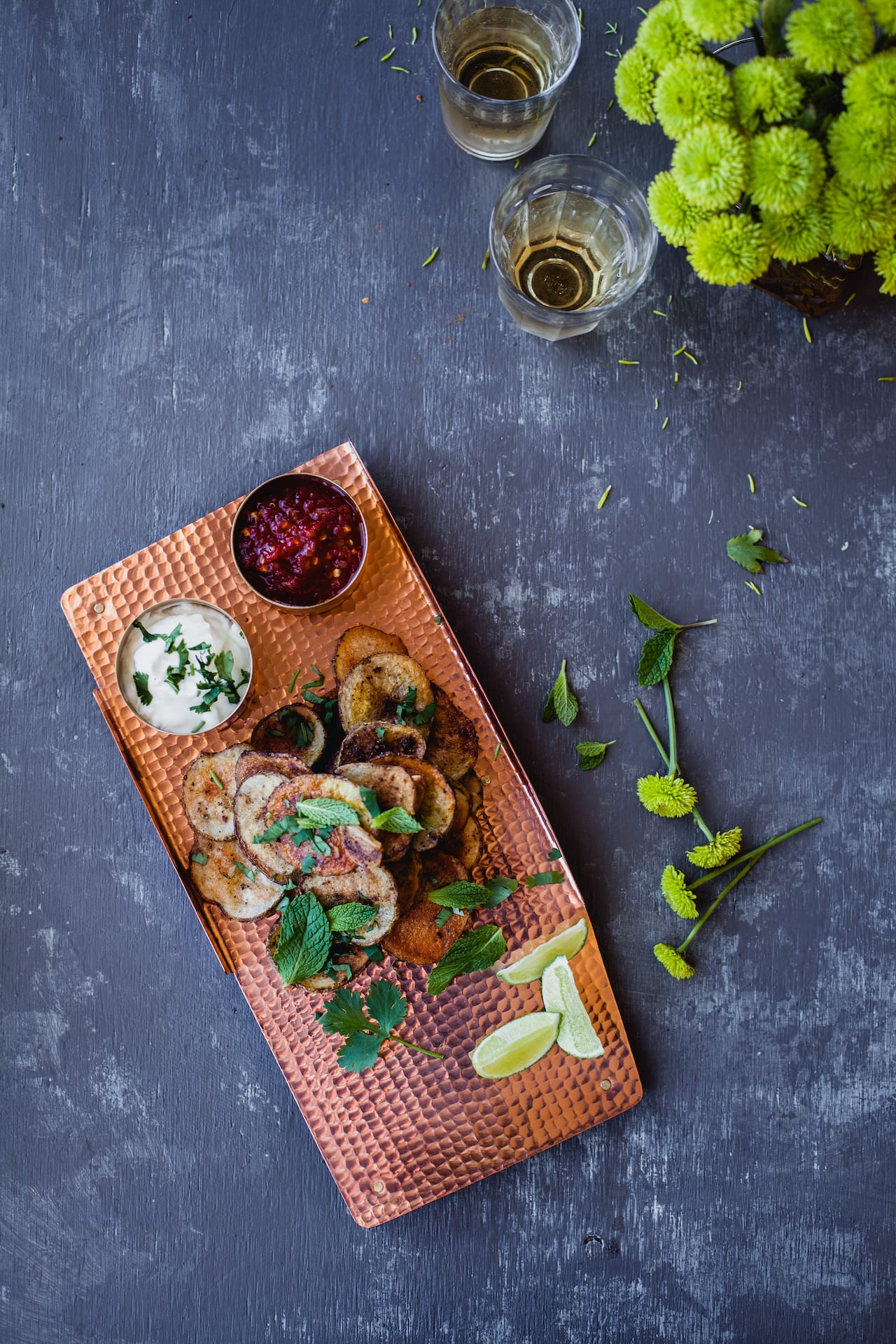 I still remember those simple days when potato chips were just potato chips. Well, now it's all about the flavor. Garam Masala is a common Indian spice blend. These days, it's quite easily available in any store. You could also make it at home. However, if you are looking for a substitute, you could use allspice. Although the flavor won't match exactly, it is closest that I could think of!
Potato chips have never been on the top of my snack list. But if I see a bowl of chips, crispy and salty, I can't stop reaching for the bowl. I keep munching back to back, like an addiction. I have heard that potato chips do that to many people. Like it has some kind of magic spell hidden in that puffed bag and as soon as you open the bag, the spell hits you. These garam masala baked potato chips stayed crunchy for a couple of days and that way, I had some guilt free munches for the next two days.
Since the potato chips flavor is essentially Indian, I couldn't think of any other serving platter than this gorgeous copper platter. I had received it some time back from Coppre. Thank a lot to you guys! They have such stunning collection of traditional products with a modern craftsmanship, it's gorgeous! When I don't serve food on this beautiful copper platter, I place it on our TV stand as a décor piece with some flowers. It is way too pretty to hide inside.
Garam Masala Baked Potato Chips
Ingredients
2

large potatoes

2

tablespoons

melted butter

2

tablespoons

garam masala powder

1

tablespoon

salt

3

garlic cloves

(thinly sliced)
Instructions
Preheat the oven to 400F.

Wash the potatoes and pat dry using a kitchen towel.

Using a sharp knife or mandolin slicer, thinly slice the potatoes.

Drop it into a mixing bowl and top it with garam masala powder, salt, butter and garlic cloves.

Mix it nicely so that every slice of potato is coated with the mixture.

Finally, layer it on a baking tray and bake for 20 to 25 minutes or until it's golden brown on top.
Nutrition