Living in US for the past few years got me into this routine of preparing food with various kind of grains and cheeses. Ingredients like couscous, polenta, quinoa or fresh mozzarella became a part of our daily diet. As much as I love Indian food, both cooking and eating, every now and then I need to expand my palate with something different, something that I didn't grow up eating.
In India, these ingredients are not easily available and even if you successfully find it in some gourmet store, it just hurts your pocket. Hence, we can't make it our everyday meal but occasionally, I like to go back to those dishes.
Few weekends back, we visited one such gourmet store - Foodhall. Got super thrilled to find some of the stuff that we have been missing for a while now. So we came back home with bag, full of delicious goodies. Amongst other things in the bag, there were some beautiful bright green tomatillos. Now that's something I didn't try before and didn't exactly know what to do, except maybe a salsa. So, a couple of tomatillos were used for that and the rest ended up as a tangy sauce for the couscous salad.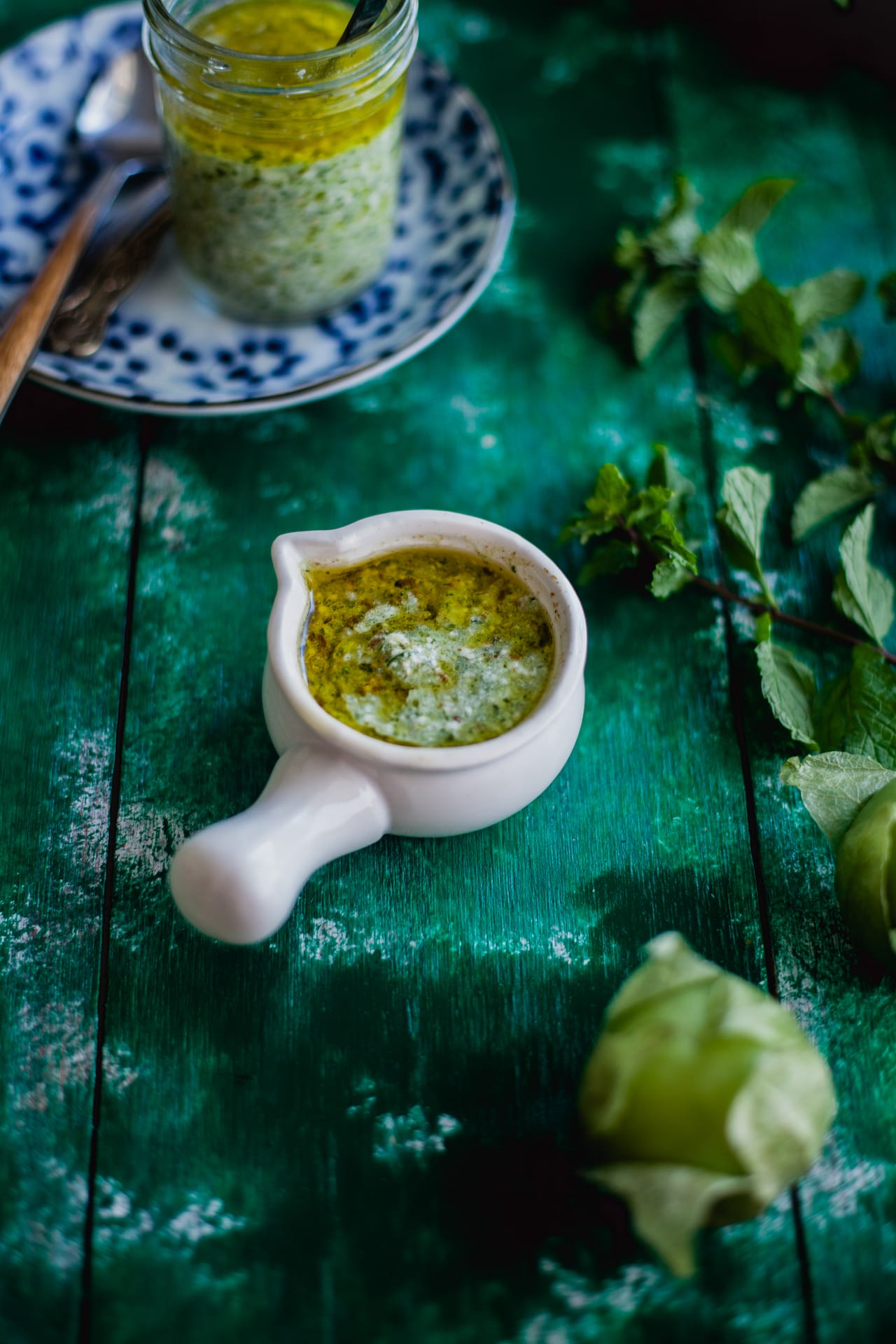 I absolutely enjoy making couscous salad. It's always quick, easy to prepare and works as a perfect vehicle to carry the flavor of your choice. This time, I added some fruits like mangoes and grapes, cucumbers for the crunch and couple handful of roughly chopped cilantro for the aroma and color. One doesn't need an approximate measurement for a dish such as this. Just trust your taste buds and go with what it asks for.
Couscous salad is best prepared in advance. A couple hours of resting time blends the flavor beautifully, making it tastier.
Fruity Couscous Salad With Tomatillo Sauce
Ingredients
for tomatillo sauce
3

medium size tomatillos

(roughly chopped)

2

green chilies

(roughly chopped)

¼

cup

fresh mint

(roughly chopped)

¼

cup

yogurt

¼

cup

extra virgin olive oil

salt

pepper
for the salad
1-

cup

couscous

2

cucumbers cut into bite size

2

mangoes cut into bite size

1

cup

green grapes

(roughly chopped)

big bunch of cilantro

(roughly chopped)
Instructions
for tomatillo sauce
Add everything in blender, give it a mix and the sauce is ready. Season with salt and pepper.
for the salad
In a saucepan, boil 1-¼ cup of water with ½-tablespoon salt.

Once the water is boiled, drop the couscous, turn off the heat and cover the saucepan. Let it rest for 5 minutes.

Once done, fluff it with a fork and pour it in a salad bowl. Now, add chopped cucumber, mangoes and grapes. Feel free to add any other veggie or fruit of your choice. Pour the sauce and give it a good mix. Finally, add the roughly chopped cilantro and give another mix. Taste for salt and add any, if required.

Serve immediately or allow it to rest for couple hours for the flavor to blend better.
Nutrition