For the past few days, it's been warm, sunny and no rain 🙂 I bet everybody in this part of the world is wondering where's the winter gone ? Most of my friends love the winter, it's cold, cozy and not sweaty. However, I can't wait for spring and summer. I can have more lemonades, wear summer clothes, go out for walk and enjoy cocktails even on weekdays 🙂
Fish is one of my favorite non-vegetarian dish. I like them fried, smoked, grilled, in curry, without curry, you got the message! 😀 So, why did I jump from warm weather to cocktail to fish ? Because, today I am sharing with you a spicy fish fry which goes perfectly with cocktails or even without cocktails! This dish is not entirely my idea. My very good friend Deepa shared her fish fry recipe with me and I gave my own twist to it. To the fish fry, I also added some fried crispy plantain and the combination was amazing!
Sharing this dish with Full Plate Thursday, Recipe Swap Thursday, Anyone can Cook , Frugal Food Thursday, It's a Keeper Thursday, What's Cooking Thursday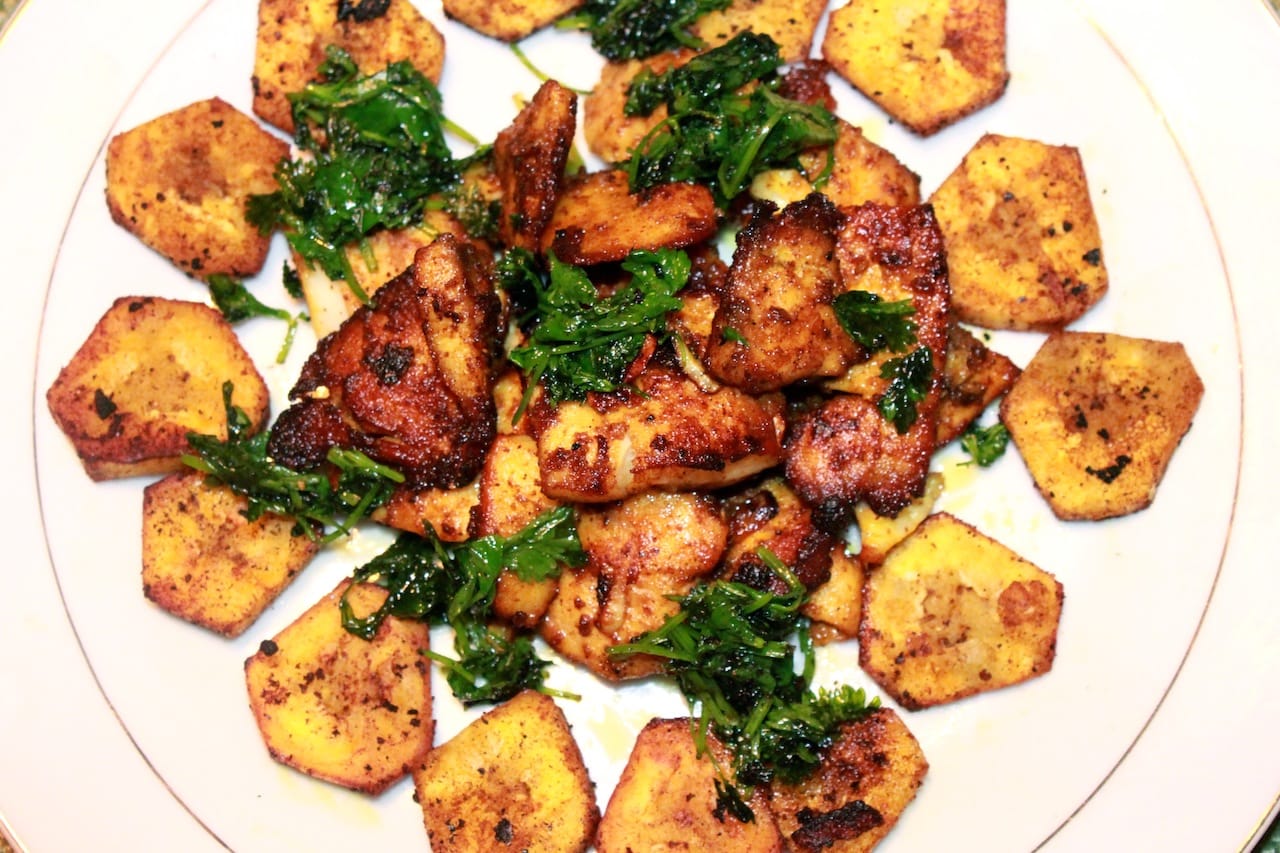 Fish Fried with Crispy Plantain
Ingredients
2

Fish Fillet

(I used Tilapia)

1

Plantain

2

cloves

garlic

1

tbs

cumin powder

1

tbs

coriander powder

1

tbs

chilly powder

1

tbs

pepper powder

1

tbs

lemon juice

2

cup

cilantro

(roughly chopped in big size)

1

tbs

mango powder

(amchur)

salt

oil
Instructions
Cut the fishes fillet into 1 inch cubes (If you don't get fish fillet, no worries.. Use any fish you get and just cut them in small bite size pieces)

Peel the plantain, and cut them in thin circular shape

Finely chop the garlic

In a big bowl marinade the fish and the plantain with garlic, cumin powder, coriander powder, chilly powder, pepper powder and lemon juice.

Let it marinade for at least 20 minutes.

In a pan heat 3 spoon oil and fry the fishes in low heat. It should take about a minute or two on each side.

Next, fry the plantains. While frying the plantains, throw a pinch of mango powder from top. Mix it properly with the plantains

Arrange the fried fish and the crispy plantain in your serving plate.

In the same pan, drop the cilantro and fry for just a minute. Add it on the serving plate as a garnish.
Nutrition