I must confess, beans were not my favorite thing to eat or cook with, it never were but then with time, I changed, my palate improved and these days I look for newer ways to prepare beans. Not that I have gone head over heals for it but beans have definitely established a space in my pantry. People say beans are comforting, I don't deny that and it fills the home with warmth as it slowly cooks with the spices or herbs. Sure it does, but I like them crunchy, not saucy and almost always, I prefer them light, on salad or on taco, as in this case.

This is my take on a taco recipe with a hint of Indian flavor. The recipe was built accidently one dull evening as I ran out of dinner ideas and decided to try the lonely unloved can of Lima beans that was hiding at the back of the pantry. The flavor mishmash of mustard seeds with fresh curry leaves always works for me and it worked that day too. I threw in some roughly chopped tilapia fish to make it more filling and to my surprise, it made an absolutely delicious meal that we savored with roti and daal.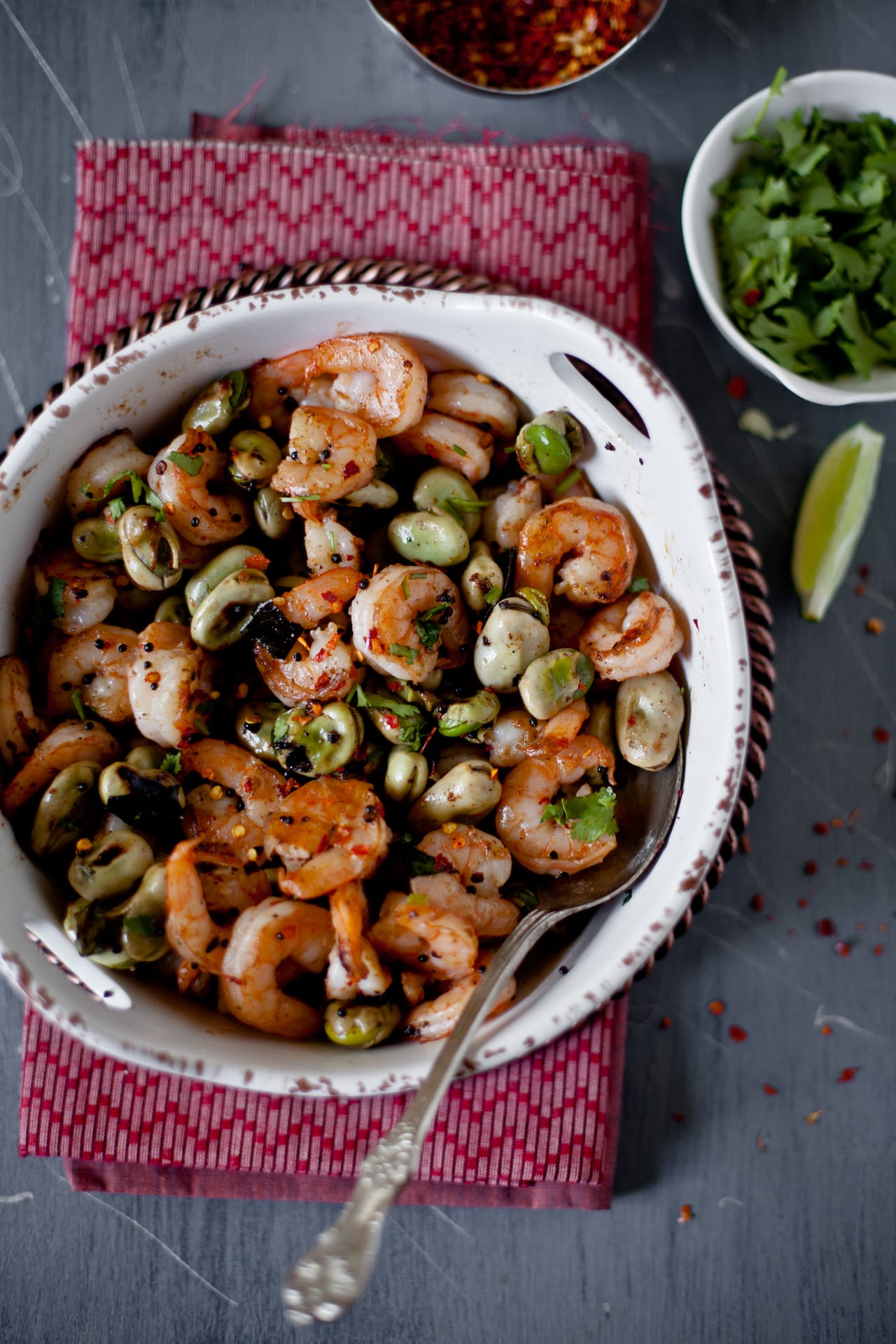 This time, I decided to revise the same dish with fresh fava beans, sautéed shrimp and wrap it on corn tortilla. And since a taco is unfinished without a sauce, a spicy mustard sriracha aioli sounded much suitable. The dish had texture, robust flavor and a hint of spice. There was the crunch from the shrimp, the creaminess from the fresh beans and the spiciness from the velvety aioli.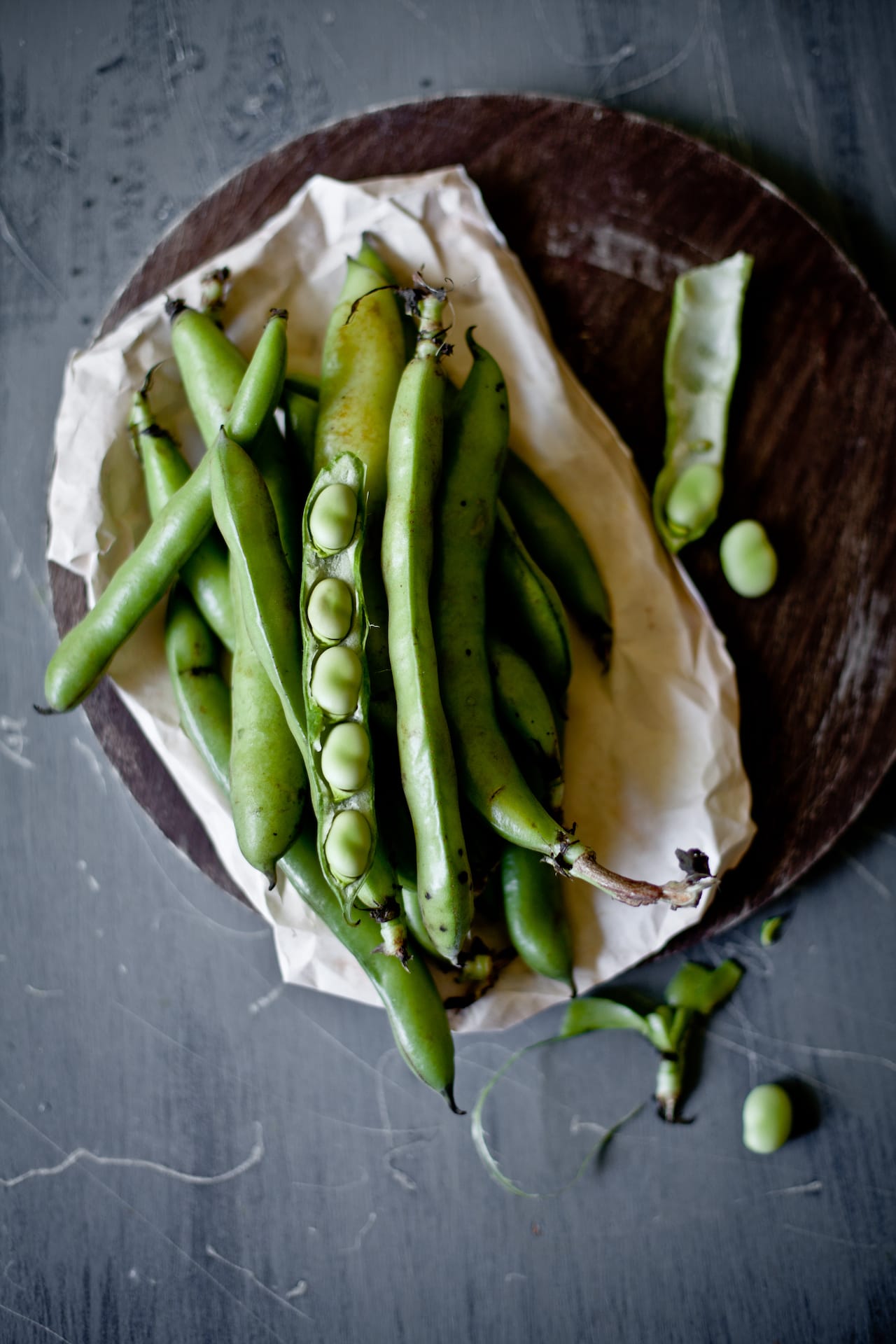 It may look like a lot of work but it's actually not. Shelling fava beans and cleaning the shrimp might be the only hard work involved in this dish. I do agree that fava beans shells are not as soft as fresh pea shells which can be a tad bit frustrating at times. But if you have a helping hand, it can be fun too. Having that said, if you want it quicker and less hassle free, just go ahead and try with can beans and roughly chopped fish fillet, like I did before. Either way, it's a great light meal whether you wrap it on tortilla or spread on a slice of crusty bread.
Fava Beans And Shrimp Taco With Mustard Sriracha Aioli
Ingredients
for the mustard sriracha aioli
2

egg yolks

2

garlic cloves

zest of one lemon

juice of ½ lemon

1

cup

extra virgin olive oil

2

tablespoons

dijon mustard

2

tablespoons

sriracha chili sauce

salt

pepper
for the shrimp and beans
1-½

cup

shelled fava beans

½

pound

shrimp

(clean and shells removed)

½

tablespoon

mustard seeds

6 to 7

fresh curry leaves

1

teaspoon

chili flakes

oil

salt
few other ingredients
tortillas

(I used corn)

finely chopped cabbage

finely chopped cilantro

lime wedges
Instructions
To make the aioli
Put everything (except olive oil) in a food processor and mix until it looks foamy. It will take about 2 minutes.

Now, run the food processor, pour olive oil from top and continue mixing until it looks thick and creamy. Check for salt and add more, if required. Store it in an airtight jar.
To make the fava beans and shrimp taco
Bring a large pot of salted water to boil and keep a bowl of ice water ready. Add the beans and boil for about 3 minutes. Drain the boiled beans and immediately throw the beans in the ice water for about two minutes. Drain the beans and remove the skin if the beans are not very small.

In a pan, heat 2 tablespoons of oil. Add mustard seeds and curry leaves, allow it to infuse for 30 seconds. Drop beans and give it a stir. Cook for 2 minutes and then add shrimp. Stir it, add a pinch of salt and chili flakes. Cook for about 5 minutes or until the shrimp turns pink in color and curls up.

Finally, grill or warm the corn tortillas. Spread a little bit of the aioli on it, top it with bean and shrimp, finely chopped cabbage, finely chopped cilantro and squeeze some lime juice. Serve.
Notes
I didn't peel all the beans as some were tender and some had rough shells. However, while eating I felt that it would have been better to peel all the beans.
Nutrition