Slam Books.. remember??? 🙂 I think we all remember the fun that we had in creating and sharing the slam book. I used all those different designs, colors and stickers on my slam book to make it look the best. Then, I would crack my head to come up with questions to put in that slam book, only to realize that most of us have the same questions for me too 😀
Questions like favorite color, favorite actor, and many more such 'favorites' and one of them was favorite food/cuisines. And most of us would have a common answer to that.. Chinese. Yes, we all loved Chinese food! I still feel that we Indians just adore Chinese food and in India, you can find at least one Chinese restaurant in every seven mile radius. Although, there are other cuisines as well but somehow, Chinese food has made a special place in our heart.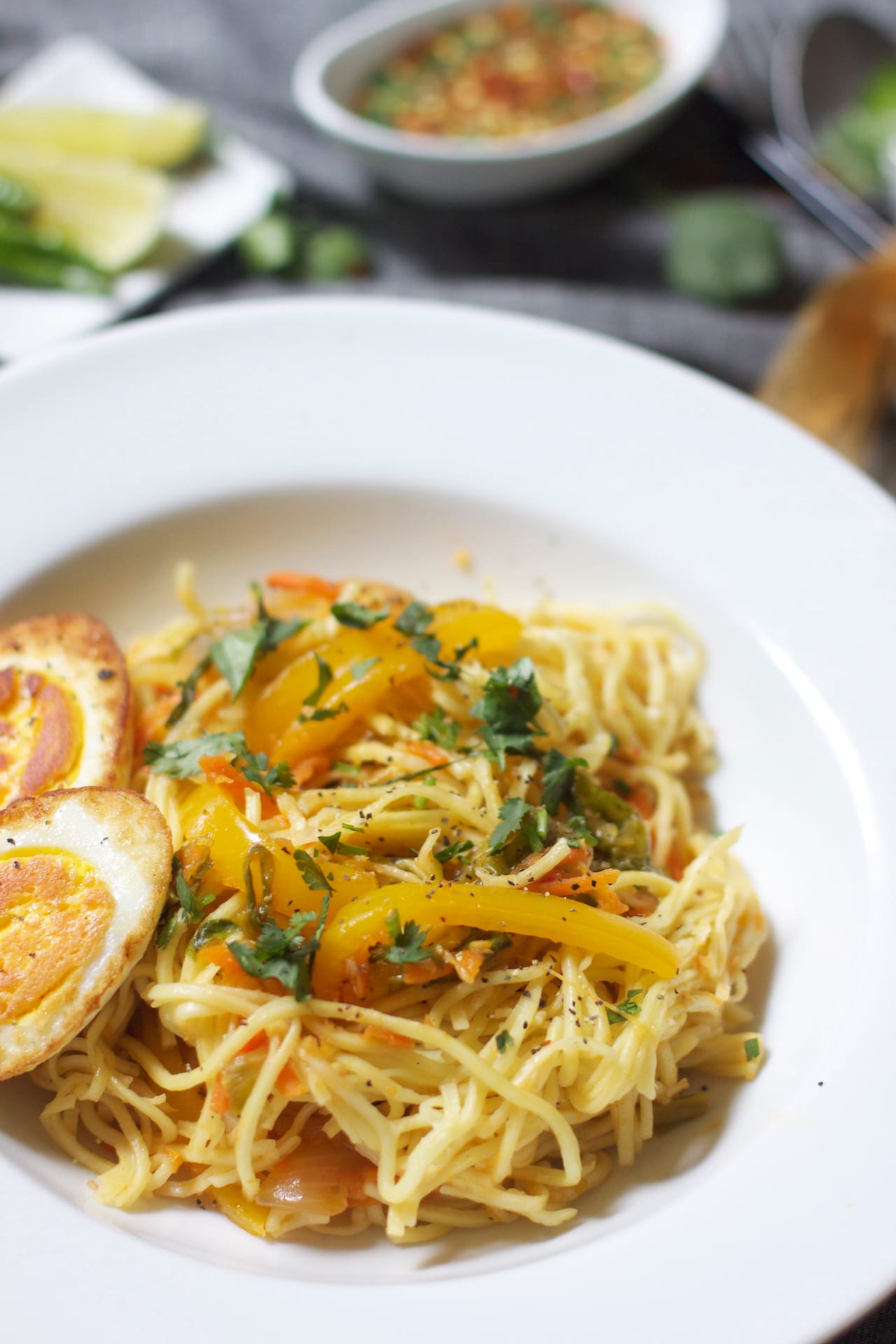 Even though I am saying Chinese, the restaurants in India mostly make Indo-Chinese dishes.. with tons of flavor. When I traveled to Beijing for the first time, that's when I realized how different authentic Chinese dishes are and they both are amazing in their own way. Hakka Noodles is one of the most popular Indo-Chinese dish that you will find in every Chinese restaurant in India and it tastes so very comforting.
An interesting fact that I learnt from internet today: Hakka is the term that refers to a certain community in China, who are basically settled in the province of Fujian. These people are very conservative and simple. A wide number of people moved to remote parts of the world to seek opportunities, established themselves and thus, lead to the spreading of Hakka culture, tradition and cuisine. First Hakka settlement started in Calcutta and that popularized this type of cuisine giving it an Indian touch and thus, it lead to the beginning of "Indo-Chinese" version of these dishes.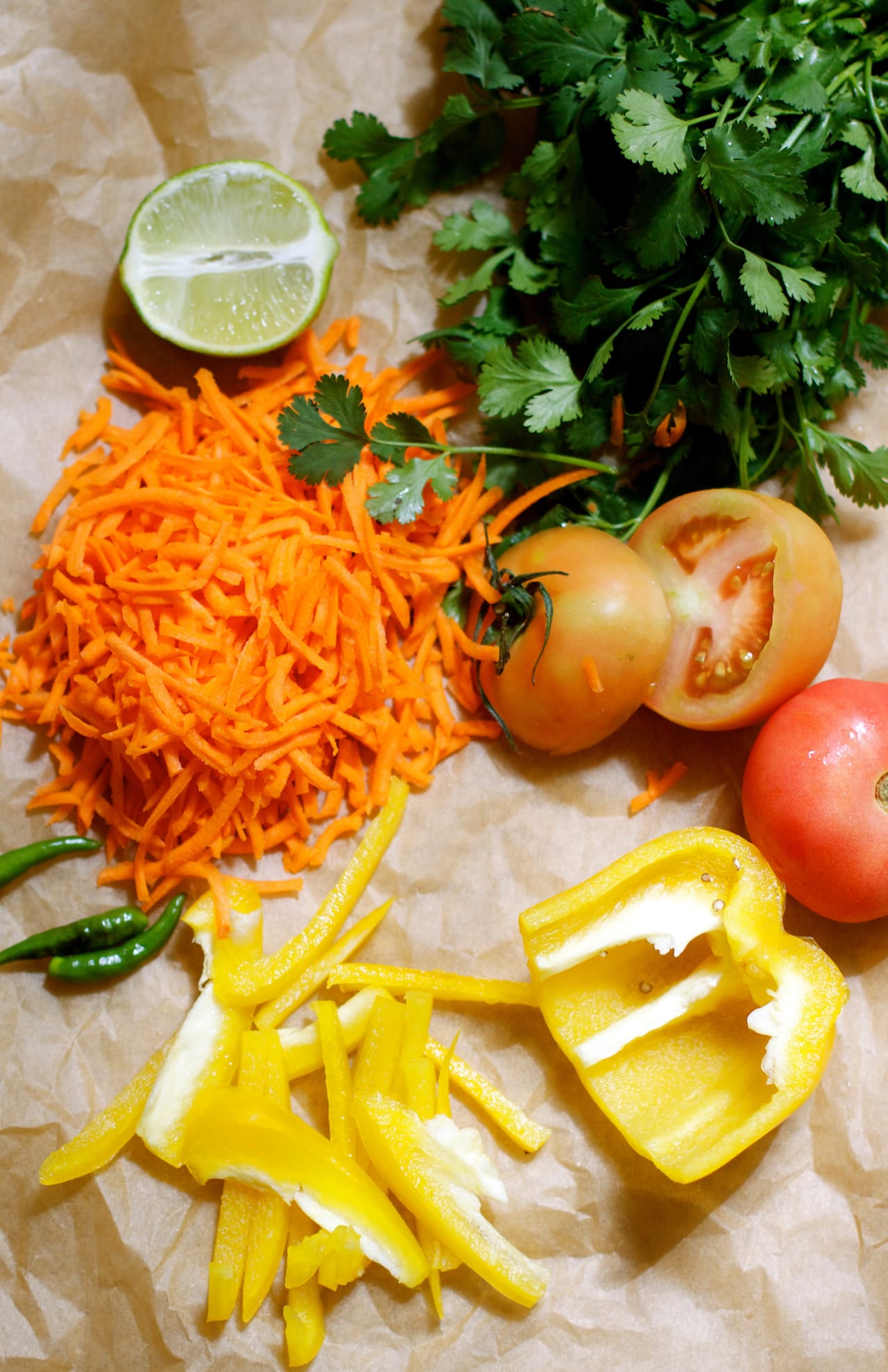 It's a quick and easy dish to make and you don't really need any side dish with it : ) I used egg noodles and because I love egg so much, I used  hard-boil eggs too.
Egg Hakka Noodle
Ingredients
2

packets hakka noodles

(I used egg noodles but you can find other varieties in any Indian or Chinese store)

2

cups

shredded green cabbage

1

big onion

(thinly sliced)

2

carrots

(grated or cut into very thin slices)

2

bell peppers

(thinly sliced)

2

medium tomatoes

2

large hard-boiled eggs

4

cloves

garlic

1

tbs

finely grated ginger

2

green chillies

(finely chopped)

juice of half a lime

1

tbs

dark soya sauce

1 ½

tbs

sambal oelek chili paste

1

teaspoon

sugar

½

cup

finely chopped cilantro

(for garnish)

salt

pepper

oil
Instructions
Using a food processor, grate tomatoes, ginger, garlic and chopped chillies.

Once done, pour it in a bowl and mix lime juice and chili paste to it. Keep it aside.

Cut the hard-boiled egg in half and fry it in a pan with some oil. It will take about 3 minutes on each side. Once done, keep it aside as well.

In a wok, heat some oil and add the sliced onion. Season with some salt and pepper. Cook until it's golden brown.

Add the carrots, bell pepper and cabbage and then, cook for another 10 minutes.

Add the tomato mixture, that you had made earlier, to the wok.

Pour soya sauce, sugar and mix properly. Let it cook for another 5 minutes.

In the mean time, boil the noodles in some hot water with some salt and few drops of oil. It should take a max of 3 to 4 minutes to boil them to a perfect texture.

Drain the noodles and add it to the wok .

Mix it properly, check for salt and add if required.

Pour it in your plate, place the fried eggs on the side and garnish it with some chopped cilantro.
Nutrition