If I have to ever choose one dish that I cannot stay without, it would be a tough question to answer. However, if you ask me to pick one thing that I love the most and can eat everyday, that would be none other than humble potatoes. Mash it, sauté it, put it in soup, salad or curry. Deep fry it, bake it or give it any cut you like and I would always eat it with a smile.
Potatoes are used a lot in Indian cuisine and this is one of my favorite curries where potatoes just don't work as a thickening agent or as an ingredient to add starch. This is a dish where tiny potatoes rule like a king.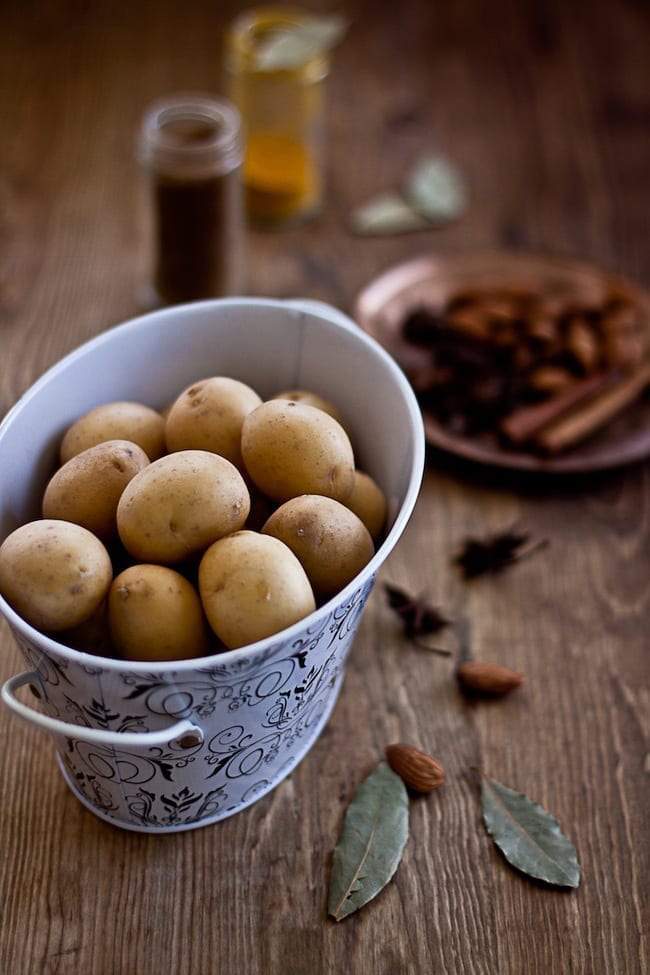 In Hindi, Dum means pressure and Aalu means potatoes which would give you an idea how this dish must be prepared. There are probably hundred different ways to prepare dum aalu but the basic concept remains the same. Typically, bite size potatoes are fried and then slow cooked in yogurt gravy which is flavored with spices.
The original recipe called for cashew nuts. Since I didn't have any, I chose almond.
Even though I had always preferred the less spicy Bengali dum aalu, this version is my current favorite after I tried it at my friend's place. It wowed me at the very first bite and I had to ask her for the recipe. Later she told me that it's her dad's recipe. Her Dad occasionally enjoys spending time in the kitchen and whenever he does, he prefers making something special other than the original. I think that's really sweet.
Today I am sharing this recipe to this month's Monthly Mingle hosted over at Jeanne's of Cooksister. The theme is ' A Taste of Yellow' – A tribute to Barbara Harris. Barbara, who used to write for the blog Winos and Foodies, lost her long battle with cancer on June 29th.
I didn't know Barbara or her blog and I felt horrible to miss the opportunity I had to get to know a wonderful woman. Barbara was a strong woman and through her words, she has touched many souls, gave courage to fight and asked people to never to give up. LiveStrong with a Taste of Yellow was an event she started in 2007 coinciding with Lance Armstrong's LIVEStrong day to raise awareness of cancer.
Yellow is the color of joy, hope, and sunshine. It is also considered as the happiest color in the color spectrum.
I feel so proud to be a part of the blogging community where we not only share happiness and success but we also share memories and moments. I am glad that I didn't miss this event and got an opportunity to be a part of the tribute we are showing to Barbara Harris.
Dum Aalu
Ingredients
16

small potatoes

(parboiled in salted water)

2

bay leaves

1

cinnamon stick

1

star anise

1

medium onion chopped small

1

inch

ginger grated

2-3

garlic cloves grated

1

cup

yogurt

1

teaspoon

cumin powder

1

tablespoon

coriander powder

¼

teaspoon

turmeric

½

teaspoon

chili powder

¼

teaspoon

garam masala powder

¼

cup

cream

(optional)

4

tablespoon

oil

salt

8-10

almond soaked in water for 2hrs

chopped cilantro for garnish
Instructions
Grind soaked almonds into a fine paste using a little water.

Heat a wok on a deep pan with 2 tablespoon oil.

Fry the parboiled potatoes until they gets a slightly golden crust on the outside.

Once done, take out the potatoes and keep aside.

Add remaining oil to the pan.

Add bay leaves, cinnamon stick and star anise to the hot oil and let it infuse the oil for couple of minutes.

Add chopped onions, ginger and garlic.

Season with salt and saute for about 5 mins or until the onions are slightly golden in color.

In the mean time, mix turmeric, chili powder, cumin and coriander powder to the yogurt.

Add the yogurt-spice mixture to the pan and cook for about 2 mins.

Add the almond paste and cook until oil separates which should take about 7 to 10 minutes. Keep stirring in between.

Add water for the consistency of your liking.

Let is come to a boil and then add the fried potatoes.

Cook until the gravy is a little thick.

Add the cream and let it cook for a couple of minutes.

Once done, garnish with chopped cilantro and serve.
Notes
The original recipe called for cashew but since I had none, I used almond.
Cream was added to the dish at the end but it is optional.
As the dish sits for the while, the potatoes may soak more water. If I am not serving it immediately, I prefer to keep the gravy little runny.
Nutrition