Achari Gobi is a unique North Indian cauliflower curry prepared in pickled sauce. The taste is tangy, spice filled with robust flavor. Achari meaning pickled and Gobi meaning cauliflower, is a quick 30 minutes meal. It goes very well with rice or Indian flat bread. I find cauliflower not only easy to cook but also one of those veggies which can help you get creative and stay healthy.
How to prepare the pickling sauce for the Achari Gobi?
The key ingredient for this Achari gobi is the achari masala or the pickling spice mix. Once you have that handy, you can use to make the same curry using chicken/ paneer or tofu. You can even use the same spice mix to prepare your stew or lentil soup.
The achari masala needs only five whole spices:
Dry red chili – Use kashmiri red chili as it will give the gorgeous red hue instead of making it super spicy.
Fenugreek Seeds
Nigella seeds
Mustard Seeds
Cumin Seeds
All these spices are dry roasted and then blend into spice powder. This spice blend is then mixed with fresh lemon juice to prepare the pickling sauce that is added while preparing the curry.
How to prepare this Achari Gobi Recipe?
It's a very simple curry to prepare which takes about 30 minutes to prepare.
Prepare the spice powder and mix fresh lemon juice to it.
The bite size cauliflower florets are first stir fried in little oil and taken off the pan.
Then in the same pan, few whole spices (mustard seeds, nigella seeds and cinnamon sticks) are added. Followed by garlic, ginger and onion.
Then goest the pickling sauce and tomato puree. I like to use tomato puree (preferably canned) instead of fresh chopped tomato only because the canned tomato puree always gives the more gorgeous red hue to the curry.
Finally stir fried cauliflower florets are added and simmered for a while.
Because it's achari gobi which means you want the curry to have a refreshing tangy taste, I like to end it with little amount of plain yogurt. Finally few green chili and finely chopped cilantro leaves goes in.
The pickling spice used here is similar to what is normally used in every Indian home during summer to make multiple batches of pickles. It has a robust flavor, absolutely lip-smacking and helps elevating the palate. The mixture of the sauce with tomato puree gives a vibrant color to the curry, which I must say is very appealing.
So, on a dull weekday, when Friday seems far from reach, try this famous North Indian curry and let me know what you think of it.
Here are few other cauliflower recipes that you will love to try!
Achari Gobi – Cauliflower In Pickled Sauce
Yield: 4 people

Prep Time: 15 minutes

Cook Time: 30 minutes

Total Time: 45 minutes

Achari Gobi is a unique North Indian cauliflower curry prepared in pickled sauce. The taste is tangy, spice filled with robust flavor.
Ingredients
for the pickling sauce
3 dry red chili
1/2 teaspoon fenugreek
1/2 teaspoon nigella
1/2 teaspoon mustard seeds
1 teaspoon cumin seeds
2 tablespoons lemon juice
rest of the ingredients
1/2 teaspoon mustard seeds
1/2 teaspoon nigella seeds
1 inch cinnamon stick
bite size florets of 1 cauliflower
1 medium onion, thinly sliced
1/2 cup tomato puree or 1 tablespoon tomato paste
1 tablespoon freshly grated garlic and ginger
2 tablespoons plain yogurt
1 teaspoon sugar
few green chili
1/2 cup cilantro leaves, finely chopped
oil
salt
Instructions
for the pickling sauce
Dry roast the spices and then, grind it to dust.
Pour spice dust in a bowl and add lemon juice to it. Give a mix and keep it aside to be used later.
for achari gobi
In a pan, heat 2 tablespoons oil and sauté cauliflower florets with some salt, until they're half cooked. It should take about 10 minutes. Once done, take it out of the pan and keep it aside to be used later.
In the same pan, add 1 more tablespoon of oil. Heat oil and then add cinnamon stick, nigella seeds and mustard seeds. Let it sizzle for a couple of seconds to release the aroma.
Next, add garlic, ginger and sliced onions. Season with salt and give it a toss. Continue cooking until the onion gets softened.
Add the pickling spice that was kept aside and the tomato (puree or paste). Sprinkle the sugar. Let it cook in medium heat for 5 minutes or until the spices are cooked through. Once done you should see oil separating from the sides.
Pour 1 1/2 cup water, add the florets cover the pan and simmer for 5 minutes.
Switch off the heat, and add the yogurt, fresh chili and cilantro leaves. Toss everything and check for salt. Add any if needed.
Serve warm.
Notes
This curry can be made with any kind of meat or any other kind of vegetable as well.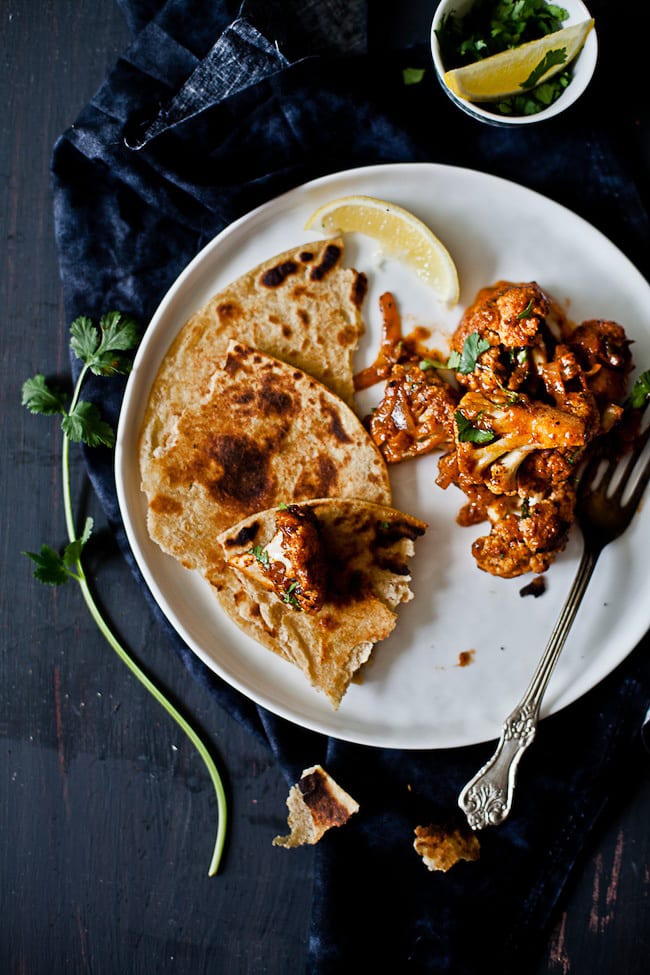 Did you enjoy this Achari Gobi? Share your creation by tagging
@playfulcooking
on Instagram with the #playfulcooking and I will re-share in my story!