I cannot imagine a day without milk. My morning starts with a masala milk tea and on some days, it ends with a cup of hot chocolate. But there are people who suffer from bloated stomach, headaches and pain after consuming any dairy product. Honestly speaking, I didn't know about all these different kind of diets like gluten free, vegan or dairy free until I started blogging and until I started reading about it. Their blogs are inspirational. They teach you to enjoy food without feeling restricted. One such blogger, who is also a very good friend of mine, is Leanne Vogel, the holistic nutritionist behind the healthy living blog Healthful Pursuit.
Leanne created a tool called Done with Dairy Toolkit and wanted to share it with my readers. She also made a dairy free sauce for you all. Time for me to shush up and hand it over to the gorgeous lady.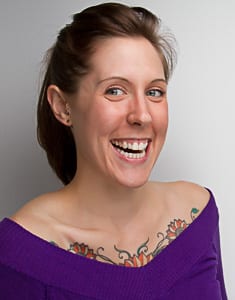 Hi Everybody! I'm so jazzed to be here on Sunshine and Smile sharing a recipe I've made specifically for you!
I can bet; if you're a living and breathing human like me, you likely don't have a lot of time to make dinner on        the weekdays. 20 minutes tops? Me too. I'm also guessing; seeing as you love Kankana's blog just as much as I do, than you love curry. Am I on a roll?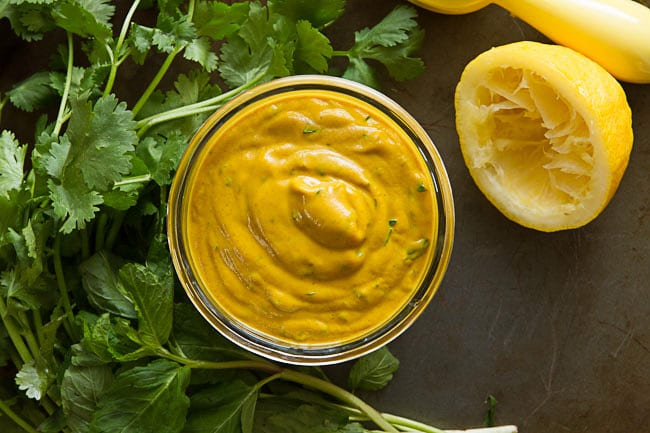 Since visiting India last year on a crazy self exploration trip of awesome, I've made a habit out of an eating an Indian-inspired meal at least once a day. I stock up on leftovers and have learned to make quick curries like spinach and potato curry and lentil and spinach curry. But these recipes; as tasty as they are, still take time to prepare. This got me thinking… if I could prep a versatile curry sauce that I could add to vegetables, cooked meats or salads in the blink of an eye, I'd cut down on preparation time and allow for some variety in my day to day Indian meals.
I played around in the kitchen, and after a couple of tests, came up with this versatile curried sweet potato sauce! It can be:
made ahead of time

frozen in ¼ cup batches for quick sauce access when you need it

stored in the fridge for up to 5 days

added to cold salads mad up of vegetables, animal protein or legumes

stirred into pan-fried vegetables and proteins for a quick, flavorful dish

used as a marinade for chicken or fish
Best of all, this sauce is 100% dairy-free and super-de-duper healthy – as are all of the recipes on my blog! If you're dairy-free, or know someone who is, I've created a (free) guide to living dairy-free called the Done with Dairy   oolkit. It has loads of dairy-free recipes and is packed with dairy-free tips and recommendations on how to thrive on a dairy-free diet.
Without further adieu, let's get rockin' the sauce!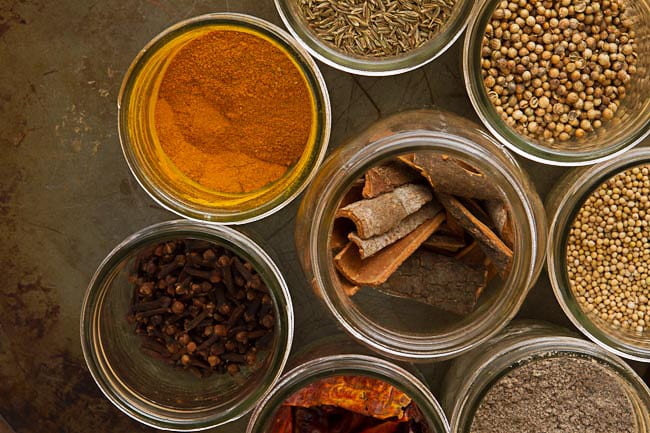 Curried Sweet Potato Sauce
Ingredients
175

grams

raw sweet potato

(approximately 1 medium, cubed)

½

cup

sliced red onion

2

cloves

garlic

1

tablespoon

grape seed oil

1

cup

full fat coconut milk

¼

cup

water

2

tablespoons

freshly squeezed lemon juice

1

tablespoon

curry powder

(I used my homemade curry powder)

⅛

teaspoon

sea salt

2

tablespoons

tightly packed

(finely chopped fresh cilantro)

1

teaspoon

tightly packed

(finely chopped fresh mint)
Instructions
Preheat oven to 400F and set aside a small baking sheet.

Add cubed sweet potato, sliced red onion, garlic and oil to the baking sheet and mix with your hands until everything is incorporated. Slide the sheet into the preheated oven and roast for 20 minutes, or until sweet potatoes are very tender. Remove from the oven and allow to cool for a couple of minutes.

Add coconut milk, water, lemon juice, curry powder, salt and roasted vegetables to the jug of your high powered blender. Blend mixture on high for 2 minutes, until smooth.

Pour mixture into a bowl and stir in fresh herbs. Allow to cool completely and add to any greens salad as a salad dressing, steamed vegetables as a sauce, or fried veggies and meat for a quick curry!
Notes
Feel free to use whatever type of oil you have on hand
Nutrition
I hope you enjoy this saucy goodness as much as I have been. Stir it in to just about anything and you will reap the health benefits of Indian food without all the hassle in your kitchen!
I'd love to hear from you – how do you cut down your dinner preparation time?