I heard about couscous for the first time in 'Top Chef', one of my favorite cooking show. There was this chef (I am horrible at  remembering names) and she would cook couscous in every other challenge. It always looked delicious and I used to wonder about the taste and texture.
I didn't had any luck finding couscous in India. As soon as I saw it in the shops out here, I knew I had to give it a try. 
 The texture looks grainy and it tastes like a combination of pasta and semolina. It can taste very dry unless paired with something more moist like a stew or meat. It's commonly eaten in North Africa and is one of the healthiest grain-based products.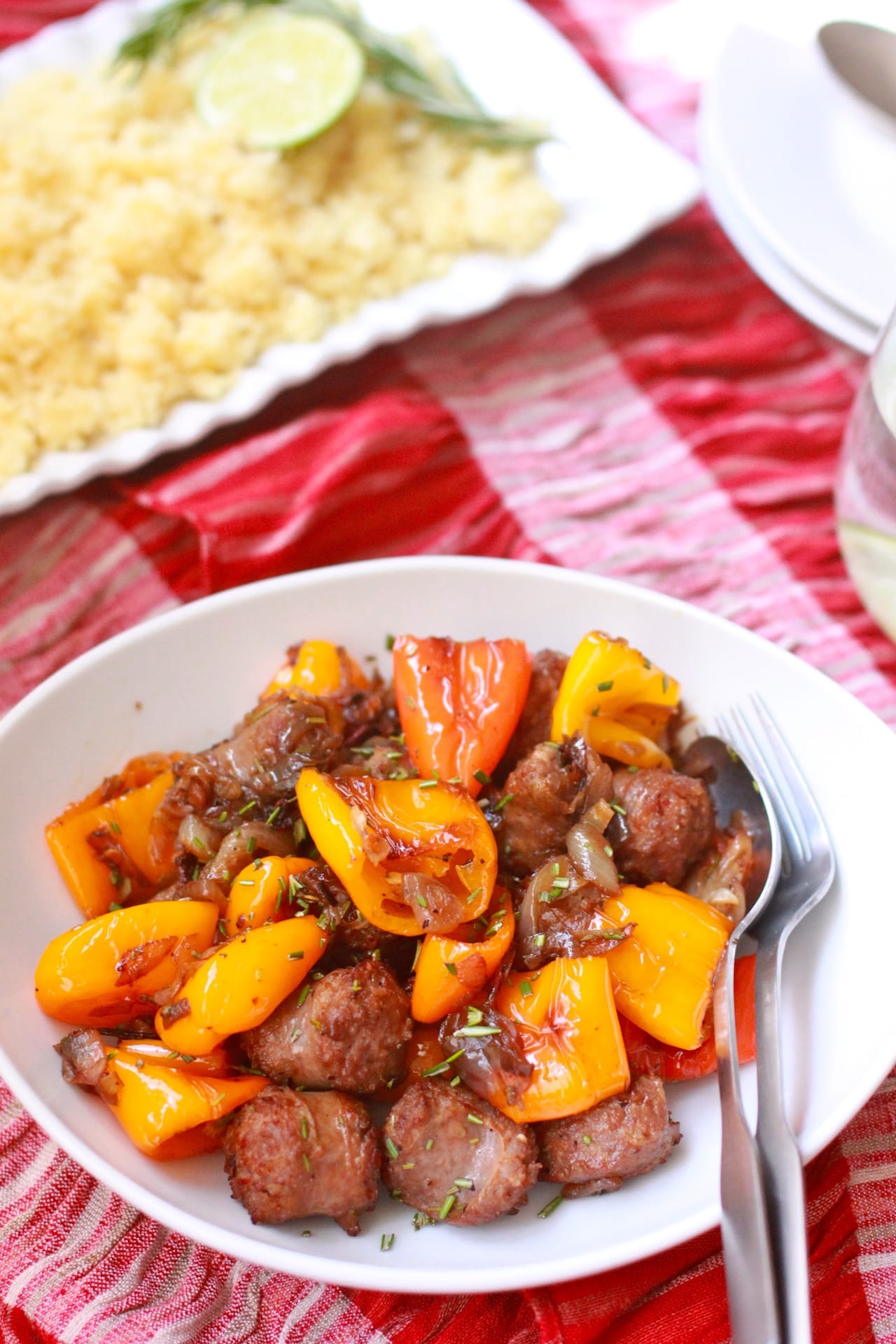 When properly cooked, couscous is fluffy and light and not mushy. The traditional method of cooking couscous involves using a metal steamer : the base is tall metal pot-shaped, rather like an oil jar in which the meat and vegetables are cooked as a stew. On top of the base, a steamer is present, where the couscous is cooked, absorbing the flavors from the stew.
The couscous that is sold in supermarkets is pre-steamed and dried. Hence, it takes a max of 5 mins to cook. It's quick, easy and came out perfect on my very first attempt! You cannot really go wrong in making nice fluffy couscous if you just follow correct steps. I like to toss it with some vegetables, some dry fruits and make a nice salad. The best thing I liked about couscous is that it tastes good warm or cold.. not chill cold! 
Today, I served it with italian sausage mixed with some sweet peppers. It was a meal by itself.. but light! These sweet peppers not only look pretty but also taste sweet.
I didn't want to add extra spice and lose the taste of the sausage or that sweet pepper.. hence, used minimal spice. Just a little bit of rosemary and garlic. I added a little bit of chilly flakes and that's just because I like a little heat in my savory dish.
Couscous with Italian Sausage
Ingredients
1

cup

couscous

1-½

cup

chicken stock

5

italian sausages

(cut in bite size)

4

shallots

(finely chopped (I used shallots as they are very mild. You can use onions as well))

10 to 12

sweet peppers

(cut in bite size)

1

tbs

chilly flakes

2

tbs

rosemary

(finely chopped)

3

cloves

garlic

(grated)

salt

pepper

oil
Instructions
Heat 3 tbs oil in a deep pan.

Add garlic and shallots and saute for about couple of minutes.

Add the sausages and cook for another few minutes. You should be careful as they might splatter.

Season with salt, pepper and add chopped rosemary.

Then, add the sweet peppers and saute for a while.

Finally, add the chilly flakes and cook for another 2 minutes. Once done, keep it aside.

In a deep pan, add the chicken stock and bring it to boil.

Add couscous, mix it properly and switch off the heat.

Season with some salt and pepper and cover the pan for 5 minutes.

After 5 minutes, use a fork and fluff the couscous carefully.

Serve the couscous with the sausage.
Nutrition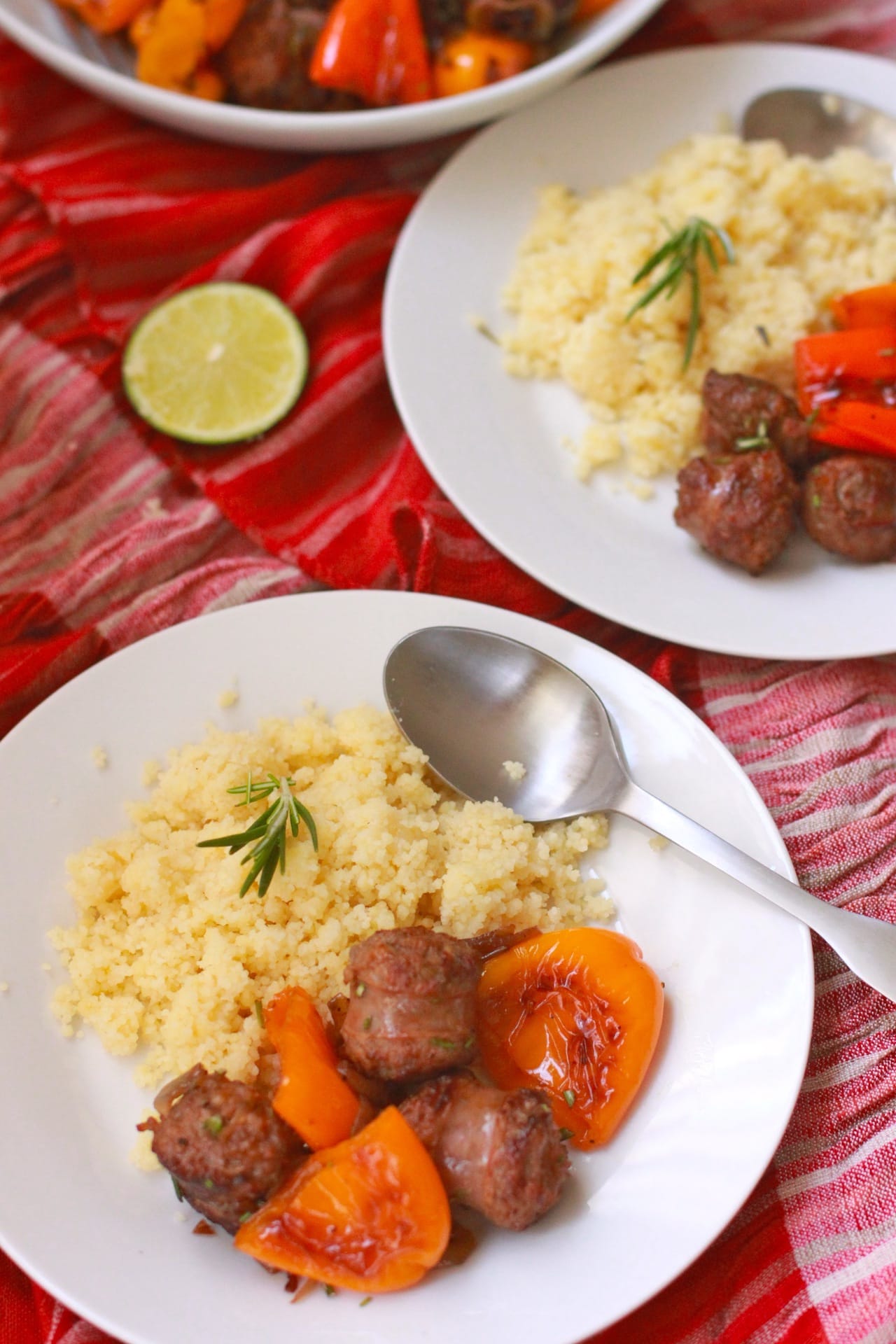 Sharing this dish with Fresh Food Friday