It's been a long time since I donned my baking hat. So, I took out the yeast and baked bread. And you could say that I got a little ambitious too. Ciabatta! Crusty outside and chewy inside, it's a type of bread that one cannot dislike. It tastes amazing with just butter or jam but it's also perfect for a saucy dish. The spongy crumbs soak up every bit from the plate, wiping it clean and making you wish there was more sauce.
Baking Ciabatta needs a little effort and time plus the elaborate messy work. It certainly requires a stand mixer too, as the dough has to be kneaded for 15 minutes at medium high speed, which is almost unmanageable by hand. Unless, you have some seriously strong muscle power! At the end of kneading, the dough looks glossy, it's gummy, wet and quite lumpy to handle. After the first rise, when you shape the dough for the second rise, don't bother to make it look neat or give it a form. Leave it uneven and just handle it very gently. Wet your hand, if requires or dust some flour to avoid the dough from gluing.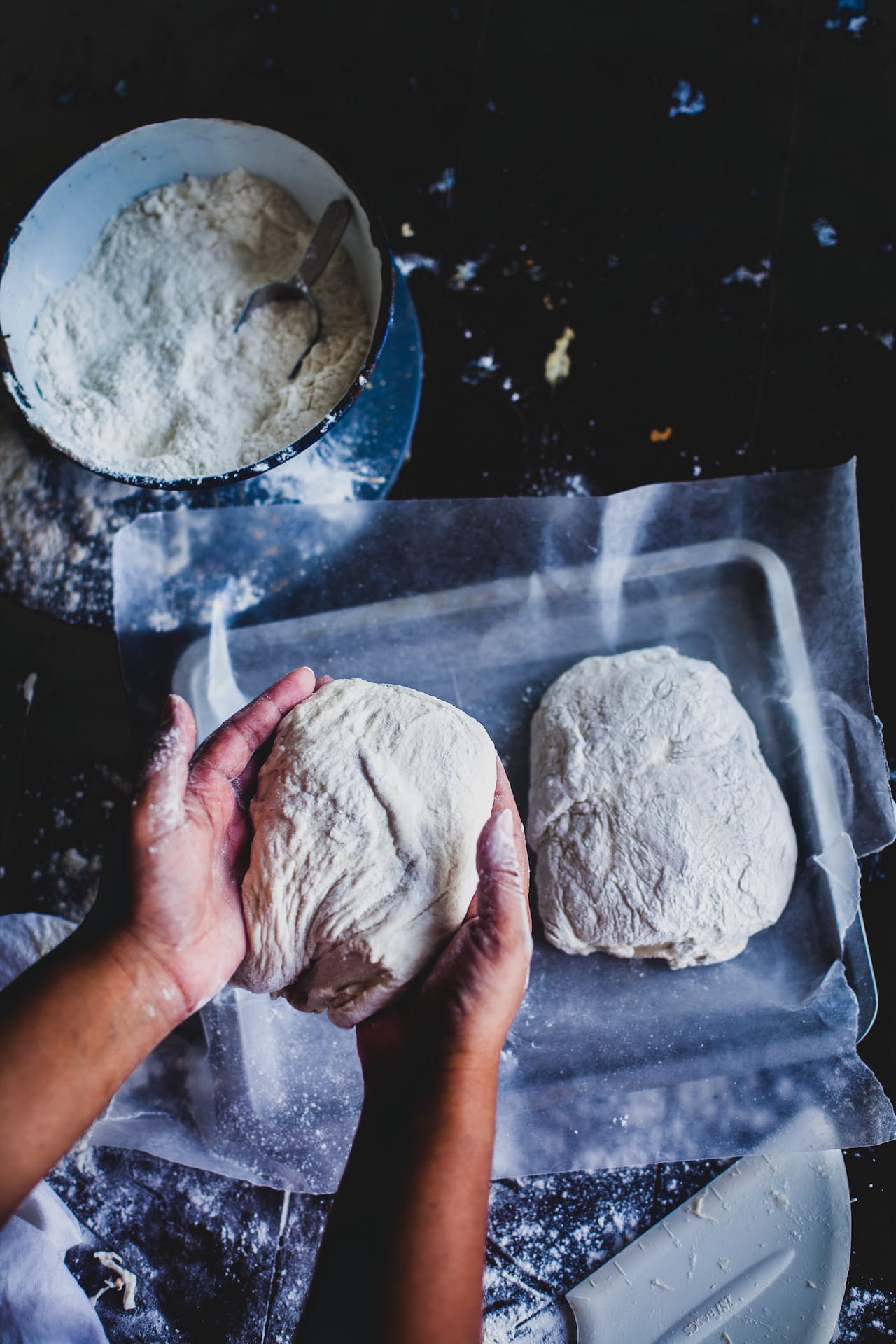 As the bread bakes in the hot oven, it puffs up making the outer crust golden and crinkly with a soft interior. All that effort you gave earlier will feel worth it!
It sure does take numerous practices to bake a perfect Ciabatta and I have a long way to get there. The crust came out quite nice and I loved the rustic look but I wish the bread had more pockets and honeycomb like holes. All in all, it was really good bread and we enjoyed every bite of it.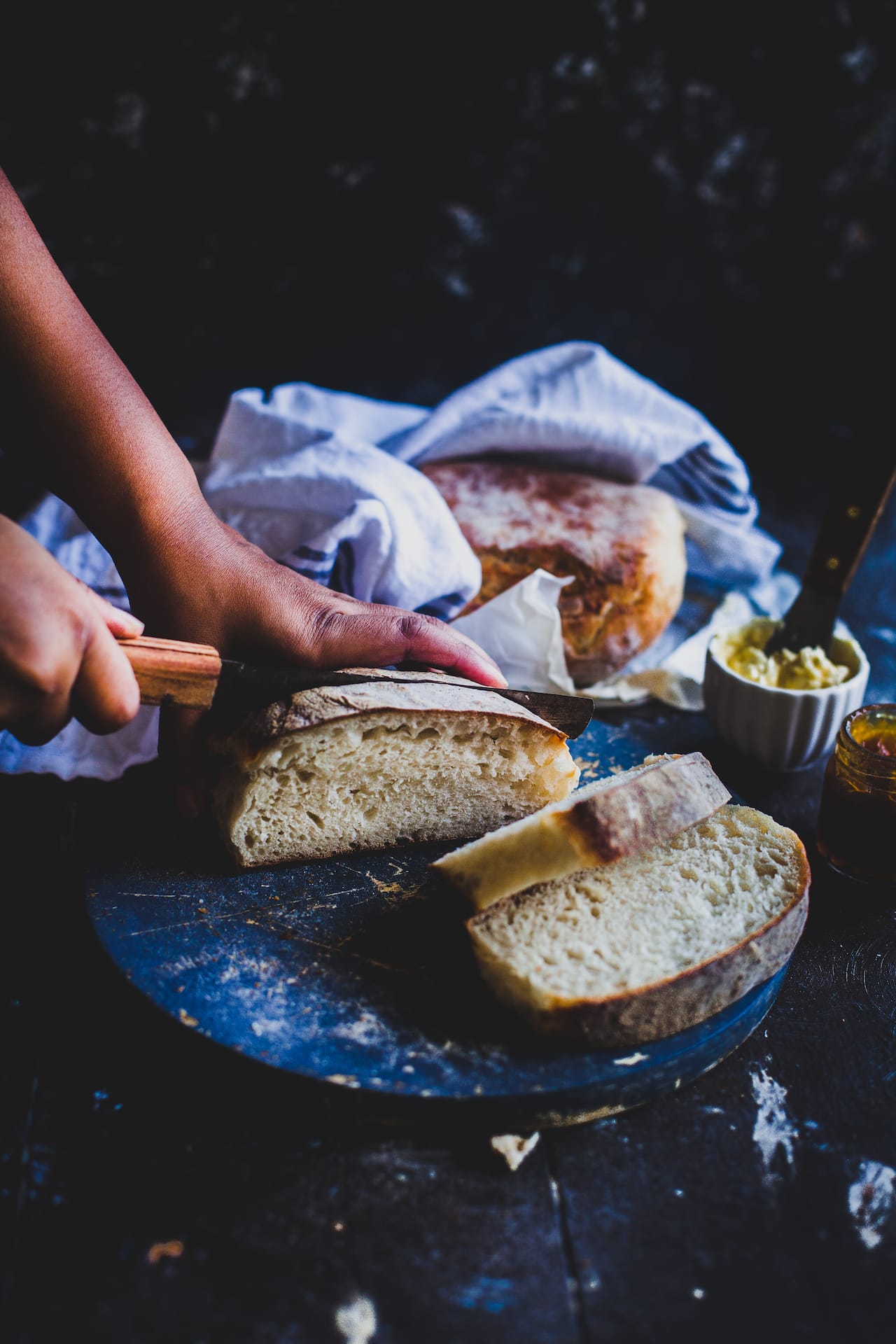 Ciabatta
Ingredients
1

teaspoon

active dry yeast

3

cups

all-purpose flour

1

teaspoon

salt

1

teaspoon

sugar

½

cup

water
Instructions
Warm ½ cup of water and dissolve sugar along with yeast. Then, in a separate mixing bowl, add 1 cup of flour, pour the dissolved yeast and give it a mix. It will be a thick paste like mixture. Cover and allow it to ferment for at least 6-8 hours. This mixture is called Biga.

Add rest of the flour along with salt in the stand mixer bowl and give it a mix. Pour the biga and give it a mix. Attach the dough hook and run it at a low speed for a couple of minutes and then put it at speed 5 for 15 minutes.

After kneading, pull the dough off the hook. Cover the mixing bowl and allow it to rest. In about 4-5 hours, it should triple in size.

Next, dust some flour on the counter top and very gently drop the dough from the mixing bowl. Line parchment paper on the baking sheet. Divide the dough in two rolls or shape a big loaf. Very gently, form a rough shape and place it on the parchment paper. Allow it to rise once again for about an hour.

Preheat oven to 250C/475F.

Place the baking sheet in hot oven and allow it to bake for about 25-30 minutes or until it's puffed up and looks golden brown on top.
Notes
It's important for the biga to ferment properly. So, wait until you see big bubbles on top of the well-rested biga. If required, allow it to rest overnight at room temperature.
The bread dough can be puffed up by keeping it at room temperature or leave it overnight in the refrigerator. If you leave it in the refrigerator, make sure you keep it at room temperature for an hour before you shape the rolls or loaves.
Nutrition