Don't you love it when you manage to bring a meal together with random ingredients, just by following your taste bud and your instinct! I was planning for a chickpea stew with shrimp stir-fry on the side. But then, the bottle of kasoori methi took my attention and I made a super-fast, shortcut makhani sauce. The chickpeas and shrimp went in the creamy tomato sauce, turning it into a hearty meal. This Chickpea Shrimp In Makhani Sauce took me less than 30 minutes to get ready. Definitely a keeper for busy weeknights.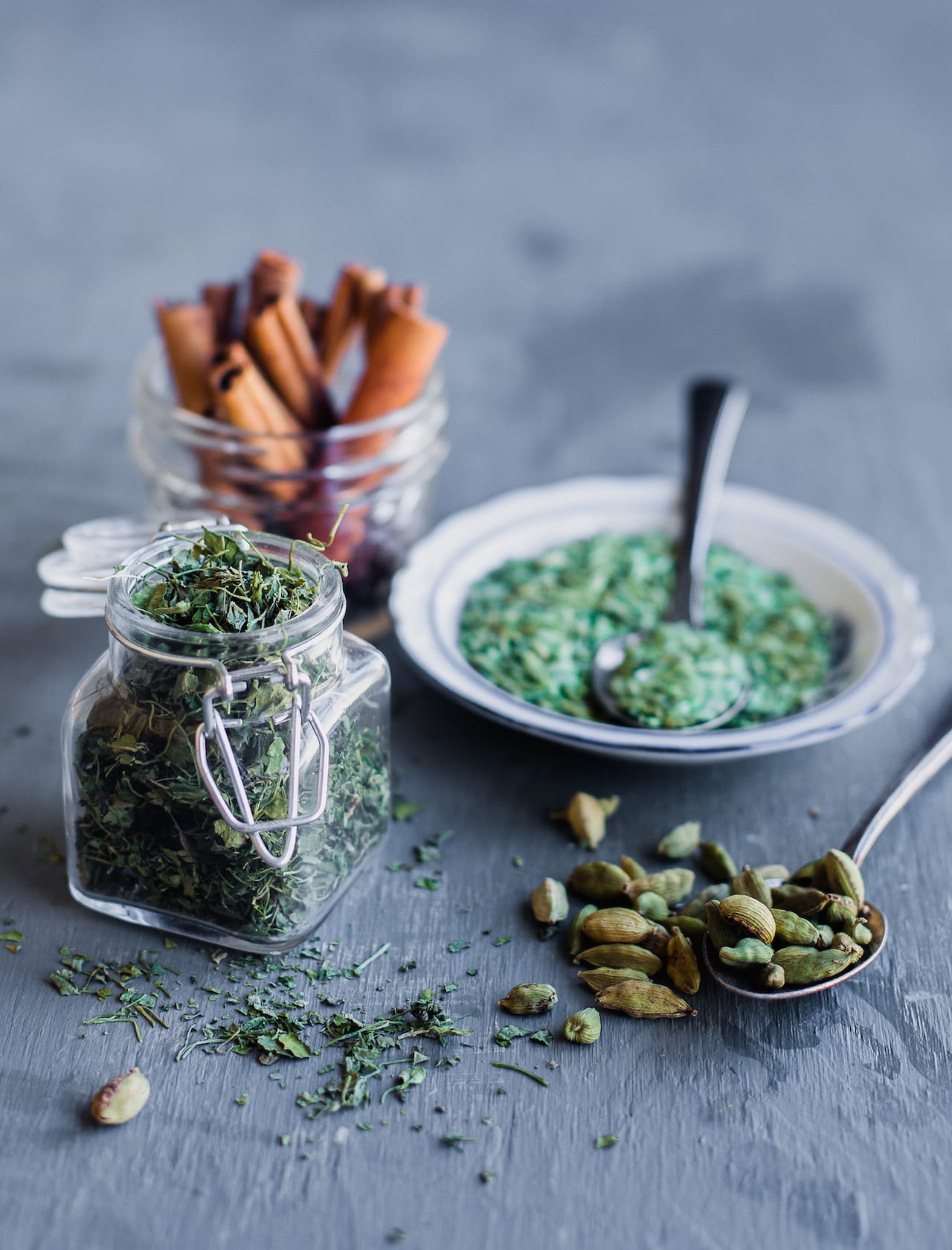 The flavor blend was simple but gave a robust aroma. Sweet fennel seeds, cinnamon stick, few green cardamoms and a good dose of kasoori methi (dried fenugreek leaves) all sizzling in hot oil. It made my kitchen smell divine.
Typically, preparing a makhani sauce is a long process of slow simmering lots of tomatoes in aromatic spices. Some cream and a dollop of butter gets added tuning it into a thick creamy makhani sauce. With this shortcut version, I kept the aroma intact but took a shortcut. I used store bought tomato paste, which not only adds the rich tomato taste but also the gorgeous red shade.
Another shortcut I took was by using canned chickpeas. But you can always use the dried ones, by soaking over night and the boiling it before adding to the stew. I mostly use dried beans and lentils but on busy weeknight, I reach out for those cans. Makes life easy.
One thing that I would change about this dish when I prepare it the next time, it would be to add grilled shrimp on top instead of cooking the raw shrimp in the stew. I feel that would add more visual appeal and a smoky flavor, which always works with well with makhani sauce.
Chickpea And Shrimp Makhani
Ingredients
1

tablespoon

oil

1

cinnamon stick

½

teaspoon

fennel seeds

3

green cardamoms

(smashed lightly)

1

teaspoon

kasoori methi

½

cup

thinly sliced red onion

½

teaspoon

sugar

1

teaspoon

salt

2

tablespoons

tomato paste

½

teaspoon

cinnamon powder

1

can

(16 oz chickpea)

1

teaspoon

cumin powder

½

teaspoon

chili powder

½

lb.

medium size shrimp

(clean and deveined)

½

teaspoon

garam masala powder

1

tablespoon

cream
Instructions
Place a heavy bottom skillet on medium heat. Once the pan heats up, pour the oil followed by the cinnamon stick, fennel seeds, green cardamoms and kasoori methi. Allow the spice to sizzle for a few seconds and then, drop the red onion, sprinkle the salt and sugar. Stir and cook for 3 minutes.

Add the tomato paste, give it a stir and pour ¼ cup of water. Sprinkle the cinnamon powder and continue cooking for 5 minutes.

Drain the chickpea from the can and drop it into the skillet. Give it a stir and add the cumin powder and chili powder. Stir and cook for 2 minutes and then, pour ¼ cup of water. Stir and allow cooking for 5 more minutes.

Finally, drop the raw shrimp followed by garam masala powder and cook for 2 more minutes. Check for salt and add any if, required.

Pour the cream and cook for 1 more minute. Garnish with fresh herb, squeeze some lemon juice and serve warm.
Nutrition