Sometimes your palate takes time to relish certain flavors or ingredients and then there are times when it wins over your heart at the very first bite. Even before you know what the dish was all about, you desire for more. I have few such dishes in my list and gnocchi is one such indulgence. I remember the first time, both the taste and the awkward moment when I completely embarrassed us. Gnocchi is not something that I ate in India and didn't really know how to pronounce it the right way. Thankfully, Arvind was there to correct me, very skillfully, except I am sure the guy had a good laugh as he placed the ticket to the chef.
It was absolutely delicious, soft and covered with flavorful pesto sauce!
After that day, I prepared gnocchi several times for dinner but always using the store bought frozen ones. As delicious and easy it was, I couldn't stop myself from getting my hands dirty with the homemade version. It did sound intimidating at first, but surprisingly it was not that hard at all. Definitely time taking but truly simple. And nothing can beat freshly made gnocchi. So much more tender and pillow-y, it just melts in your mouth. Always worth all the effort!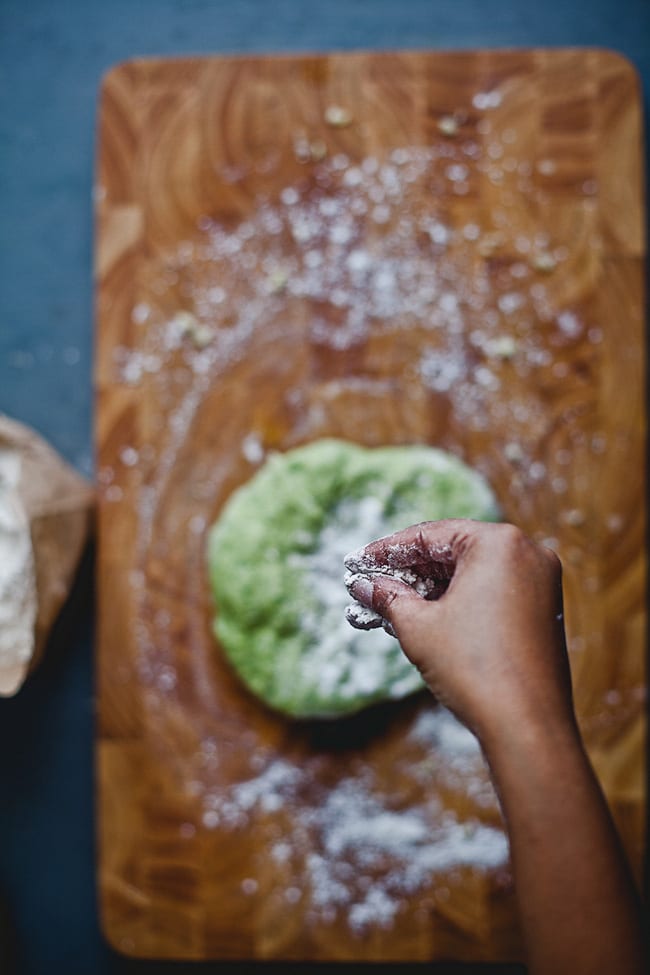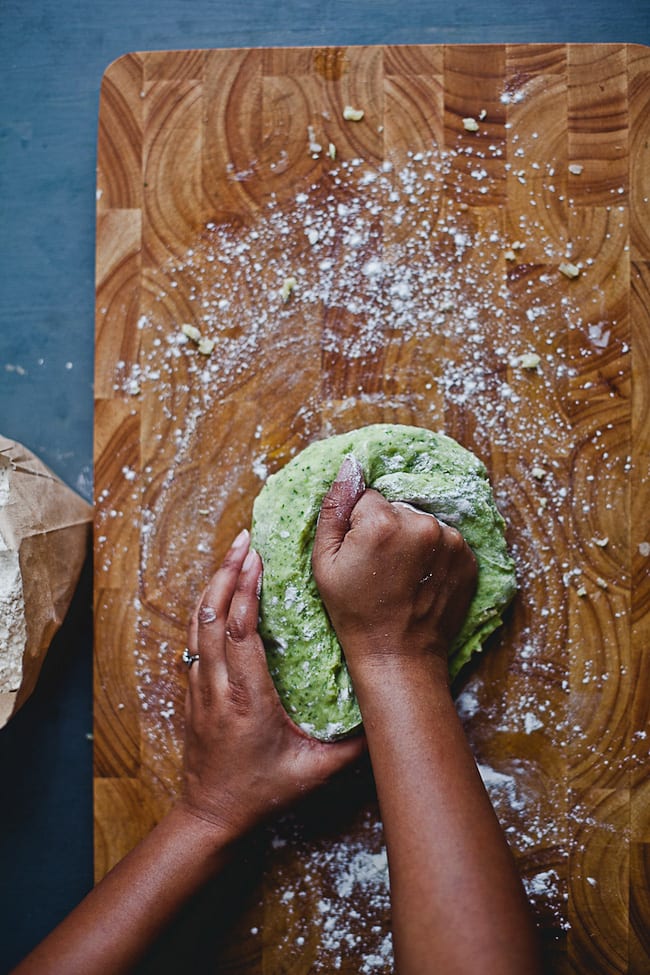 The best part is that preparing gnocchi doesn't need any extravagant gadgets or ingredients. You could choose not to create the ridges, but the ridges do help holding the sauce. A regular fork works absolutely fine to create those ridges and I used that process several times in the past. However, a gnocchi board does come handy and quickens the process a tad bit. Knowing how much we both love this Italian treat, it was a small investment.
My go-to choice is plain gnocchi with any kind of pesto sauce but at times, I like to play with the dough. Adding arugula to the dough not only gave a vibrant green shade but also added a lovely flavor. The mild peppery taste from the greens with the spicy brown butter sauce finishes the dish beautifully. The stunning green hue will retain if you don't fry the gnocchi before bathing in the sauce. At times, we like it mildly fried in butter and hence, had to compromise with the color. Pleasing to the eyes or not, this dish always entertains our bellies.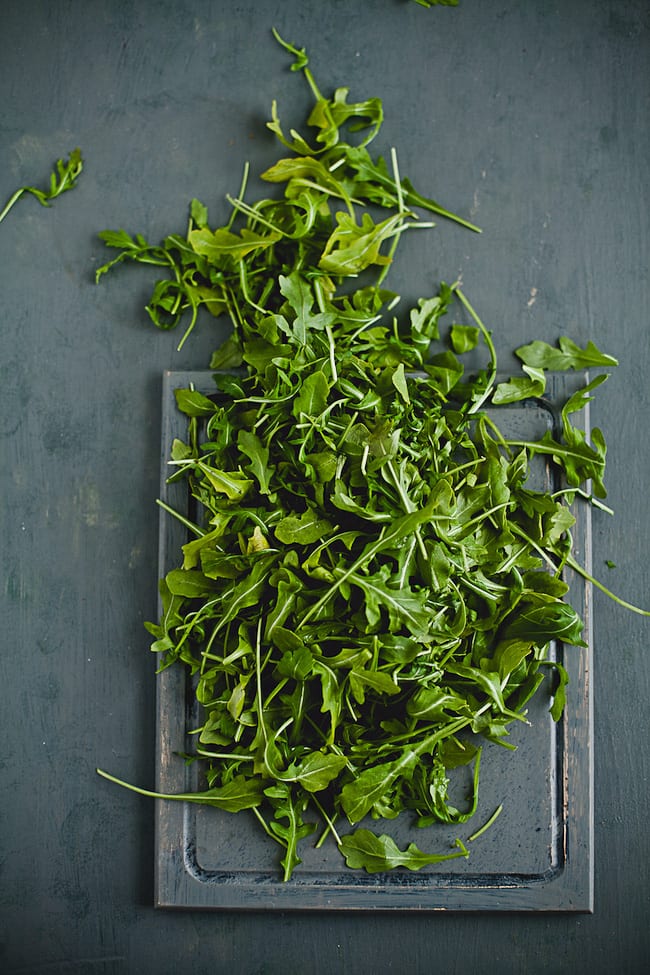 Arugula Gnocchi with Spicy Brown Butter Sauce
Ingredients
for the gnocchi
a handful fresh arugula

1

large russet potato

1

egg yolk

1

cup

all-purpose flour

(you might need more while kneading)

salt
for the sauce
4

tablespoons

butter

1

teaspoon

chili flakes

zest of 1 lemon

parmesan cheese

fresh lemon juice
Instructions
Boil the potato in salted water and while it's still warm, carefully peel the skin. Using either a food mill or fork, mash the boiled potato in a bowl. Do not over mash but make sure there are no lumps.

Using a blender or food processor, grind arugula with egg yolk. Pour the mixture over mashed potatoes and give it a rough mix. Add a pinch of salt and drizzle some flour on top. Using a spatula, start working on the dough. Keep adding flour as you go until the dough is moist but not sticky.

Roll the dough into a log and using a knife, cut into several pieces. In my case, it was 5 pieces.

Work with one piece at a time. Dust some flour on it and roll it out to a much thinner log this time. Cut the thinner log into multiple pieces using a knife, each around ¾ inch. Now using a fork or the gnocchi board, shape each piece. Place one piece at a time and press it with your finger lightly so it forms the ridges. Then, roll it to form a curl. Set it aside and move on to the next piece.

Once you are done creating the gnocchi, start with boiling the gnocchi and the sauce.

Bring a large pot of water to boil. Cook the gnocchi (in batches, if required). It will take about 3 to 4 minutes for it to become fluffy and float on top.

In the mean time, keep a pan ready with 1-tablespoon butter at medium heat. This will be used fry the gnocchi after boiling. Drop the boiled gnocchi and sauté it for about couple of minutes.

In another medium hot pan, add 3 tablespoons of butter. It will sizzle and melt slowly. Add chili flakes and lemon zest. In couple of minutes, the butter will turn brown in color. Keep an eye as it can turn from brown to black in a matter of seconds. Finally, drop fried gnocchi to the pan and mix it to coat the sauce properly.

Drizzle some fresh lemon juice, add parmesan cheese and serve immediately.
Notes
You can make the gnocchi in advance and freeze it in a zip lock until ready to be used.
Nutrition