Enjoying evening tea with some savory snacks is a very common habit in our family. Back at home, every evening Ma would always make some short bites or Dad would buy something to munch from the near by shops. When I got married and joined Arvind's family, I was happy to see the same ritual being followed over there 🙂
And now, we like to  follow the tradition. We like our evening to start with a hot cup of ginger tea and something to nibble along with that.
I have always enjoyed making short bites. There are so many options to choose from.. patties, fritters, rolls, wraps! And then, there are healthy snacks like savory cookies or crackers that are baked.
Given a choice, I will always stick to those deep-fried crispy crunchy bites but then.. well, you all know what I mean!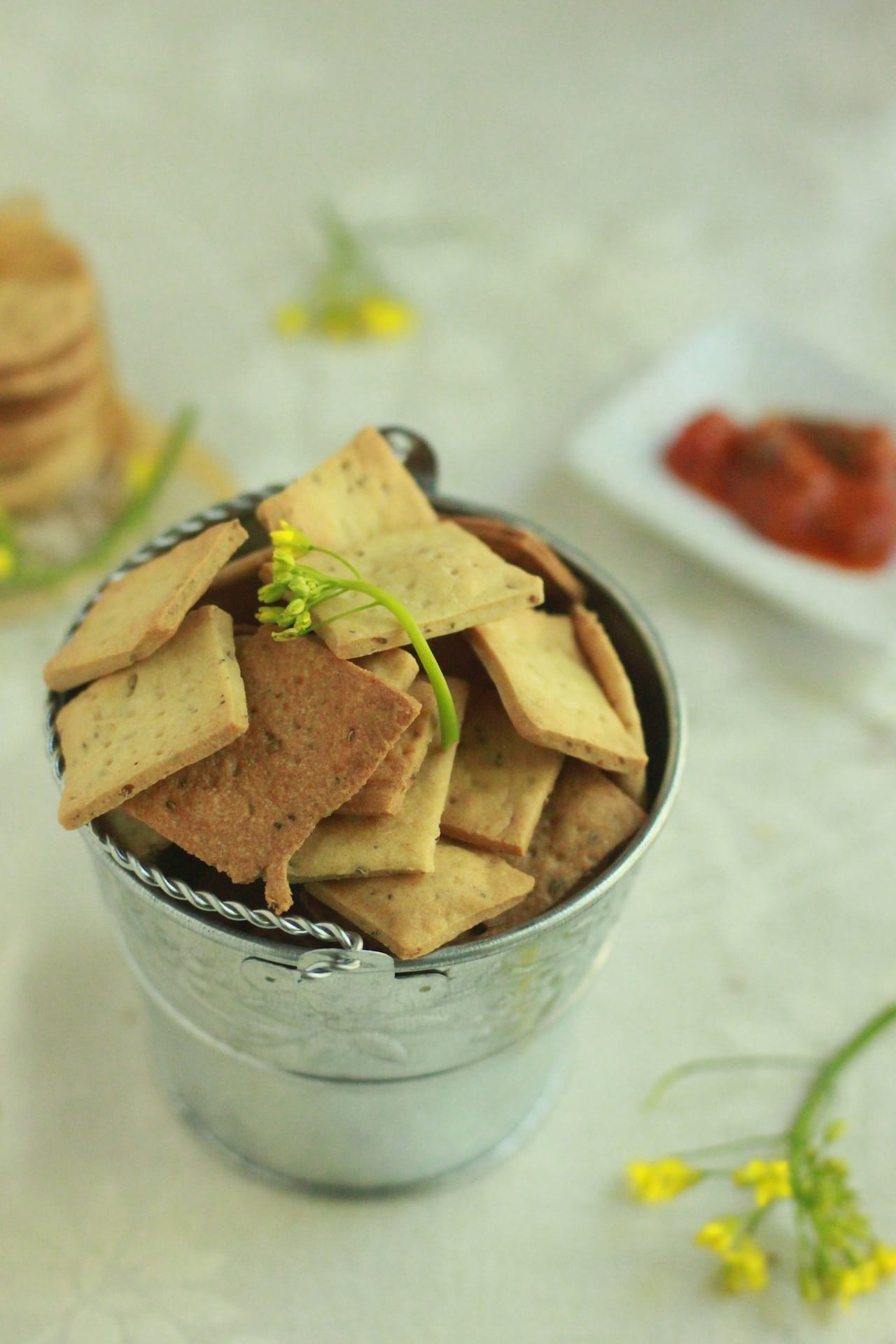 I made these thin crackers with carom seeds which is called 'ajwain' in Hindi. It's my favorite spice. I like it so much that at times, I eat it raw.. take a pinch and start munching; it's spicy with little bitter after-taste. 
Arvind couldn't figure out how a raw whole spice can taste so good to me. He used to stare at my face with a crooked eyebrow look.. totally confused! Now, he's just got used to it 🙂
Carom Seed/Ajwain is not just any spice, it's more of a medicine and is used in different occasions as herbal remedy. It helps in digestion, during pregnancy, toothache, acidity, kidney stone, stomach tonic, etc etc. It's also known as Bishops Weed.
If you don't like this herb, you can try using anything that you may prefer, like cumin seed or fennel seed.
I was very happy with the way it came out.. crispy and light. You can store these for weeks in an air tight jar and enjoy with hot beverages, with some wine and cheese and at times, even with pickle or jam.
Whole Wheat Carom Seed Crackers
Ingredients
1

cup

whole wheat flour

1

teaspoon

salt

½

teaspoon

freshly grated black pepper

2

tbs

carom seeds/ajwain

⅛

th teaspoon baking powder

2

tbs

plain yogurt

2

tbs

cold water

(adjust less or more as required)

3

tablespoons

of oil

(I used olive oil)
Instructions
In a bowl, mix wheat flour, salt, pepper, baking powder and ajwain/carom seeds.

Next, add the oil and give a quick mix. Then, pour the yogurt and start kneading.

Add cold water as much required to make a soft and smooth dough.

Cover the dough with a clear-wrap and let it rest for 30 mins.

Dust some flour on the rolling pin and the wooden/marble board you are using to roll the dough.

Roll it into a thin sheet. Prick on the sheets using a fork.

Using a cookie cutter, cut it in your desired shape.

Place it on a baking sheet and bake at 375 F for about 20 mins (Or until they are golden brown in color).

Once baked, let it cool completely before you store it in an air tight jar.

Enjoy the crispy thin crackers!
Nutrition