I love puff pastry! Be it sweet or savory, it manages to win my heart each time. The buttery crunchy bite is so amazing that it always makes me ask for more. Swirl them or fold them, make a knot or stuff them, these light flaky warm bites have always been one of my favorites. The smell of a freshly baked pastry is so comforting that it can instantly switch my mood from sad to happy 🙂
Making puff pastry at home was out of the question until I saw the pastry sheets in the frozen section of the grocery store.. where they were rolled and packed neatly. This is what the blogging world is doing to me. I learn something new every day.. a new recipe, a new technique or a new cuisine. How ignorant was I to think that these puff pastries could only be baked in professional bakery shop!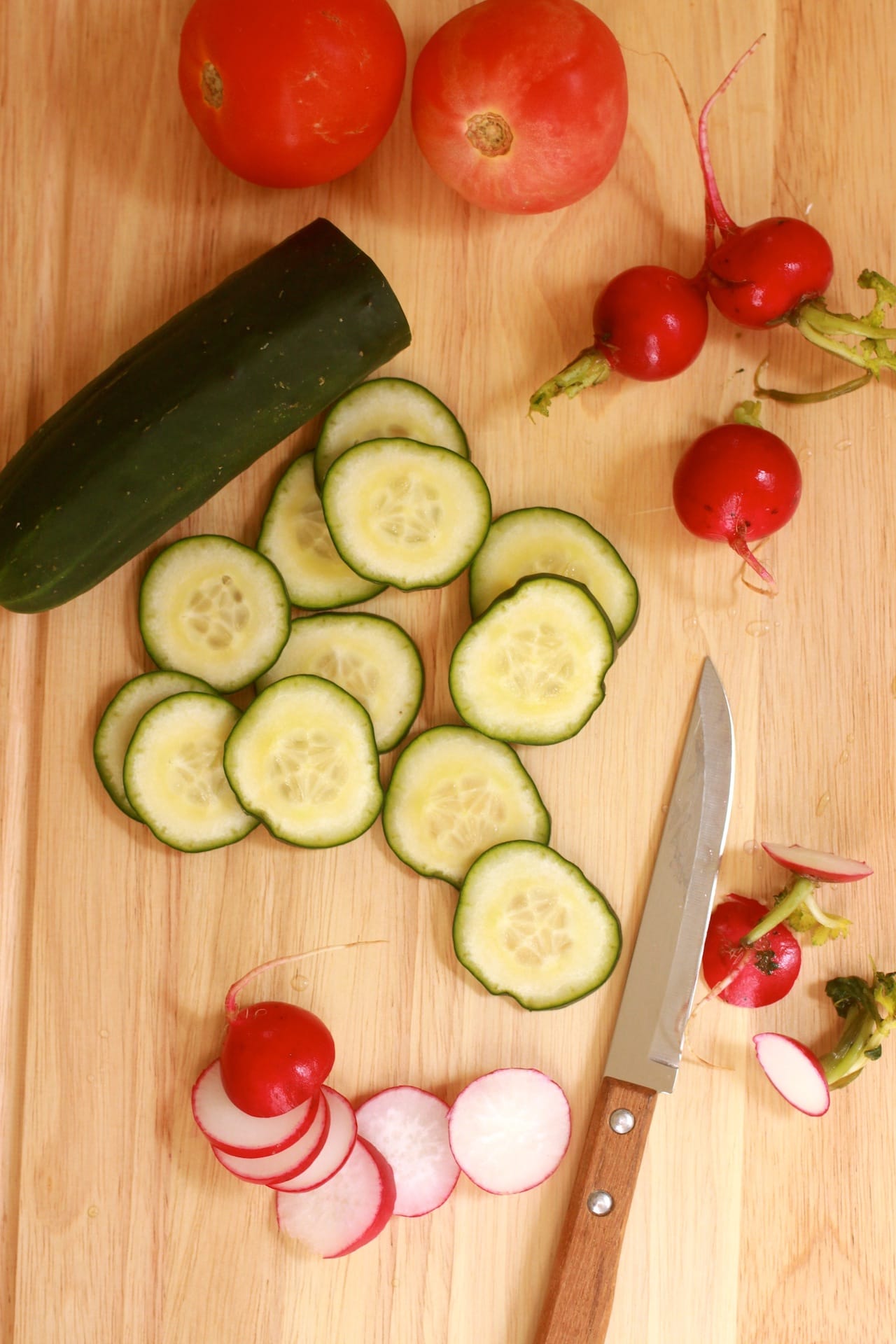 The only downside is the amount of calorie it contains.. makes me feel a little guilty. But a little indulgence once in a while can't be that harmful! Friday evening is all about indulgence for us. Make a nice tall glass of cocktail, put on a nice movie, curl up in the couch and enjoy the evening.
These tartlets with vegetables and pesto sauce are just perfect to go with any drinks. I was not sure how it would turn out and hence, I made in less quantity. Although later, we wished there were more 🙂
Vegetable Tartlets with Pesto Sauce
Ingredients
2

frozen puff pastry sheets

(5" x 5", each cut into 4 pieces)

½

cucumber

(thinly sliced)

5

radishes

(thinly sliced)

1 to

mato

(thinly sliced)

¼

cup

grated parmesan cheese
Instructions
Pre heat the oven to 400F.

Place parchment paper on the baking sheet and arrange the pastry sheets on the paper.

Using a fork, make few holes in the pastry sheets. This will avoid the puffing up of the sheets. For better result, place another baking sheet on top of the pastry sheets.

Bake the pastry sheet for about 15 minutes.

In another baking sheet, arrange the vegetables in a uniform layer. Drizzle some oil and season with salt and pepper.

Let the vegetable roast in the oven for 20 minutes.
Nutrition
While these get baked and roasted, you can make the pesto sauce
Ingredients :
2 cups fresh basil leaves
2 cloves garlic
¼ cup grated parmesan cheese
4 to 5 pecans (You can use walnuts or pine nuts too)
½ cup extra virgin olive oil
2 tbs cream (optional)
salt
pepper
Directions :
Add all the ingredients in food processor and grate it to a fine paste.
I like to add a little cream to pesto sauce so that it doesn't taste too pungent. You can totally avoid it.
Arranging the Tartlets
Spread some generous amount of pesto sauce on the baked sheets.
Top it with the roasted vegetable and garnish with some cheese.
Bake it at 375 F for about 15 minutes and serve it warm.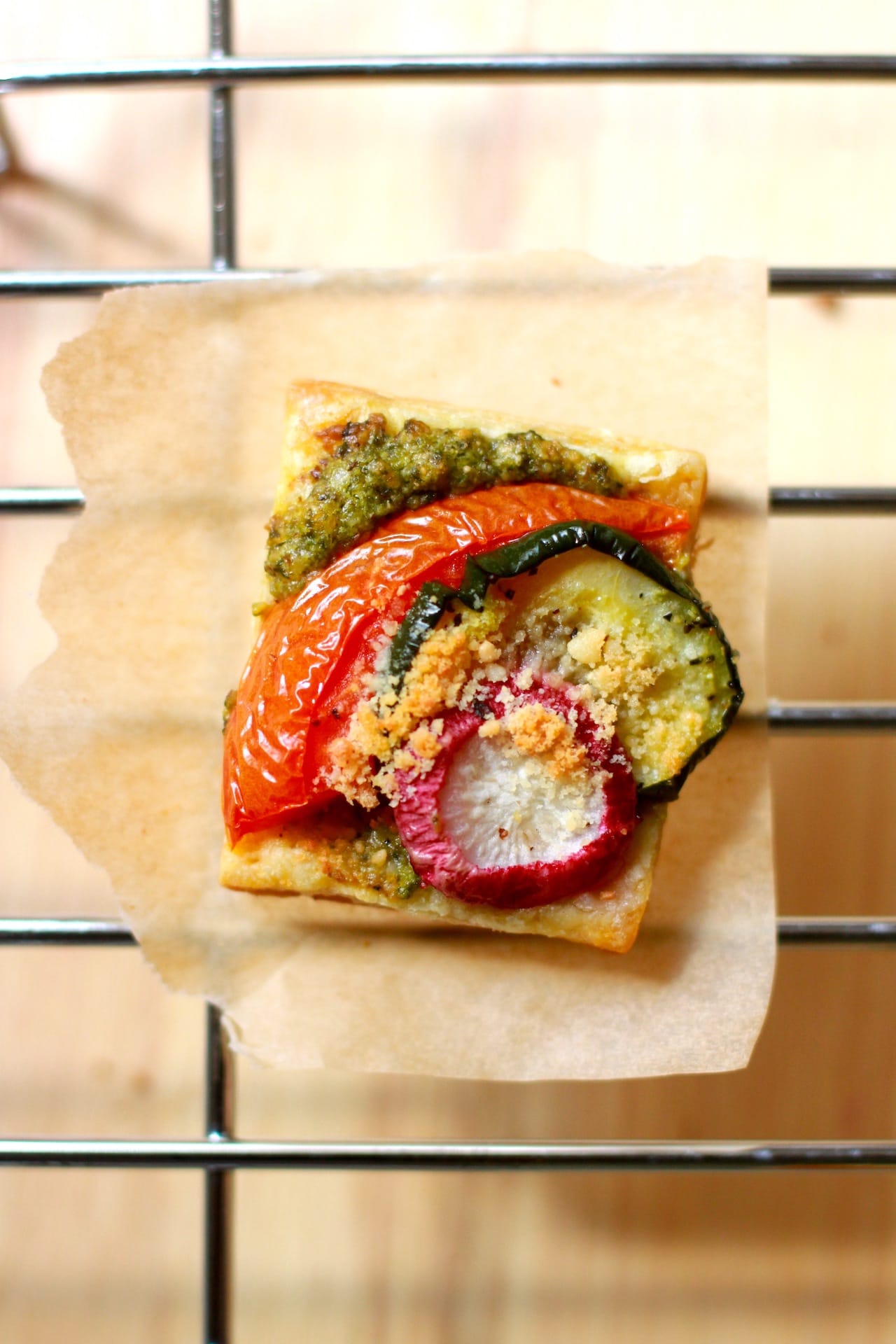 It was absolutely delicious and I am going to make these again sometime SOON! 🙂