Our long weekend plan has gone for a toss! Our plan was to see a new place, Portland to be precise. We wanted to visit the rose garden.. hike in the forest.. hangout by the waterfront.. Yes, those were our plans and it's now cancelled. How can you possibly do such outdoor activities when the weather prediction is rain, rain and only rain. Seriously, somebody remind me which month is this?
Anyways, enough of whining.. I will have to find something to do and make this long weekend interesting. What about you guys? How's your plan for the long weekend coming up?
Since our plan to visit a new place didn't work out, we thought of eating something new! Not that it's the same feeling, but anyways 🙂 Eating something new intimidates me at times, especially if it's seafood. We chose Artichoke and it didn't freak me out. Yes, the texture is rough and the petals has spikes.. but it still looks so pretty like a green flower with a tint of purple shade.
I got introduced to Artichoke only after I came to US. I never saw this vegetable in India. I have been planning to try this popular vegetable for a very long time and just a couple of days back, the plan was finally implemented. I was not very sure what to make out of the artichoke and then, after cracking my head and looking through recipes, I decided to try Sonia's My Creative Flavors recipe .
Stuffed Artichokes
Ingredients
2

artichokes

2

tbs

lemon juice

a slice of lemon

1

cup

breadcrumbs

1

cup

parmesan cheese

(grated)

1

cup

chicken stock

1

medium onion

(roughly chopped)

1 to

mato

(roughly chopped)

2

green chillies

(finely chopped)

1

carrot

(roughly chopped)

½

cup

frozen peas

1

teaspoon

dried oregano

1

teaspoon

dried thyme

1

teaspoon

dried parsley

1

teaspoon

chilly flakes

salt

pepper

oil

(I used extra virgin olive oil)
Instructions
Cut the stem at the bottom of the artichoke to make it stand.

Using a very sharp knife, cut off ½ inch from top.

The leaves of the artichoke have thorny tips. Trim them off using a scissor at about ½ inch.

As soon as you are done trimming, take the lemon slice and rub it on the leaves and on top. This will help to retain the green color which can otherwise turn black.

Spread the leaves a little apart and using a pairing knife or a spoon, remove the choke from the center . This will create a cavity where we will fill with the stuffing.

In a bowl, mix breadcrumbs with oregano, thyme, parsley, chilly flakes, salt, pepper and about 2 tbs extra virgin olive oil.

Pour the mixture in the center of the artichoke and sprinkle a little between the leaves as well.

Next, we would need a deep pan to steam the artichokes in a water bath.

In the deep pan, add chicken stock and roughly chopped vegetables(onion, carrot, tomato, green chilly and peas).

Then, place the artichokes, add 1 cup water and cover the pan with a tight lid.

Let it cook for about 40 mins in low heat.

Remove artichokes from the pot and keep them aside.

The vegetables in the pot should be boiled. Using a masher or food processor, mix them to form a thick sauce.

Add the lemon juice sprinkle some chilly flakes and check for salt in the sauce. If required, add more.

Pull the leaves from the artichoke.. dip it in the sauce and enjoy!
Nutrition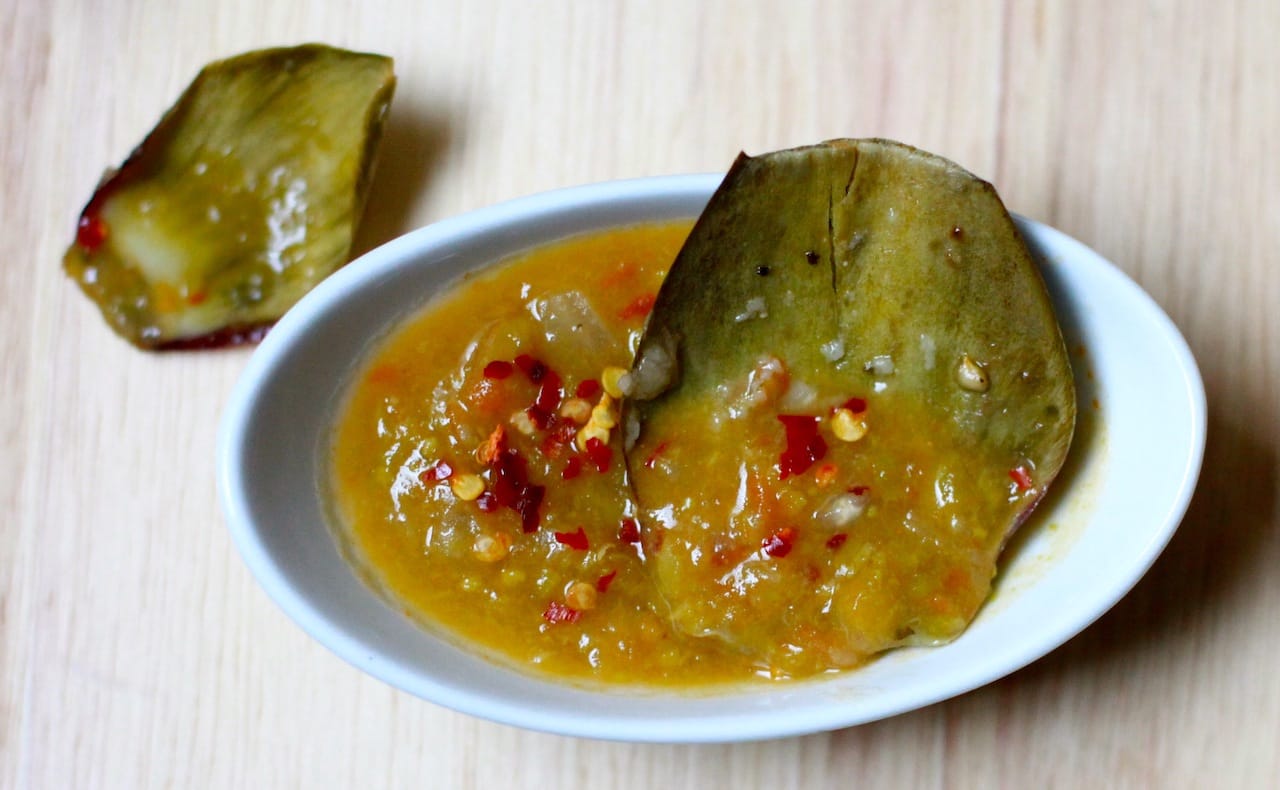 Moment of truth.. I am yet to fall in love with Artichoke. We did enjoy it, but not a big fan yet 🙂