Folded in quarters and drizzled with the teeniest amount of chocolate sauce, it was served in a paper plate. I nibbled for a while and threw the rest. That was my first experience of sampling crepe. It was in a food court and it was horrible! Few years later, we took a trip to Bangkok. During our stay there, we used to visit one particular shopping mall quite often. The foot court in that mall had a crepe stall that didn't fascinate me much but it sure did excite Arvind.
It was an open stall. I had just started food blogging and hence, the curiosity was there to see the process. The pan that they used was ginormous. The girl would ladle the batter and then spread it super thin by using a swirly wooden spoon. Once cooked, she would fold it using another flat wooden spoon. It was quite interesting to watch her repeat the process so swiftly and effortlessly. Instead of serving in a plate, she shaped it like an ice cream cone, filled with fruits, nuts and topped with whipped cream or ice cream. It was so gorgeously presented that anyone would get tempted. So, I went for it too and it tasted so much better than my first experience. For the remainder of out trip, I ordered a fruit and whipped cream crepe cone everyday I visited the mall.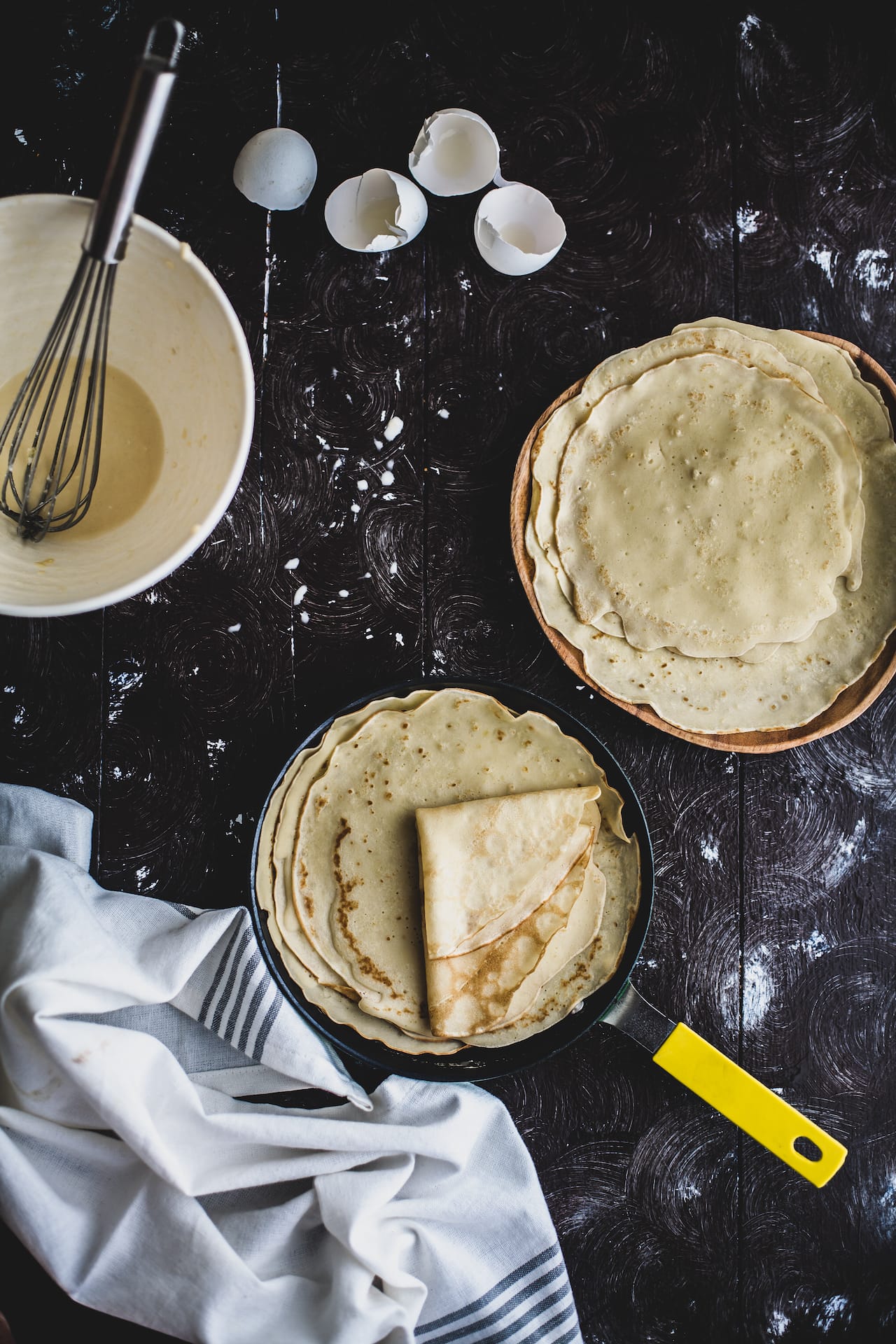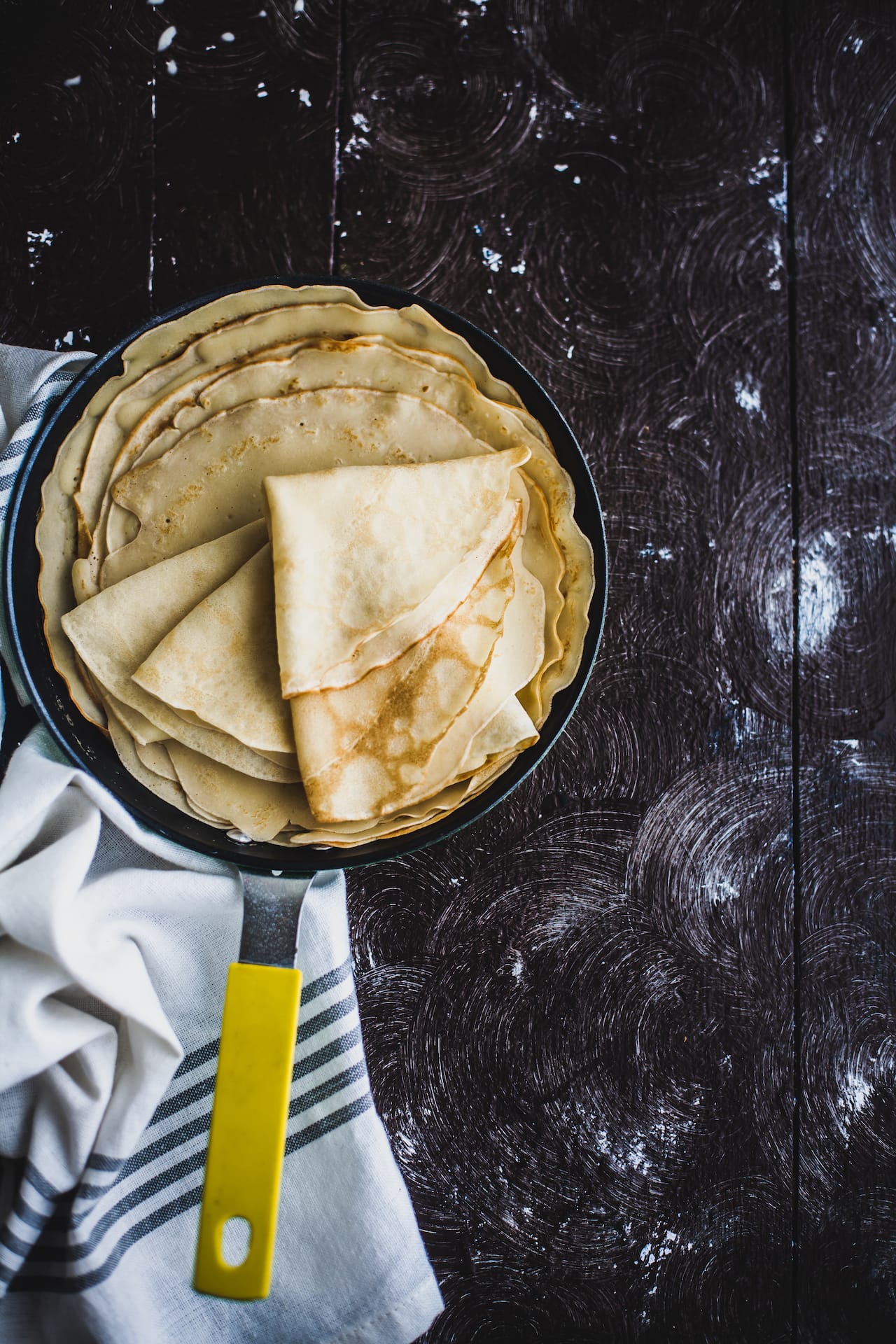 The idea of preparing crepe at home used to daunt me until I started giving it a go. I didn't use any wooden spoon but just swirled the pan to spread the batter evenly. The key is in the batter and of course, a good flat pan. The crepes came out neat, thin and light. It was quite easy actually.
Eventually, the crepes took a place in our weekend breakfast lists. We like it both savory and sweet. Last weekend, I took the Middle Eastern path and stuffed it with sautéed spinach and corn, creamed with tangy feta cheese. And then, I topped it with zaatar feta sauce. Loved how quickly it all came together and made quite a tasty treat.
Spinach Corn Crepe With Zaatar Feta Sauce
Ingredients
for crepes
1

cup

all purpose flour

2

large eggs

1

cup

milk

½

cup

water

3

tablespoons

melted butter

1

tablespoon

sugar

pinch

of salt
for spinach and corn stuffing
250

gram

spinach

(finely chopped)

1

cup

frozen corn

3

cloves

garlic

(finely chopped)

½

teaspoon

chili flakes

½

cup

crumbled feta cheese

½

cup

cream

salt

oil
zaatar feta sauce
½

cup

crumbled feta sauce

½

cup

cream

1

tablespoon

zaatar

1

clove

garlic

(finely chopped)

oil

salt
Instructions
for the crepes
Whisk all the dry ingredients (flour, salt and sugar) in a bowl. In a separate bowl, whisk egg and drop it to the dry ingredients bowl. Pour milk, water and melted butter. Whisk until there are no lumps and it forms a smooth batter. Allow it to rest for a while.

Heat a flat non-stick pan and ladle ⅓ cup of the batter in the center. Swirl the pan all around to spread the batter evenly. Allow it to cook for a couple of minutes. Then, flip it to the other side very carefully and let it cook for a minute. Once done, transfer it to a plate and continue cooking rest of the crepes.
for spinach and corn stuffing
Heat oil in a pan and drop minced garlic. After a minute, scatter the chopped spinach, sprinkle some salt and stir. Cook until the spinach softens. Sprinkle chili flakes, add frozen corn and continue cooking for a few more minutes. Finally, add crumbled feta cheese, cream and stir until it all come together and thickens. Taste for salt and add any, if required.
for zaatar feta sauce
Heat oil in a pan and sauté minced garlic. Add crumbled feta cheese, pour cream and sprinkle zaatar. Whisk until it's creamy and smooth.
to plate the crepe
Place a crepe in a plate. Spoon a little bit of the stuffing in the center and fold it like a burrito or just fold it on both the sides. Drizzle some of the zaatar feta sauce on top and serve immediately.
Nutrition