This shop has been compensated by Collective Bias, Inc. and its advertiser. All opinions are mine alone. #UnforgettableRice​ #CollectiveBias Crunchy on the outside and soft on the inside, this Shrimp Arancini would make for a great party appetizer or even dinner, when paired with a salad. Arancini are crunchy risotto balls and they could be either stuffed or not. It is a great way to use leftover risotto and it is just as delicious as your creamy risotto.

Our menu often includes a rice dish of different varieties, and on cold nights, I like to make a creamy risotto. Occasionally, I make extra risotto, so that the next day I can make some crispy arancini for snack time. When it comes to risotto, the key ingredient is the rice and you want the best quality. I always go for RiceSelect®​ Arborio Rice. Arborio rice is an incredible base for self-expression and will result in an unforgettable meal. RiceSelect is Non-GMO, the best rice and grains out there, letting you focus on playing with flavors, ingredients, and techniques to develop unforgettable dishes.
What is Arancini?
In simple words, arancini are risotto balls, often stuffed with minced meat or veggies or cheese. It's coated with breadcrumbs and fried to crispy. Served with a dipping sauce, it's a delicious way to use leftover risotto.
How to prepare the Shrimp Arancini?
The risotto is prepared using RiceSelect Arborio rice​, free from artificial ingredients, which you can find quite easily in Walmart.
Check out the Online Grocery Page for Arborio Rice here!
I prepared the risotto using chicken stock that I infused with a pinch of saffron. Once the risotto is cooked, I let it cool down to room temperature. KEY NOTE: Since I was targeting to make arancini, I kept the risotto a little thick instead of too creamy.
Once it was cooled down, I mixed it with egg and little breadcrumbs. This is just to make sure it binds and becomes easy to shape.
For stuffing, I used raw shrimp so that as the arancini fries, the shrimp will cook to perfect texture instead of turning rubbery.
Finally, I did a usual flour, egg and breadcrumb coating and deep-fried the shrimp arancini until golden brown.
Interested in trying out the Rice Select Arborio Rice? Head over the photo to click through to Walmart.com for purchasing.
Shrimp Arancini is
Easy to prepare
Packed with flavor
Fun to shape the risotto balls with kids
Quick appetizer or dinner
Although the dish may sound simple, and it surely is, it is sure to wow your family and can make a perfect centerpiece for your holiday parties.
Can you make Shrimp Arancini in advance?
You can make the risotto a day in advance. You can surely even shape and store it in the refrigerator. However, the deep-frying should be just before serving! It tastes best when served warm.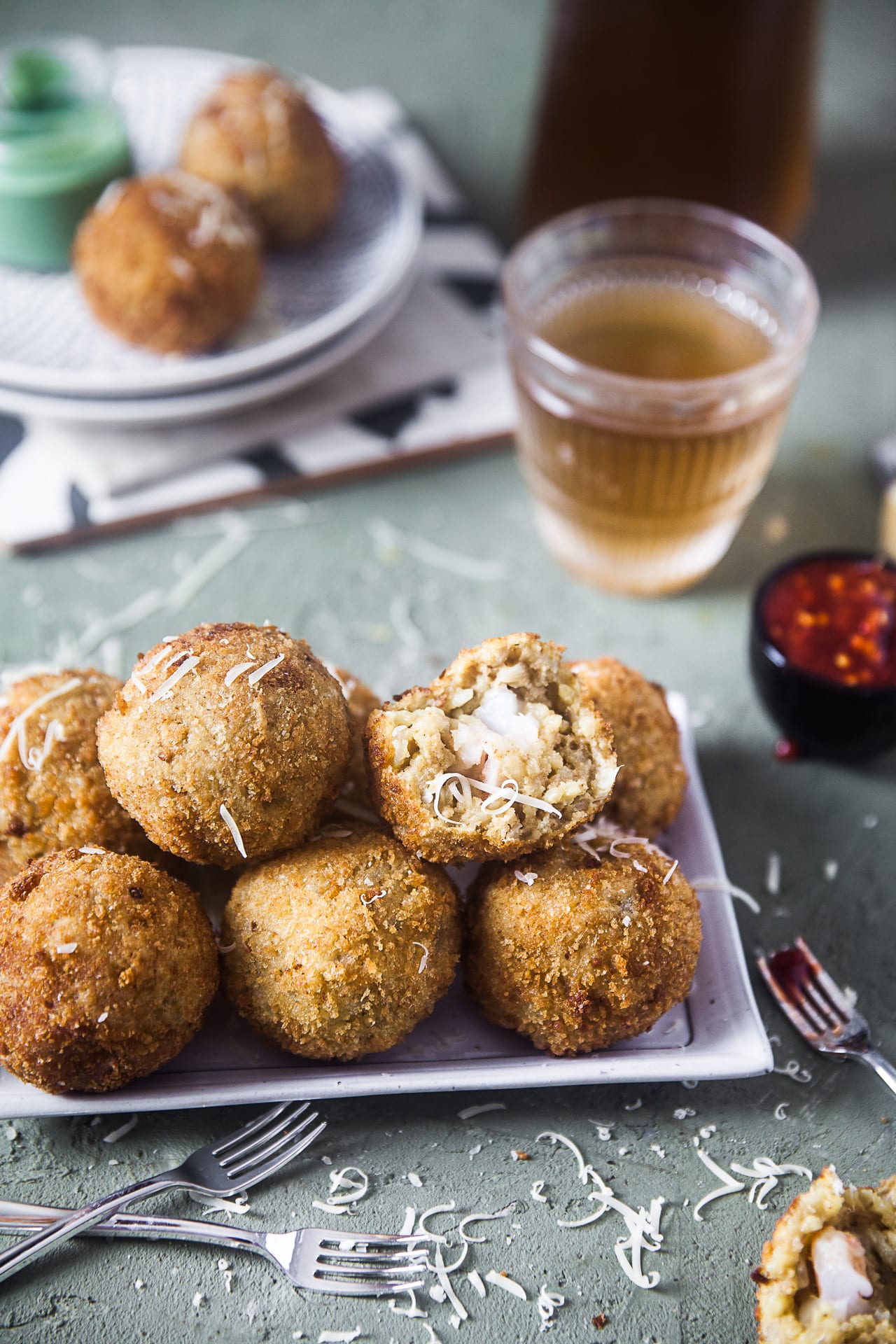 Collaborating with RiceSelect, I have an excellent offer for you! Earn cash while you shop and grab this offer to save $1 on 1 RiceSelect product while supplies last!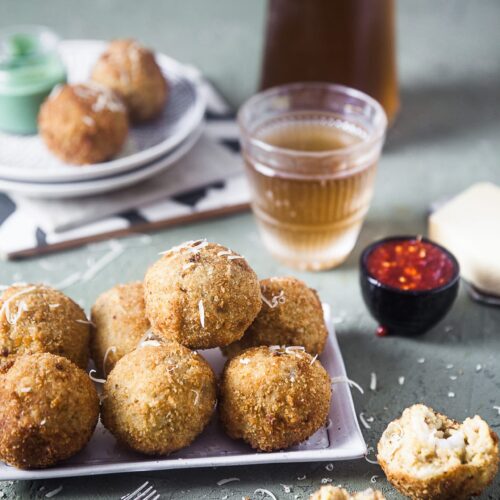 Shrimp Arancini
Ingredients
¾

cup

RiceSelect Arborio rice

3

cups

chicken stock

1-

tablespoon

butter

1-

tablespoon

olive oil

1

pinch

of saffron

4

cloves

of garlic

(finely chopped)

1

red onion

(finely chopped)

10

medium size raw shrimps

1-

teaspoon

salt

½

cup

Parmesan cheese

2

eggs

1-

cup

all purpose flour

2

cups

breadcrumbs

Enough oil to deep fry the arancini
Instructions
Pour the chicken stock in a pan along with the saffron strands and let it simmer for 5 minutes. Then, keep it warm as you prepare the risotto.

In a skillet at medium heat, add the butter and oil. Once it melts, add the garlic and stir around for 1 minute.

Scatter the red onion along with the salt and keep stirring around for 2 minutes. Add the arborio rice and stir it around for 2 minutes. Ladle a little bit of the stock and give it a stir. Once the water almost gets absorbed, ladle some more of the stock and keep stirring. Continue adding the stock in intervals as you cook the risotto to al dente. Finally, add the Parmesan cheese and give it a mix. Taste for salt and add any, if needed.

Let the risotto cool down to room temperature before you start making the arancini.

Once the risotto has cooled down completely, crack an egg into it along with ½ cup breadcrumbs and give it a mix.

Prepare the shrimp by removing the head and tail, de-vein it and then roughly chop it in very tiny bite size pieces.

Take ¼ cup of the risotto and flatten it on your palm. Place few of the chopped shrimp pieces and close the edges to form a risotto ball. Shape rest of the risotto the same way. It will make 13 shrimp arancini.

Take three medium size bowls. In one bowl, add the flour. Crack the egg in the second bowl and whisk it with a little water. In the third bowl, add the breadcrumbs and mix it with a pinch of salt.

Place a pan at medium heat and pour enough oil to deep fry the arancini. Drop one risotto ball in the flour bowl, coat it with egg and finally with the breadcrumbs. Drop it very carefully into the hot oil. Fry for 3 to 4 minutes rotating every now and then so you get golden brown color all around.

Serve the shrimp arancini warm with your choice of dipping sauce.