Jumbo rigatoni pasta dunked in creamy sauce with the goodness of broccoli makes this Rigatoni Broccoli Casserole a delicious meal for kids and adults. I don't often bake pasta but every time I do it, I try to sneak in some veggies and not overload it with cheese. Less guilt that way! This particular pasta casserole was fun to build, as I loved how it looked from top, like honeycomb.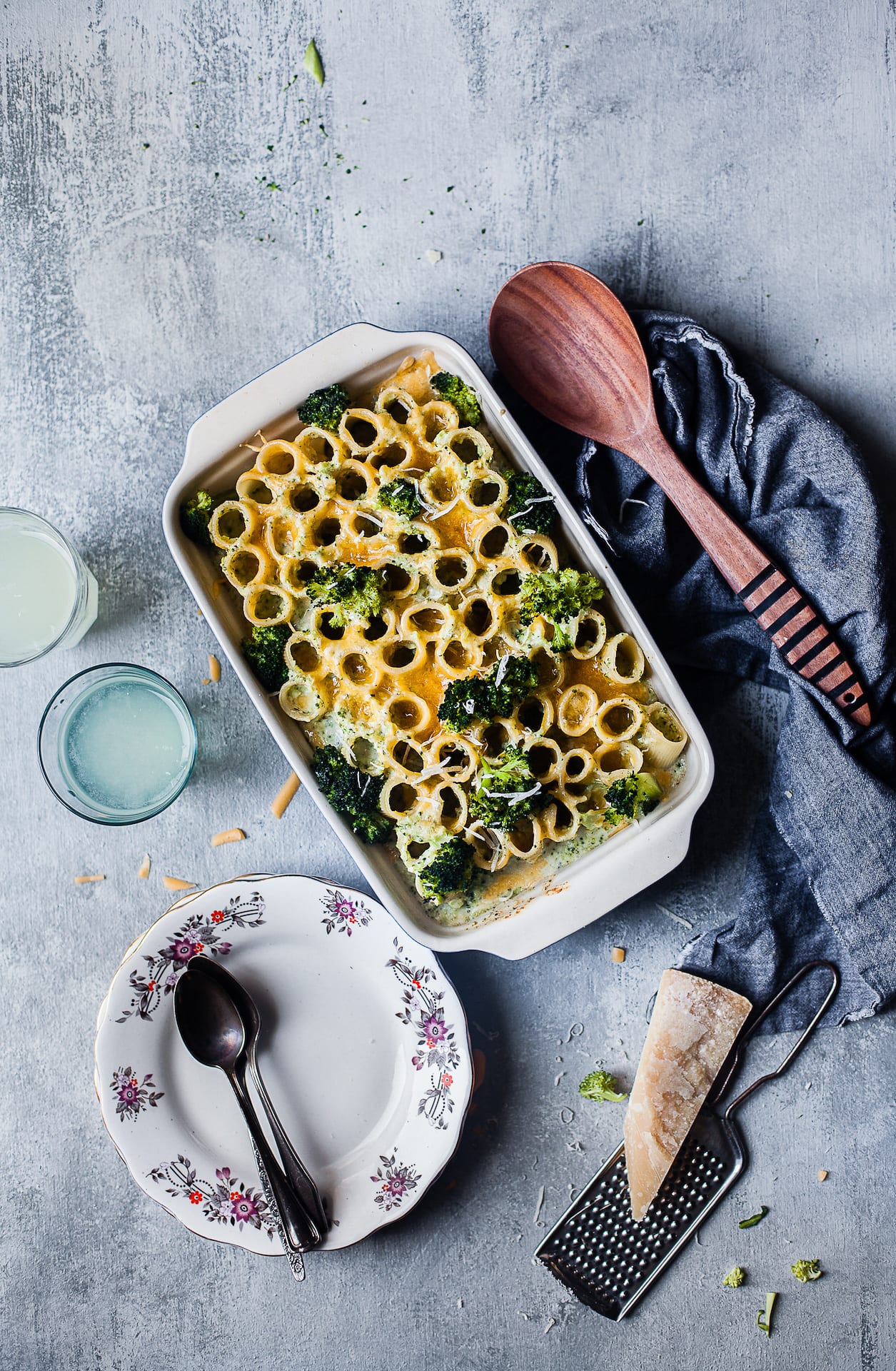 Rigatoni Broccoli Casserole
Every time I ask my little fella what he wants to eat, be it at home or in a restaurant, his answer is always the same – mac and cheese!
He doesn't get bored of it. I guess mac and cheese is every kid's favorite meal but am glad he also enjoys pasta in general. Few weeks back I made this super simple Rigatoni Broccoli Casserole and he loved it.
Rigatoni Broccoli Casserole is a healthy Baked Pasta
Avyan's eating habit when it comes to greens is unpredictable. Some days he loves it, and would eat it without any fuss and other days he won't even touch it.
Hence while making this casserole, I decided to not hide it completely. I grated some of broccoli and added it in the sauce and let a few florets for the bite.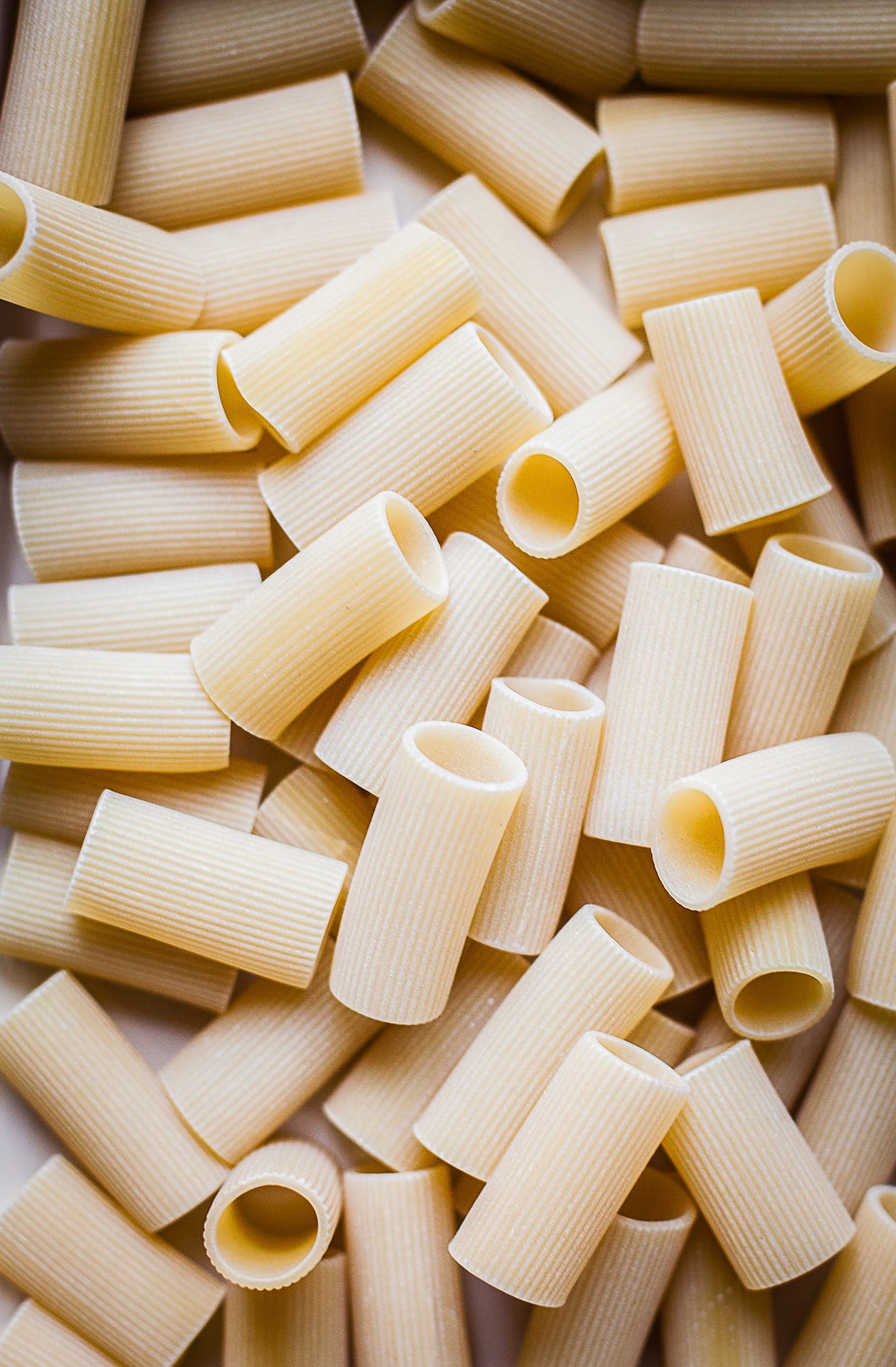 The Broccoli sauce
It's super simple. Just white sauce, that I flavored with a chicken bouillon and then added the grated broccoli to it. Of course little amount of mozzarella cheese also went it. You can add any other veggie you like, or may be some greens too.
Assembling the pasta and can it be done in advance?
Because the rigatoni pasta was quite large in size, I build it taking some time. But you can just mix the boiled pasta to the sauce and dump the whole thing in a casserole to bake.
Yes, you can make this in advance. Once you assemble the dish, bring it to room temperature and cover the entire casserole with a clear wrap tightly. Keep it in the refrigerator.
I have never stored prepared casserole for more than one night, but if you want to store it for longer, use the freezer. The only thing is that with this recipe, the boiled broccoli that I added on top might not that stay vibrant green.
So if you wish to add broccoli florets, then do that just before you decide to bake the pasta.
Overall it's a fun tasty meal that doesn't need a lot of effort and yet looks gorgeous! It's one of those party favorites too as it can be prepared in bulk and in advance.
Rigatoni Broccoli Casserole
Ingredients
28.3

oz

rigatoni

½

teaspoon

salt

2

tablespoons

butter

2

tablespoons

flour

1 ½

cup

milk

1

chicken bullion

2

cups

grated broccoli

½

cup

mozzarella cheese

¼

cup

parmesan cheese

Extra boiled broccoli florets

(optional)
Instructions
To save time, cook the pasta and the sauce simultaneously.

Place a heavy bottom saucepan with enough water to boil the pasta in high heat. Place another heavy bottom skillet on medium heat.

For the pasta, once the water comes to boil, drop the rigatoni along with the salt and boil for 7 minutes. Once done, save ¼ cup of the pasta water and drain the rigatoni using a colander.

For the sauce, once the skillet heats up, drop the butter. As it melts, sprinkle the flour and mix it around for few seconds. Then pour the milk little by milk and keep whisking until it comes together into a smooth sauce without any lumps. Then scatter the grated broccoli, and crumble the chicken bullion. Whisk to mix everything. Pour ¼ cup of the pasta water to tin out the sauce a little bit. Finally add ¼ cup of the mozzarella cheese and mix it all together. Taste for salt and add any if required. Switch off the heat.

Preheat the oven to 350F

Take a casserole dish, and layer the base with some of the sauce. Then place the rigatoni straight up one by one. Pour rest of the sauce on top, followed by the boiled broccoli florets, if using. Scatter the remaining mozzarella cheese and the parmesan cheese. Bake for 25 to 30 minutes or until the cheese on top turns mild golden brown.

Serve warm
Nutrition