One of the most common complaints my mom had about me was that I don't take breakfast seriously. Truth is, I love breakfast food and it's my favorite. I am just extremely lazy in the morning to get my creative juices flowing. And I was definitely not a morning person. My morning ritual involved tea and sometimes, a slice of bread would tag along. Reaching to office on time was more vital than stuffing my belly. The routine didn't change even after marriage. Arvind was no better. My mom was not happy with this pattern of ours and she was determined to bring a change. After listening to her numerous long talks week after week, I finally pushed my lazy bones. We started with a bowl of cereal or oats. After few weeks, we added bread toast along with boiled eggs. It was surely an additional effort, but it soon got built into our system. It felt nice and Mom was proud too!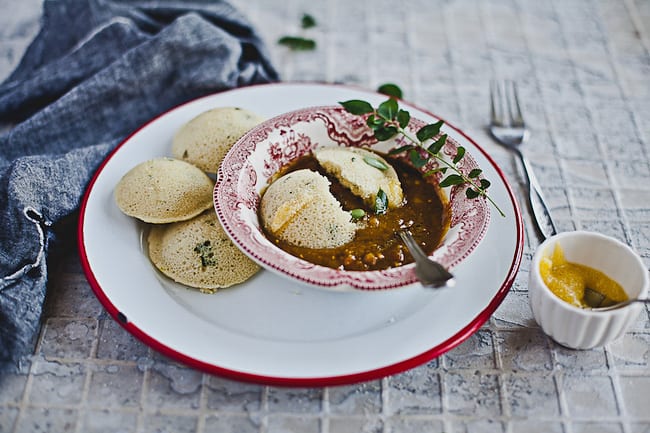 While proper breakfast became a regular thing, the menu didn't change much for weekdays, until I found this Idli recipe in a small booklet. I didn't grow up eating Idly everyday; hence to discover a recipe that could get ready in less than 15 minutes was a you-got-to-be-kidding moment for me!
For people who are not aware, Idli is a famous traditional South Indian breakfast. It's steamed, savory cake served with condiments like coconut chutney and/or a lentil soup called sambar. The most common type of Idli is made with rice and lentil batter that needs to be fermented before you can start steaming the cakes. It's not a lot of work but it definitely needs planning. The Idli that I am sharing with you today is called Rava Idli. It is prepared with semolina and it needs no planning at all. Fits perfectly in my busy life!
Unlike rice Idlis, these don't rise  on steaming, but it's still soft and pillowy.
Rava Idli (Steamed Semolina Cake)
Ingredients
2

cups

semolina

2

cups

plain yogurt

1

cup

water

2

tablespoons

oil

handful of fresh curry leaves

(finely chopped)

½

tablespoon

baking soda

1

teaspoon

salt
Instructions
Mix all the ingredients in a bowl and let it rest for 5 minutes.

Brush Idly moulds with oil. Pour about 1-½ tablespoon of batter on each mould. Then, microwave it for 3.5 minutes to 4 minutes. If you were steaming it on a stovetop, it would take about 10 minutes, depending on the size of the Idly moulds.
Notes
You can make the batter in advance, even the night before and let it rest in the refrigerator.
Unlike rice Idly, these semolina Idlis will not rise. However, it will still be fluffy and soft.
Once steamed, remember to take out the Idly from the microwave. I had kept it inside for a longer time once and eventually, it got dry and hard.
Nutrition