Rasmalai or Roshomalai are spongy fresh cottage cheese dumplings that are dunked in creamy cardamom and saffron milk. It is one of the most famous Indian desserts that always brightens the festive mood, especially Diwali. The recipe is simple with few steps to keep in mind for the perfect texture of Rasmalai
Rasmalai 
Ras meaning juice and malai means cream, this dessert is originated from the eastern region of Indian subcontinents. Bengalies like to call it Roshomalai. 
Rasmalai has always been one of my favorite desserts, even when I didn't have a sweet tooth. For me, the creamy milk needs to be the right consistency, not too thick or too thin.
The fresh cheese dumplings need to be soft and airy.
There are multiple steps involved, and it may feel like a lot of work, but it will be worth it at the end when you take that first bite.
I hope you will try this Rasmalai recipe for Diwali. 
KEY Components of Rasmalai
The two key components of Rasmalai / Roshmalai are the fresh cheese dumpling known as chhena and the flavored milk.
Getting the texture of the Chhena pillowy soft is a skill, one that you can perfect only with practice. I am telling you this from my own experience. Once you get that right, making Rosogolla and Rasmalai will feel effortless.
Tips to make super soft Chhena 
Use whole milk. Any other variety and it will not be that great. If you however tried something else, please let me know, and I would love to try.
Before you add lemon juice/vinegar to the boiled milk, make sure to add a few ice cubes. The ice cubes will drop the temperature of the milk and the curdle milk will look smoother and distributed instead of all grouped up in clusters.
Don't leave the chhena hanging in the cheese cloth for more than 30 minutes. If you keep it longer, all the moisture will go away, and you will not get that smooth soft texture.
Kneading the fresh chhena for 10 minutes is crucial. It will break down the cheese into a soft pliable dough. Now kneading process is different and watch this video to understand the steps better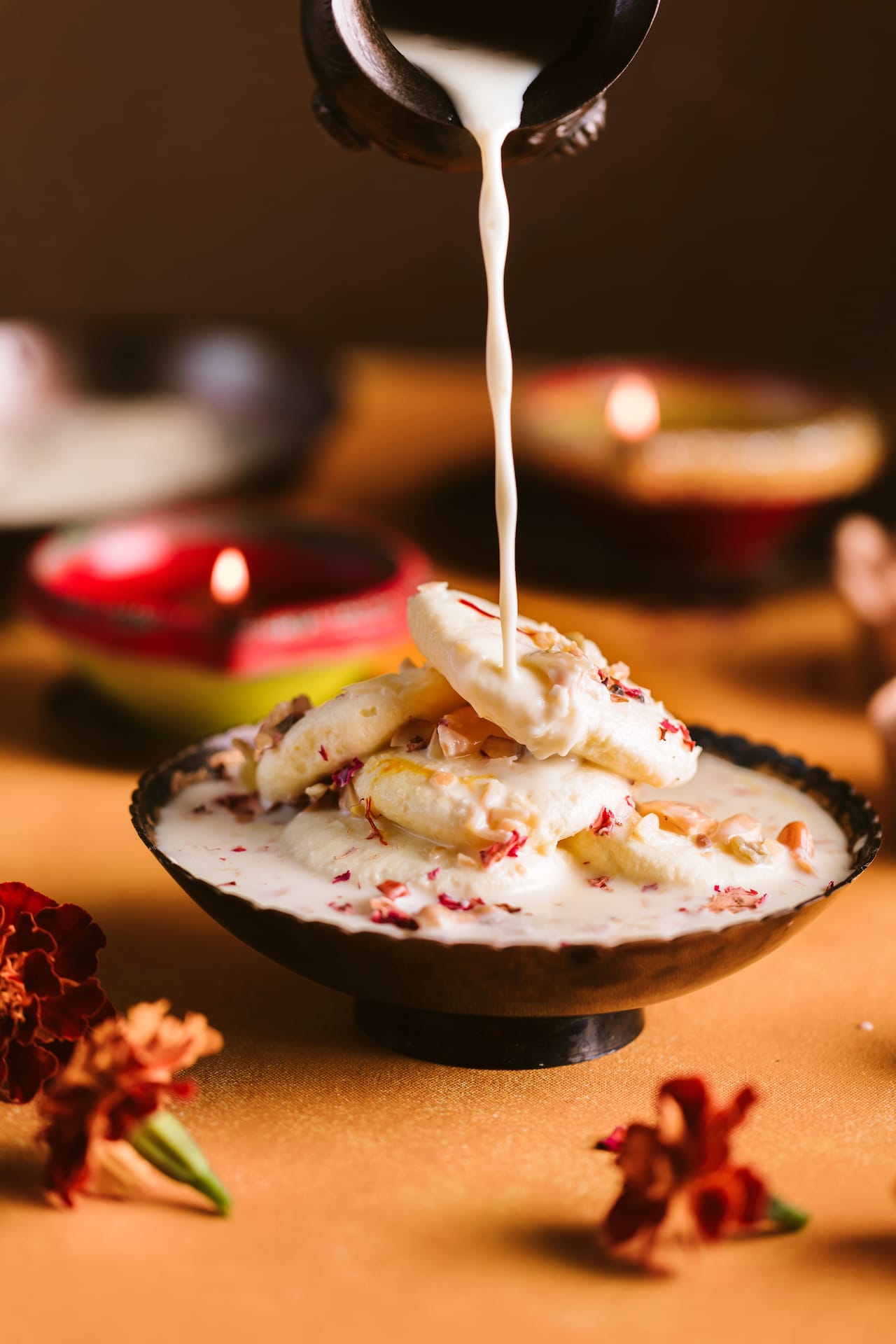 Shaping and Cooking the Rasmalai 
Once your chhena dough is ready, you divide the dough into small dumplings. Keep in mind that these will fluff up and double in size on cooking. So you need to shape these tiny.
Traditionally, Rasmalai are shaped like a flat disc. Take a dumpling and roll it around in your hand to shape it into a ball. Then gently press it to flatten it.
Once you are done shaping the Rasmalai, you cook it in sugar syrup. Keep in mind when choosing the cookware as these needs space to fluff up.
The cooked chhena needs to be cooled down to room temperature before you  squeeze the excess syrup out of it and place it in the flavored milk.
The Malai (Flavored Milk) 
The key step to making the perfect malai is to make sure you do not cook the whole milk for too long. If it gets thicker than the cooked chhena disc will not be able to soak the milk.
You cook the whole milk with nuts and spices for just 15 minutes.
Rasmalai is hard to pass, it's so tempting and if prepared the right way, every bite will bring a smile in your face. The chhena disc should melt in your mouth and the milk should be flavorful creamy and so flavorful.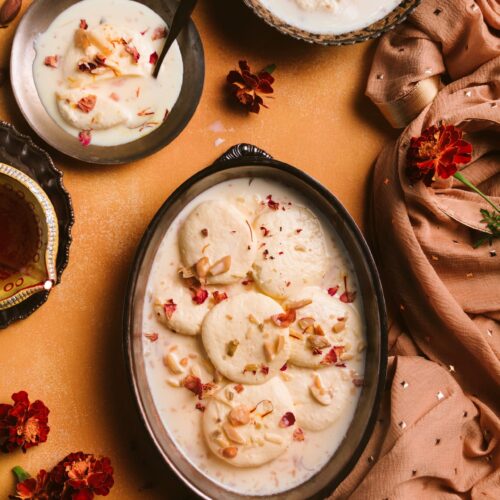 Rasmalai (Juicy cheese dumplings in favored cream)
Rasmalai are spongy fresh cottage cheese dumplings that are dunked in creamy cardamom and saffron milk. It is one of the most famous Indian desserts that always brightens the festive mood. The recipe is simple with few steps to keep in mind for the perfect texture of Rasmalai
Ingredients
for fresh chenna
4

cups

whole milk

3

tablespoons

white vinegar and 2 tablespoons water mixed together

3

ice cubes
for light sugar syrup
3

cups

water

1½

cups

sugar
for flavored milk
4

cups

milk

1

cup

white sugar

5

green cardamoms

(crushed)

pinch

of saffron thread

¼

assorted nuts finely chopped

(not powdered)
Instructions
To prepare the fresh chenna, start by lining a colander with a cheesecloth and place the colander on a huge vessel or in a clean sink.

Pour the milk in a heavy bottom saucepan on medium high heat. Stir occasionally using a wooden spoon until the milk comes to a boil. Once the milk comes to a complete boil, switch off the heat and drop the ice cubes immediately. Then, pour the water-vinegar mixture and stir. You will notice that the milk will start to curdle, and the water will turn green in shade. Carefully pour the curdled milk over the cheesecloth.

Run cold water for a few seconds on the collected curdled milk over the cheesecloth. Then, gather the edges of the cheesecloth and squeeze out as much water possible. Tie the edges into a knot and hang it either over the sink or over a vessel. Hang it for 30 minutes to drain out all the water.

In the meantime prepared the flavored milk. Place the milk in a bowl and crush the saffron threads into it along with the green cardamoms and the assorted nuts. Let it simmer in medium heat for 15 minutes, make sure to stir around so the milk doesn't get burnt at the bottom of the pan. Once done leave it aside to cool down to room temperature.

After 30 minutes, letting the chhena drain excess water, carefully open the knot and scrape the cheese out of the cloth into a plate. Knead the chhena for 10 minutes and then, make 15 dumplings out of it.

Shape the dumplings in mini patties and keep it aside. Make sure the patties don't have any cracks. Keep it covered so the chhena doesn't dry out.

Place another heavy bottom pan on medium high heat and pour the water and sugar for the syrup. Bring it to a boil and let it simmer for 10 minutes. Then, bring the heat down to medium and drop the shaped dumplings. Cover the pan and cook for 7 minutes, then remove the lid and gently move the dumplings around from the sides to the center. Cover and cook for 6 minutes.

Next, switch off the heat, remove the lid and leave it aside to cool down completely by gently pressing it in your palm and drop it in the room temperature flavored milk.

Allow it rest at room temperature for at least 3 hours for the chhena to soak up all the milk and turn into spongy delicious Rasmalai.

While serving, sprinkle some slivered nuts on top and dried rose petals (optional)
Nutrition