This time of the year calls for family get together, it calls for shopping and it calls for lots of eating.. rich flavorful meals followed by different types of sweets. We are celebrating Navratri, Durga Puja and Diwali is just around the corner!
As a kid, the preparations used to start a month in advance. Buying new clothes, new pair of shoes and of-course matching accessories to go with the dress. Growing up in a Bengali family, Durga Puja has always been The Festival we look forward to the whole year. There would be no school, no homework; those few days was only about meeting up with friends, dressing up in fashion and spending the whole day visiting different locations for Durga Puja.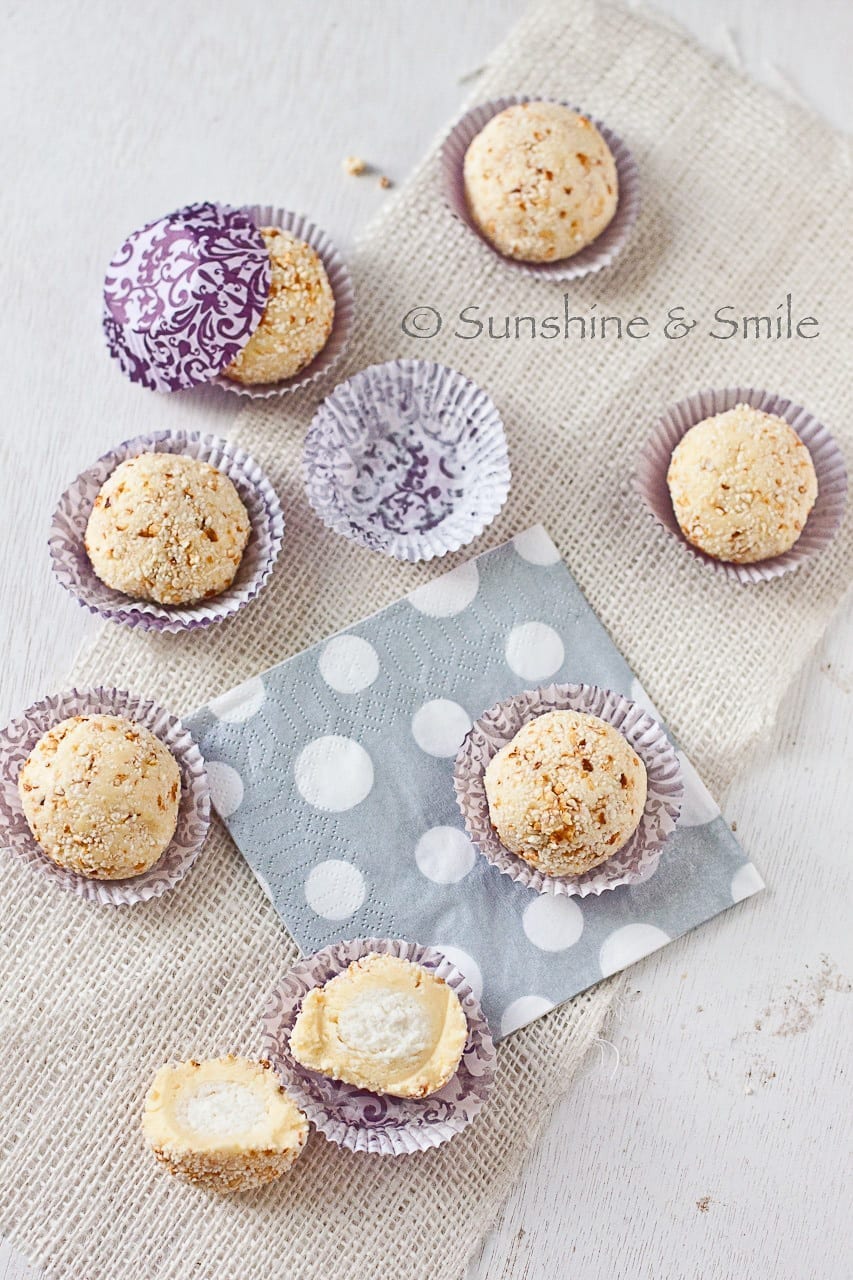 It's a 4-day celebration and if I start talking more about Durga Puja, it would turn out to be a very long post and I don't want to bore you with that 🙂 Lets talk about food now.. one topic we all love!
When my dear friend Radhika asked me to do a guest post for Navratri, I decided to make something sweet for her. She had once mentioned to me that she likes Bengali sweets and she loves Raskadam. So, I thought this would be the best time to make Raskadam.
Few months back Radhika had shared a delicious Mango Strawberry Honey Yogurt Granola Parfait and today I am heading over to her space.
She is from Texas and shares delicious recipes with gorgeous photos in her blog Just Home Made. The blog name says it all... it's all homemade vegetarian dishes that she loves to cook and loves to write about. She is one such friend whom I treasure the most.. we both love to talk and can spend hours talking over our passion for food and photography 🙂
Raskadam is a very popular Indian sweet treat which has a soft creamy texture and juicy in the center. It's made with 'khoya' (dried whole milk) and curdle milk. The curdle milk is used to make Rasgulla (juicy sweet balls dipped in syrup) which is then wrapped with the khoya dough.
It may sound a little complicated but once you read the recipe in detail, you will know that it is very easy. There is no baking involved in it and hardly any cooking too!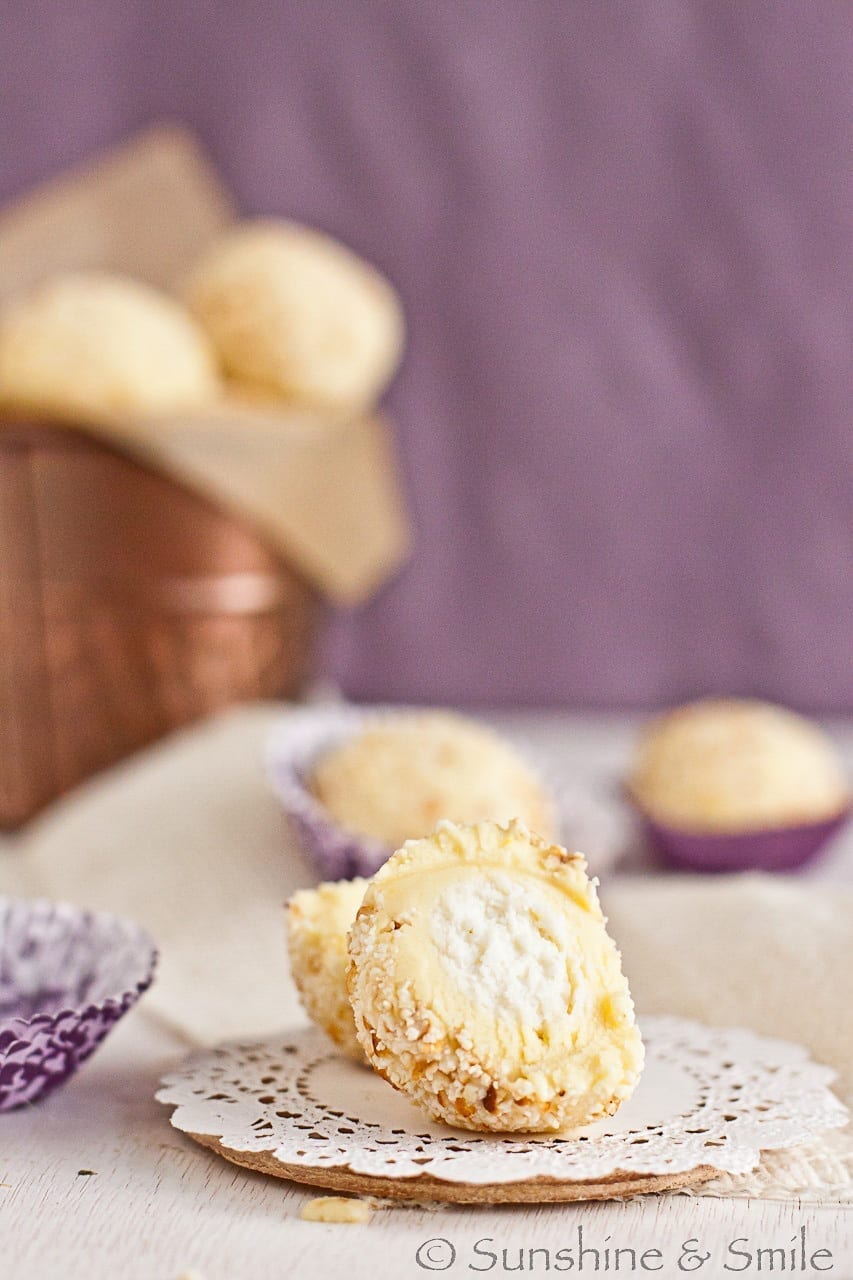 I want to thank Radhika for mentioning this sweet to me or else, I would have never learned how to make this sweet.
Raskadam (An Indian Sweet made with milk and sugar)
Ingredients
3-½

cup

whole milk

2

tbs

lemon juice

1-½

cup

sugar

a pinch of saffron threads

1-½

cup

powdered sugar

4

cups

khoya

(grated or mashed)

1

cup

paneer

(grated)
Instructions
Start by making the rasgullas:
In a deep pan, bring the milk to boil. Remember to stir it occasionally or else the milk will get burnt.

Once it starts boiling, reduce the heat and pour the lemon juice while stirring it constantly.

Within 3 to 4 seconds, the milk will curdle and you should see clear green water. At this time, turn off the heat completely.

Let it cool for a minute and then strain it through the cheesecloth.

Wash the collected cheese with cold tap water to remove the lemon flavor.

Tie the sides of the cheesecloth together tightly and hang it somewhere to drain the remaining water from the cheese. This should take

about an hour.

Take out the cheese from the cheesecloth and knead for about 10 minutes, or until it's smooth.

Make small balls out of the dough and keep it aside.

Now, add sugar with 4 cups of water in a pressure cooker and bring it to boil.

Add the small balls of dough in it and let it boil for around 4 minutes.

Cover the cooker with the lid and boil for another 3 minutes.

Once it's cooled completely, strain the balls and spread it in a kitchen towel.
Next make the dough with khoya:
Mix a pinch of saffron threads with 1-½ tbs milk.

In a bowl, mix the grated khoya, powdered sugar, saffron milk and make a dough out of it. Keep it aside.
Prepare the grated paneer dust :
In a non stick pan, cook the grated panner in low heat until it changes to golden in color.

Spread it in a kitchen towel and let it cool completely. Then, put it in a food processor and grate it to a coarse dust.

Spread the dust in a separate plate.
Assembling the raskadam:
Take a little bit of dough in your hand and spread it flat.

Place the rasgulla in the center and wrap it with the dough.

Roll it slightly and make a ball out of it.

Place it on the plate with the paneer dust and rub it slightly all around.

Once you are done making all the raskadam, let it chill in the refrigerator for about 5 to 10 minutes.

You can refrigerate it in an air tight jar for up-to 3 days.
Nutrition
Wish you all a very happy and joyful festive season!