It's been a pretty inconsistent climate in my part of the world. We wake up to a crisp, slightly chill morning followed by a very warm afternoon and then, a pleasant evening. While some days we reach out for a hearty, steaming bowl of soup, on other days, we prefer a light salad. In one way, it's adding a variety in our life. The air still doesn't scream autumn but it sure is prepping me to think of stew, roast chicken, baked bread, baked pie and bid goodbye to salad for a while.
Being the summer girl that I am, I find it very difficult to let go the sunshine, let go the warm clear sky, the long days and summer fruits. But I am gearing up, getting ready for the change, for apple and pears, and to fill the home with fall flavors.
Until then, stay with me on this salad, which is definitely light but can very well be served on a cold winter evening. Mix the dressing while the quinoa is still warm and pair it with toasted, crusty bread. Comforting.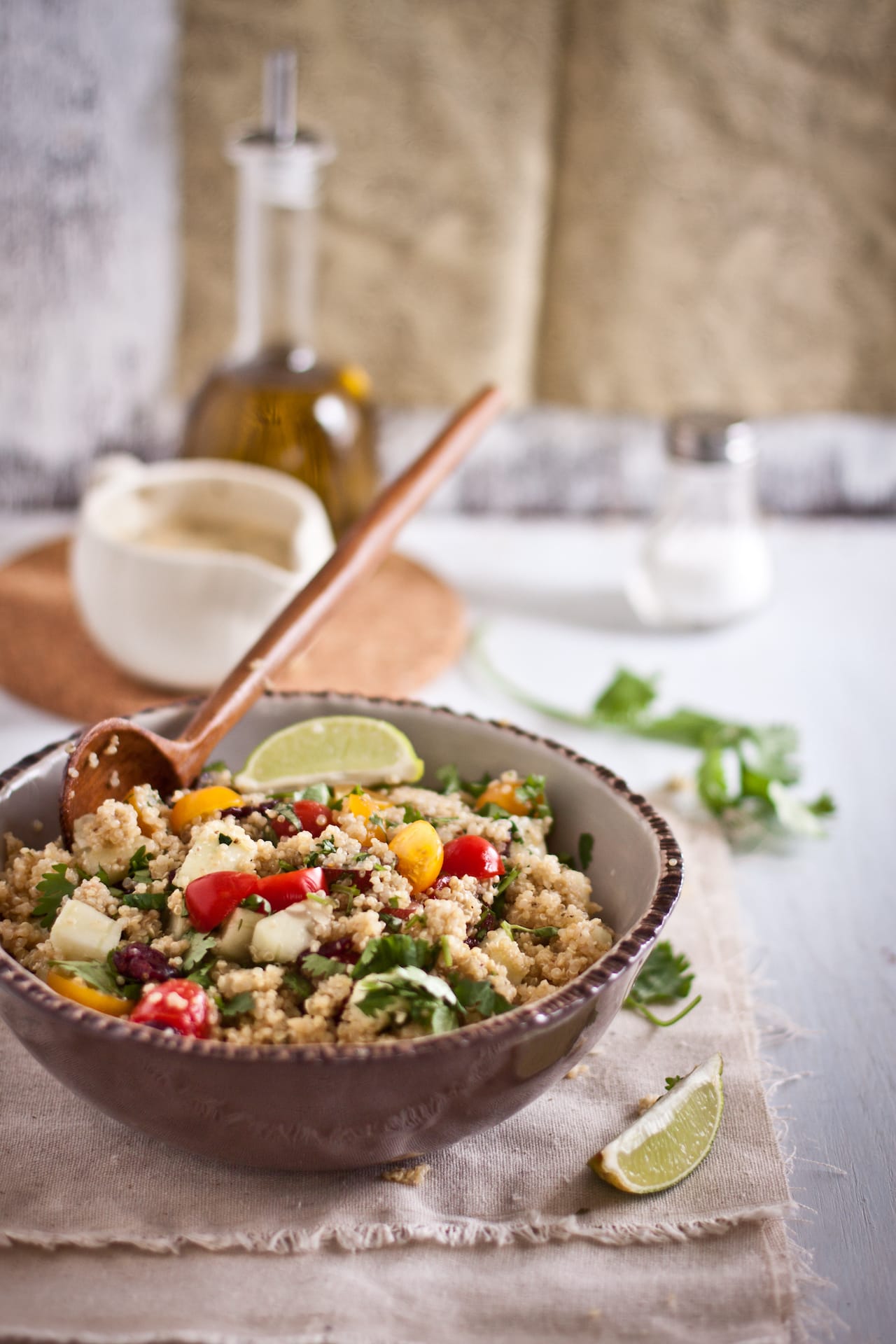 Quinoa is still not a favorite ingredient in my home and we are taking time to make it a part of our regular diet. It took a very long time for me to start cooking with this very healthy grain like crop that is filled with protein, fiber and iron. I was intimidated by it and I failed a couple of times. And then slowly the concept started settling down making me realize that it's one of those ingredients which is versatile, like rice, and can be prepared in various ways. Sweet or Savory!
My favorite part of the salad, beside the fact how colorful it looks, is the creamy dressing. Ricotta mixed with mint, garam masala and fresh lime juice for the tang. At the end, pour some extra virgin olive oil slowly while beating vigorously to emulsify the two components to a perfect creamy dressing. It is currently my favorite salad dressing, where at times ricotta can be replaced with yogurt and garam masala can be replaced with some other spice like cumin or coriander powder.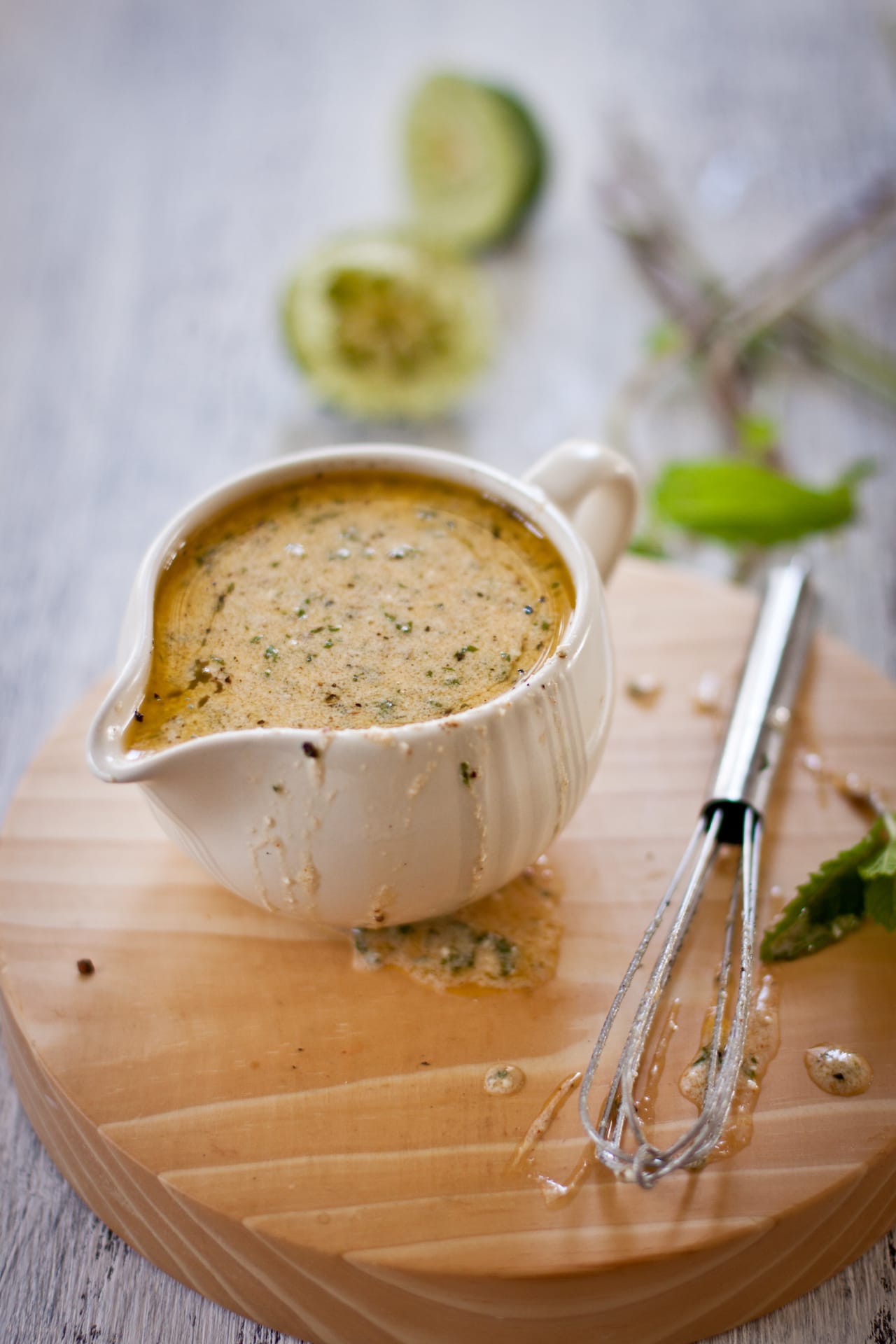 Both the salad and the dressing can be made couple of days in advance and served cold or at room temperature.
Quinoa Salad
Ingredients
For the dressing
2

cups

of ricotta cheese

(which can be replaced with plain yogurt)

½

cup

finely chopped mint

1

tablespoon

garam masala powder

zest and juice of 1 lime

½

cup

extra virgin olive oil

1

shallot

(very finely chopped)

1

teaspoon

chilly powder

salt

freshly cracked pepper
For the salad
1

cup

quinoa

1-¼

cup

water

handful of cherry tomatoes

(cut in half)

handful of red grapes

(cut in half)

1

medium size cucumber

(cut into bite size)

¼

cup

dried cranberries

(or any other dried fruit you prefer)

¼

cup

chopped cilantro for garnish
Instructions
For the dressing
In a mixing bowl, whisk everything except extra virgin olive oil.

Next, pour the extra virgin olive oil from top and whisk again until it creamy and smooth.

Taste for salt and add if required.
How to cook quinoa
Rinse the quinoa with cold water for a couple of times and then soak it in the cold water for 5 minutes.

Using a fine mesh strainer, strain the water.

Mix quinoa with 1-½ cup water and pinch of salt in a deep pan with a tight lid. Let it cook at high heat until the water starts boiling.

Then, lower the heat to medium, cover it with the tight lid and let it simmer until all the water is absorbed. It should take about 15-17 minutes.

Remove from heat and let it rest for 5 more minutes with the lid on.

Fluff quinoa gently with a fork.
Making the salad
In a serving bowl, lightly toss the cooked quinoa with the chopped vegetables.

Pour the dressing on top and toss once again.

Add some dried fruits, chopped cilantro and serve.
Notes
A different version of the same salad can be to substitute quinoa with couscous.
If you can't find ricotta or don't like ricotta, you can always replace it with plain yogurt.
Nutrition