Melting in mouth flavor packed filling with the flaky crust, this Pumpkin Pie – the old fashion way is the best Thanksgiving dessert. This recipe makes a small 8-inch Pumpkin Pie which is best for small family but then it won't last long, especially if you top it with some pumpkin spiced whipped cream.
Good Old Fashion Pumpkin Pie
My husband is a big fan of pumpkin desserts and Pumpkin pie tops the list. He couldn't wait for Diwali to get over so I could start baking pies. And obviously had to start with Pumpkin Pie.
A good Pumpkin Pie is the one that doesn't weep, that cuts through neatly leaving your pie dish clean. You know your recipe is solid when that happens.
Your pumpkin pie filling is custard base which needs to be flavor packed and creamy. It should melt in your mouth without feeling grainy. But before you get there you need a solid crust recipe too.
Start with the flaky pie crust
Prepare the pie crust before. You can store pie crust for 3 days in the refrigerator and 3 months in the freezer.
Read my detailed post on how to prepare a flaky buttery pie crust with minimal effort and minimal ingredients.
The Pumpkin Pie filling
The filling takes barely 10 minutes to get ready. It's just about adding all the ingredients in a bowl and giving it a good whisk.
List of ingredients:
Canned Pumpkin Puree – You got to take short cuts somewhere and I prefer to use canned because it's smooth and the color comes out gorgeous.
Eggs – This is a custard base filling, so you need egg. I use 3 whole eggs.
Heavy Cream – This give the rich creamy texture.
Brown Sugar – I used brown sugar but you can go for white too.
Salt – a must to bring all the flavors together
Pumpkin Spice (or you could use cinnamon powder, ginger powder, all spice and nutmeg) – You can use store bought pumpkin pie spice mix or use the spices I mention to make you own pumpkin spice.
Corn flour – This helps to eggs in the custard to avoid from getting overcooked or curdle as it bakes.
Blind Baking the Pie Crust
For custard base pies, it is always recommended to blind bake the pie crust. This will partially cook the crust and avoid the bottom from getting soggy.

Few important points to keep in mind
Make sure the pumpkin pie filling doesn't have any lump. It should be smooth and free flowing.
After baking halfway through, keep an eye on the pie. It puffs on the side and you will if my mistake over cooked, it will start cracking.
How to avoid Pumpkin Pie from cracks?
Overbaking Pumpkin Pie will create cracks. It's the same concept as cheesecake. You have to keep an eye after halfway through done baking. The edges will puff as that area cooks faster than the center.
You might even see tiny cracks on the sides, and if you see that, than it's time to take it out. The center will wobble and that is perfect.
The pie is continuing to bake even after you take it out of the oven. Give it ATLEAST 1 HOUR to cool down before you slice.
The end result will be melting in mouth perfectly baked Pumpkin Pie. The tiny cracks on the edges will settle down too.
How to get perfect Slices?
PROTIP: Dip your knife in super-hot water and then wipe it clean with a kitchen towel or cloth and then slice. Do this before every slice and you will get perfect neat slices of the pie.
Pumpkin Spice whipped cream
Instead of topping your pie with just whipped cream, add a little bit of pumpkin pie spice and sugar. The result will be flavor packed and will uplift the taste of the pie at every bite.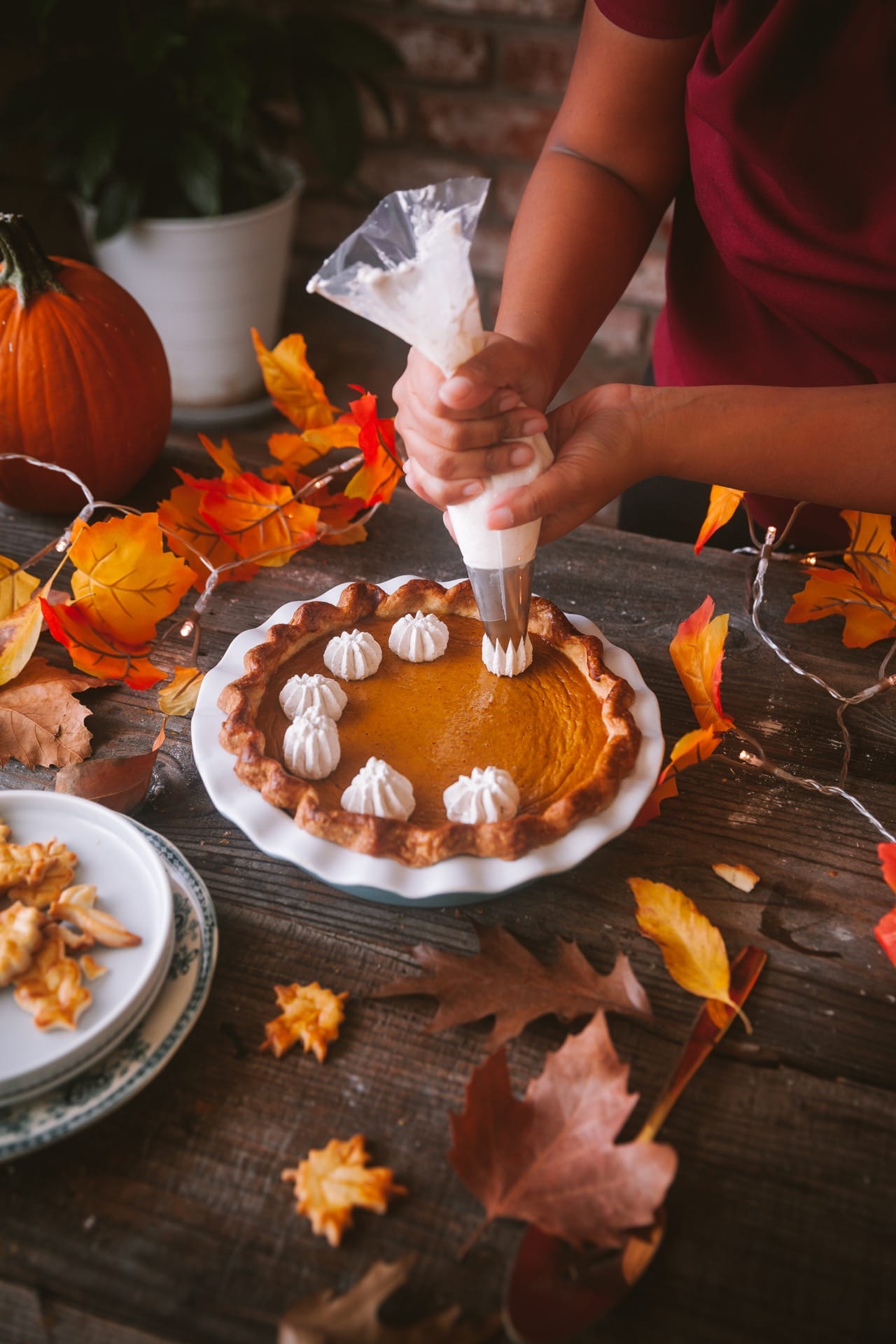 If you follow all these tips then you will definitely get a perfectly baked without any cracks Pumpkin Pie on a flaky crust. Our 8 inch pie didn't last too long and there were no crumbs left at the bottom.
Pumpkin Pie
Melting in mouth flavor packed pumpkin pie filling with theflaky crust, this Pumpkin Pie – the old fashion way is the best Thanksgiving dessert.  This recipe makes a small 8-inch Pumpkin Pie which is best for small family but then it won't last long, especially if you top it with some pumpkin spiced whipped cream.
Ingredients
** Check in Notes Below on the recipe for the Pie Crust
for Pumpkin Pie Filling
1

can

(15 oz Pumpkin Puree)

1

cup

brown sugar

4

eggs

(1 egg used for egg wash)

1

and ½ tablespoons pumpkin spice

1

tablespoon

corn flour

½

teaspoon

salt
Instructions
Thaw the pie crust for a while so it gets easy to roll out. You don't want the crust to get too soft either.

Dust enough flour on the board and roll the crust out to ⅛th inch thick and 1 inch wider than you pie dish.

Once you rolled it out, transfer the dough to the pie dish and instead of pressing down the dough, gently push down the edges to shape it properly.

Trim off the exess and then tug the edges to form a thicker edge of the pie. Then shape the edge as per your liking.

Place the pie dish in the fridge for 15 minutes before you blind bake.

The trimmed off dough, can be rolled out and cut out to autmn leaves shape usinf cookie cutter (link given in notes below) or anything else of your choice. These will be baked seperately and added on top of the pie to decorate the baked pie.

Layer the cut out autmn leaves and place it in a cookies sheet. Place it in the freezer to be used later.

Preheat the oven to 400 F to blind bake the pie crust.

Crush a parchment paper and place it on top of the pie crust. Then top it with dried beans or lentils. Leven it out so it's evenly spread out.

Bake for 10 minutes.

Then remove the parchment paper and bake for 5 more minutes.

While the pie crust cools off a little, prepare the filling.

Also preheat the oven to 350 F

In a mixing bowl, add the pumpkin puree along with sugar, 3 eggs, heavy cream, pumpkin spice, corn flour, and salt. Give a whisk until it looks smooth without any crumbs.

Pour the filling to the partially baked pie crust.

Crack the extra egg and use it to rub on the edges of the pie crust.

Bake for 40 minutes, might need more time if you are using a 9 inch pie dish. After half way through start keeping an eye. Once the side gets firm but the center is a little wobbly take it off the oven and let it cool completely before you slice.

In the mean time take out the autumn leaves from the freezer and rub egg wash on all of them. Then bake at 400 F for about 15 minutes.

When you are ready to slice, prepare the pumpkin spiced whipping cream. Just add little amount of pumpkin spice and sugar and whip the heavy cream.

Decorate the pie with whipped cream and the autumn leaves.

To slice the pie, dip the knife in hot water and then whip it clean before slicing. This will ensure cleen slice everytime.

Enjoy the creamy pumpkin pie.