A visit to the farmer's market is inspiring, uplifting and one of the finest ways to start a morning. There is a local one, not too far from our home, that brings lovely spread of seasonal produce every week. On certain Fridays, I worry less about morning cleaning or prepping lunch and instead, I make a trip to the market. I walk pass the stalls at a slow pace, taking time to explore. There are huge bunches of vibrant greens, purple cauliflowers, baby artichokes and tender asparagus all screaming spring. And there in the corner, I see colorful spring carrots with feathery leaves attached to it. These are my favorites. I pick a bunch, placing it very carefully in my bag, making sure not to spoil the lovely greens.
Recipe ideas start flowing in and I am already dreaming of our next meal.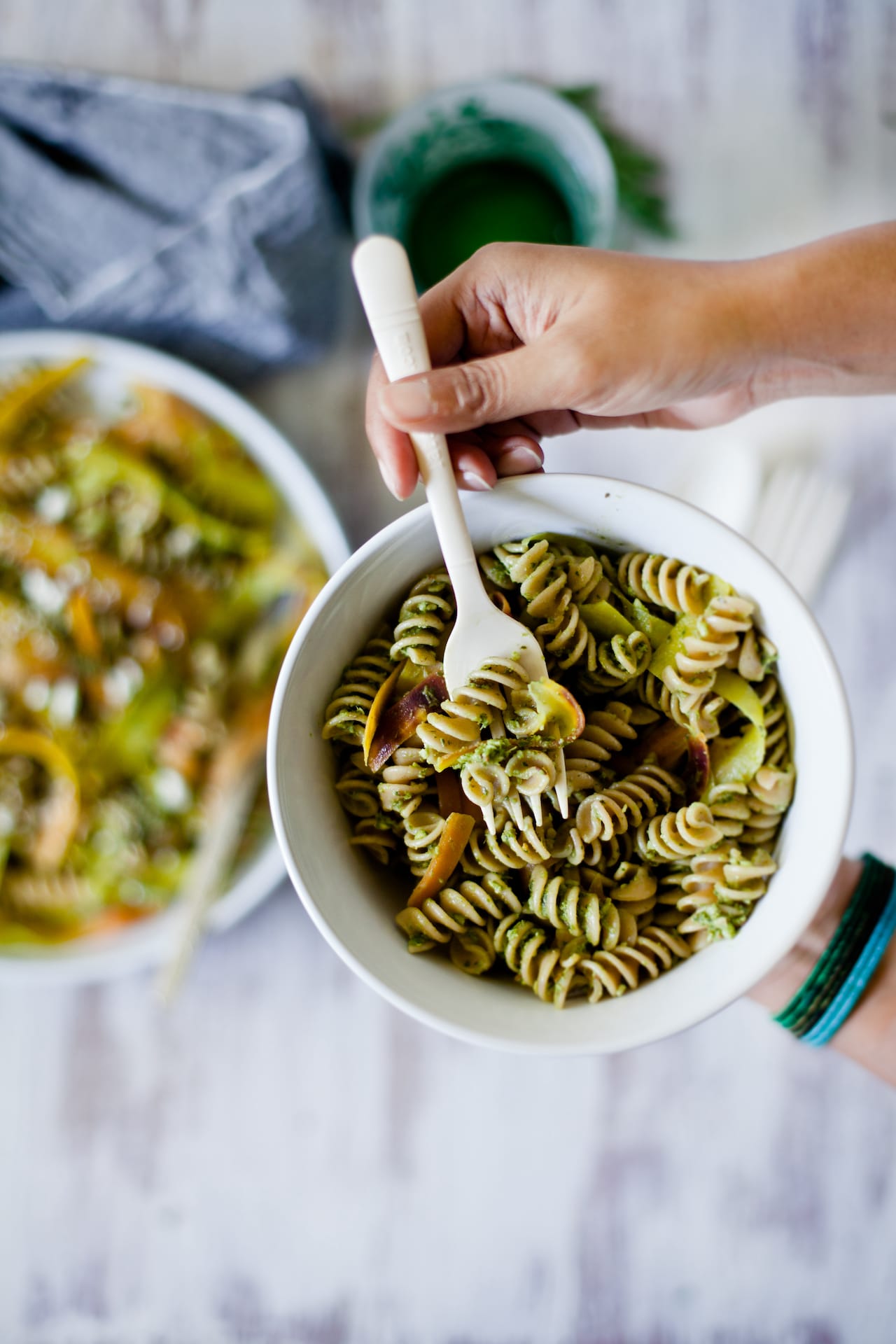 I remember a silly act I did last year. When I came home one spring morning with a bag full of these carrots, I chopped off the tops and threw it without even thinking through. It was only after I spoke to mom the next day, it occurred to me that it's edible. Lesson learnt!
This time, I knew exactly what I wanted to do.
Few months' back, a friend had shared a cilantro chutney recipe with me while sipping wine at a party. It has peanuts, coconut flakes, cumin and cilantro, which I thought was a lovely flavor blend. I wanted to try it this time but with the feathery carrot greens. I updated her recipe a tad bit by adding olive oil to give it a creamy sauce like texture.
Tossed the shaved carrots, boiled pasta with the spicy creamy sauce and it turned into a beautiful spring lunch. Just the image I had while buying these carrots.
Pasta with shaved carrots and carrot green sauce
Ingredients
for the carrot green sauce
2

cups

carrot leaves without the stalks

½

inch

ginger

3

green chilies

1

teaspoon

toasted cumin

2

garlic cloves

2

tablespoons

grated coconut

2

tablespoons

peanuts

juice of half lemon

⅔

cup

extra virgin olive oil

salt to taste
rest of the ingredients
6 to 7

spring carrots

2

cups

pasta

(I used fusilli)

feta cheese to crumble on top

(optional)
Instructions
To make the sauce, put everything in a food processor (except olive oil) and grind until it forms a smooth paste. Now, pour oil and run the processor once again to form a creamy sauce.

Using a vegetable peeler, peel the carrots into thin strips.

Boil enough water in a pot for the pasta. Once done, add salt and drop the pasta in boiling water. Set the timer for 7 minutes. After 7 minutes, drop shaved carrots and let it cook for 1 minute. Drain everything into a serving bowl and pour the carrot leave sauce on the same bowl.

Toss everything together and serve warm.

Feel free to add some feta or parmesan cheese on top.
Nutrition