With Valentine's Day around the corner, I should be sharing a chocolate pleasure. Instead, I am going to ask you to try this salad. We never really go grand on celebrating Valentine's Day. We fancy a casual dinner at home in our pajamas instead of waiting for a table in crowded restaurants. And this salad could be a great start. Snuggling in the couch, eating with bare hands.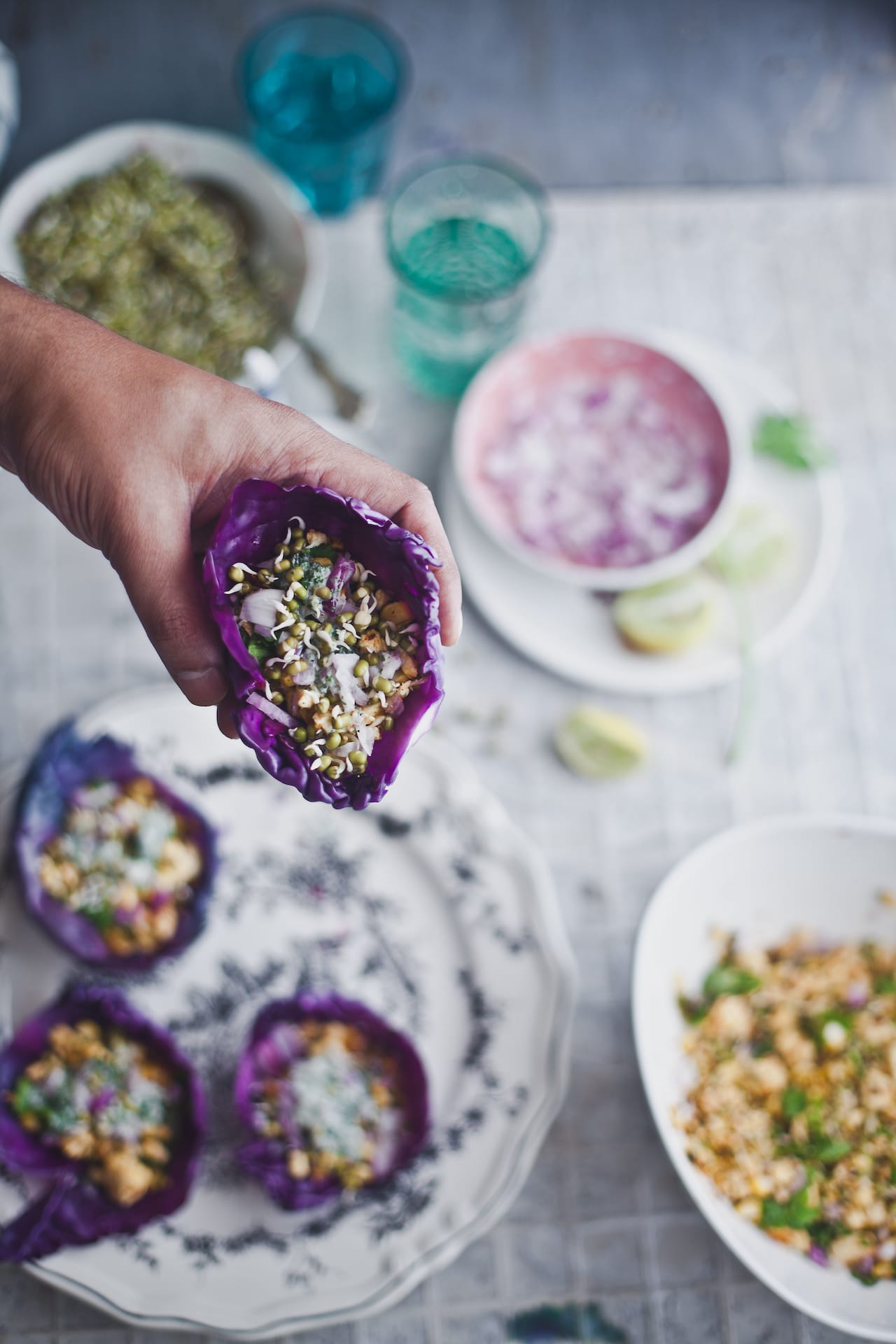 We don't eat purple cabbage frequently, only because that lively color fades away after cooking. And that's not alluring to me. I like to eat with my eyes first. When it comes to salad though, it adds a striking vibrant color and a texture. My initial plan for this salad was to pick lettuce, a very obvious choice, but I am glad a tiny cabbage caught my attention. The leaves were perfectly cup shaped and my plan changed right away.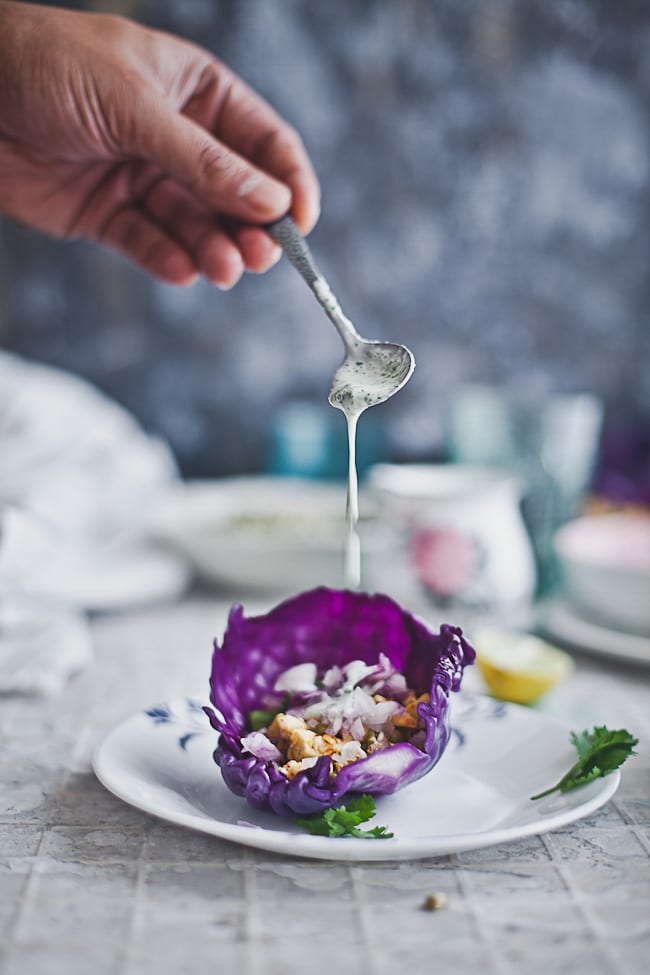 Few months back, when The Chalkboard Mag approached me to share a light meal, I instantly knew this salad would fit right in. The sweetness from grilled corn, the creaminess of paneer, handful of crunchy green gram sprouts along with some herbs and a tangy yogurt sauce to balance the flavor all-round. Mixed together and spooned on a cabbage leaf that fits flawlessly in your hand. It's protein-packed and could be also be a great start to your clean diet. It's not only fast to prepare but it is also completely fuss-free.
Paneer Corn Cabbage Cup
Ingredients
1-

cup

plain yogurt

¼

cup

fresh mint leaves

¼

cup

fresh cilantro leaves

Red cabbage leaves

(par boiled and leaves removed)

2

cups

roughly chopped paneer

1-

teaspoon

cumin powder

1-

teaspoon

chili powder

1

ear of corn

(grilled and kernels removed)

1

medium red onion or couple of shallots

(finely chopped)

1

cup

green gram sprouts

½

cup

chopped fresh cilantro

Lime wedges to drizzle on top

Salt

Oil
Instructions
Add mint leaves, cilantro leaves and yogurt in a blender and give it a mix. Add salt as per taste and the sauce is ready. Keep it aside to be used later.

Bring a pot of water to boil and dip the entire cabbage head for a few minutes. It will make it easy to pull out the leaves. It also softens the leaves, making it easy to bite. Keep the leaves aside once done.

In a non-stick pan, heat 1-tablespoon oil and add roughly chopped paneer along with cumin powder, chili powder and salt to taste. Sauté it for a few minutes.

In a bowl, add the sautéed paneer along with grilled corn kernels, red onions, green gram sprouts and cilantro. Add a little bit of salt and give it a mix.

When you are ready to serve, pour couple spoonful of the paneer and corn salad on the cabbage cups, squeeze a little lemon juice on top followed by few teaspoons of the yogurt sauce.
Nutrition