Broccoli can create a pesto like effect without the extra work of making a pesto. You add the goat cheese to the sauce and it gets creamy. You add sausage for that crunchy bite in between and fresh sage leaves for that earthy flavor. This Orecchiette With Sausage, Broccoli And Goat Cheese will be your go to weeknight meal. It's flavor bang, with a good balance of meat, veggie, carb and dairy. The best part is that this meal gets ready in just 10 minutes.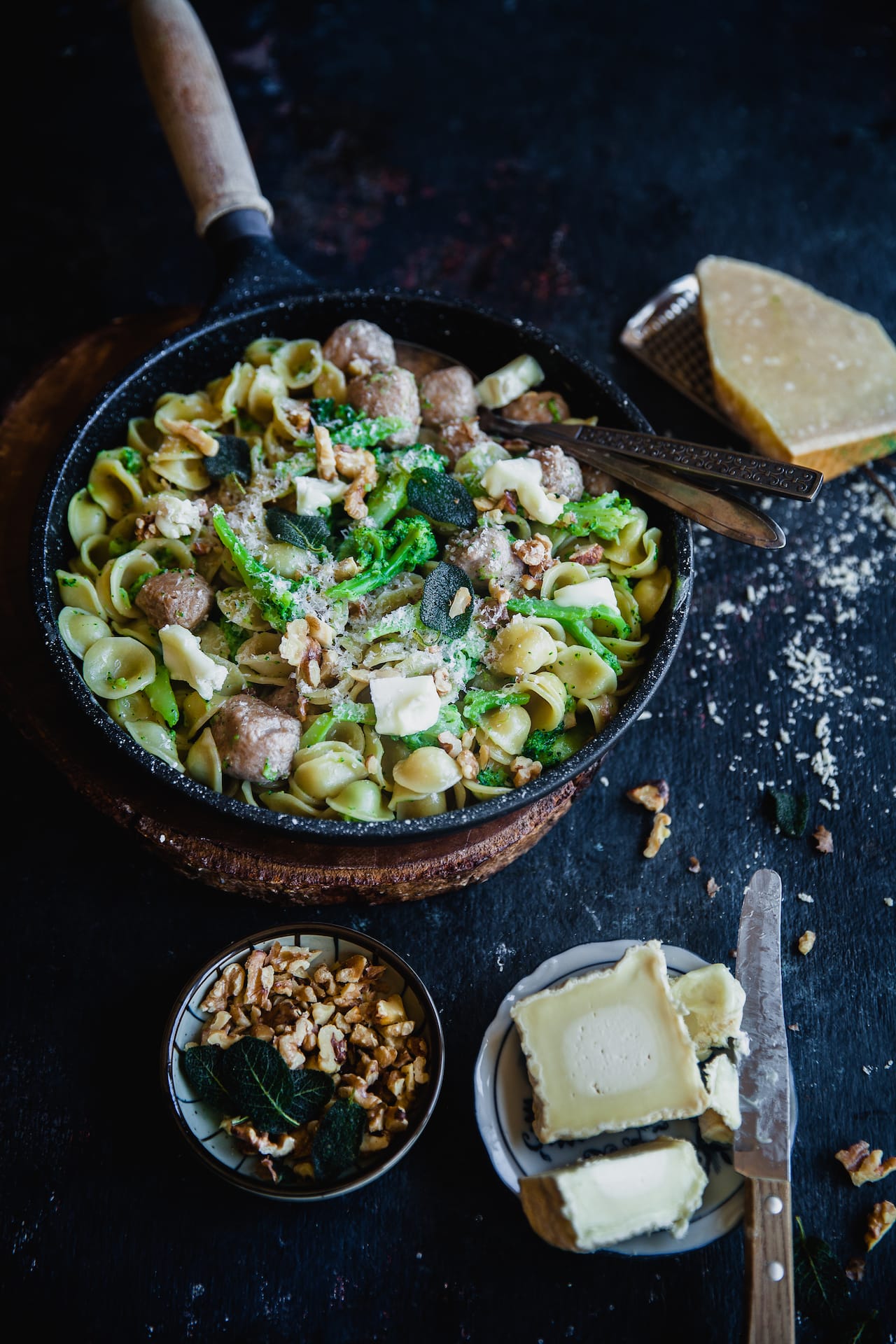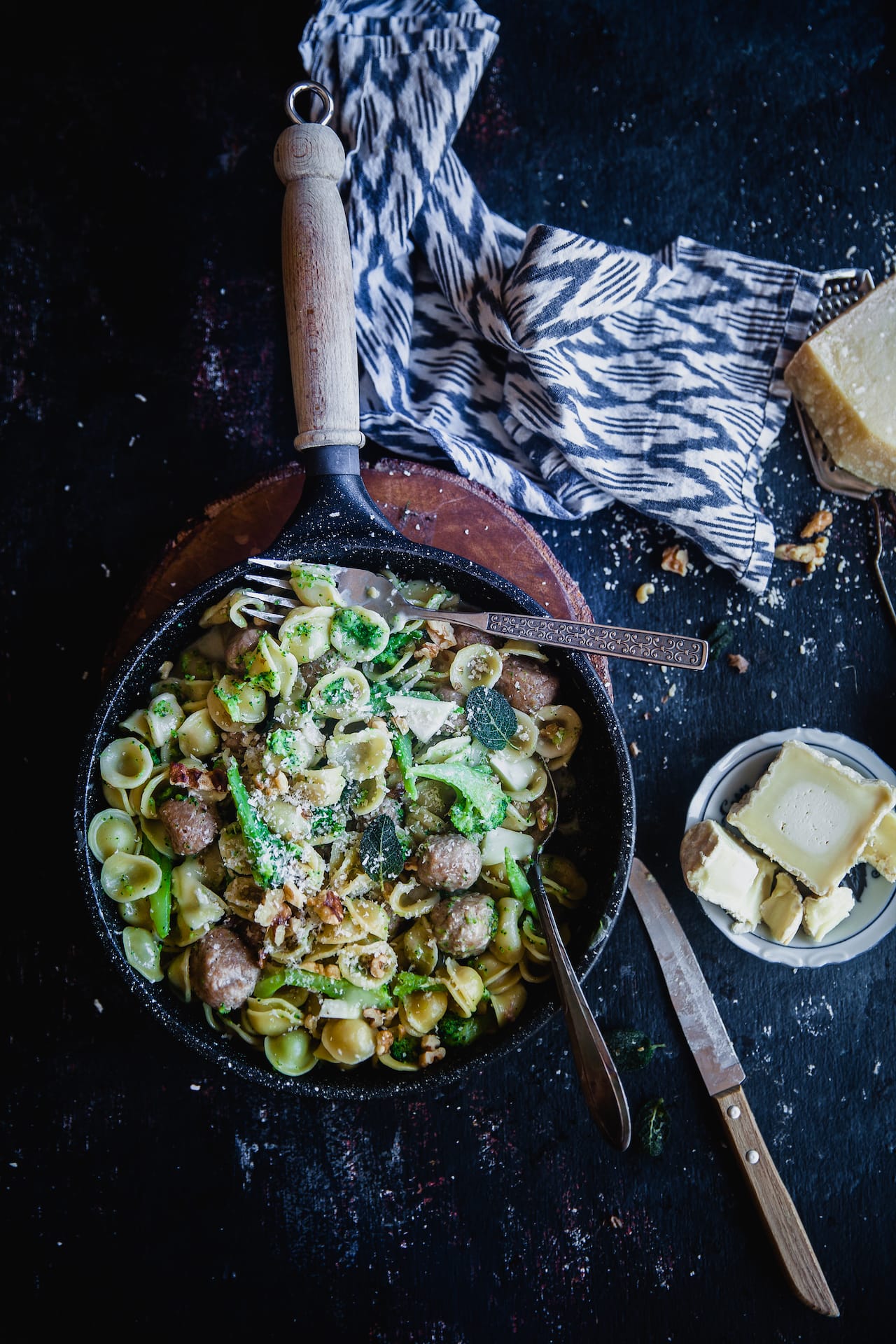 We eat pasta quite often. Most of the time, it's light with some lemon and fresh herbs. This particular Orecchiette pasta dish has bold flavors from the goat cheese. The mild tangy taste from the cheese with fresh sage balances quite pleasantly. The flavor of goat cheese can be sensitive to certain taste buds. So, if you are trying goat cheese for the first time, I would suggest try a good brand. And start with a variety that doesn't have overpowering flavor.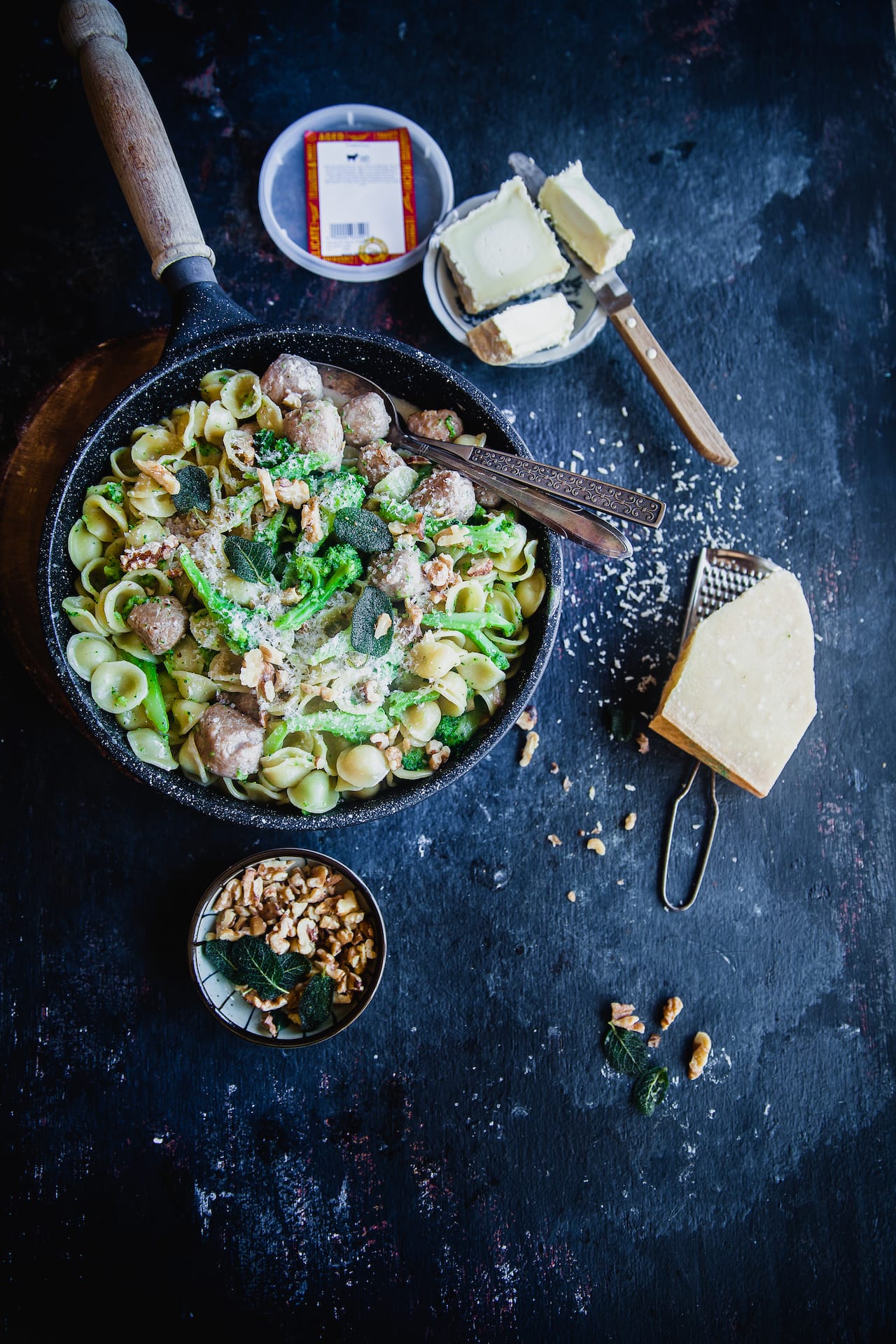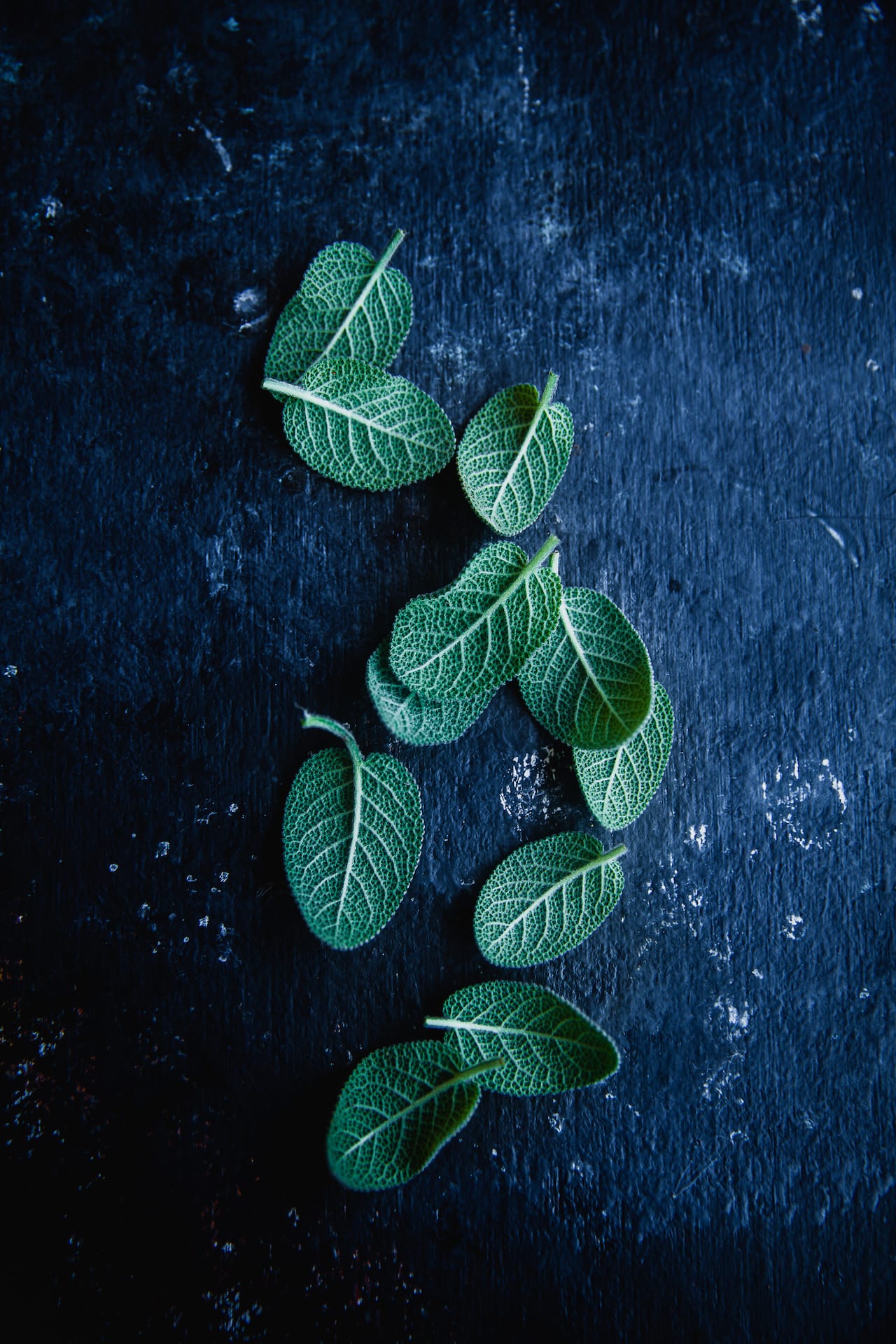 There are wide varieties of goat cheese available. I used Chabichou Du Poitou for this dish. This cheese is smooth to the palate with a mild acidic salty taste. The wrinkly edible rind is just so beautiful. As you cut the log, you see two more layers with the core being shiny white. It's amazing to see three different textures in one log of goat cheese, all naturally formed as the cheese matured with time. I used all the three layers in making the sauce for the pasta and the shape of orecchiette pasta is just perfect to hold the sauce together.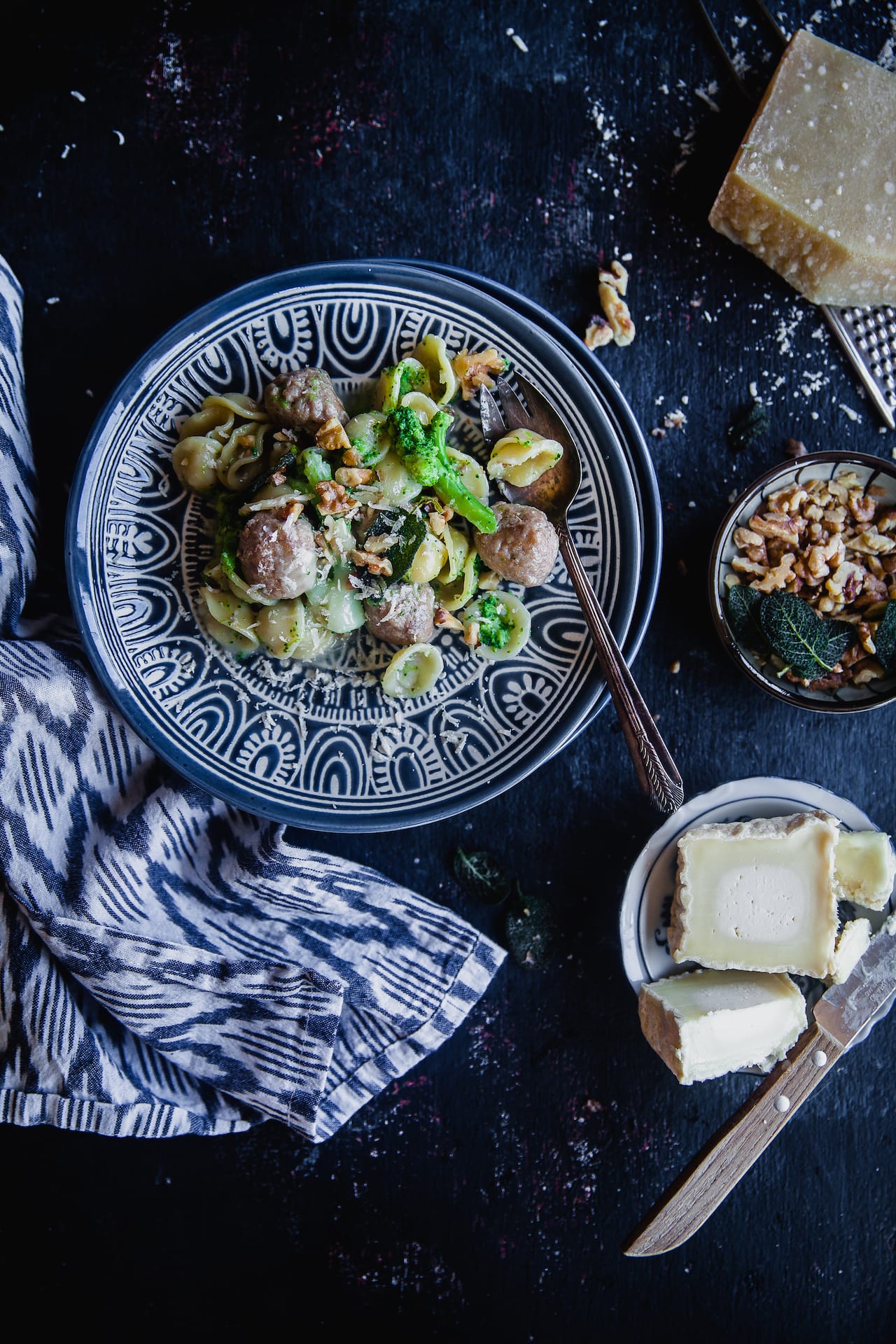 I created this dish in collaboration with The Original Chèvre, goat cheese of France. France is the number 1 producer of pure goat cheese in the world with 110,000 tons (over 242 million pounds) produced in 2011. In French, Chèvre means goat and farmers have been using fresh goat's milk to make cheese referred to as chèvre for centuries. With over 3,000 goat cheese produces and 60 dairy companies in France, The Original Chèvre is well known for its variety.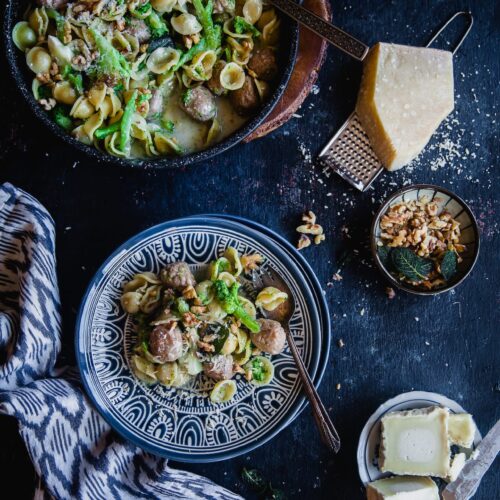 Orecchiette With Sausage, Broccoli And Goat Cheese
Ingredients
5.45

oz./ 156 gm broccoli florets

1

lb.

/454 gm pasta

1

tablespoon

salt

2

tablespoons

butter

10

sage leaves

1

tablespoon

grated garlic

3 318

gm./11.25 oz. turkey sausage

5.35

oz./151 gm. Chabichou Du Poitou French goat cheese

¼

cup

walnut

grated parmesan cheese while serving
Instructions
Peel the skin off the turkey sausage and take out the meat. Take 1 tablespoon of the meat and shape it into a rough ball. Repeat it with rest of the meat and then, keep them aside to be used later.

Place a small pan on medium high heat and toast the walnut for few seconds. Once done, take it off the pan to a chopping board and roughly chop it. Keep aside once done.

Place a big pot of water on medium high heat. Once the water comes to a boil, drop the pasta and the broccoli florets. Cook for 8 minutes and keep a big colander ready on the sink to drain the pasta when done.

Simultaneously, place a wide 9-inch pan on medium high heat and layer a plate with kitchen towel. Once the pan heats up, drop the butter. Once the butter is melted, add the sage leaves and cook for a minute. Take off the leaves and place it on the kitchen towel.

To the same pan, add the grated garlic and stir for a few seconds. Put the turkey sausage dumplings that were kept aside earlier. Stir and cook for 5 minutes, stirring every now and then. Add the goat cheese, give it a stir and give it a minute for it to melt.

Save ¼ cup of pasta water and drain the pasta along with broccoli using the colander and tumble the whole thing into the pan. Give it a stir, pour the reserved pasta water and give it a mix once again. Check for salt and add any, if required.

Shave some parmesan cheese on top, layer the crispy sage leaves and scatter the toasted walnut. It's ready to serve.
Nutrition