I came across Megan's blog through Instagram and her story instantly inspired me. She has Ulcerative Colitis and she has been fighting the disease for a long time now. Her blog, Meg is Well, started as a way for her to navigate through the struggles and to feel less isolated with the world around her. Read about her journey that she is going through in her blog. She is one strong girl and I absolutely adore her! Today, she is sharing a stunning Orange Chess Pie with you all. I am a sucker for any citrus dessert and this pie sure does make me drool. The crust looks perfect and so does the filling. Thank you Meg for taking time out to share this over here.
When Kankana from Playful Cooking asked if I could do a guest post over on her blog, I had just finished taking pictures of this Orange Chess Pie. And I was unsure if it would be the perfect post to share. But one of the reasons I love reading anything Kankana writes, is that there is always a story behind her recipes.
Reading about the meals her mom cooked when she was little or the food she grew up with always makes me feel warm and happy. Because it reminds me of all the loved ones in my life who continue to influence my baking and cooking.
Every time I begin making the pie crust, mixing the filling, and smelling the fresh sugary aroma of the pie baking, I remember my younger self watching my Nana making this pie and teaching me.
It's also fitting that I'm sharing the recipe over on Playful Cooking because it carries on the teaching tradition. Outside of classic apple pie, I've taught a few of my friends how to make a chess pie because they like it so much.
If you'd also like to learn how to make this Orange Chess Pie, head over to her blog to see the recipe. And if you've never been over to her blog Playful Cooking, you're in for a real treat.
Orange Chess Pie
This Orange Chess Pie is a twist on the classic Lemon Chess Pie, a perfect tartly sweet Southern creation of eggs, sugar, butter, and a little bit of flour and cornmeal that tantalizes the taste buds with it's unique flavor and texture.
I've been making a Lemon Chess Pie all my life. And it took an ever-growing pile of oranges from my tree to realize that I could easily make it an Orange Chess Pie.
Honestly, I don't know why I haven't done this before. I think it's because it was one of the first pies I ever learned how to make from my Nana.
Sometimes when an adult, especially a grandparent, teaches you how to do something, it becomes almost a ritual. Something bad could happen if you change it up a little. Which is silly but shows just how much you respect and admire them.
Now that I think about it, I would love experimenting with this pie even more. What if I added some different spices or infused the butter with rosemary or other herbs? But maybe another time, breaking with tradition starts small first.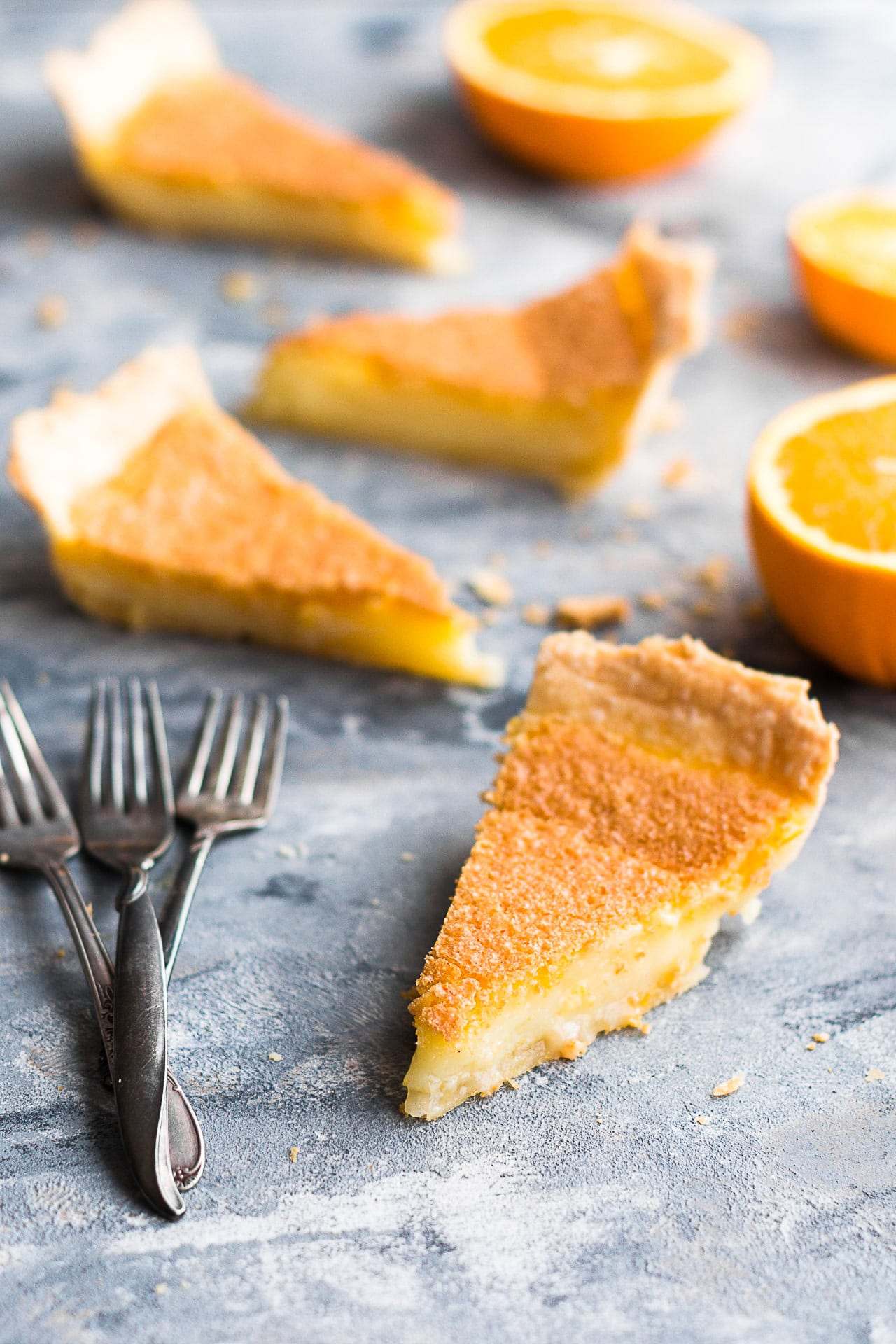 Orange Chess Pie
Ingredients
Crust Ingredients
⅔

cup

150 grams salted butter

(cold and cut into small cubes)

2

cups

flour

(9 fluid ounces, 257 grams)

1

tablespoon

vinegar

(16 grams)

⅓ to ⅔

cups

ice water
Pie Ingredients
4

eggs

2

cups

sugar

1

tablespoon

yellow corn meal

1

tablespoon

flour

3

teaspoons

grated orange zest

¼

cup

milk

¼

cup

butter

(melted)

¼

cup

orange juice
Instructions
Crust Instructions
Cut the butter into small cubes and place in a large bowl. I cut them into tablespoon-sized squares and cut each square into 9 little squares.

Measure out 2 cups of flour. Sift the flour over the butter.

Use your fingers to massage the butter into the flour, leaving chunks of butter unincorporated.

Add the tablespoon of vinegar and toss. Add the ice water a tablespoon at a time until the dough is able to hold together when pressed. It should be very cool to the touch, moist enough to hold together, but not wet enough that excess moisture is left behind on the mixing bowl or your hands.

Form into two balls of dough* and wrap them in plastic wrap. Store in the refrigerator for 30 minutes.

Take one of the balls of dough out of the fridge. Dust the counter with flour. Roll the dough into a circle. You want it to be 2 to 4 inches larger than your pie tin. * Carefully drape it into the pie tin.

Trim the edges of the dough so that it just hangs over the edge of the pie tin. Flute the dough by pinching a small portion of it between your pointer finger and thumb. Place in the fridge for 30 minutes. This will help prevent the dough from shrinking during the blind bake.

While the dough is chilling, preheat the oven to 450 degrees Fahrenheit.

Bake the pie crust for 10 minutes, occasionally checking to make sure there are no air bubbles. If an air bubble starts to expand, prick it with a fork. You can use pie weights if you want, but I don't find them necessary.

Take the pie out, set it aside, and prepare the filling.
Pie Instructions
Preheat oven to 350 degrees Fahrenheit.

Toss together sugar, corn meal, and flour in a medium bowl.

Stir the eggs until well beaten and homogenous and then add to the dry mixture.

Stir in the orange zest, milk, melted butter, and orange juice.

Pour into the pie shell and bake for 1 hour. Check the pie. If it has risen slightly, including the middle and is a golden yellow color with a crusty top, it is done. If the middle is still sunken and moves like a wave, cook for 10 minutes more, adding 5 to 10 minutes at a time until the middle is done.

Let the pie cool to room temperature and then store in the fridge. The pie can be served cold or at room temperature, whichever you prefer.
Notes
I like to make one of the balls of dough bigger than the other to make it easier for rolling out and placing in the pie tin.
I recommend using a 9-inch pie tin for this Orange Chess Pie. I used a bigger one and you can see in the pictures that the filling looks a little low.
The pie crust recipe is technically for a covered pie or two topless pies but it's always nice to have extra dough to work with depending on the size of your pie tin. You can re-roll the extra into a ball, wrap it up in plastic wrap and a ziplock bag, and store it in the freezer to use for another pie in the future. Or you can roll it out, brush with melted butter, sprinkle with sugar and cinnamon, and bake on a baking sheet until golden and crisp.
Nutrition