This Melon Spinach Smoothie is creamy, has a hint of sweetness from the honey and extra goodness from the fresh spinach. It's a 6-INGREDIENTS healthy refreshing smoothie that is perfect for warm days.
I have slowly converted my kid to enjoy smoothie. The trick, I think, was to make him get involved. I make Avyan chop and let him add everything to the blender. He takes complete control and at the end, it gives a proud moment of achievement. Avyan loves any variety of melon and enjoys scooping it out with a tiny scooper. So, this smoothie was something that he gulped down with a smile.
With the days getting warmer, it's important to keep options to stay hydrated. I often go for fruits and melon is always on the top of my fruit list.
Super hydrating and fiber filled Honey Dew Melon:
Contains a wide variety of nutrients
Reduces blood sugar
It's 90% water and contains electrolyte, potassium, magnesium and calcium
High Vitamin C content makes it great for you skin
Boosts immune system
Contains fiber and thereby making it perfect for proper digestion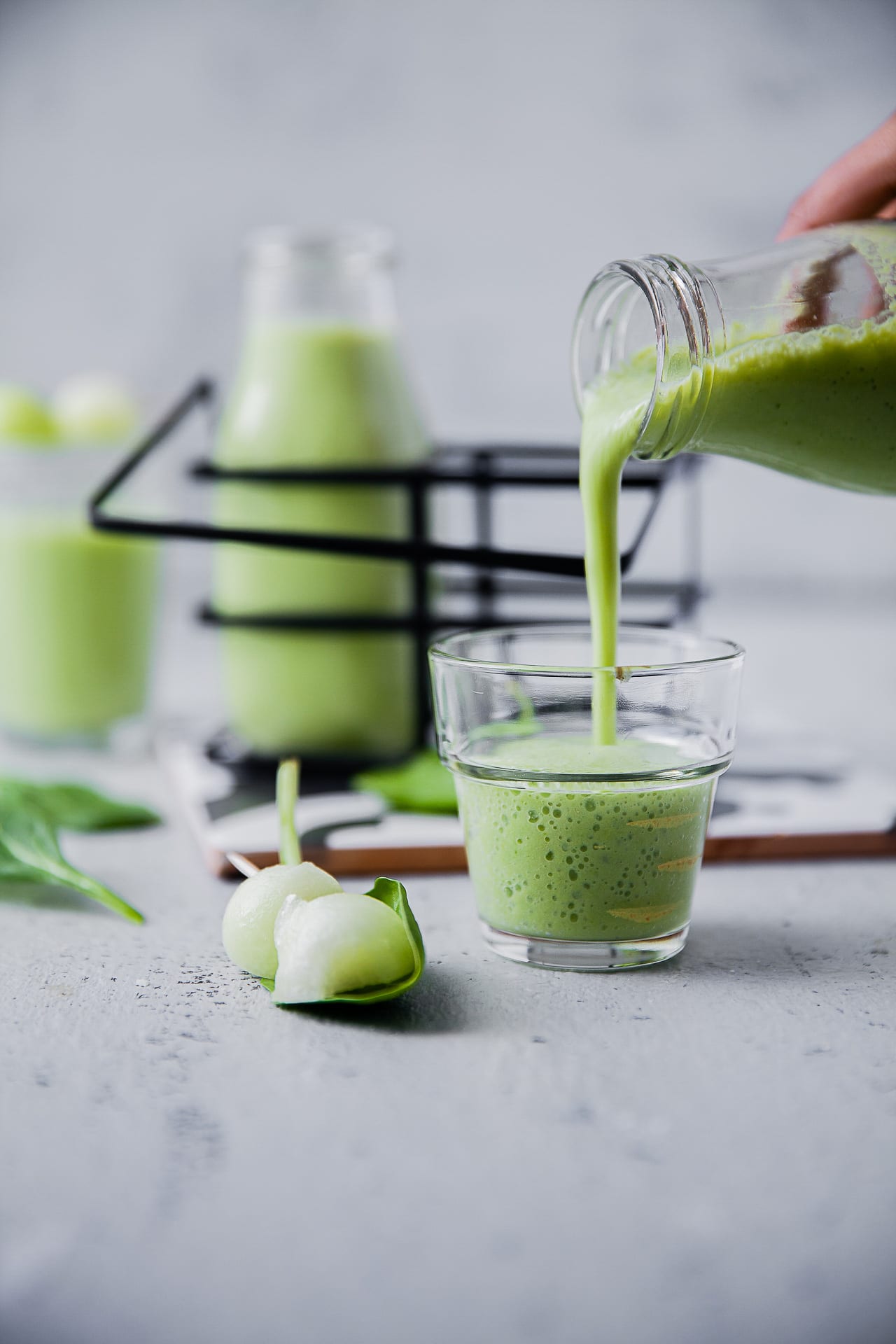 What goes in the 6 INGREDIENTS Melon Spinach Smoothie?
Honeydew Melon: Honeydew Melon is creamy and naturally sweet. You can use muskmelon or any other variety of melon. However, the color will change according to the melon you pick.
Spinach: You can switch spinach to any other greens that you like. I stick to baby spinach only because it's blends easily.
Orange: It adds a refreshing taste to the smoothie and helps in keeping the color vibrant green. The smoothie stayed green even the next day.
Chia Seeds: This super food goes in almost all the smoothies that I make. You can avoid it if you don't have it handy.
Honey: I added just a little bit for extra sweetness, which made it kid friendly too.
Yogurt: It's the yogurt that makes the smoothie so creamy. You can also substitute it with coconut milk.
This melon smoothie recipe is adaptable as per your taste buds:
Coconut milk instead of yogurt
Use your choice of greens instead of just spinach
Try frozen honey dew melon and thick yogurt for a much thicker consistency
Make it into a melon smoothie bowl with your choice of toppings
Don't like honeydew melon? Just use any other variety of melon that you like
What I love the most about this Melon Spinach Smoothie is how vibrant green it turned out. We always eat with our eyes first! The smoothie stayed green for a long time. I even had a left-over glass in the fridge and the color didn't change.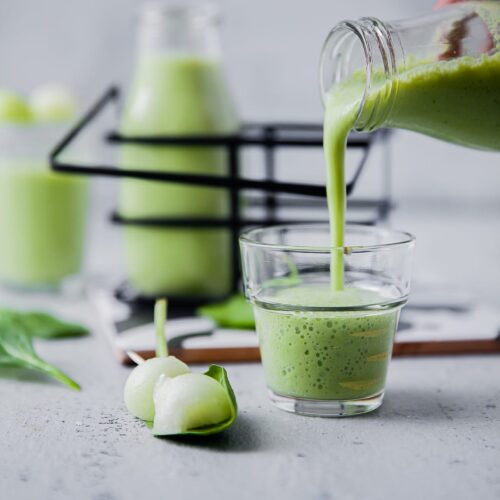 Melon Spinach Smoothie
Ingredients
4

cups

of honeydew cubes

½

cup

plain yogurt

2

cups

fresh baby spinach

1

orange

(peeled)

1

tablespoon

honey

1

tablespoon

chia seeds
Instructions
Place everything in a blender and blend to form a creamy consistency. You could add ice or enjoy it as is.
Nutrition