Scheduling and planning outlines all my weekdays. It not only helps in retaining my sanity but it also succeeds in getting me some rest. Though at times, I can't really decide between snoozing along with my boy and finishing work. With Arvind's long working hours and Avyan's toddler tantrums; I almost always pick the quick nap. Even a short 30 minutes help me gain back some energy, which is absolutely required to keep up with the always-busy little boy. Over the weekends, I let go the entire routine. We prepare breakfast together and make it an extra special one. We laze around in bed watching Avyan bounce-blabber-laugh-clap and repeat. We take it slow. It's also during the weekend when I get to spend more time in the kitchen instead of rushing though.
As I take the leisure time in fixing lunch, I peek out every now and then to watch my boys play football (Avyan's current favorite game with Papa) or dance on some peppy number (he's got his moves!). At times, we put our boy on high chair and drag it to the kitchen door. He doesn't mind. He would then ask for a spatula or spoon or whisk (this list is endless) and watch me cook. Those eyes, always so curious!
I wouldn't call Avyan a foodie but there are a few things he enjoys nibbling. Noodle is definitely one of that. So I try to keep it simple stir fried and less fiery. And to go with that, a spicy gravy on the side for the grown up taste buds!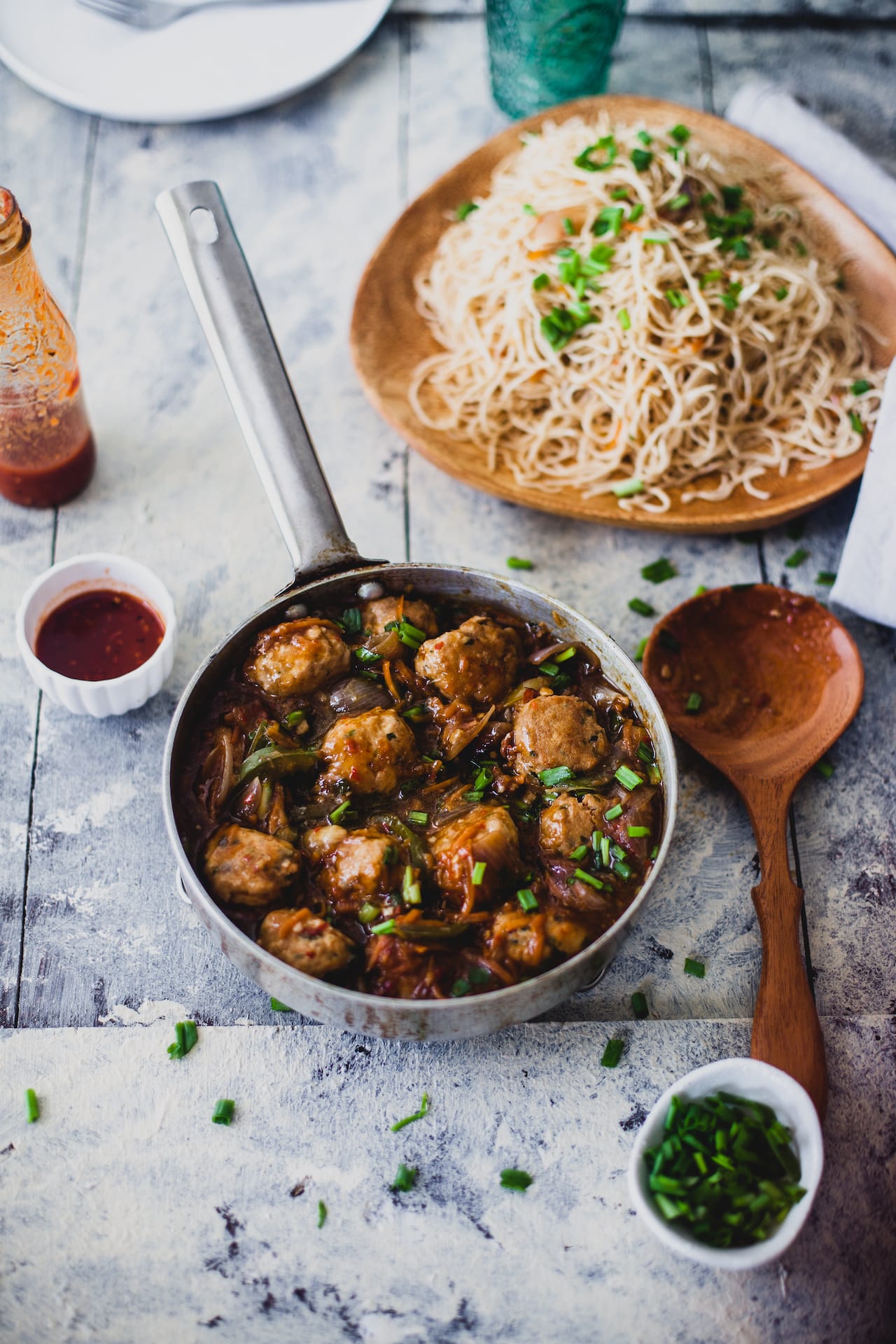 Talking of taste buds, we Indians are extremely fond of two cuisines. First, Indian (no surprise there!) and second would be Indo-Chinese. As you must have already guessed, it's basically our take on Chinese cuisine. Prior to tasting authentic Chinese in China, I used assume that the Chinese dishes we get here in India are truly Chinese. Well, there is really no resemblance at all, except for the basic cooking techniques and probably a few spices.
I can eat Indo-Chinese dishes everyday and one of my favorites is the hot garlic sauce, either with veg balls or with meatballs.
Meatballs in Hot Garlic Sauce
Ingredients
for meatballs
500

grams

ground meat

1

medium red onion

(grated)

1

egg

⅓

cup

bread crumbs

2

tablespoons

milk

3

garlic cloves

(grated)

salt

pepper
for the hot garlic sauce
15

garlic cloves

(peeled)

3

dry red chilies

1

inch

ginger

(peeled)

1

large onion

(half moon and sliced into big chunks)

2

bell peppers

(any color, sliced)

2

carrots

(thinly sliced or grated)

2

spring onions

1

tablespoon

corn flour

1

tablespoon

soya sauce

½

tablespoon

vinegar

1 to 2

tablespoons

hot sauce

(depending on how much heat you want (I used this hot sauce))

½

teaspoon

sugar

salt

pepper

oil
for stir fried noodles
noodles of your choice

(I used rice noodles)

water to boil the noodles

½

onion

(thinly sliced)

1

teaspoon

soya sauce

2

garlics

(grated)

salt

pepper
Instructions
for meatballs
In a bowl, mix milk with breadcrumbs and allow it to soak up for a few minutes.

In a separate bowl, drop the minced meat along with grated onion, grated garlic, whisked egg, salt and pepper. Give it a rough mix with your hand. Pour the breadcrumbs and milk binder to the bowl. Mix everything just until everything is combined. Remember not to overwork the mixture. Let it rest for about 15 minutes.

Rub little oil in your hand and make tiny balls out of the mixture and keep it aside in a plate.

In a pan, heat some oil and fry the meatballs for a few seconds on each side. Once done, keep it aside. The meatballs will be cooked later in the sauce.
for the hot garlic sauce
Using a food processor, grate the garlic, ginger and dry red chili.

In a pan, heat some oil and drop the mixture from food processor. Next, scatter the sliced onion, sprinkle little sugar and salt. Pour soya sauce and vinegar. Give it a stir and cook until the onion is slightly golden brown.

Then, spread the bell peppers along with carrots and let it cook for a couple more minutes. Add 2 cups of water and bring it to a boil. Drop the meatballs and let it simmer for about 15 minutes. Add the hot sauce at this point.

Finally, mix corn flour with water in a cup and pour that on the sauce, give it a stir and let it cook for 2 more minutes. Sprinkle the chopped spring onions and give one last mix.
for stir fried noodles
Boil enough water, sprinkle some salt and cook the noodles as per the instructions on the package. The ones I used needed just two minutes. While the noodles get cooked, heat some oil in a wok and stir fry the onion along with garlic and soya sauce. Strain the boiled noodles and drop it straight to the wok. Sprinkle some salt, pepper and give it a mix.

Sprinkle some chopped spring onions and serve warm along with the meatballs in hot garlic sauce.
Nutrition