Holi Festival is incomplete without Mawa Gujiya in the scene. Flaky deep fried flaky dough filled with sweetened solid milk, semolina and assorted nuts. It's a quintessential Holi dessert and to make it more special you can even add Thandai powder to the filling. I however didn't add thandai powder, instead enjoyed it with some cold Thandai drink.
What is Mawa Gujiya?
Mawa Gujiya is a very popular Indian festival dessert, prepared mostly during Holi and Diwali.
Maya is solid milk. It is either prepared by simmering and stirring milk for several hours, until it thickens and turns into dough like texture. These days it is very easily available in Indian stores in the frozen aisle.
Gujiya are cresent shaped, fried dough that is stuffed with maya, semolina (optional) and assorted nuts. Some even likes to add coconut to the filling.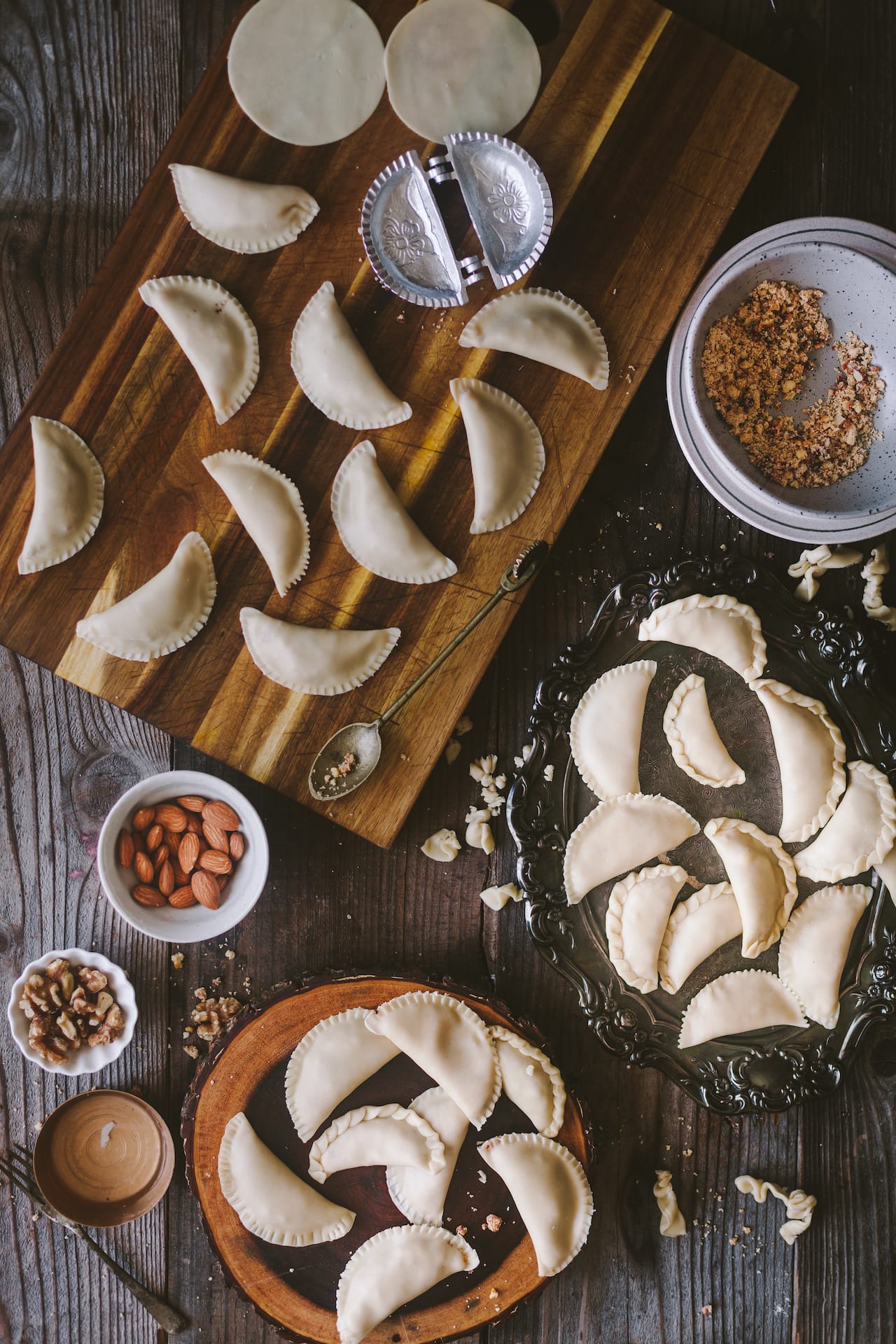 Flaky and Light Mawa Gujiya
I learnt making these Mawa Gujiya from my Mother-in-law. She makes this super light, airy and it doesn't feel heavy and doughy.
While it is definitely a little effort but it's worth it especially when there are festivities to celebrate.
For the Mawa Gujiya, she rolls the dough super thin, which makes it quite fragile to fill and seal but then the end result is amazing.
As you take the bite, you realize how crumbly and light these are.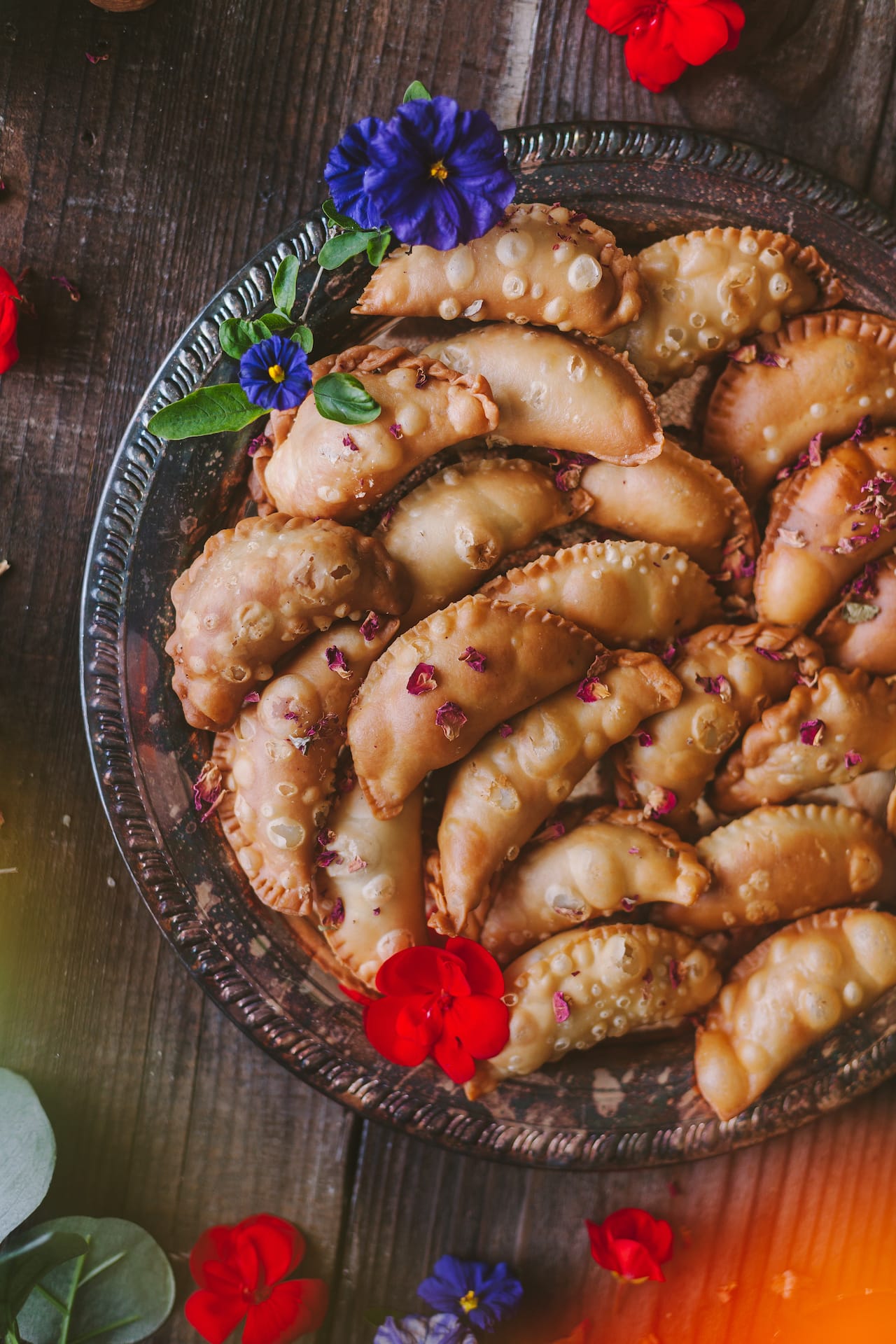 A QUICK TIP:
If you have a pasta maker, take advantage of that to roll the dough out super thin. Then cut the sheet into multiple circular shape.
Mawa Gujiya Filling:
Fine Semolina
Mawa
Assorted Nuts
Powdered Sugar
A keynote on Mawa (solid milk)
It's very important to roast the mawa in medium low heat until it is dry and crumbly. Keeping the filling dry will keep the gujiya fresh for longer.
If you keep the mawa soft, then make sure you finish the gujiya within two days or else it might go bad.
When you prepare the filling make sure the nuts are finely chopped so it doesn't poke the dough as you try to fill it.
You can also add some Thandai Powder Masala when preparing especially for Holi Festival.
Shaping the Gujiya
There is no right or wrong way to shape these. Using a mold will make it easier and faster. You could of course take your time to seal the edge by folding into neat pleats or press it using a fork.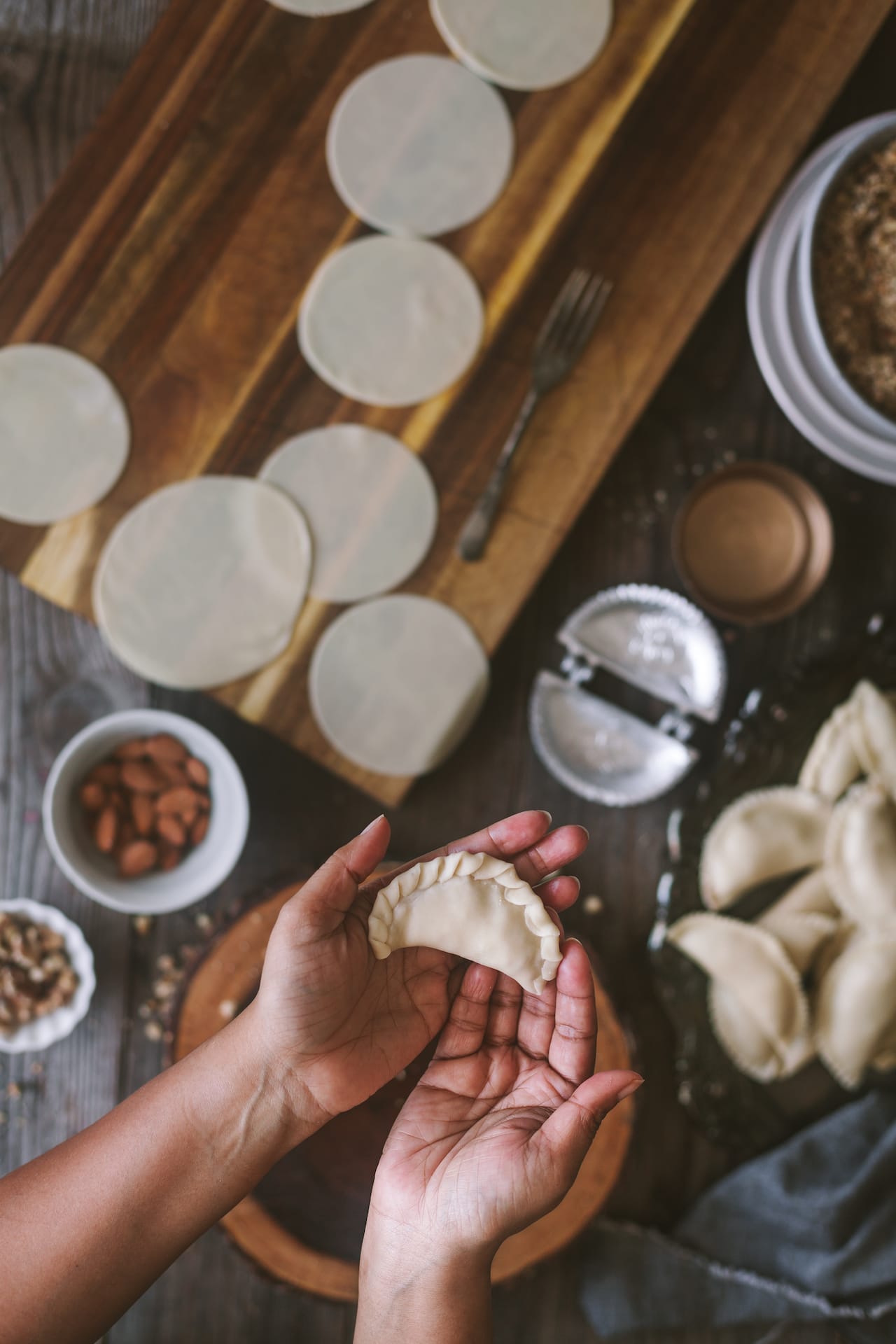 Frying the Gujiya at the right temperature
Do not fry in hot oil. For the perfect flaky texture, fry the gujiya in medium low heat and toss around constantly for even light golden color all around.
Can you bake Gujiya ?
YES! You absolutely can either bake in the oven for a healthier version. But I make Gujiya very rarely, so I prefer the authentic fried version.
Baked Gujiya – Bake at 400 F for about 15 minutes. Brush the gujiya with oil.
Once you are done frying or baking Mawa Gujiya, let it cool down completely before you store in an air tight container at room temperature.
I love gujiya with chai but for Holi Celebration, it pairs best with a glass of chill Thandai.
Mawa Gujiya – A traditional Indian festive sweet
Ingredients
for the stuffing
6.30

oz/178 g mawa/khoya

3.5

oz/100 g semolina

½

cup

powdered sugar

1

tbs

cardamom powder

¼

cup

finely chopped nuts

(cashew, almond, pistachio or whatever you have at home)

A tiny pinch of nutmeg
for the dough 
2

cups

all purpose flour

¼

cup

ghee

(you can use oil too)

warm water for kneading

½

teaspoon

salt

½

teaspoon

sugar

vegetable oil for deep frying
Instructions
Prepare the filling first as you need to cool it down completely before you stuff it. You can prepare the filling a day or two in advance and store in the refrigerator.

In a non stick skillet, add the grated khoya/mawa and keeping the heat to mediun low, keep stirring and cooking until it turns into a dough and then gets crumbly into light brown color. You have to constantly keep stirring to avoid it from getting burnt.

Once done, put that in a bowl and to that same skillet add 1 tablespoon ghee and then the semolina. Stir and cook until it's roasted and turns mild darker shade. Once done, put that to the same bowl.

Now to the bowl add the chopped nuts, nutmeg and cardamom powder. Give a mix. And let it cool completely.

Once it's cooled down, add the powdered sugar and mix ita round. You want to add the sugar once it's cooled down or else the suagr will melt and the fillign will turn into a mushy consistency. You want the filling to be dry. Dry fillling keep the gujiya fresh for few days. If the filling is moist the Gujiyas will go bad in couple days.

Next prepare the dough, by mix the flour and ghee until it's crumbly.

Add little water and knead for a short while to make the dough soft (do not knead for too long). Cover it with a kitchen towel and let it rest for 15 mins.

To make the gujiyas, you could either use a mold or use the old school way, by sealing the ends and designing the pleates using your hand.

Take some dough, make a ball and roll it very thin (do not add any flour as you roll the dough).

Take a cookie cutter or anything else that will help you cut few circles out of the dough (I used a 3-inch cookie cutter and a 4 inch cookie cutter).

Rub little water on the edges on the circle, put little bit (about 1 and ½ tablespoon) of the filling in the tiny circle, fold it half and press to seal tight. Next you could use a fork to press the edges and give design or use a mold or design pleates. As you shape the Gujiyas, keep them covered to avoid it from getting dry.

In a pan or wok, pour enough oil to deep fry the gujiyas. The key thing to remember is that do not make the oil too hot. It should be medium low heat when you start dropping the gujiyas. Do not overcrowd the pan and fry these by tossing every now and then for even mild golden color all around. If frying in multiple batches, let the oil cool down before you add the bext batch.
Notes
DOUGH:
Adding ghee adds a lovely flavor to the gujiya. Make sure you first mix the ghee/oil until it's crumbly. This helps to create the flaky texture of teh Gujiyas. My MIL rolls the dough very very thin which makes the texture very crumbly and light. Hence you will see tiny bubbles all around the Gujiya I shared. I learnt from her. If you keep the dough thicker then after frying you will not see any bubbles.
FILLING:
The filling should be kept dry. Mawa and Semolina needs to toasted to dry light golden color. Add sugar only after the filling has cooled down completelt. Chop the nuts finely so it doesn't poke out when filled in the dough.
FRYING :
The Gujiyas should be fried in medium low heat or else it will turn soggy when cooled down. If frying in multiple batches, let the oil cool down before you add the bext batch.
STORING:
Store the Gujiya once cooled completely in an airtight container at room temperature.
Nutrition