I don't recall how and when I fell in love with chicken wings but for as long as I can remember, a plate of sticky chicken wings makes my belly dance a happy tune. That's one thing I can possibly eat daily, keeping guilt far far away. Back in California, when we noticed this shop called Wingstop, I went bonkers and several nights throughout my pregnancy days, it was our dinner. The madness didn't stop even after the baby arrived. The variety they offer is just incredible and quite creative. Although chicken wings are available in India, it's not very common and the flavors are pretty basic. It's one of those things I miss out here.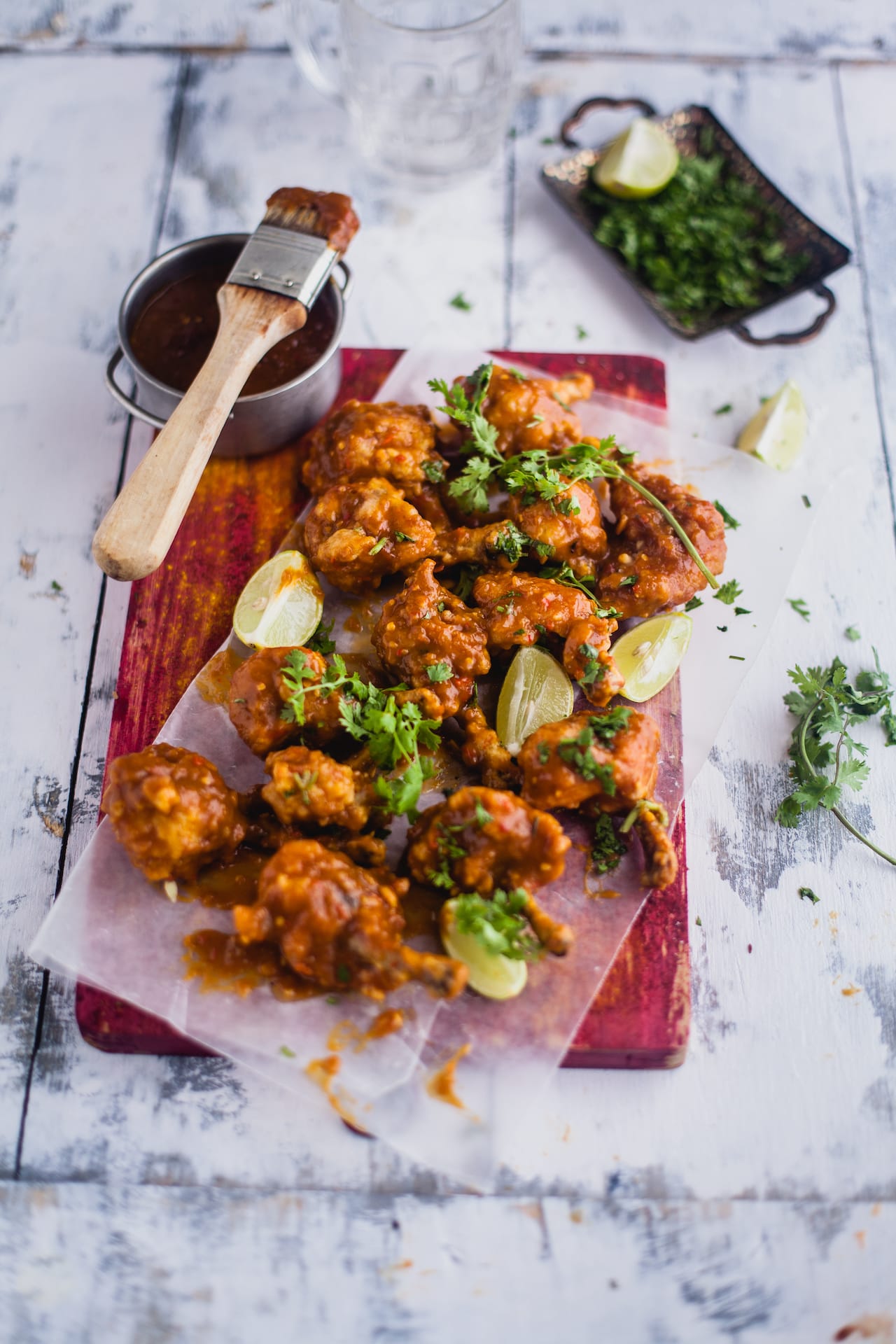 Arvind, on the other hand, has always been a fan of chicken lollipops. It's a favorite in India and almost every other restaurant will have it as one of the appetizers. It's basically a neat version of chicken wings, where by using the technique of frenching, it's cut and shaped to form a handle that makes it easy to hold. Needless to say, it's a time taking procedure but at the end it makes chicken wings easier to eat and it's less messy as well!
Good thing is that unlike chicken wings, chicken lollipops are easily available in most stores. They come in bulk packets making it convenient for people like me. Arvind missed chicken lollipops out there and so, we have been indulging on it a lot these days with different kind of sauces.
Recently, I tried it with mango chili sauce. I used ripe mango along with the bird eye chili hot sauce that I had shared earlier. The sauce turned out just superb. It works great just as a dip, I even sautéed it with noodles. But with chicken lollipops, absolutely delicious! We washed down the succulent meat with some chilled bear and licked the bone clean.
Mango Chili Chicken Lollipop
Ingredients
for the mango chili sauce
1

ripe mango

2-

tablespoon

hot sauce

(I used bird eye chili hot sauce that I had made earlier)

1-

inch

ginger

(grated)

2

garlic cloves

(grated)

2-

tablespoon

soya sauce

salt for taste
for the fried lollipops
1

kg

chicken lollipops

1

egg

2-

tablespoon

cornflower

2-

tablespoon

all-purpose flour

salt

pepper

oil for deep frying
Instructions
for the mango chili sauce
Puree the fresh mango pulp.

In a saucepan, add the mango puree along with rest of the ingredients. Pour 1 cup of water and bring it to a boil. Now, let it simmer for about 20 minutes. Taste for salt and add more, if required. If you want it spicy, add some more hot sauce. Once done, keep it aside.
for the fried lollipops
Marinate the chicken lollipops with egg, cornflower, flour, salt and pepper. Let it rest for 30 minutes.

Once done, bring the oil to heat for deep-frying. Drop the lollipops, few at a time, making sure not to overcrowd the pan. Fry until golden brown in color.

Finally, pour the sauce in a big bowl, drop the fried lollipops and mix it up making sure the sauce coats the lollipops. While serving, sprinkle some fresh cilantro or parsley, and serve little bit of the sauce along with it for dipping.
Notes
If you are using chili instead of hot sauce, you might have to add more or less chili based on the spice level you are looking for.
If the mangoes are not sweet enough, add a little honey to enhance the taste.
The chicken lollipops could also be served after frying with the sauce as a dipping on the side. In this case, you might want to add a little bit more flavor in the chicken marinade.
Nutrition