My favorite season is finally here with longer daylight, beautiful sunshine and pretty flowers! Now, all I ask from the weatherman is not to predict anymore frequent showers, storm or anything that takes away the Spring.
Last week was pretty dull and boring with non-stop rain and cold winds, but what kept me excited was seeing Arvind finalizing the new design for blog. In between all the crazy workload, my sweetheart somehow managed to find time for planning, writing, fixing bugs and creating this new look. I feel SO proud and yes, I know 🙂 I am one lucky girl!
This lucky girl decided to make some thing special for her boy, who has a sweet tooth and can never get tired of eating dessert. Just one treat was not enough to celebrate the new look of the blog and so I made two.. one with lots of lemon in it and the other with lots of carrot in it.
The idea of carrot pistachio truffles is not very different from the gajar halwa that I had made earlier. This time around, I decided to add some roasted ground pistachio at the near end of the cooking process. It absorbed some of the moisture and also added a crunchy bite.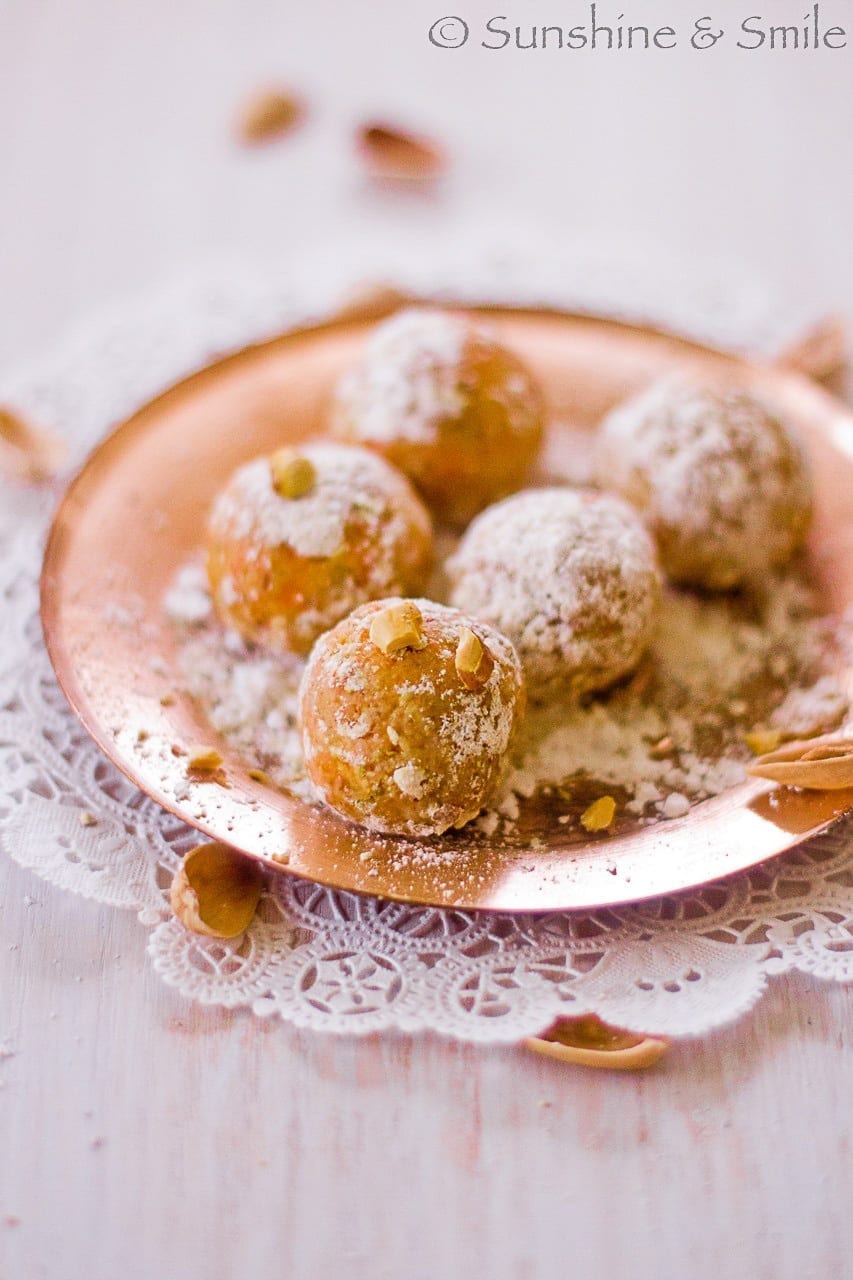 Lemon shortbread bar is adapted from this link. It was in my wish list for a while and what better time to make it than now! I decided to add some slivered almonds for a crispy bite in between.
Both the treats came out flavorful and delicious!
Carrot Pistachio Truffles
Ingredients
2

cups

finely grated carrots

1

tablespoon

ghee/butter

½

can sweetened condensed milk

seeds of 4 cardamoms

(roughly crushed (or ½ teaspoon cardamom powder))

½

cup

roasted and finely crushed pistachio

(plus some more for garnish)

powdered sugar for dusting
Instructions
In a saucepan, heat ghee/butter and cook grated carrot in medium heat for about 5 mins.

Pour the sweetened condensed milk in the pan along with the crushed cardamom and mix them properly.

Bring down the heat to medium-low and let it cook for 10 mins. Keep stirring in between to avoid it from sticking to the bottom of the pan or getting burnt.

Once the milk is absorbed, add crushed pistachio and mix.

Pour the carrot pudding in a bowl and let it cool. Cover it with a plastic wrap and let it rest overnight in the refrigerator.

Next day, use a melon baller or a spoon to scoop round balls of the carrot pudding and place it on a plate. Let it refrigerate another for 15 minutes.

Dust some powdered sugar on top of the balls and start shaping it to a round ball.  Rub some powdered sugar on your hand to avoid it from sticking to your hand.

Dust some more powdered sugar on top, sprinkle finely crushed pistachio and serve it.
Notes
Please note that it will get little soft if kept for long hours in room temperature.
Nutrition