Khaman Dhokla is a delicious snack that's extremely popular in the state of Gujarat! It's a savory steamed cake prepared with chickpea flour and is often served for breakfast or even snacks. The texture of Khaman Dhokla should be spongy and airy, it should feel light and almost melt in mouth. It's a delicious healthy bite you will thoroughly enjoy.
What is Khaman Dholka?
Khaman Dhokla is one of the specialty treats from the state of Gujarat. It is typically served at breakfast but goes pretty well as a snack too. Traditionally, you will use rice and split chickpea to prepare the batter and then fermented the batter overnight. Khaman Dhokla, on the other hand, is the instant version where you will use chickpea flour to prepare the batter. It's then fermented instantly using either Eno salt or a combination of baking soda and citric acid.
How is Khaman Dhokla Prepared?
This Gujarati special Khaman dhokla is sometime also referred to as just Khaman. The batter comes together very quickly and then it's steamed until cooked through.
Once the dhokla is cooked, it's then garnished with a tempering of mustard seeds, curry leaves and green chilis along with mildly sweet sugar syrup.
The taste of the cake is savory with a mild sweetness from the sugar syrup, which also keeps the dhokla moist.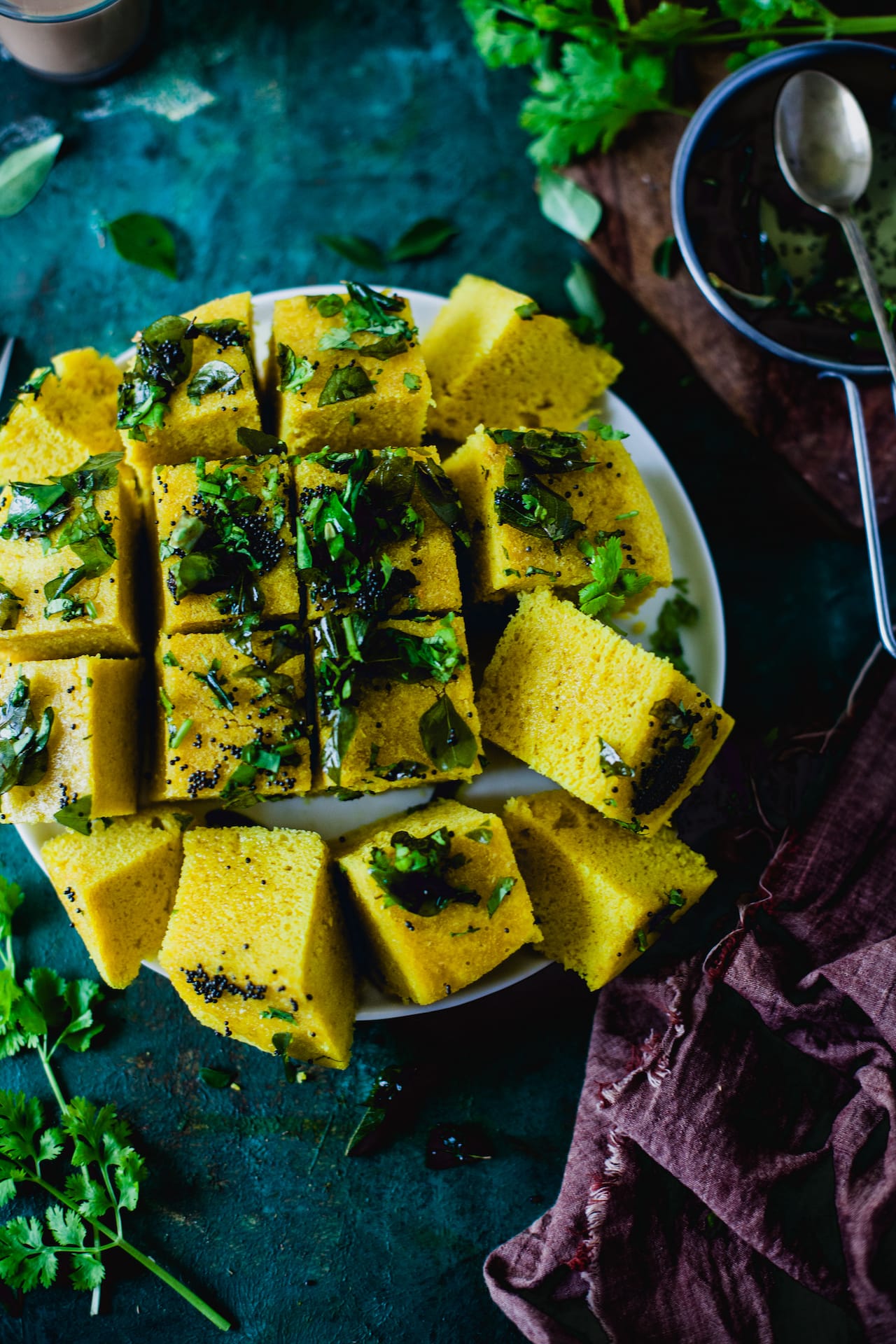 Key Notes to Remember when you prepare Khaman Dhokla?
The key thing to remember while making khaman dhokla is that you add eno salt right at the end just before you steam the batter. You keep everything ready including your container for steaming. Once the batter is ready, you have to instantly put it for steaming. Don't allow the batter to rest longer, or else the dhokla will turn out dense instead of spongy.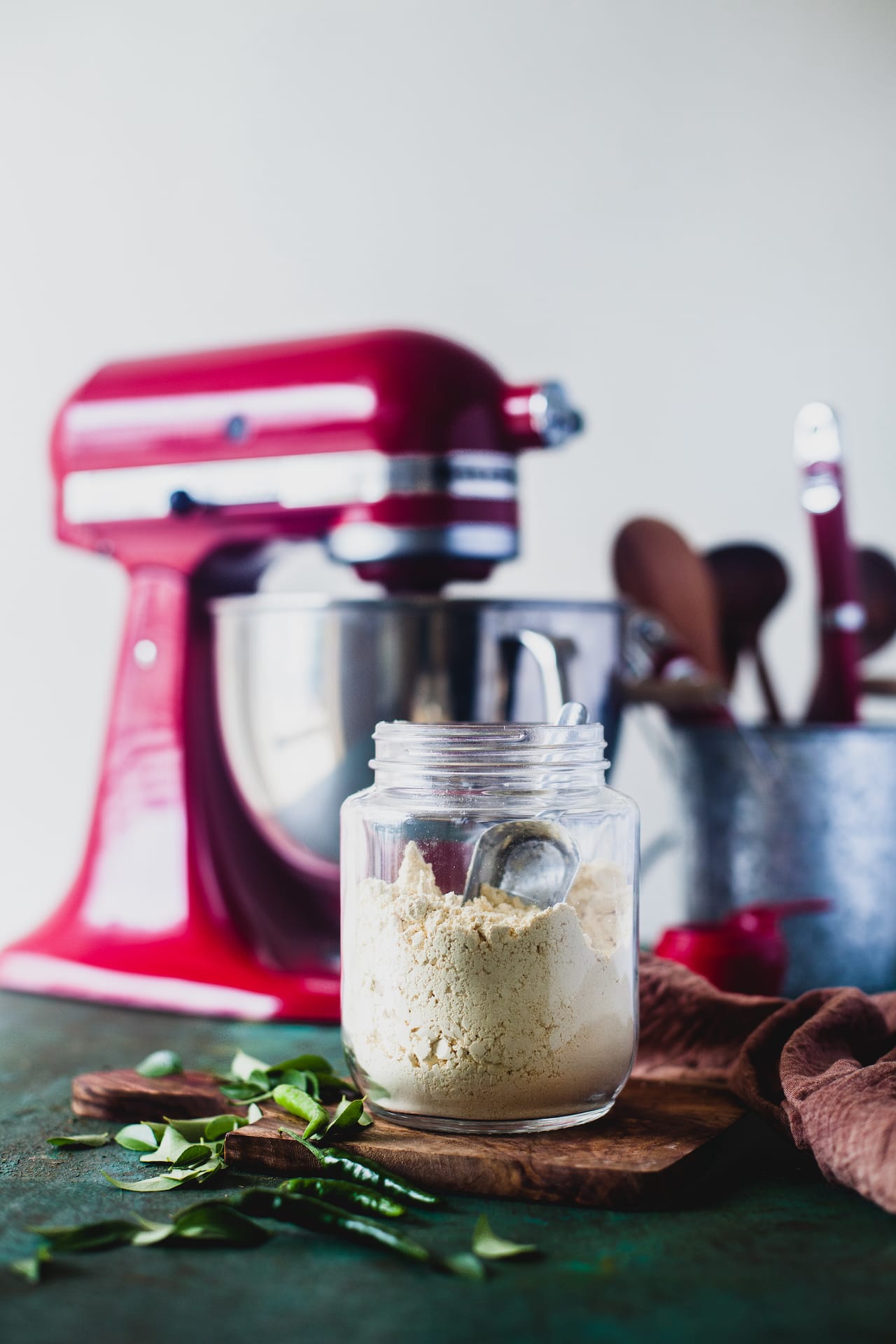 Growing up in a Bengali family, fish and poultry is the preferred choice of protein. And chickpeas mostly takes the back seat. Except for stew or using chickpea flour for deep-frying batter, I don't remember seeing Mom using it a lot. Hence, it took me a while to adapt to the taste of chickpea. Arvind, on the other hand, loves the flavor of chickpea! So, after our marriage, I started trying my hands with a few chickpea dishes.
One of his absolute favorite snacks is Khaman Dhokla (steamed chickpea cake). Making dhokla at home sounds super easy but like most easy recipes, this too has it's own tricky part. No dhokla is good unless it's got that spongy moist texture. And getting that texture right was the tough part. at least for me! It took four flop attempts in 7 days (yeah, I went a little stubborn there) to finally get the correct texture of khaman dhokla.
I did this post in collaboration with Kitchen Aid India. I used the stand mixer to make the batter and it was super quick plus effortless too.
Here is another Chickpea recipe that you might like :
Khaman Dhokla (Steamed Chickpea Cake)
Ingredients
½

cup

chickpea flour

(besan)

1

tablespoon

semolina

½

teaspoon

turmeric

1

teaspoon

sugar

2

packets of eno salt

1½

cup

water
for the tampering
1

tablespoon

oil

½

teaspoon

mustard seeds

few curry leaves

pinch

of asafoetida/hing

1

tablespoon

sugar

¼

cup

water

fresh cilantro leaves

(for garnish)

1

green chili roughly chopped

(optional)

few extra green chilies

(optional)
Instructions
Oil an 8-inch diameter flat container. I used a cake pan.

Next, get your steamer ready. If you don't have a steamer, just take a large vessel like a big saucepan or a big wok that can fit your 8-inch container and the vessel should have a tight lid too. To convert that vessel into a steamer, you need to find something circular that you can be placed at the base of the vessel and on top of that, you have to place the 8-inch container. Remember that whatever you place at the base of the vessel must allow the steam to come up. So, a definite no to plate! Look for a big strainer or tart pan ring.

Pour 1½ cups of water in the vessel and bring it to a boil.

In the mean time, get the batter ready. Add chickpea flour, turmeric, sugar and eno salt in your stand mixer bowl. Give it a quick whisk. Then, pour, 1½ cup of water and oil. Whisk it at a high speed for a couple of minutes. The batter should come together very quickly and it would look quite foamy.

Pour the batter immediately to the oiled container or cake pan. Then, place it on the large vessel.

Cover the large vessel with a tight lid making sure no steam escapes while cooking.

Cook at medium heat for about 15 to 20 minutes.

While the khaman dhokla gets cooked, prepare the tampering.

Heat 1 tablespoon of oil in a tiny saucepan and scatter mustard seeds along with asafoetida, curry leaves, chopped green chili and a couple of whole green chilies. Allow it to cook for two minutes. Then, pour water along with sugar, give it a stir and allow it to boil for a few minutes. Once done, switch off the heat and allow it cool off a bit.

Finally, check the dhokla by inserting a knife or a toothpick in the center. If it comes out clean, the dhokla is ready. Take it off the steamer and loosen the side by running a knife along it. Flip the dhokla on a serving plate and pour the warm syrup on top.

Slice into bite size portions and serve.
Nutrition
Serving:
1
Makes an 8 inch cake