I hope that you guys had a great weekend! Our weekend was pretty packed up, not in terms of work but in terms of fun. If you follow my Instagram stories, you must have had some glimpses. We are trying to get our little man comfortable in water before we enroll him for swimming classes. So, we spent long hours by the pool. Of course, it was followed by a quick grilled meal at the pool side. There was a birthday party to attend and Avyan went inside one of those bouncy castles for the first time. It needed a little get-up-and-go but then, he loved it. We spent Father's Day strolling around at a country fair. With the temperature touching 102 F/ 38 C, it was quite crazy! We loved it nonetheless, with all the ice cream indulgence followed by hot dogs, garlic fries and Avyan's favorite chu-chu ride.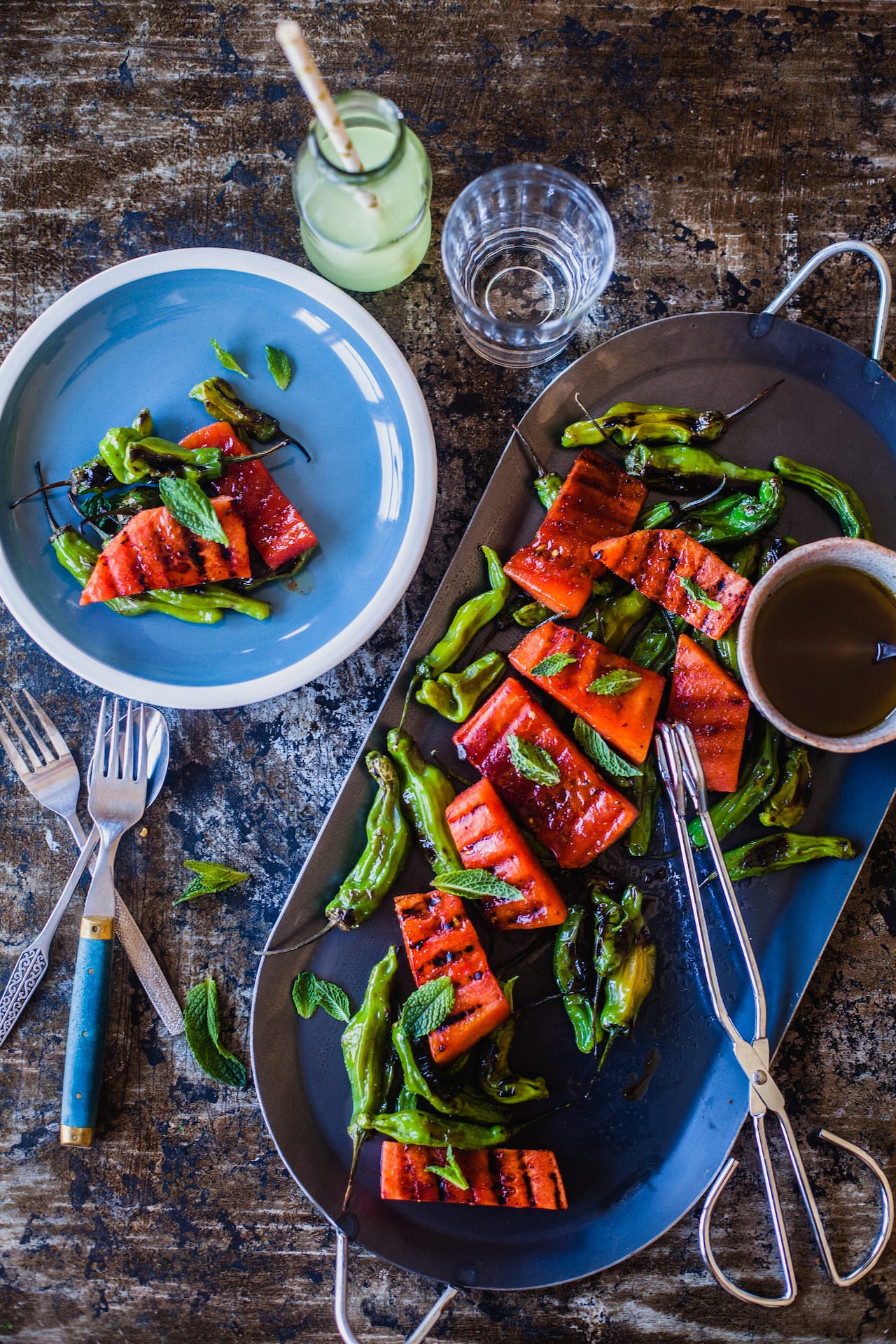 After all that excitement on the weekend, getting back to work on Monday is not easy. This week's weather prediction says it's going to be very warm and all I can think of is easy light meals. Talking about light meals, I might repeat one of our last week's meals for sure - Grilled Watermelon and Shishito Peppers with Mint and Lime Sauce.
There are some fruits that taste best when grilled. The natural sweetness in these fruits enhances and you get that subtle smoky flavor too. Getting those grill marks on fruits like pineapple and watermelon can be a little tricky at times. I make a quick dry rub of spice, salt and sugar, sprinkle it on the top and place it on a hot grill. You need to resist yourself from turning it around too quickly. Give it some time and you will get those perfect grill marks.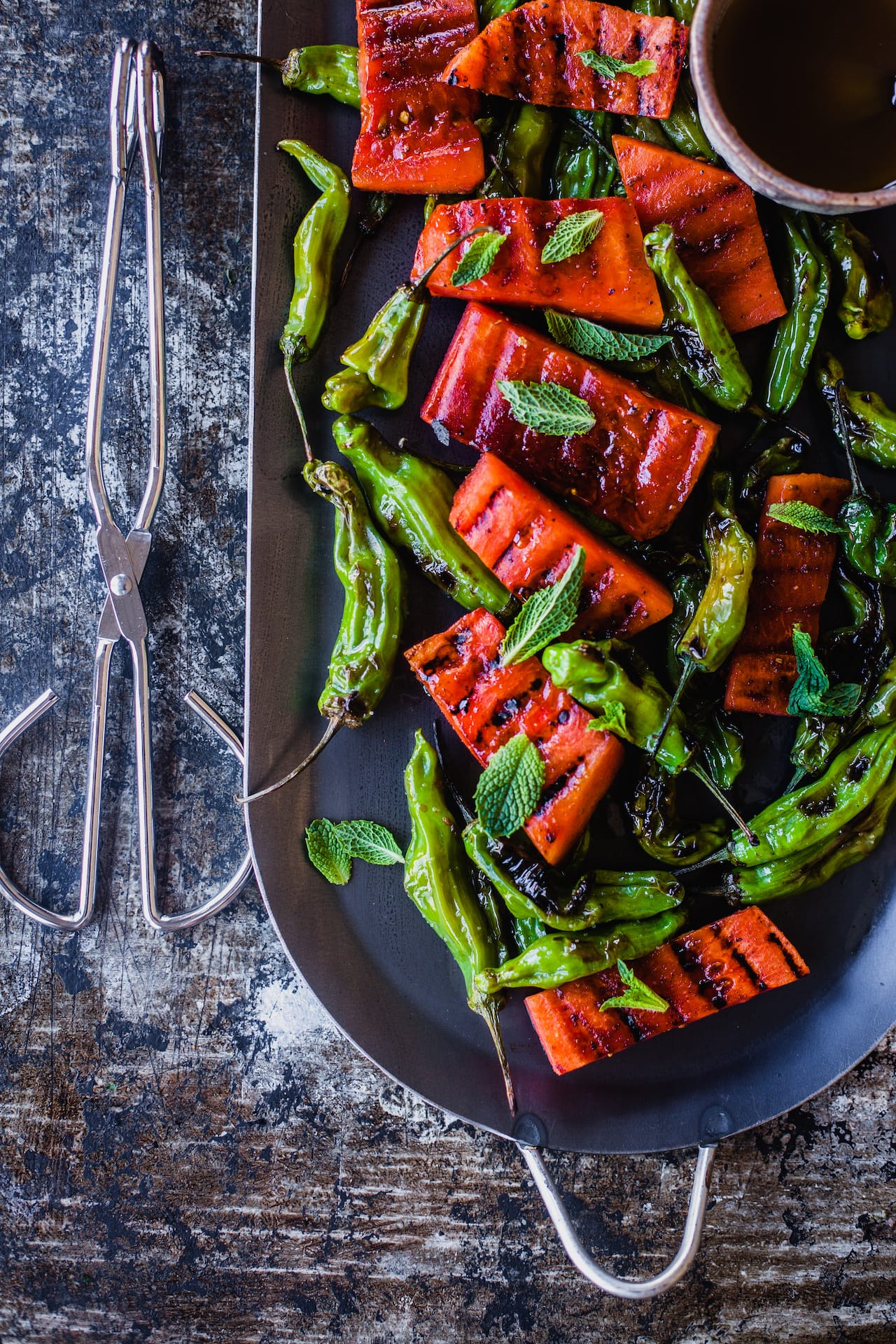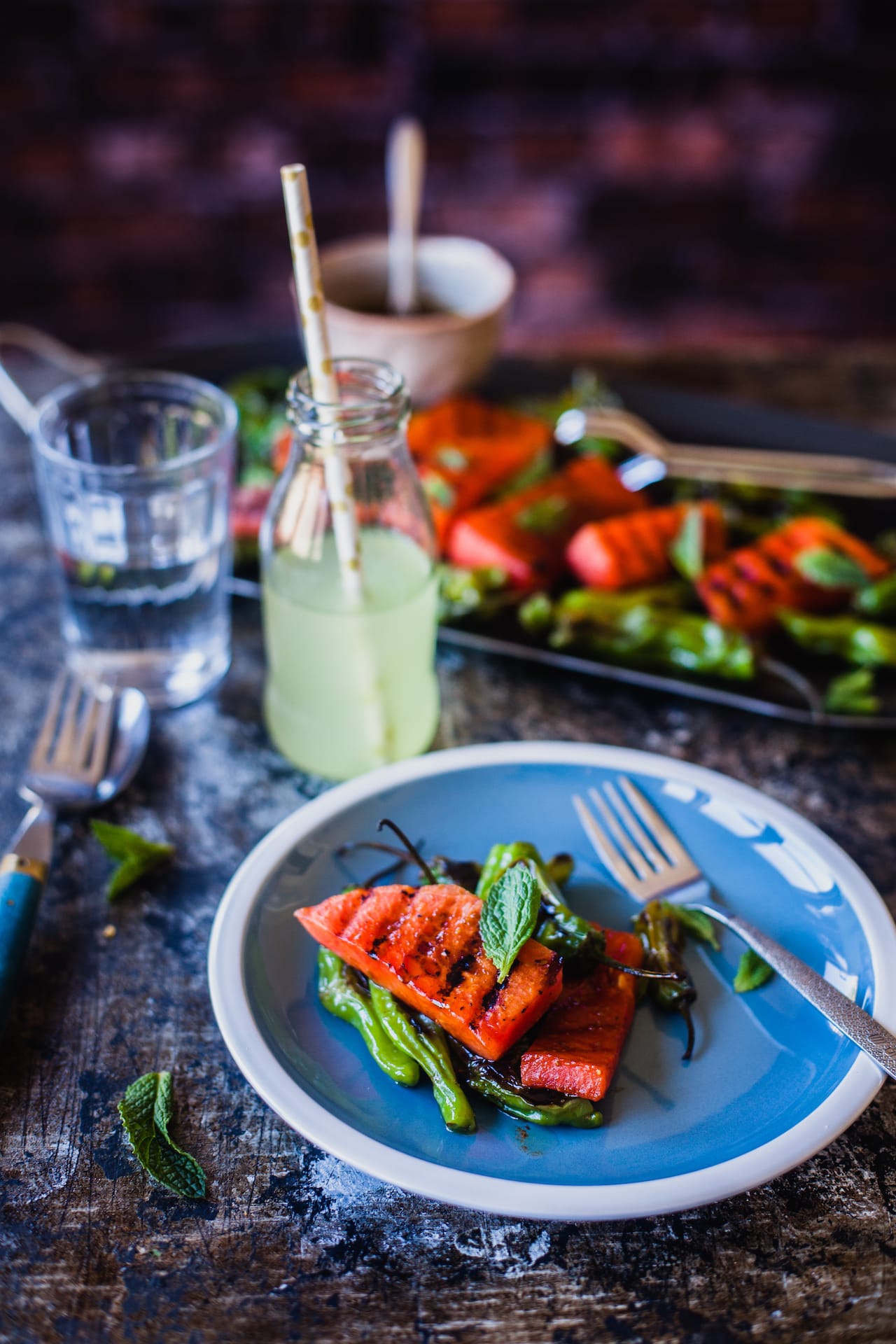 This was our first time tasting Shishito peppers. Although we eat a lot of spicy food, munching onto peppers did scare me. But, it actually was not at all spicy. Grilling these peppers can be a perfect summer time snack with your chilled drinks. It doesn't even need any dressing. Just a sprinkle of kosher salt is enough.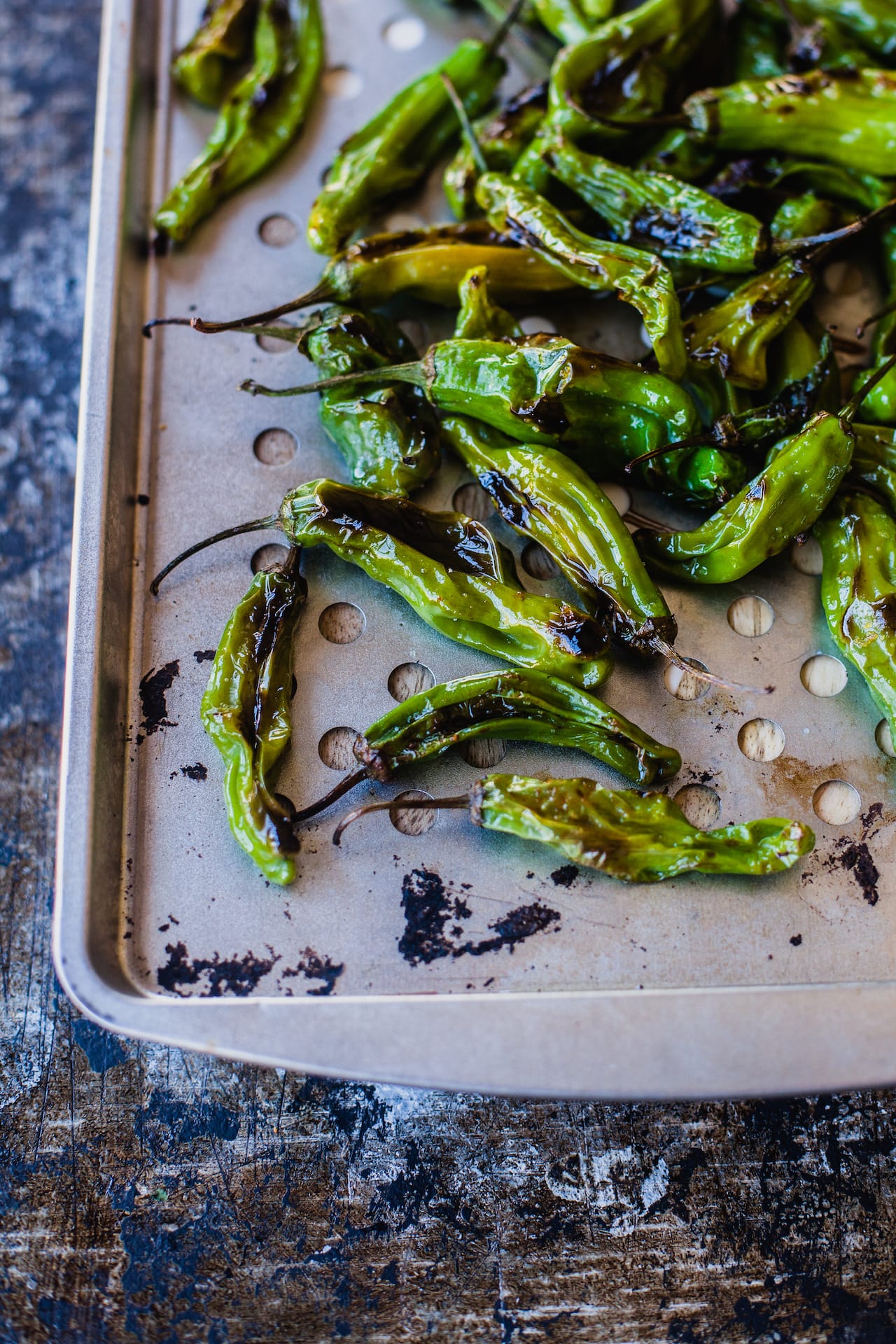 The sweet watermelon with the mildly spiced Shishito Peppers was a great combination. I couldn't stop taking bites in-between the shoot. It was that good. This meal tastes best when eaten immediately. If you let it rest, the flavor dies down. if you enjoy grilled fruits and the blend of sweet and spice, then this salad will make you very happy.
Grilled Watermelon And Shishito Peppers
Ingredients
for the dressing
zest and juice of 1 lime

(1 tablespoon)

½

teaspoon

honey

½

teaspoon

paprika/chili powder

½

teaspoon

salt

½

teaspoon

pepper

1

tablespoon

finely chopped fresh mint

3

tablespoons

extra virgin olive oil
for the dry rub on watermelon
1

teaspoon

sugar

½

teaspoon

salt

½

teaspoon

cumin powder

½

teaspoon

paprika/chili powder
rest of the ingredients
1

small watermelon

(peeled and cut into approx. 2-inch x 1-inch rectangular pieces)

8

oz.

shishito peppers

few fresh mint leaves

1

tablespoon

oil
Instructions
Pour all the ingredients under the dressing section in a jar and whisk it to form a smooth sauce. Check for salt and add more, if required.

Pour all the ingredients under dry rub section in a small bowl and give it a mix.

If you are using a big gas grill, you could grill both the watermelon and peppers together.

Oil a grill plate and place the pepper on the plate. Sprinkle some salt and place it on the hot grill. Toss it every minute for 5 minutes until the peppers are nicely charred.

Sprinkle the dry rub on both sides of the watermelon and place it on the hot grill. Allow it to grill for 2 minutes on one side and then flip it to grill for 2 more minutes on the other side.

Finally, put the grilled watermelon and grilled shishito peppers in a serving plate, drizzle the dressing and add fresh mint leaves on top.

Serve immediately.
Notes
The salad needs to be served immediately. If the watermelon and the peppers sits for too long, it gets soggy.
Nutrition