In north Indian cuisine, paneer is the king of vegetarian meals and therefore, it makes frequent appearances on our dinning table. This unsalted cheese is versatile and easy to cook in different ways. From curries to scramble to char grill, it's an ingredient that comes extremely handy. You could either go traditional, or take a different route and prepare something fancy. Grilled paneer pineapple tart , just delicious!
Several months back, I read this article, which had a quiz to evaluate how good is your taste bud. One of the questions in the quiz was about adding pineapple in a pizza. I guess Italians don't really like the idea but our palate sure does enjoy it. Coincidently, I was answering those questions and prepping our pizza dinner at the same time. And the funny part is that I was topping the pizza with pineapple and paneer.
When I answered that question in positive, I did get a negative mark in the quiz. However, my palate threw a few thumbs up while eating the pizza. The flavor and texture combination worked for us.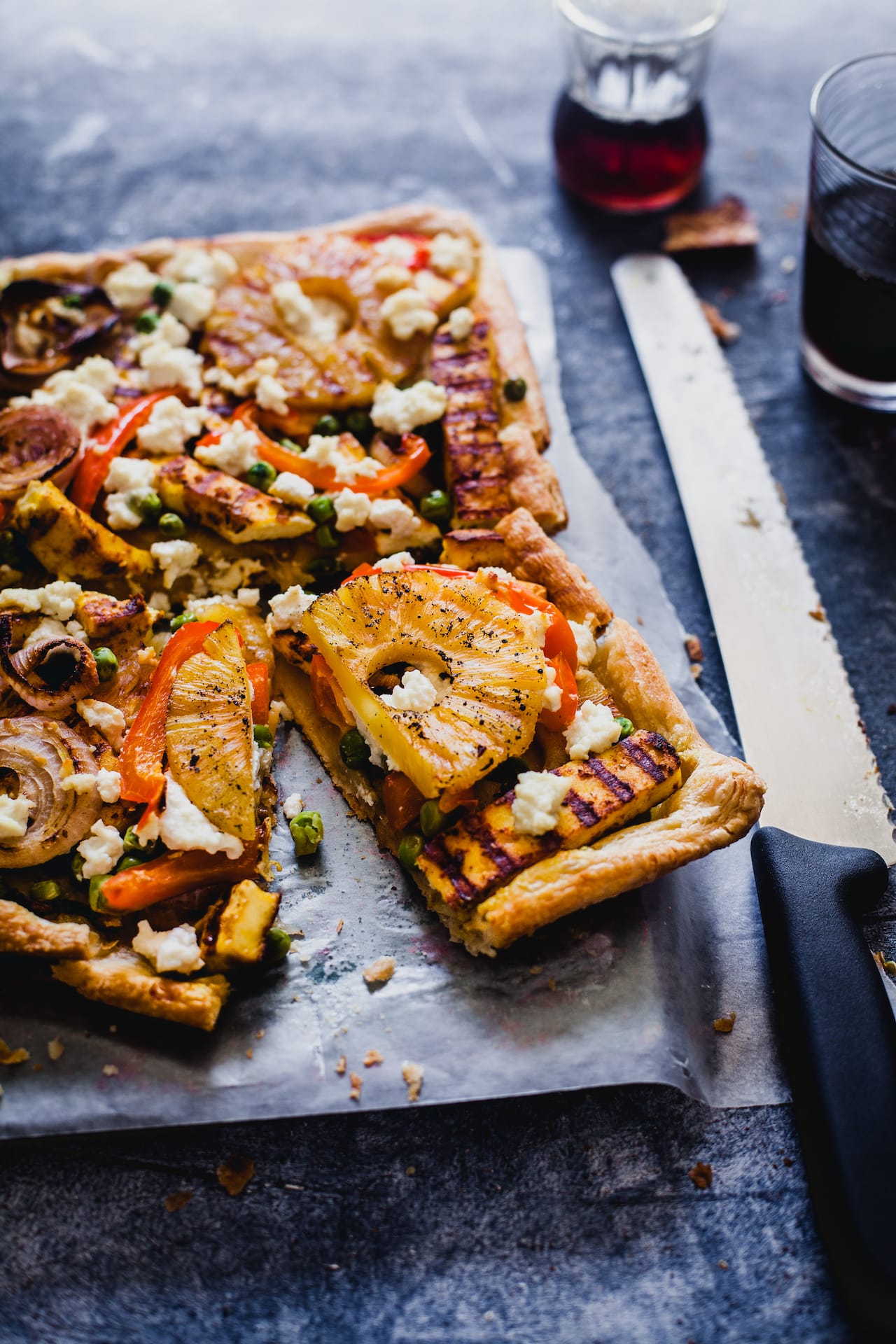 Few weeks later, I used the same combination on a tart. You could make pastry dough for the tart but I took the easy path this time. I got my hands on some frozen buttery puff pastry and gave myself a little more time to enjoy the weekend.
Grilled Paneer And Pineapple Tart
Ingredients
400

gram

puff pastry dough

200

gram

paneer

few slices of pineapple

(I used canned pineapple)

1

red pepper

1

medium red onion

150

gram

ricotta cheese

¼

cup

frozen peas

½

teaspoon

turmeric

½

teaspoon

cumin powder

salt

oil
Instructions
Preheat the oven to 200C.

Slice the paneer into thin long strips and marinate it with salt, turmeric and cumin powder.

Slice the onion into rings.

If you are using a whole pineapple, peel it and cut in into thin strips.

Remove the seeds from the red pepper and cut it into thin strips.

Roll the puff pastry dough and layer it on a baking sheet. Using a fork, prick it in the center so it doesn't puff up. Then, using a sharp knife, score two finger-width rectangles from the edge. Bake it for 15 minutes.

While the pastry bakes, heat a grill pan and rub oil in the pan. Grill the paneer slices followed by pineapple and onion rings. Once done, keep them aside.

After baking the puff pastry, take it off the oven and layer the grilled paneer, peas, pineapple, red pepper, onion and ricotta cheese. Drizzle a little oil on top and bake for 10 more minutes or until the puff pastry is cooked though.
Nutrition