Couple of months back, a lovely friend had requested me to share a spring recipe for her online magazine. As much as thrilled and excited I was, it also got me thinking. There were loads of ideas popping in my mind! Torn between preparing something sweet or savory, I decided to settle with a salad.
The recipe should have simultaneously appeared here long time back but my tiny brain totally forgot about it! The other day, I was clearing some unwanted files from the laptop, these photos caught my attention and that's when I remembered.
The green chickpeas that I used were dried and required to be soaked overnight. Once that is done, it takes hardly any time to prepare the salad. I prefer to make it in advance and letting it rest for a while as it helps the flavors to blend nicely with the raw vegetables. Green chickpeas are easily available in any Indian store, but you could also substitute it with any beans of your choice. I had once replaced the chickpeas in the salad with couscous and that was equally delicious.
The dressing is pretty much like Indian raita; creamy, tangy and gives a refreshing mouth-feel. It is made with yogurt, roasted cumin, extra-virgin olive oil and refreshing mint.
We tried to pair the salad with baked fish on the side. It somehow worked as a great combination and eventually, became one of our favorite meals. Having said that, it also tastes great just on it's own. There is the crunchy bite from the green chickpeas, refreshing tangy kick from the yogurt dressing and sweetness from the vegetables.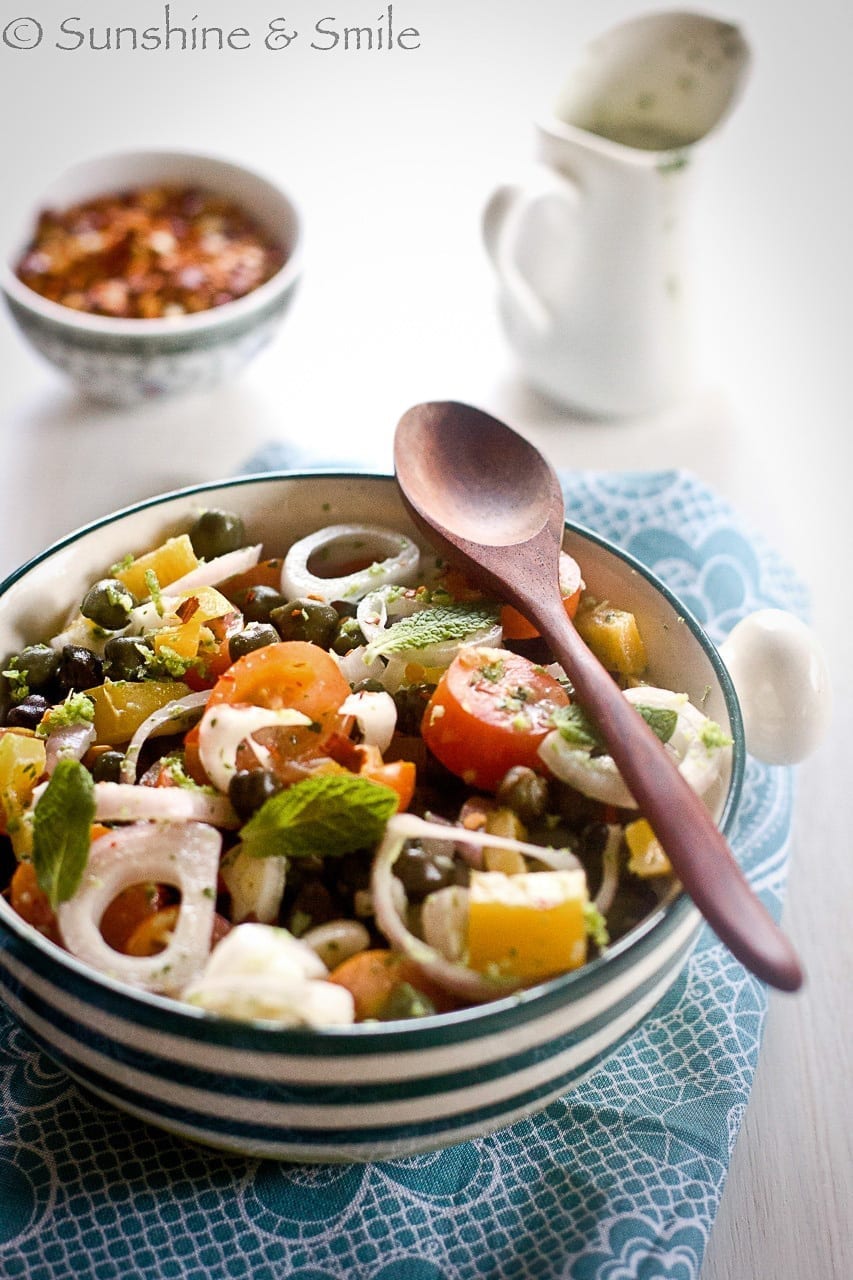 Green Chickpea Salad with Yogurt Dressing
Ingredients
1

cup

dried green chickpeas

(soaked in water overnight)

2

shallots

(thinly sliced)

1

yellow pepper

(finely chopped to tiny bite size)

1

cup

sweet cherry tomatoes

(chopped in half or quarters)
for the dressing
1

tablespoon

cumin seeds

½

cup

sour plain yogurt

¼

cup

fresh mint leaves

1

teaspoon

lime juice

½

cup

extra-virgin olive oil

1

teaspoon

aamchur

(dry mango powder)

salt
Instructions
Heat a pan and dry roast the cumin seeds for a few seconds until they change color to a darker shade.

Using a coffee grinder or mortar and pestle, grind the roasted cumin seeds to a fine dust.

In a food processor, add all the ingredients of the dressing and give it a mix.

Take it out in a bowl, add the roasted cumin powder to it and mix properly again.

Put the green chickpeas soaked with water in a microwave proof bowl and let it cook for 10 minutes at high temperature.

In a salad bowl, add green chickpeas, chopped pepper, chopped cherry tomatoes and shallots.

Pour the dressing and give it a good mix.

Salad is ready!
Notes
You can also use store bought cumin powder in the dressing. However, freshly grounded, roasted cumin powder adds more flavor and warmth.
If you are using canned chickpeas, you do not need to soak or cook them in the microwave.
Nutrition