I can finally check off one item from my wish list – a list which I created long back.. a list filled with absolute indulgence that screams delicious!
All the blog hopping I have been doing the last few months made my wish list go from long to longer, from interesting to challenging and from yum to yummier.
When I saw the theme for Monthy Mingle called for stone fruit, I knew I had to make something that is on hold for a long time now.. a tart! A flaky tart with creamy filling.. sounds good, doesn't it!
So, after checking some dozens of videos on you-tube on how to make a crust, I decided to just go ahead and give an attempt.
Monthly Mingle is a fun event where a theme is chosen every month, that you can mingle with in your kitchen. It's a brainchild of Meeta, author of What's For Lunch Honey and this month's host is Sukaina, author of Sips and Spoonfuls. They both are such amazing and talented people. You shouldn't miss visiting their space.
Coming back to the tart, there are few key points that I learned about making a flaky crust. Make sure every ingredient is cold, from flour to water. Do not knead the dough and you have to let it rest in the refrigerator for about an hour. The dough will be sticky and it was not easy to roll that sticky dough. If you are like me, you will get very irritated, but don't! The dough needs tender love and lots of care 🙂
I used ricotta cheese as a filling which is super light, creamy and slightly sweet in taste. The texture of this cheese is soft, almost like cottage cheese, which makes it less heavy and it is a good source of protein too.
As the tart was baking in the oven, I couldn't help but stare at it through the oven glass the entire time, well.. almost! And even before I could realize, the entire house was smelling of peach (ear to ear smile) 🙂 Now, once you bake something that delicious, you need to let it rest and let it set before you start eating and that is not easy my friend. But, you have to do it or else it might fall apart.
All this wait and patience was worth the effort. We enjoyed every bite of that tart. It was flaky and the creamy light ricotta with that super sweet juicy peach made me do my happy dance. And, I ticked off  'bake a tart' from my wish list 🙂

Flaky Tart with Peach and Ricotta
Ingredients
For the Tart
1 cup all purpose flour
1 stick/5 tbs cold butter
pinch of salt
juice of 1/2 lemon
1/4 cup ice cold water
For the Filling
2 eggs, kept in room temperature
3 tbs ricotta cheese
zest of one lemon
1 cup sugar
2 juicy peach, cut in slices
sugar powder, for dusting at the end
Instructions
In a bowl, whisk flour and salt and keep it in the refrigerator for 10 minutes.
Cut in the butter cubes to the flour until mixture resembles coarse crumbs (If you are using a food processor, just pulse it for about 5 t0 6 times or until the crumbs looks like size of tiny peas. You can also do the same using a fork or your finger tips).
Add lemon juice to the cold ice water and pour it on the flour mixture.
Again, using a fork or your finger tips, mix it properly but do not knead it. It will be sticky and you don't need to worry about it.
Do not over-mix the dough. Just pat the lumps into a ball and cover with plastic wrap.
Refrigerate for 1 hour.
In the mean time, prepare the ricotta filling.
In a bowl, whip the eggs with ricotta, lemon zest and sugar.
Add heavy cream and give one last whip to make sure everything is mixed well.
After an hour, take the dough out and roll it into a 9/12 inch round. The dough will be sticky. So, flour the rolling pin and sprinkle flour on the dough too. You might need to add little flour in between as you roll it.
Transfer it in to the tart pan and cut off the extra dough.
Place one layer of sliced peaches and then pour the filling into the pan.Top it with some more sliced peaches.
Dust it with some powdered sugar on top and bake it in on a pre-heated oven at 400 F for 40 minutes.
Let it rest for 5 minutes before you cut a slice.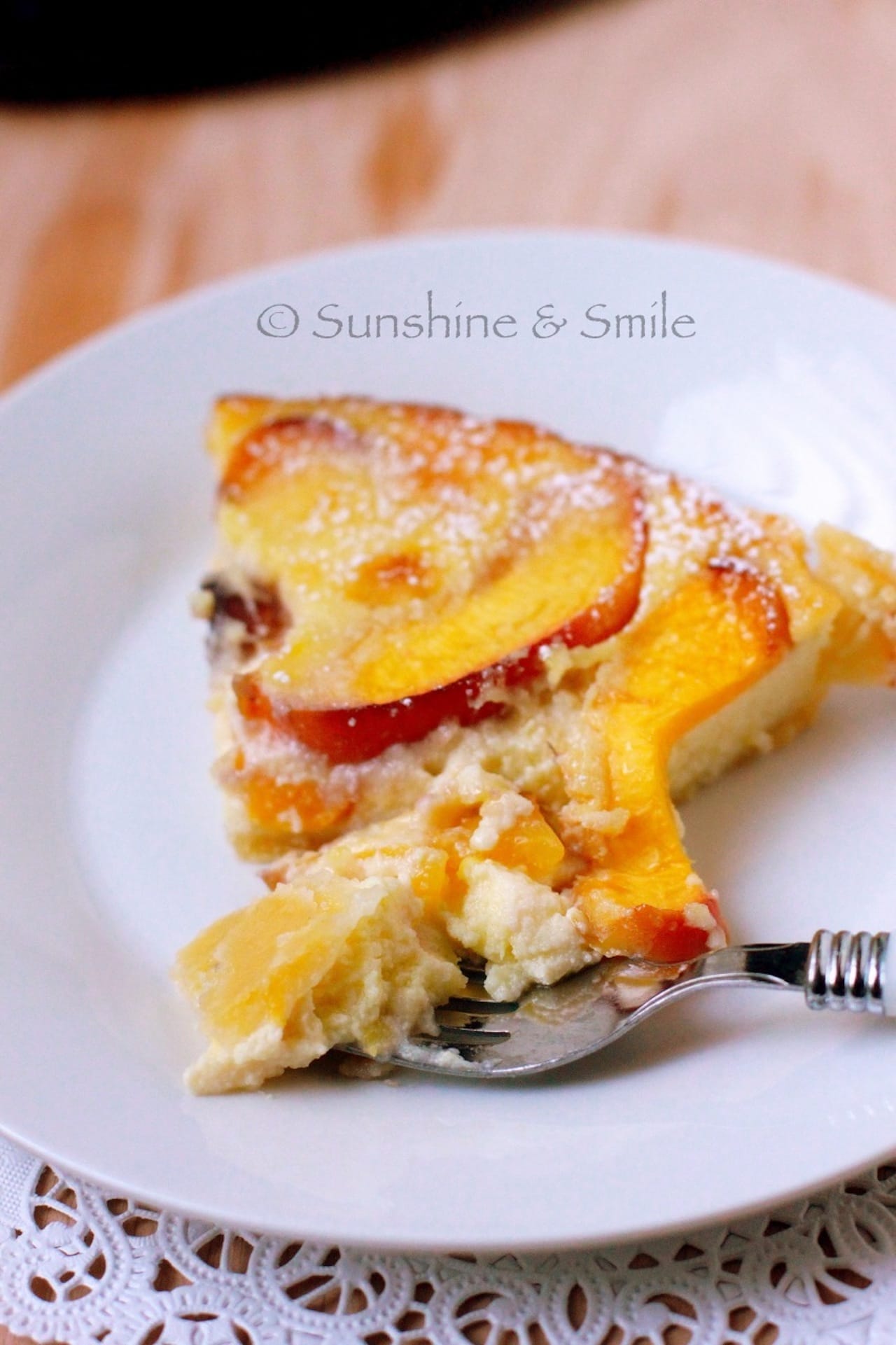 Did you enjoy this Flaky Tart with Peach and Ricotta? Share your creation by tagging
@playfulcooking
on Instagram with the #playfulcooking and I will re-share in my story!