As a kid, I don't remember eating figs! It was only a few years back when I got introduced to these beautiful looking fruits. In-fact, dry figs became my daily diet. It was more like my medicine! I was anemic for a while and my hemoglobin count had dropped down. During that time, the doctor suggested me to eat figs daily as they're supposed to have high content of iron. Since I hate taking medicines and figs were so much more tasty, I decided to make it my delicious alternative to medicine.
To my surprise, what medicine couldn't do in 6 months, regular intake of few dried figs did in 1 month. I started feeling better. Since then, I never stopped eating this gorgeous dry fruit. I never found fresh figs in Bangalore or may be I didn't know where to look for it. So, I am yet to try the fresh figs and I know I will like them too.. Maybe more than the dried ones 🙂
Did you know that figs contain some kind of chemical that will extend freshness and moistness in baked products! Figs have nutrients especially important for today's busy lifestyles, with lots of iron, fiber, calcium and potassium. I used to always keep them in my purse and in the evening, when i used get tired and hungry between work, I would pop these in my mouth.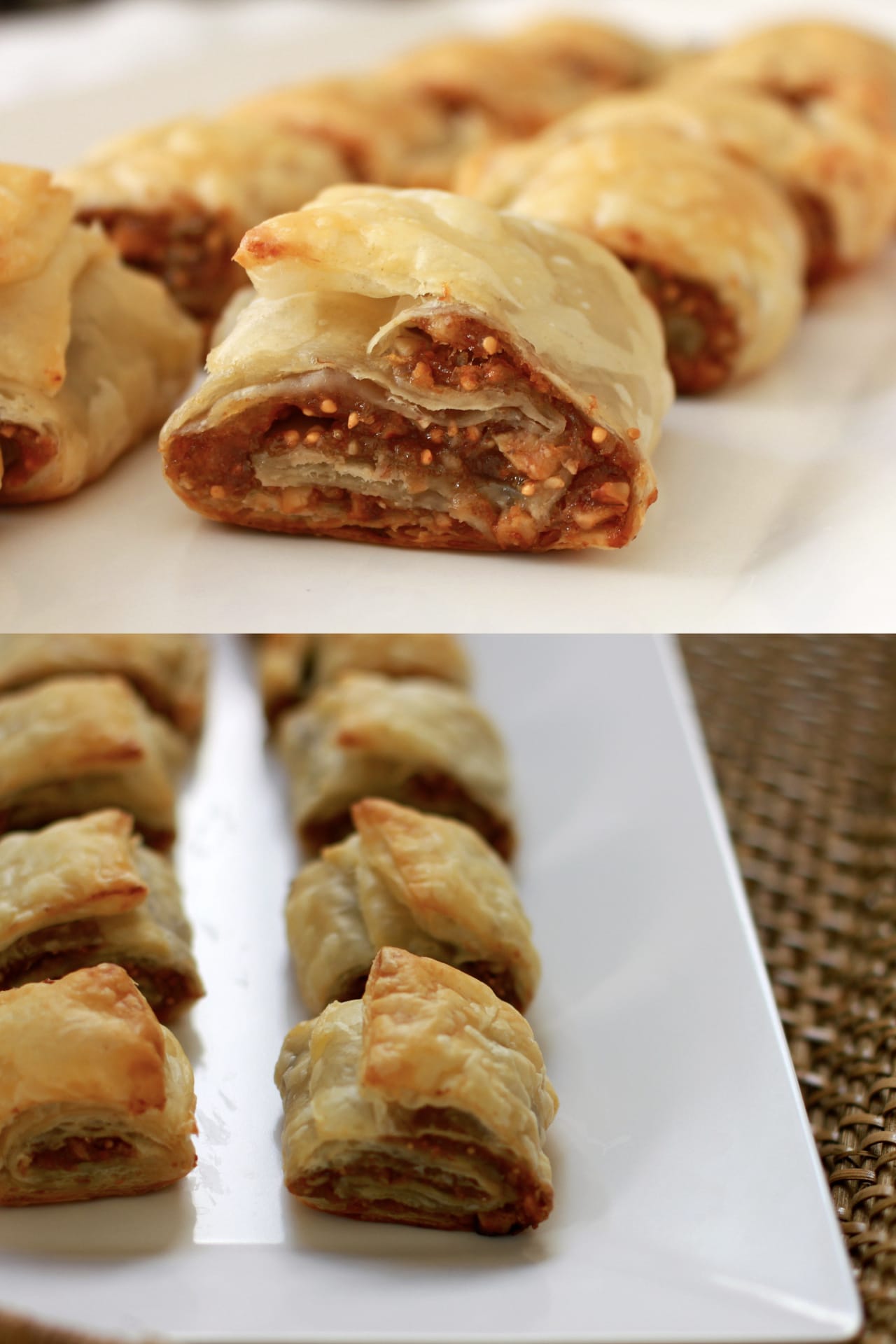 What I am sharing with you today is a short bite which could be served as a dessert or even enjoyed with coffee or tea. It's not too sweet and the pecan adds an extra crunch to the bite. They taste best when they are fresh out from the oven. But, you can also store them and re-heat them in oven before you serve them.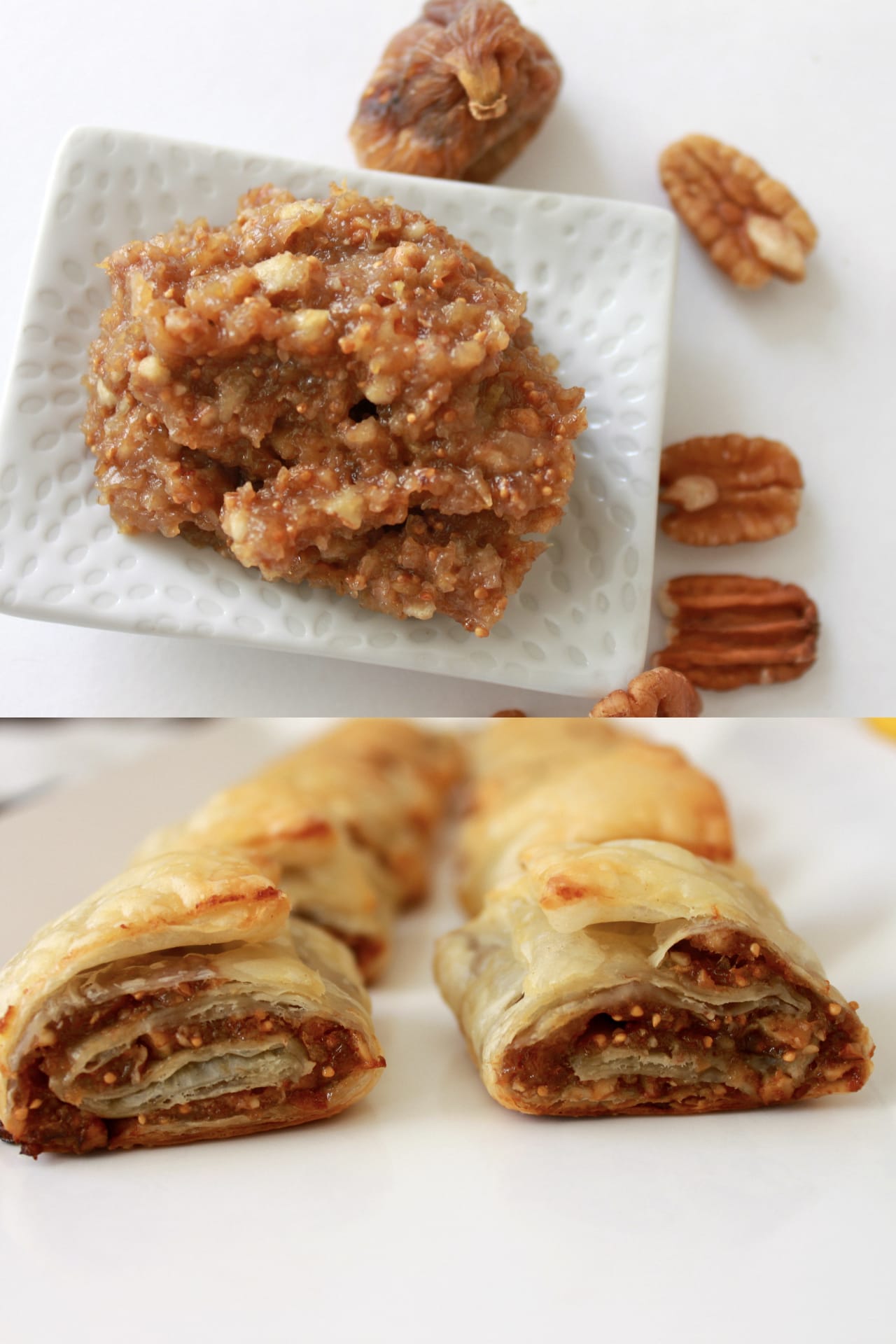 Dry Figs and Pecan Puff Rolls
Ingredients
1

cup

dried figs

(roughly chopped)

1

cup

pecan/almond

(slightly roasted)

½

cup

brown sugar

1

cup

water

2

star anise

1

inch

cinnamon stick

zest of one lemon

juice of half lemon

1

sheet frozen puff pastry

(kept in room temperature for about 30 mins)

oil
Instructions
Boil 1 cup water in a saucepan with star anise, cinnamon and brown sugar.

Next, add the dried figs and keep cooking for 15 minutes in low heat till it becomes thick and sticky.

Transfer it to a food processor and make a puree.

Roughly chop the roasted pecans and mix it with the puree.

Add lemon zest and juice to the puree.

Place the puff pastry sheets and spread the mixture on the them properly. The mixture would be sticky. So, wet your hands or the spatula and that will help to spread the mixture evenly.

Roll the pastry and cut rolls cross-wise into 1 inch pieces using a sharp knife.

Place them in greased baking pan and rub them with oil on top.

Bake them at 375 F for about 18 mins or until they are slight golden brown on top.

Let it cool for 5 mins before you serve them.
Nutrition
NOTE:
1.Make sure you thaw the frozen puff pastry for at least 30 mins before you start working on them. They are very delicate and can break apart.
2. If you are storing the puff rolls, use a air tight jar and re-heat them at 350 F for 5 minutes before you serve them.
3. If you don't like pecan, you can use any other nuts .