Whenever I think of Wonton, I think of Shillong. A place where I spent my childhood, a place I miss the most! I was born in Shillong, a tiny little hill station in North East of India. We didn't had any big shopping malls, disc or pubs, not many fancy restaurants or even any airport, but we had mild summers, chilly cold winters and monsoon for almost 5 months. Shillong is just 35 miles away from Cherrapunji, which is the world's wettest place. It is said that the rolling hills around the town reminded the European settlers of Scotland and therefore, Shillong is also known as Scotland of the East!
As a kid, we used to eat a lot of momos (type of dumplings native to Himalayas of Tibet), noodles and Wonton Soup. I remember this restaurant where we friends used to visit more than often and spend a lot of time doing all the yap yap 🙂 . The restaurant used to serve amazing chinese food and my favorite was the wonton soup. It was just perfect for those cold winters. The portions used to be really HUGE for one person and yet, I could finish it till the last drop. As far as I can remember, they used to serve about 10 to 12 wontons in a single bowl with lot of vegetables and some bean sprouts! Nothing too fancy about it and yet, there was something in that soup that could always make me smile in every sip and every bite.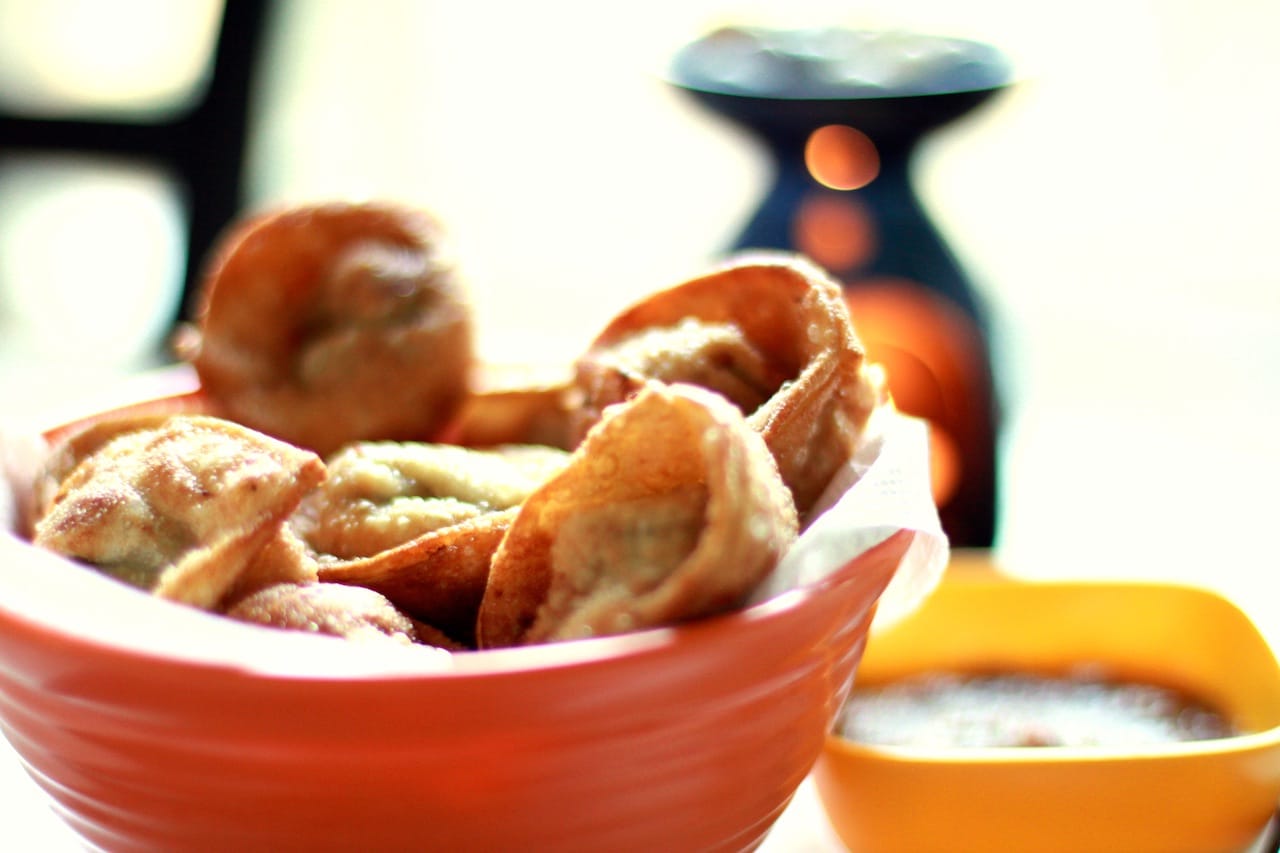 After I left Shillong, I tried wonton soup in several restaurants, several places and you guys can easily guess what am going to say next.. It was nothing compared to what I used to eat in Shillong. It's been quite sometime since I last visited Shillong and I have no clue if the restaurant is still running or not.. but I do hope it does.. and I do hope that someday, I can eat that Wonton soup once again and share the experience with you guys 🙂
Today, I am not sharing my version of wonton soup, but I am sharing my version of Wonton Fried. Yes, that is also one of my favorite, however I never had those in Shillong. I think fist time I had those were in Bangalore from a Chinese takeout near my house.Yesterday, I was feeling too lazy to make the wonton wrappers and so, I bought them from a Chinese shop.

Deep Fried Pork Wonton
Ingredients
½

lb

ground meat

(I used pork)

2

cups

finely shredded cabbage

½

medium onion

(finely chopped)

2

cloves

garlic

(finely chopped)

1

tbs

garlic

(finely chopped)

1

teaspoon

soya sauce

2

eggs

salt

pepper

oil
Instructions
In a bowl, add all the ingredients (meat, cabbage, onion, garlic, ginger, soya sauce, 1 egwith salt and pepper and mix them properly.

Heat 1 tbs oil and mix it with the ingredients in the bowl. Let it marinate for 30 minutes.

In a small bowl, beat 1 egg to make some egg wash. You will need this to seal the wraps

Take one wrapper, place little stuffing in the center, and run a little egg wash on the side.

Fold the wrapper in half , make sure there if no air inside.

Now, take the ends of the semi circle and join them tight. It will almost look like tortellini pasta.

You can make these in advance and keep it in the refrigerator. When you are ready to serve, you can deep fry them. Make sure you deep fry them in medium heat.
Nutrition
Serve them with the Tangy Minty Dip or any spicy dip of your choice.
Sharing this deep fried delight with Seaside Simplicity, with Hearth and Soul Hop by Alex, Dr Laura's Tasty Tuesday, Delectable Tuesday, Tasty Tuesday