He entered the house huffing and puffing, carrying two giant bags of groceries. I took a quick peep, didn't like what I saw but the bottle of banana peppers made me very happy. That was my only source of palate cleanser during the first three months of pregnancy. I had terrible nausea and lost my love for food. My husband is known for his loving nature and he took care of my diet the entire time. Although at times, it did felt like he was a little too alert. The nerd preferred to Google on pregnancy food more than his typical techy stuff. So when my mother in law, my mom and every other friend advised that I should eat walnuts and almonds everyday, he bought heap load of those nuts plus more.
I hate eating nuts, never liked them, unless it's dusted with spices or cocoa powder and roasted to crunchy texture. And my husband used to do just that. He would roast assorted nuts in tiny batches, sometimes savory and sometimes sweet. And he would keep it right next to our bed, so I never forget.
Sadly, even after all that hard work, I couldn't really fall in love with nuts and we were still left with way too many packets to finish. I ignored the overload for a while but then came the time for our big move and we had to clear the pantry. These energy bars happened during those days and without much thought. No measurement at all. I just added the nuts, dates, a tiny packet of coconut flakes; all blended together with a little drizzle of honey. Surprisingly, I quite liked it and so did my friends.
Staying at home the whole day doesn't make me hungry for more food but it sure does makes me munch more often. And an obvious choice is to always reach out for a bag of chips or cookies or chocolates. These energy bars are the best during those odd hour hunger moments.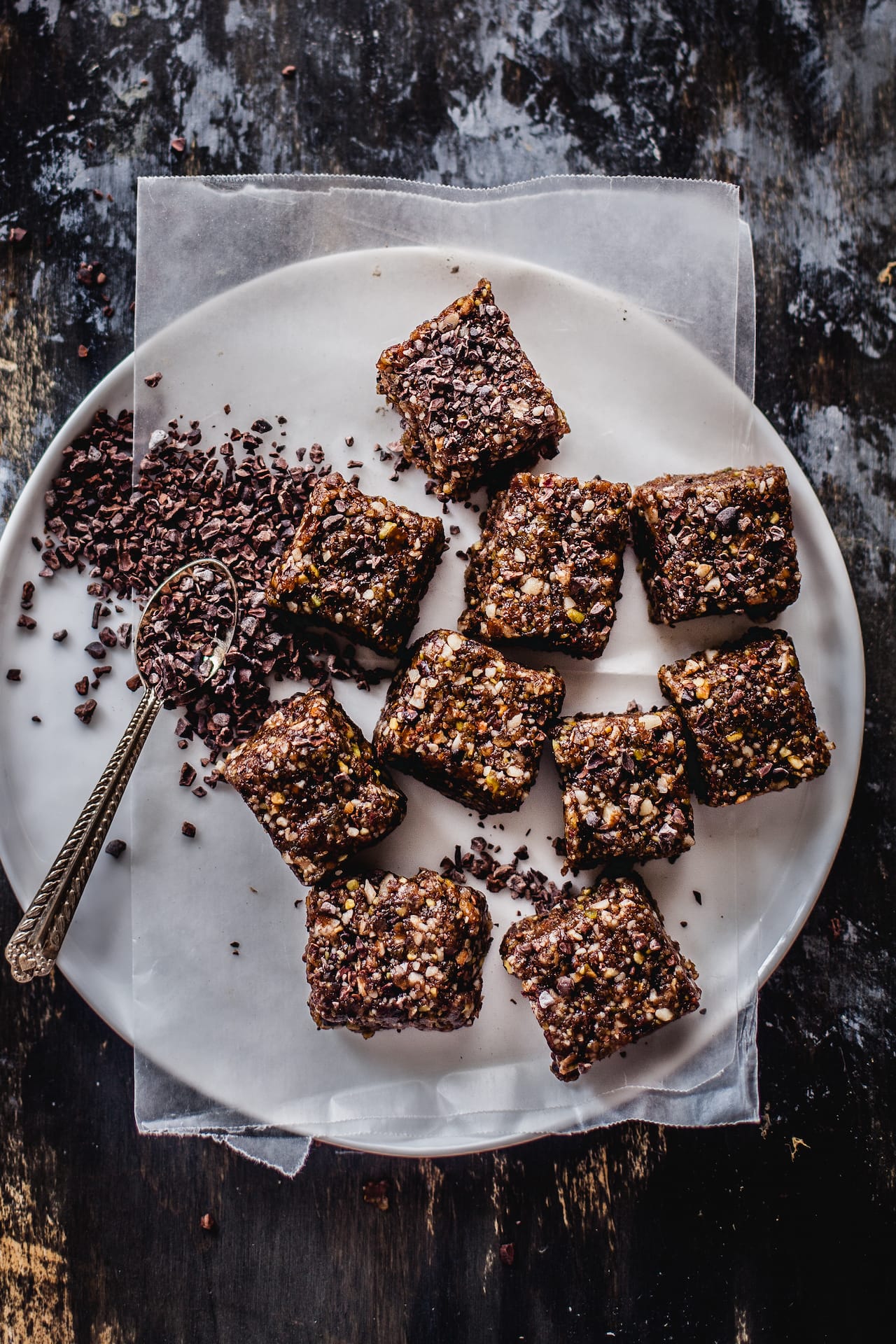 This time, I made it extra tasty by adding cocoa powder and cocoa nibs. Protein packed, chocolaty and guilt-free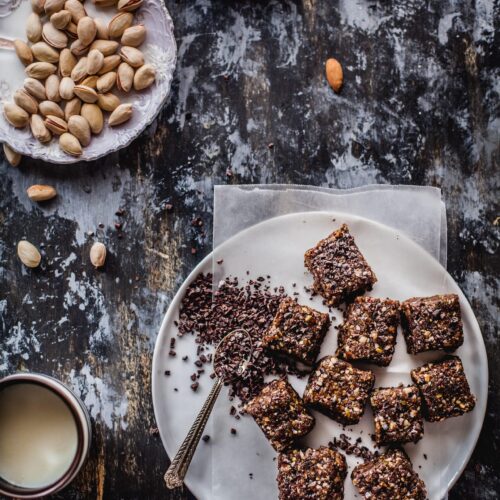 Date And Nuts Energy Bars With Cocoa Nibs
Ingredients
⅓-

cup

almonds

⅓-

cup

pistachios

⅓-

cup

walnuts

1-

cup

dates

2

tablespoons

cocoa powder

2

tablespoons

cocoa nibs

2

tablespoons

honey

a pinch of salt
Instructions
Butter a pound cake pan and line it with parchment paper.

Roughly chop the nuts and dates. Put it in the food processor along with the rest of the ingredients and blend until it all comes together. Pour the mixture in the prepared pan and lightly pressed the mixture evenly. Let it rest for couple hours or overnight and then, cut it in squares. Keep it in airtight jar in the refrigerator.
Notes
These bars stays good for several days in the refrigerator stored in an air tight jar.
Nutrition