Along with the summer comes my craving for salad. Fresh fruits and fresh vegetables every where and those gorgeous greens .. what more do you need in your platter!
A trip to the Farmer's Market on a Sunday morning assures me that I have become a 'foodie'. I preferred to let go of my sleep on a Sunday Morning and that was not normal. I had always loved the extra 15 minutes of morning sleep.. alarm.. snooze.. alarm.. snooze.. ok, get up now!
Last weekend, I was so excited to visit the Farmer's market that i didn't even need an alarm. We wanted to be the first one to reach there. With a huge bag, I was all ready to shop.
It was not a very big market but it had almost everything we were looking for. He wanted fruits and I wanted vegetables. Munching on to the bites they had to offer in every stall, staring at some vegetables which I had never seen before and wondering what they were.. all in all, our Sunday morning started pretty amazing.
Those gorgeous beautiful carrots.. just couldn't take my eyes off them!
And, look at those juicy colorful sweet nectarines and red grapes.. aah so perfect!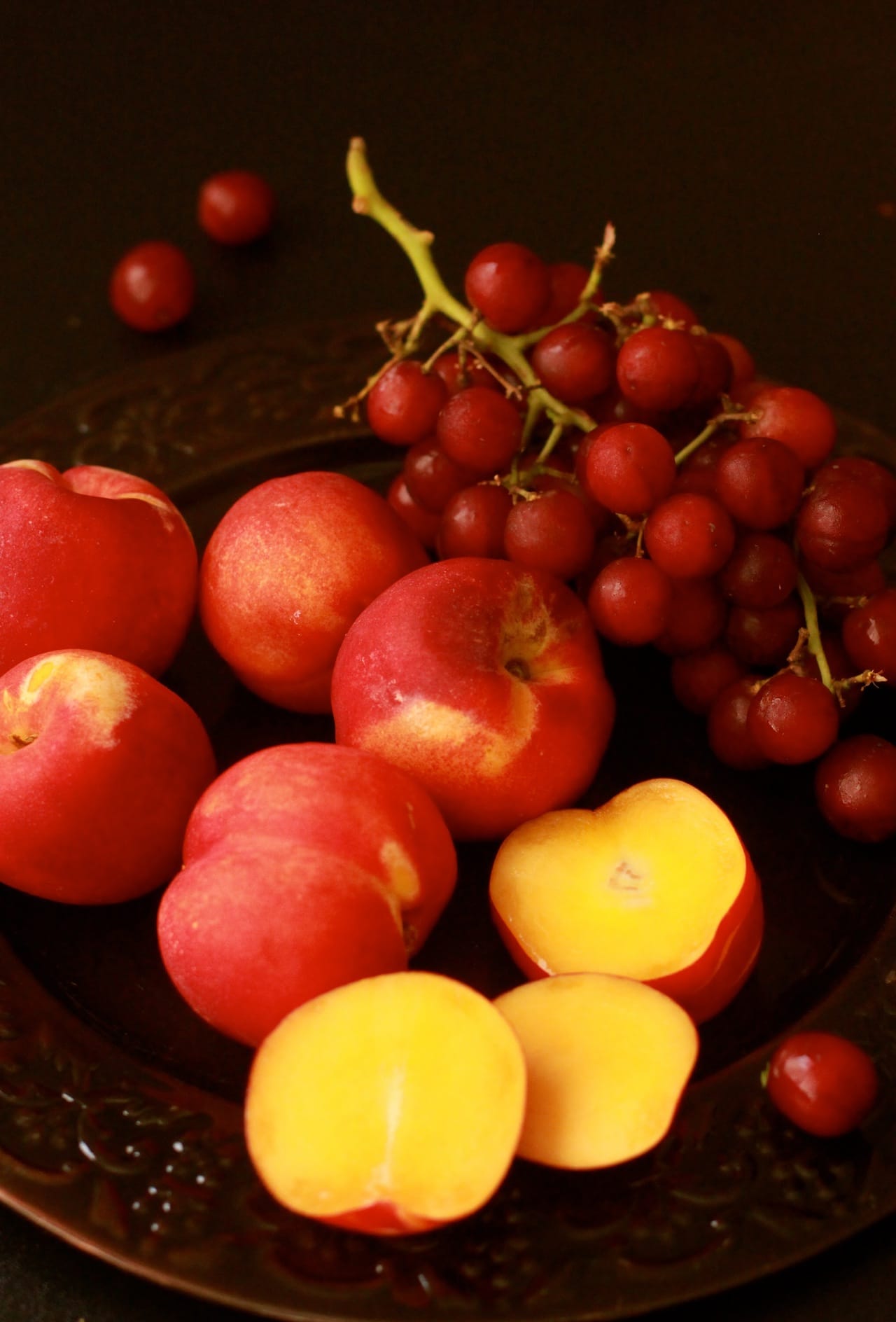 I immediately started thinking of a salad recipe and hoping that Arvind was not reading my mind.. he doesn't like salad. He likes fruits .. lots of it. Given a choice, he can eat fruits for lunch or diner but greens and vegetables doesn't make him happy.
Hence, I had to improvise.. mix it up 😉
Some vegetables, some fruits with some salad greens. That was a perfect salad and he would eat that .. wouldn't he? He ate all the fruits neatly leaving most of the vegetables and greens for me.. huh!!
Colorful Seasonal Salad
Ingredients
4 to 5

sweet nectarines

(sliced lengthwise)

handful of red grapes

4

carrots

(peeled and cut lengthwise into quarters)

handful of mixed salad greens

(spinach, arugula, lettuce, endive or whatever comes handy)

olive oil

salt

pepper

½

cup

extra virgin olive oil

juice of ½ lemon

zest of one lemon

2

tbs

chopped parsley

½

teaspoon

dried thyme

salt

pepper
Instructions
Toss the carrots with some olive oil, salt and pepper and bake it at 400 F for about 20 minutes. Make sure that you don't crowd the baking pan and keep them in a single layer.

Layer the sliced nectarine in another baking pan, sprinkle some salt on top and drizzle with some olive oil. Bake it at 400F for about 10 minutes.

For the dressing, combine everything in a glass bowl and let it rest for 15 to 20 minutes to let the flavor meld.

Arrange the greens, roasted vegetables and the grapes in a serving bowl.

Whisk the dressing properly and pour it on the salad just before serving.

Serve it warm at room temperature.
Nutrition
Sharing this salad with Friday Potluck , Any One Can Cook, Salad Spread