My parents can never even consider cooking with frozen fish. Bengali meals are all about fresh lake fish, brought from the fish market every other day. I grew up with that belief and tried to follow the ritual for quite some time. It was only during our stay in US when I started to embrace the idea of using frozen fish. And soon I realized how swiftly a wholesome meal could come together with a fillet of frozen fish. While these frozen fillets don't live up to a typical Bengali style fish curry but it sure does make a light and fragrant fish stew.
By the way, did I ever mention about this lemon tree in our apartment community? Well, it took me only one entire year to figure that out. And here is the fun part, it's right next to our flat and I see it everyday from my balcony. Yet, I never knew until last year when Mom visited us and pointed it out. Right now, the tree is filled with tiny lemons and I am quite sure that as soon as they grow big enough, most of it would be plucked even before I realize.
The good thing is I get to use as many lemon leaves as I want and they smell just stunning. Cooking with lemon leaves is not a good idea, as they add bitterness to the dish. But throwing a few tender leaves in stew or soup right after cooking and allowing it to infuse for a while makes it perfectly aromatic.
This Coconut and Lemon Fish Stew makes a perfect summer meal. I didn't get too bold with the spices, kept it very light with a few black mustard seeds and turmeric powder for that sunny color to fit the season. If you don't have lemon leaves, just add a good quantity of lemon zest and squeeze in lemon juice at the end for that perfectly refreshing smack.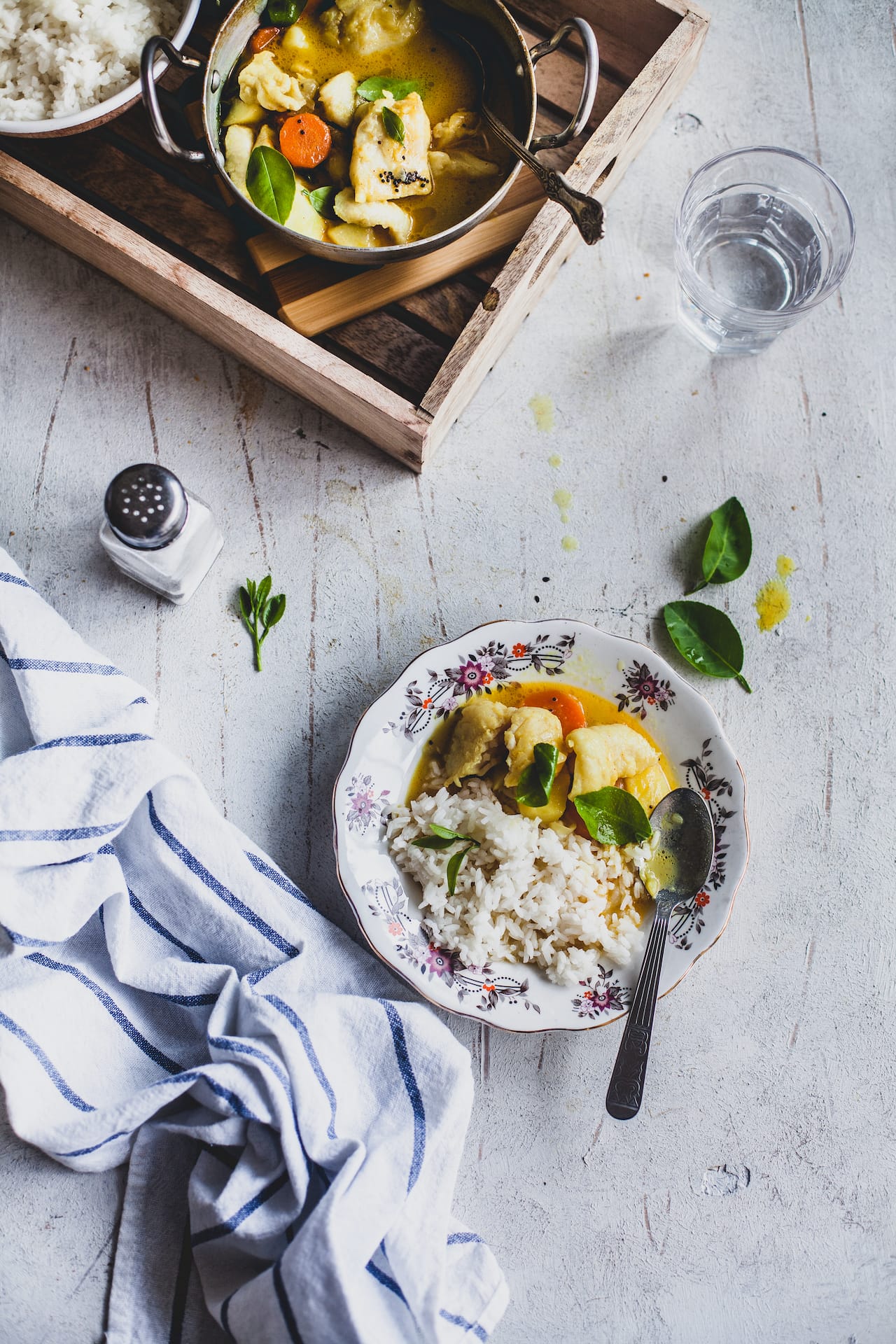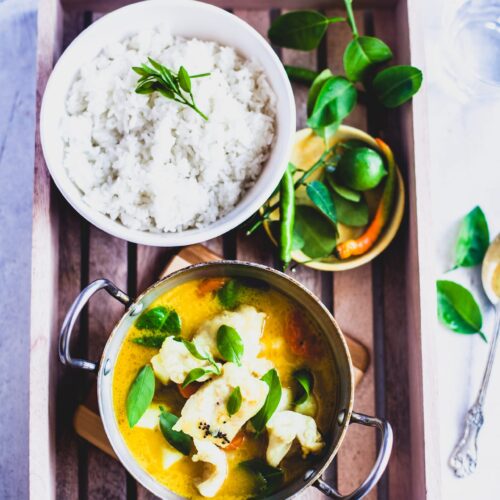 Coconut and Lemon Fish Stew
Ingredients
1

or 2 fillets of soft white fish

(cut into bite size (I used Basa))

1

medium onion

(thickly sliced)

1

medium potato

(cut into bite size)

1

large carrot

(cut into bite size)

1

cup

vegetable or fish broth

200

ml

can of coconut milk

few tender lemon leaves/zest and juice of 1 lemon

1

teaspoon

black mustard seeds

1

teaspoon

turmeric powder

salt

pepper

oil
Instructions
Heat little bit of oil in a deep saucepan and scatter the black mustard seeds. Once it starts to sizzle, drop the onion, potato and carrot. Add salt and give it a stir.

Pour the broth along with ½ cup water and bring it to a boil. Cover and let it simmer for about 20 minutes or until the potatoes and carrots are tender to bite.

Pour coconut milk in the saucepan. Then, add salt, pepper and turmeric powder. Drop the fish chunks and give it a stir. Let it cook for about 5 more minutes. Check for salt and add any, if required.

Finally, switch off the gas, drop the lemon leaves and give it one last stir. Cover and let it infuse for about 5 minutes.

Serve warm with rice or bread!
Nutrition