I have been ogling at Sonali's Instagram feeds and her blog Sugar et al for a long time now. The color pop that she adds to those desserts is always so mouthwatering and vibrant! I am so glad she agreed to share one of her stunning treats of my blog. Friand is one of my favorite types of cake and this particular Chocolate Hazelnut Friands with Chocolate Cream Cheese Frosting looks gorgeous! I am definitely going to give this a try as soon as I get back home.
Chocolate Hazelnut Friands with Chocolate Cream Cheese Frosting by Sonali
Hello there! I'm Sonali from Sugar et al. This is the first time I am guest posting for someone in the 5 years I have blogged so you can imagine how I excited I am to be here.
I've admired Kankana's stunning and drool-worthy photography for as long as I can remember in foodie world. So when she asked me, I was like 'Hell yes, I will!' Thank you Kankana!
Started my blog Sugar et al. when I moved to Australia 5 years ago. Leaving behind a successful career in banking, I suddenly had all this time at my disposal whilst the Australian fresh produce literally blew me away.
I guess I was destined to start a food blog. I worked really, really hard and today I am fortunate to be able to turn my passion into a thriving career.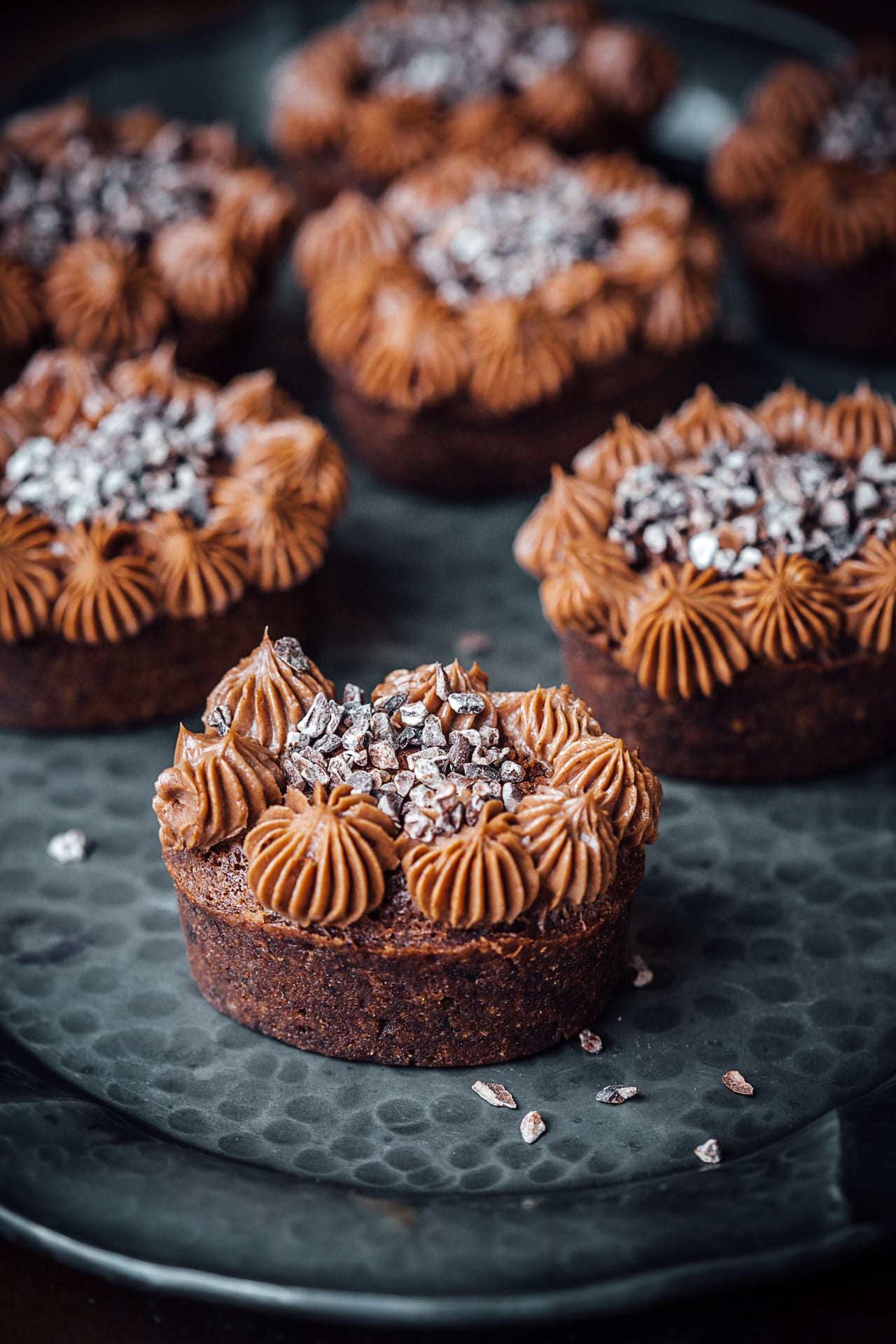 What are Friands ?
One of the things that I wanted to try when first I came to Australia were friands. I had seen them on baking shows and the idea of a cute little treat with nuts and egg whites hugely intrigued me.
Friands are nothing but French financiers which the Aussies like to bake in oval shaped moulds. They are so popular that you will find them at local cafes and bakeries even if you don't find muffins.
Ever since, I tasted them and then baked my first friands (in the same week), I have created many versions of them and played around with every possible flavour I could think of.
They are pretty versatile and most importantly an absolute fuss-free thing to bake. Generally friands are eaten plain but a little frosting does not hurt especially if it involves chocolate and cream cheese. It's all about texture, right? Nutty, crunchy friands with a melt-in-your mouth decadent chocolate frosting.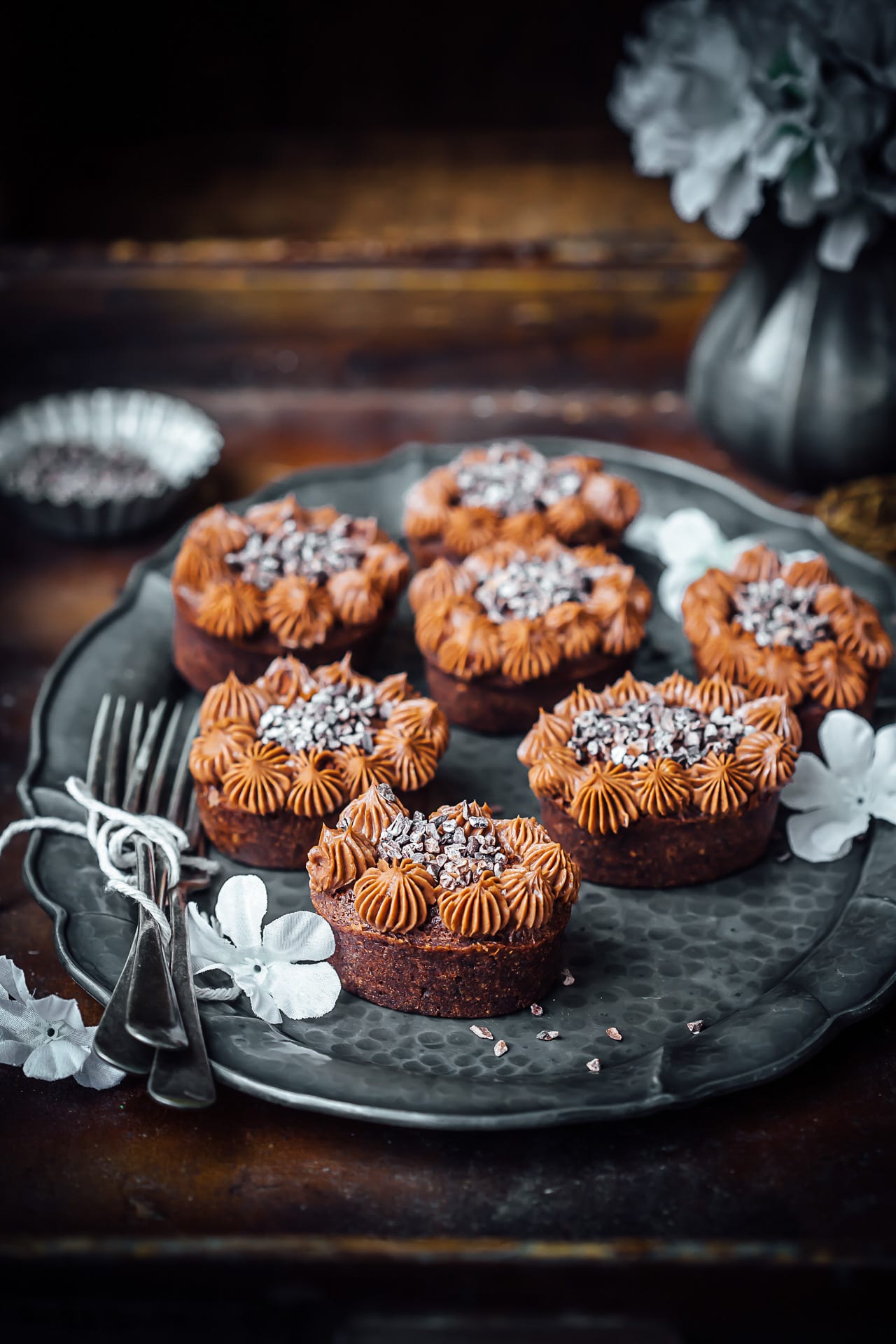 If you want to make these but do not have access to Friand moulds, a regular muffin pan would do. I have baked them in mini bundt cake pans too and they always come out perfect. I hope you like the recipe and give them a shot.
Chocolate Hazelnut Friands with Chocolate Cream Cheese Frosting
Ingredients
Chocolate Hazelnut Friands

5

egg whites

180

g

unsalted butter

(melted)

1

cup

icing sugar

1

cup

hazelnut meal

(ground hazelnuts)

¼

cup

plain flour

2

tablespoons

cocoa powder

(preferably Dutch processed)
Chocolate Cream Cheese Frosting
250

g

1 tub cream cheese

(room temperature)

120

g

unsalted butter

(room temperature)

2

cups

icing sugar

¼

cup

Dutch processed cocoa powder

1

teaspoon

vanilla extract
Instructions
To make the Chocolate Hazelnut Friands:
Pre-heat oven to 190 degrees C. Lightly grease 2 (6 capacity) friand trays with butter. If friand moulds/trays are not available, a muffin pan can be used as well.

In a large bowl, place the egg whites and whisk them lightly (we are looking for a frothy consistency, not peaks). Add the melted butter, icing sugar, hazelnut meal, flour, cocoa powder and whisk until combined.

Spoon the mixture into the prepared friand holes till about two-thirds full. Bake for 20-25 minutes or until cooked through (check with a wooden skewer). Remove from the oven, leave aside for 5 minutes, then turn onto a wire rack to cool completely.

Once cooled to room temperature, frost them with chocolate cream cheese frosting (recipe below). You could pipe or just spread generously. Top with cocoa nibs, chocolate chips or chocolate sprinkles. Enjoy!

To make the frosting, with a hand mixer or electric mixer, beat the cream cheese and butter together until smooth and creamy. Add the sugar, one cup at a time beating well after each addition until smooth. Add the cocoa powder and vanilla essence and whip till well blended.
Nutrition