Few days back, a friend visited us from India. She was here for some business meeting and in between, she took off some time to visit us. We met after a year, so you can imagine how much talking happened that day 🙂
She and I worked in the same department which involved frequent short travels. Most of the times, we had to travel alone but there were few trips where we got lucky and we were in the same project. During these fun trips together, she introduced me to some of the amazing dishes and interesting ingredients. I keep telling her even today that she is one of the main reasons why I started enjoying food!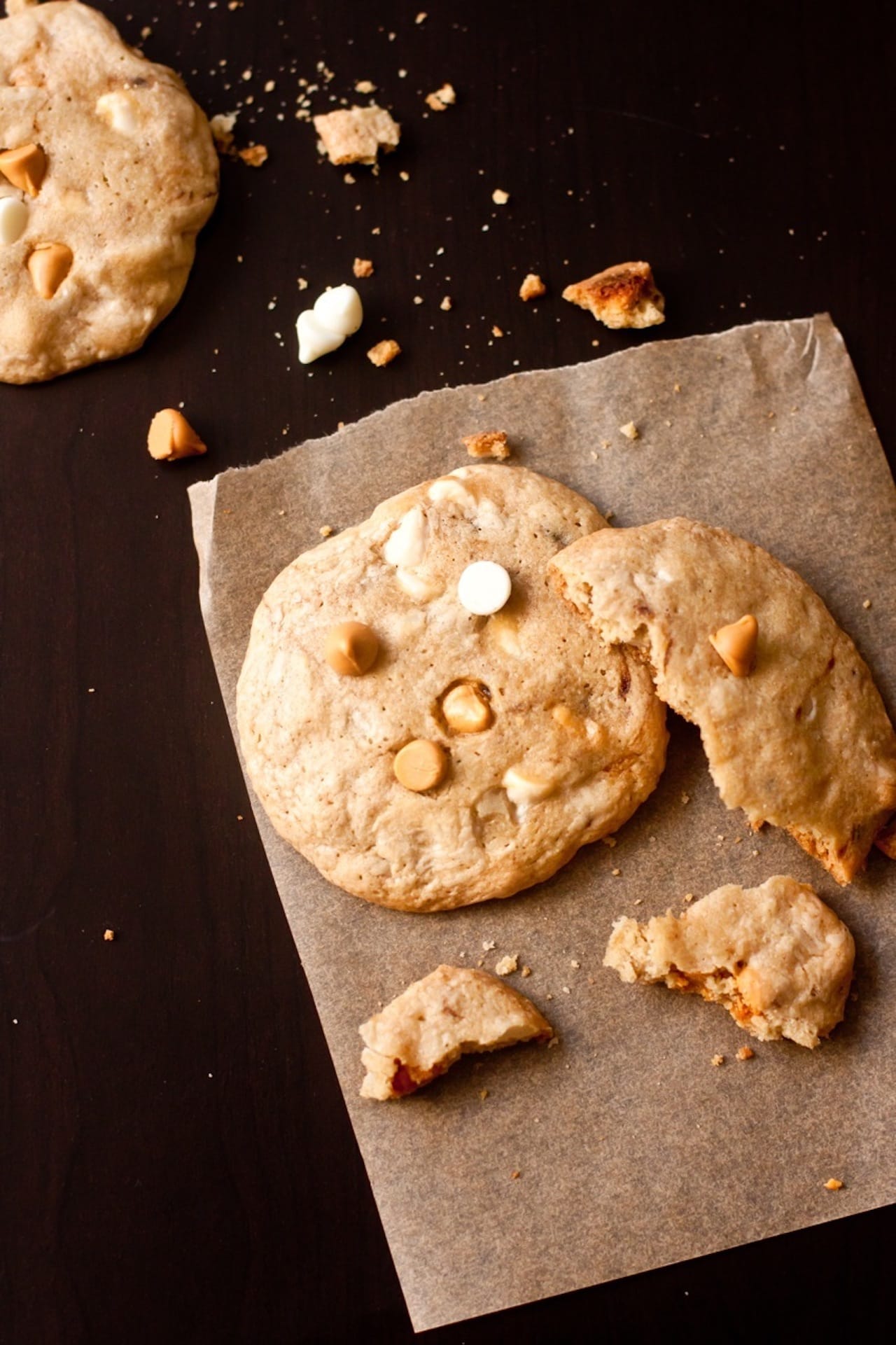 As soon she confirmed her visit, the first thing that came in my mind was what to cook for her!
I had just one day with her and didn't want to spend the whole day in the kitchen. So, I made something simple. There was some pesto pasta, crispy baked tilapia and a savory crostata. Well, no picture or recipe for those yet.. may be someday when I make it again.
For dessert, I thought of cookies because I could make them in advance, she could pack and take some with her and who doesn't like cookies, right?
The very first time I ate macadamia nut cookies were from Subway Restaurant. Eventually, it became my favorite and now every-time we buy subs, we pick up a couple of those cookies. They are buttery, soft, a little chewy with crunchy bites in between.. yummmy!
I didn't chop the nuts too small, just in halves or quarters. And I used white and butterscotch chocolate chips, but you can use whatever you like. Or skip the chocolate chips and let the nuts be the hero of the cookies.
I am not much of a baker and baking cookies has always been a challenge for me. It doesn't come out perfect all the time and luck always plays a very important role. This time, thankfully, it was in my favor and cookies came out really nice.
I agree that the shape doesn't look too fancy but it definitely tasted amazing 🙂
recipe adapted from here
Chocolate Chips Macadamia Nuts Cookies
Ingredients
2

cups

all-purpose flour

1

egg

1

egg yolk

¾

cup

unsalted butter

(softened at room temperature)

1-½

cup

sugar

½

teaspoon

baking soda

pinch

of salt

1

tbs

vanilla extract

1

cup

macadamia nuts

½

cup

white chocolate chips

½

cup

butterscotch chocolate chips
Instructions
In a bowl, mix the flour with salt and baking soda.

In a separate bowl, whisk the egg, egg yolk, sugar and butter until they are mixed properly.

Add vanilla extract and whisk again for a couple of minutes.

Pour the flour mix into the egg mix and mix them properly.

Add the macadamia nuts, white chocolate chips and butterscotch chocolate chips.

Then, mix it to the cookie dough using a rubber spatula.

Pre-heat the oven to 325 F and line a parchment paper on a baking sheet.

Using a spoon, drop a ball of the dough in the baking sheet.

Wet your hands and press the dough to flatten it a little.

Bake for 15 minutes or until the edges are slight brown in color. When you touch in the middle, it should not be hard enough.

Take out the sheet from the oven and let the cookie rest on the baking sheet for 5 minutes before you pick them up.

Let it cool completely before you store them in a jar.
Nutrition