Smooth and silky melting in mouth with the delicious combination of this Chocolate Cake Butterscotch Ice Cream is a summer treat you cannot miss. The ice cream happened by accident! Goal was to make an ice cream cake, that sadly didn't set as I hoping it would. So I just mushed it all up and made ice cream instead. Well, some cooking accidents leads to best treats.
Ever since I stepped into the world of motherhood, I have absolutely lost track of date and time. Morning, noon or night, all means the same to me. Days just come and goes by in a jiffy. Few nights back, as the pages of the calendar flipped from April to May, I suddenly realized that an important date was missed. I double-checked and yes, I definitely missed it.
My Blog Anniversary!
It was about two and half years back when I started sharing my recipes with the world through my blog Sunshine And Smile. And on 28th of April last year, I gave it a new name - Playful Cooking. You can read about it from here and here.
From then to now, so much has transformed. This blog has improved my cooking ability, made me explore the culinary world in a much more exciting way and also helped me step me into photography. A hobby that started to pass time after quitting job has now become my passion. The blog has not only kept me busy, it also made me more creative and gave me tons of friends. I am forever thankful to my friend Deepa and my husband, Arvind, for motivating me to start the blog and you guys to help me keep it running.
I miss sharing recipes as frequently as I used to do in the past. As you can understand, life's priority has changed and I am hoping some day in future, making more time for my blog would become easier for me.
Every celebration calls for a sweet treat and what I have for you today is perfect for the season.
How I made the chocolate cake butterscotch ice cream
The chocolate cake butterscotch ice cream happened without any plan. It was the result of an ice cream cake that I had prepared for my husband on his birthday. If you know me, you will know that I am not much of an ice cream fan. My husband, on the other hand, can survive on it! Butterscotch is his absolute favorite flavor. So, I baked a thin layer of chocolate cake and topped with home made butter scotch ice cream. I kept it for a long time but it didn't set good enough for a neat slice. So, we figured it's best way to enjoy it would be to mash it up and relish it as ice cream.
Trust me it was a very clever decision!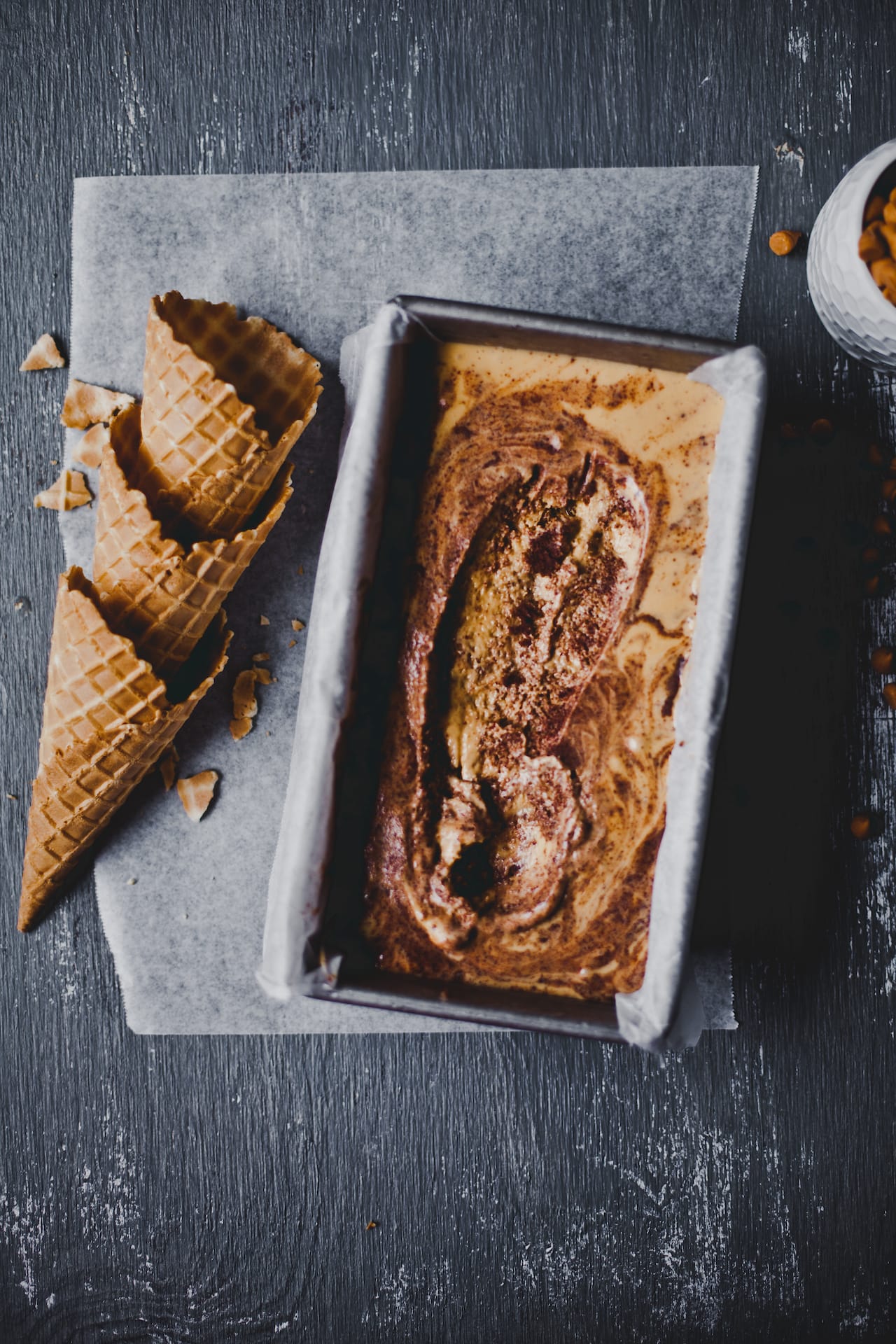 Texture of the Ice Cream
It has the smooth creamy butter scotch ice cream and in between we were getting the cake bites, giving a beautiful balance of texture. The taste was amazing and we loved it.
What goes in the chocolate cake butterscotch ice cream
The Chocolate Cake: The cake is a simple egg cake with cocoa powder. Nothing fancy but gave the perfect crumb.
The Butterscotch Ice Cream: I used butter scotch chocolate chips, mixed with egg custard and churned the way it should be.
Individually, both the cake and the ice cream tastes amazing, but together it tasted divine!
Chocolate Cake Butterscotch Ice Cream
Ingredients
for the Chocolate Cake
½

cup

flour

½

cup

sugar

¼

cup

cocoa powder

¼

teaspoon

baking soda

½

teaspoon

baking powder

¼

teaspoon

salt

¼

cup

milk

¼

cup

warm water

2

teaspoons

oil

½

teaspoon

vanilla extract

1

egg
for the Butterscotch Ice cream
3

cups

heavy cream

6

egg yolks

1-½

cup

sugar

1

teaspoon

vanilla extract

2

cups

butterscotch chips
Instructions
for the Chocolate Cake
Pre-heat the oven to 350F.

Whisk all the dry ingredients in a bowl. In a separate bowl, whisk egg with sugar. Add milk, oil and warm water to that and give a whisk. Pour the dry ingredients to wet ingredients bowl and give it a mix. Pour it in a 6-inch round baking pan and bake for 25 minutes.

Once the cake is cooled completely, crumble it and keep it aside.
for the Butterscotch Ice Cream
Whisk egg yolks with sugar until it's smooth.

In a saucepan, pour cream and bring it almost boil. Add butterscotch chips and stir until it's all mixed together. Add vanilla extract to the saucepan.

Now, pour ½ cup of the butterscotch cream mixture to the egg mixture, whisking at the same time. Next pour the egg mixture back to the saucepan containing the butterscotch mixture and give it a stir. Put it back on stove and let it simmer for 5 minutes or until it looks thick like custard.

Once done, let it cool completely at room temperature, and then refrigerate it overnight.

Finally churn it in the ice cream machine along with the chocolate cake crumble.
Nutrition