This is how I like to categorize spicy food.. 'Spice Spicy', 'Gingery Spicy' and 'Chilly Spicy' 🙂
All I need on my daily diet is a dish with lots of flavor and a hint of spice. However, there are days when I crave for nothing more than a super-spicy delicious homemade meal. Like chilly chicken or tom-yum soup or spicy chicken wings or roasted pepper dipping sauce. These kind of cravings mostly happen during cold winter.. Or when I have cold/fever and the medicines have killed my taste bud.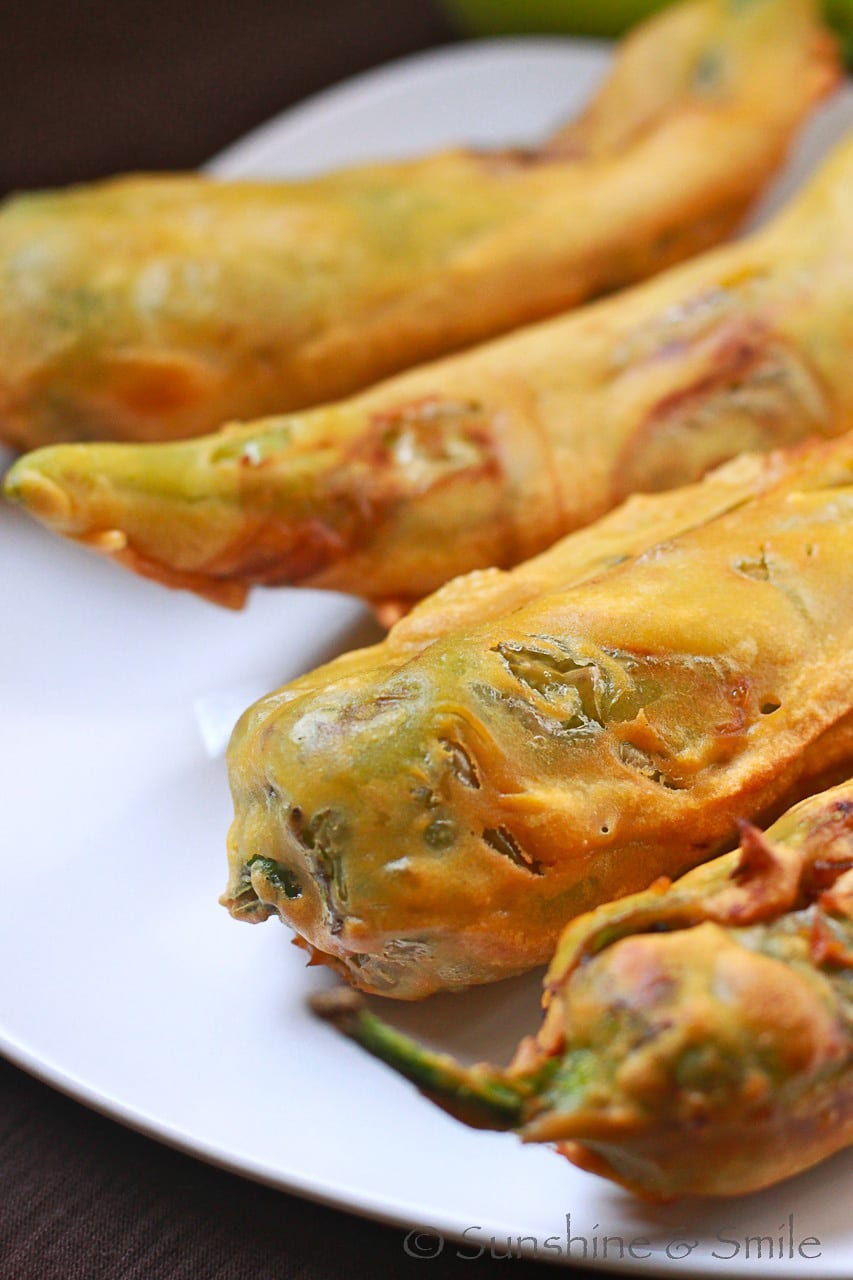 Yesterday was not one of those days.. I had no cold. Fit and fine, just back from gym. With a glass of juice, I relaxed on the couch and switched on my favorite cooking channel. Barbecue.. aah delicious!! The chef grilled peppers, mashed them and made a sauce.. Trust me, it looked mouthwatering. I was drooling at it and that's when the craving started. Clearly, 'the craving' didn't follow my protocol!
Turns out, neither did I. I made a spicy deep-fried Indian street food popularly known as 'Chili Bhaji' for our snacks on a warm spring evening.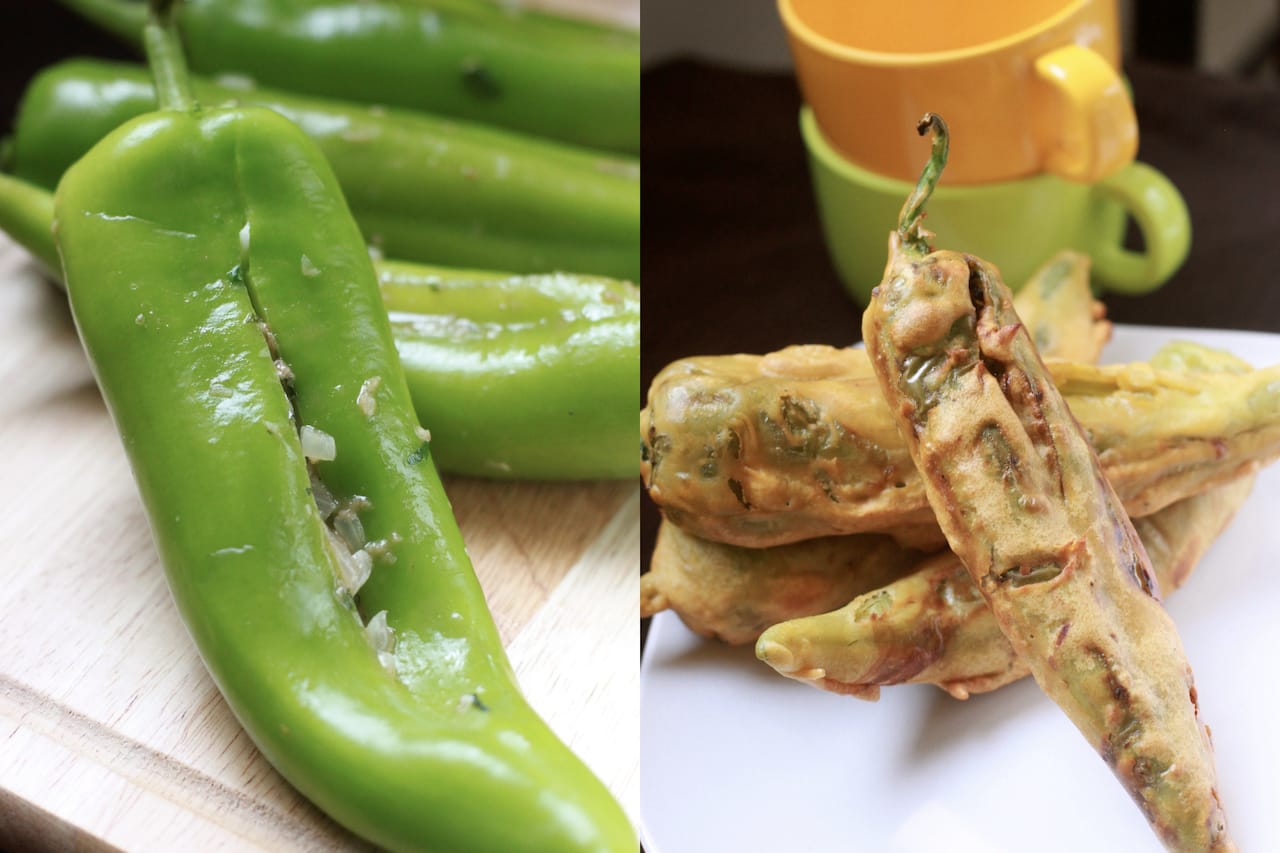 Last weekend, we picked some of these gorgeous humongous Anaheim Peppers. These chilies are very commonly available in India and we eat them in different ways. They are not too spicy and once you fry them, they taste a lot better. If you want to avoid the spice, remove the seeds and just enjoy the texture of the skin.
You can enjoy them as sauce.. or even in curry. But, the best way to enjoy these peppers is by biting into it. Ideally, Chilly Bhaji is either stuffed with mashed potatoes or it is just deep fried with some thick batter coating.
I stuffed it with something different and you will love it. This is one of my friend's recipe and I can't thank her enough for sharing this delicious snack bite. It's super easy to prepare. You can enjoy it with some dips or drinks or evening tea.. Like we did 🙂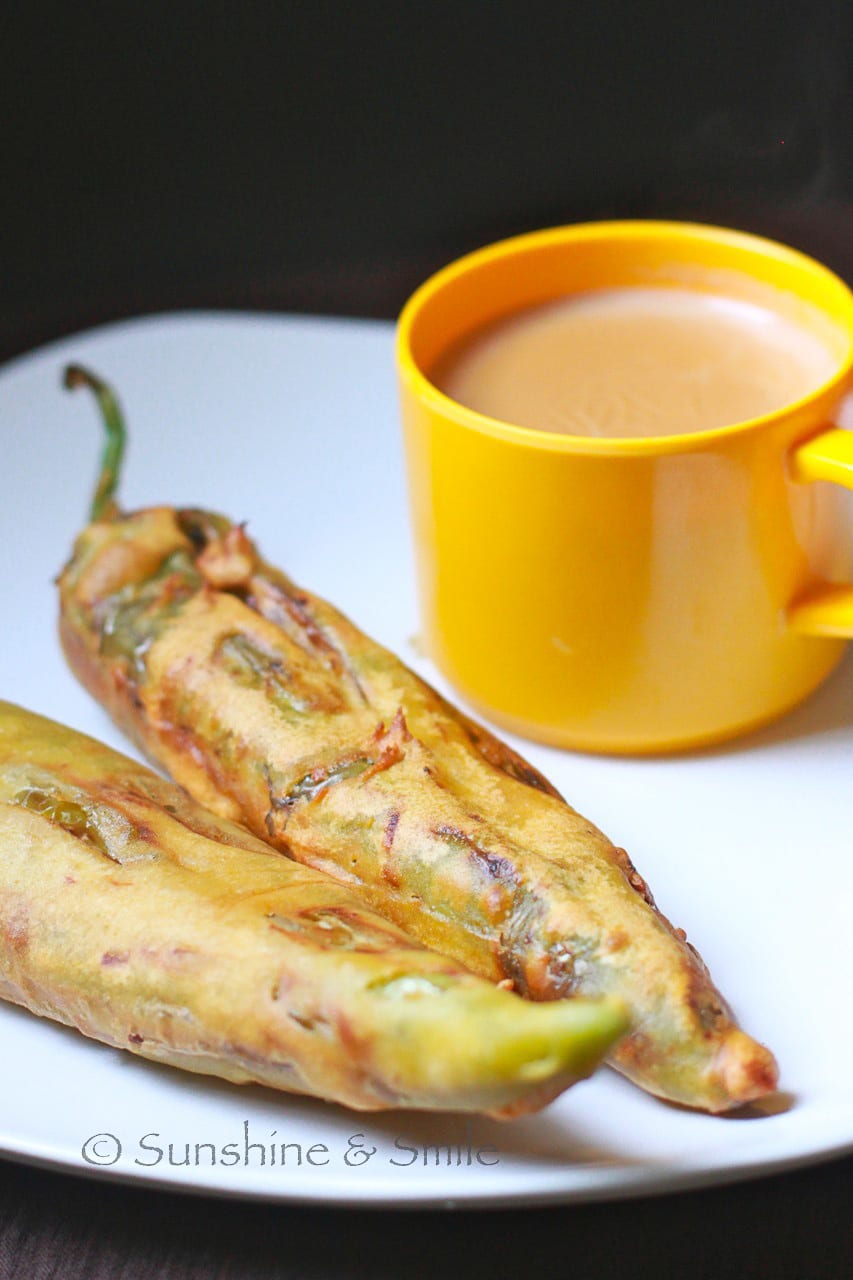 Chilly Bhajji / Deep Fried Peppers
Ingredients
4

anaheim peppers

1

onion

1

cup

cilantro

(finely chopped)

2

cloves

garlic

1

tbs

ginger paste

1

teaspoon

tamarind paste

1

tbs

chickpea flour/besan

1

teaspoon

cumin powder

salt

pepper

oil
Instructions
Make a slit on the peppers and remove the seeds slowly if you want to reduce the heat.

Using a food processor, grate onion, cilantro, garlic and ginger to a coarse paste.

Then, add tamarind paste, salt, pepper and cumin powder to the onion mixture.

Brush some oil on the peppers and stuff them with the mixture.

Bake them at 375 F for about 15 minutes. Just to soften them. This is however optional.

Take them out of the oven and let them cool down completely

In the mean time, mix the chickpea flour with some water and make a thick batter.

In a pan, heat enough oil to deep fry.

Coat the peppers with the batter nicely.

Fry them in medium heat for about 2 minutes until it's slight golden brown in color.

Serve them hot!
Nutrition