What is more tempting than a chocolate pudding? Chili chocolate pudding with grilled peaches! Yes, because it will make your taste buds jolt and then ask for more. Don't get worried if spice is not your best friend because this is not a spicy treat. At first, you get that luscious chocolate taste and then, the kick from chili hits the back of your tongue. Paired with grilled peaches, whipped cream and chili chocolate sauce, this dessert gets uplifted to a whole new level.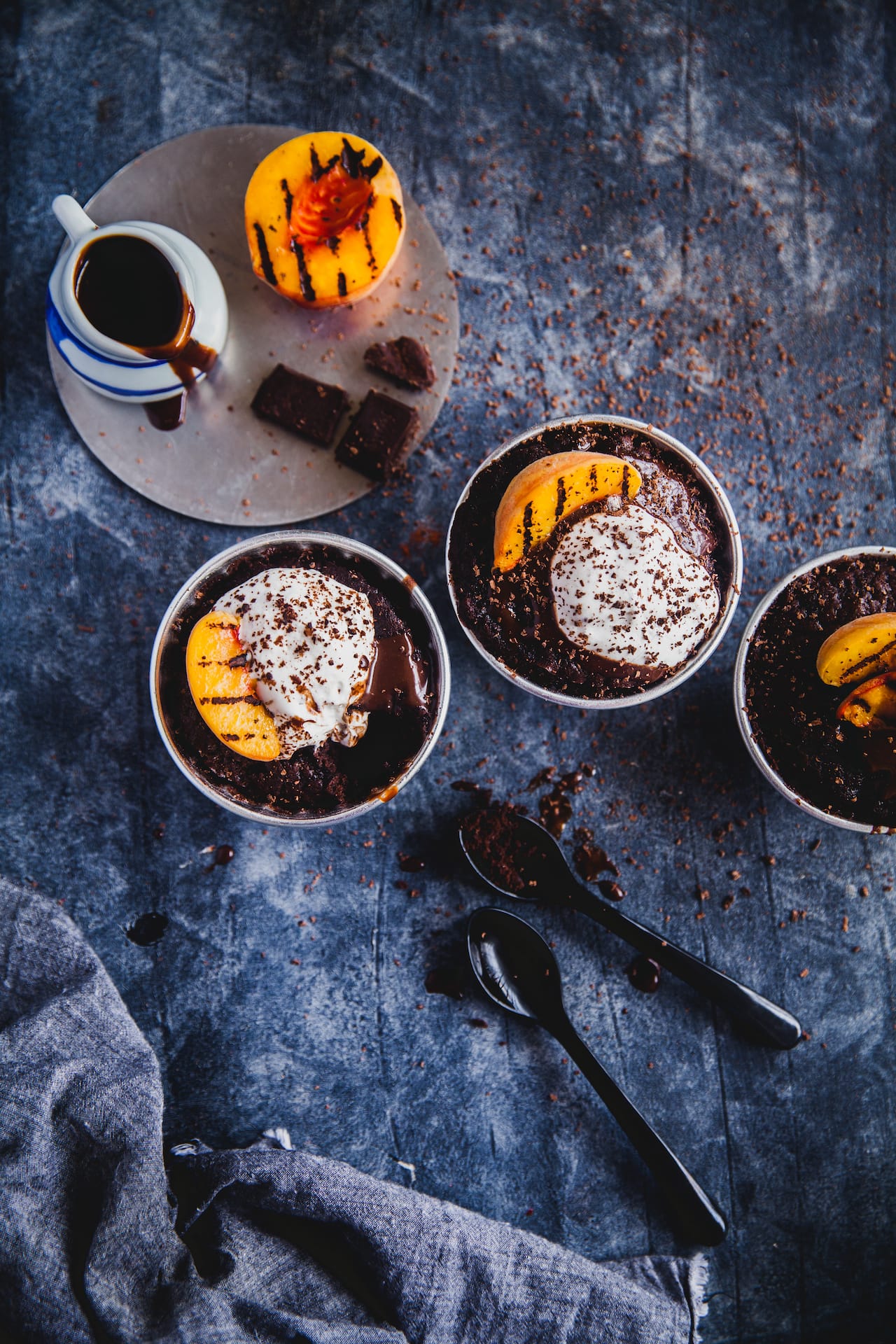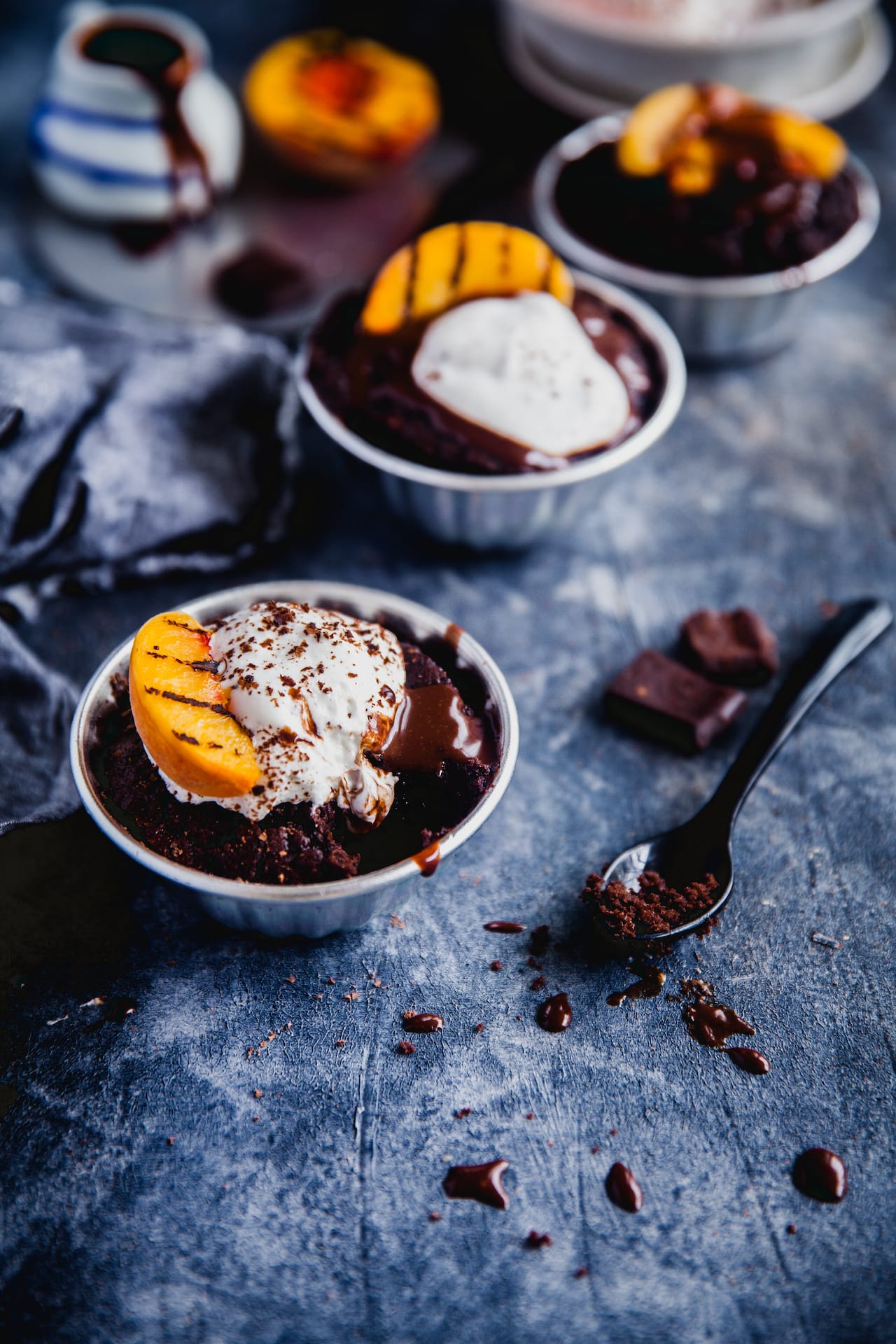 Last month, Better Homes and Garden asked for a dessert contribution starring Vitamin C for their August issue. I instantly thought of incorporating fruits and citrus was the most obvious choice. But then I learnt of other Vitamin C rich ingredients, like chili pepper! A good dose, if you use raw red chili and a fairly little dose, if you use the dry powder.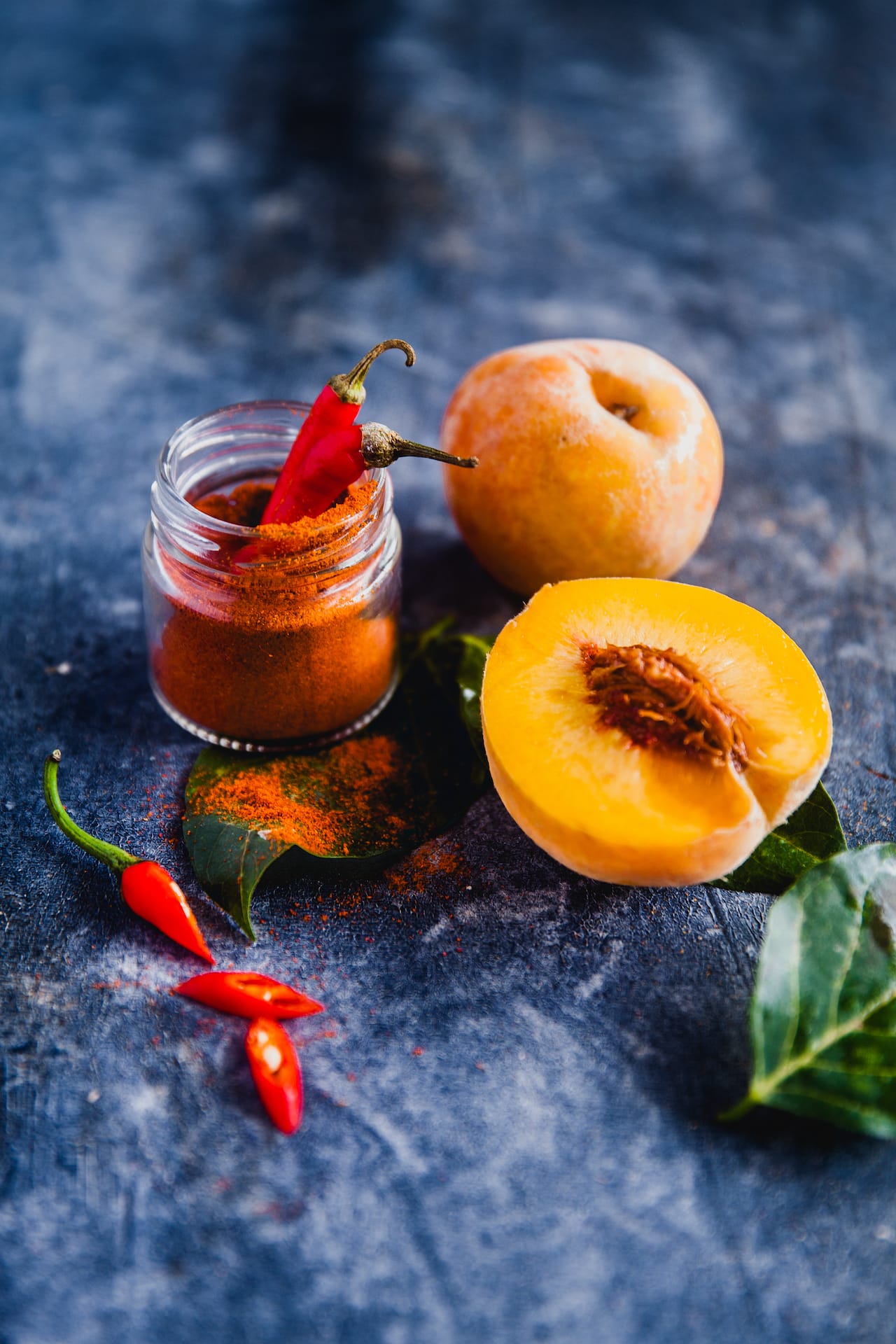 The combination of chili with chocolate is not unusual but it was definitely new to our palate. We loved the subtle heat with the rich chocolate. I gobbled a little too much than I should. The rich sweetness from grilled peaches and the airy whipped cream helps to balance the heat. Plus, peaches also have a good measure of Vitamin C.
If you haven't paired chili with chocolate, you should totally give it a go. Start with this easy pudding or just the chili chocolate sauce on ice cream and give your taste buds a good shake.
Chili Chocolate Pudding with Grilled Peaches
Ingredients
for chocolate pudding
¾

cup

all purpose flour

3

tablespoons

cocoa powder

½

cup

sugar

1½

teaspoon

baking powder

½

cup

milk

2

tablespoons

softened butter

1

egg

1

medium red chili

(frozen for at least 2 hours)

¼

cup

warm water

pinch

of salt
for chili chocolate sauce
50

gram

chocolate

2

tablespoons

water

1

teaspoon

chili powder
other ingredients
heavy whipping cream

2

peaches

(cut into wedges)
Instructions
Preheat the oven to 180C.

In a bowl, add flour, cocoa powder, sugar, baking powder and salt. Give it a whisk and then add milk, egg, softened butter and warm water. Whisk until it all comes together to form a smooth paste. Using a hand grater, grate the frozen red chili into the batter.

Scoop the paste into 4 oven-proof pudding bowls. Make sure you pour only a little more than half and not fill the bowls completely. This is because the pudding will rise as it bakes.

Put the pudding bowls in a baking sheet and bake it for about 15 minutes.

To prepare the chili chocolate sauce, melt chocolate in a microwave. It takes about 20 to 30 seconds. Whisk it a little and then, add chili powder along with water. Whisk again until it's smooth. Check for spiciness and if you prefer more heat, add more chili powder.

Before serving the pudding, whisk the heavy cream until it gets thick. Also, cut the peaches into wedges and grill it on a pan.

Drizzle the chili chocolate pudding with chili chocolate sauce, spoon some whipped cream and top it with a few wedges of grilled peach.
Nutrition