As I was glancing through Chef Todiwala's Spice Box cookbook, this recipe of potato, nut and paneer croquettes in spinach sauce caught my eye. It looked so good that I had to add that to my list. Now, I am not very good at following recipes to the point, so I gave my own little changes and made this Chenna Kaju Palak (Fresh Cheese Dumplings In Cashew And Spinach). The cheese dumplings were pillowy and the soft cashew and spinach sauce is a keeper.
Chenna Kaju Palak
Chef Todiwala made the croquettes with boiled potatoes and stuffed the cheese with nut mixture. I am definitely going to try that next time. I am sure that it will make for a great appetizer with a dip. T
his time, I just wanted to go with fresh cheese dumplings. Also, he used assorted nuts but I went with just cashew.
This dish can easily be prepared with store bought paneer. You could grate the paneer to form the dumplings. But if you want the dumplings to be soft, you have to prepare fresh cheese.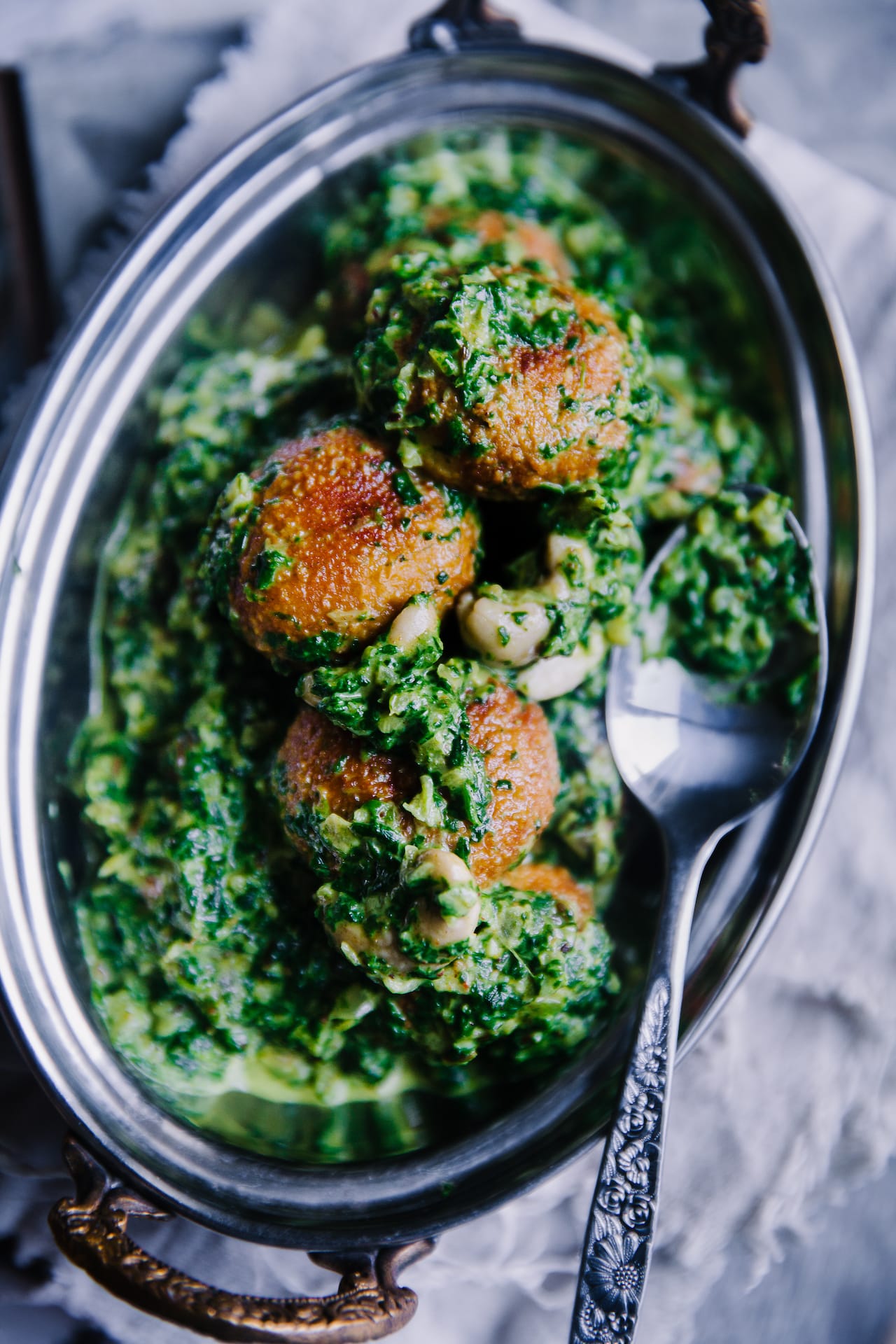 Last year, my weekly meal plan helped me a lot. There was barely any food wastage and my refrigerator would get empty every Friday. I enjoyed the ritual. But then, life got a little chaotic and that meal plan board was hanging empty for several months. From last week, I started the habit again and I am already feeling amazing about it. Now, the meal plan always involves glancing through cookbook, blogs, food websites and of course, addressing my boy's request.
Here is a video to tell you how easy and quick it is to make the fresh cheese at home.
As a kid, I never liked drinking milk and so, Ma would make fresh cheese (Chaana/Chenna), sprinkle some sugar on top and I was a happy bunny. Thankfully, Avyan still enjoys milk and I never needed to make Chenna at home. The store-bought paneer was good enough for paneer dishes. But when I was testing recipes for my cookbook, I made a lot of Chenna and completely fell in love with the process.
In our family, we love spinach and we love cheese. So, this meal made us very happy, including my little boy, who of course preferred the cheese dumplings more than spinach.
Here's a tip on how to retain that gorgeous green shade from spinach. Just add a pinch of baking soda when you boil the greens. Even after cooking the greens, the vibrant shade will be retained for several hours. Thanks to my friend Farrukh for sharing the tip.
Chaana Kaju Palak (Fresh Cheese Dumplings In Cashew And Spinach)
Ingredients
3.3

oz/100 g baby spinach

pinch

of baking soda

1¼

cup

fresh chaana/chena

¼

cup

cashew

1

tablespoon

poppy seeds

1

teaspoon

salt

3

tablespoons

oil

1

teaspoon

fennel seeds

½

teaspoon

cumin seeds

½

cup

finely chopped onion

1

tablespoon

grated garlic

½

tablespoon

grated ginger

pinch

of sugar

½

teaspoon

turmeric

1

teaspoon

chili powder

½

teaspoon

cumin powder

½

teaspoon

coriander powder

½

teaspoon

fennel powder

2

tablespoons

fresh crème

1

teaspoon

butter
Instructions
Place a heavy bottom saucepan on high heat. Pour enough water to boil the spinach. Once the water comes to a boil, drop the spinach along with the baking soda and let it boil for 2 minutes. Drain the spinach using a colander and keep it aside to used later.

Knead the fresh chaana/chena for 7 minutes or until the texture becomes smooth and your hand feels a little oily.

Using a coffee grinder, grind the cashew and poppy seeds.

Take half of the cashew and poppy seed powder and mix it with the fresh cheese. Sprinkle ½ teaspoon of salt and knead it once again for about a minute. Make 8 to 9 dumplings from the mixture.

Place a heavy bottom pan on medium heat and pour 2 tablespoons of oil. Once the oil heats up, place the dumplings carefully and fry for 1 to 2 minutes on each side till it looks golden brown. Once done, keep the dumplings aside.

To the same pan or a separate one, pour rest of the oil and sprinkle the cumin seeds and fennel seeds. Let it sizzle for a few seconds and then, drop the garlic, ginger and onion. Sprinkle a pinch of sugar and cook for 3 minutes.

Add the chili powder, cumin powder, coriander powder and fennel powder. Stir and cook for 4 to 5 minutes.

Next, puree the boiled spinach and add it to the pan. Sprinkle the remaining cashew and poppy seed powder. Stir and cook for 2 minutes. Cover the pan as the spinach will bubble up and start to splatter.

Finally, pour the cream and add the fried cheese dumplings. Drop the butter into the pan and cook for 2 more minutes.

Serve warm.
Notes
Chaana/ Chena tends to get hard as it cools down. Make sure to reheat the dish before you serve it. You could either microwave it for a minute or use the stove top.
Nutrition