Since the time my cooking craziness started, I have been cooking, baking, cleaning, chopping, blogging, cooking (oh yeah! I said that already).. but you get the message, right? I am either cooking or thinking of what to cook. Recently, one of my friend saw my blog and she asked me that which types of food or cuisines am I presenting in my blog? Type of Cuisines.. Ehh!! what !! well, mmmm... hmmmm!! WOW .. that's serious thinking! I never thought that i should have a theme for my blog... Is it required? What do you guys say? Do you guys have a theme? Let's just say that I cook what I crave for and I crave for every edible thing under the sun.. How crazy does that sound? 😀 Having said that, I can never eat something that doesn't look appealing. I mean, don't you eat with your eyes first?
Anyways, this is what happened in my life yesterday..
Hubby: How do you make a cake?

Me: You need... (I explained the basic ingredients to him and wondered if he is seriously asking me the question)
He made notes (I know.. NOTES) and then, about an hour later, he was in kitchen and I was not allowed to enter. It was actually happening.. He was baking a cake 🙂 You guys must be thinking that if Arvind also got the cooking craziness. Well, NO! He loves to eat and at times, he comes up with some recipe but that is all. Once in a blue moon, he gets all excited and wears the head chef cap in our tiny kitchen. I had no clue that he was seriously going to bake a cake. I couldn't help myself. So, i peeked in the kitchen and took some clicks. It was very special to me. No one had ever baked a cake for me on my Birthday, except for my Mom.
What do I love the most about baking? The way it fills the house with the beautiful aroma. Yesterday, the whole house was filled with scents of vanilla and chocolate and we both were enjoying it SO much! I have baked a lot of cakes but I have never done an icing job and whenever I tried, it was always a huge disaster. Personally, I don't like cake with icing. I like it plain, out of oven, fresh.. that's all. But Arvind wanted to do the icing too and you can see how cute it looks 😀 I was laughing the entire time and he was embarrassed to share it with anyone because it looked like it was done by a 5 yrs old kid. Well, Men don't grow much, do they? 😀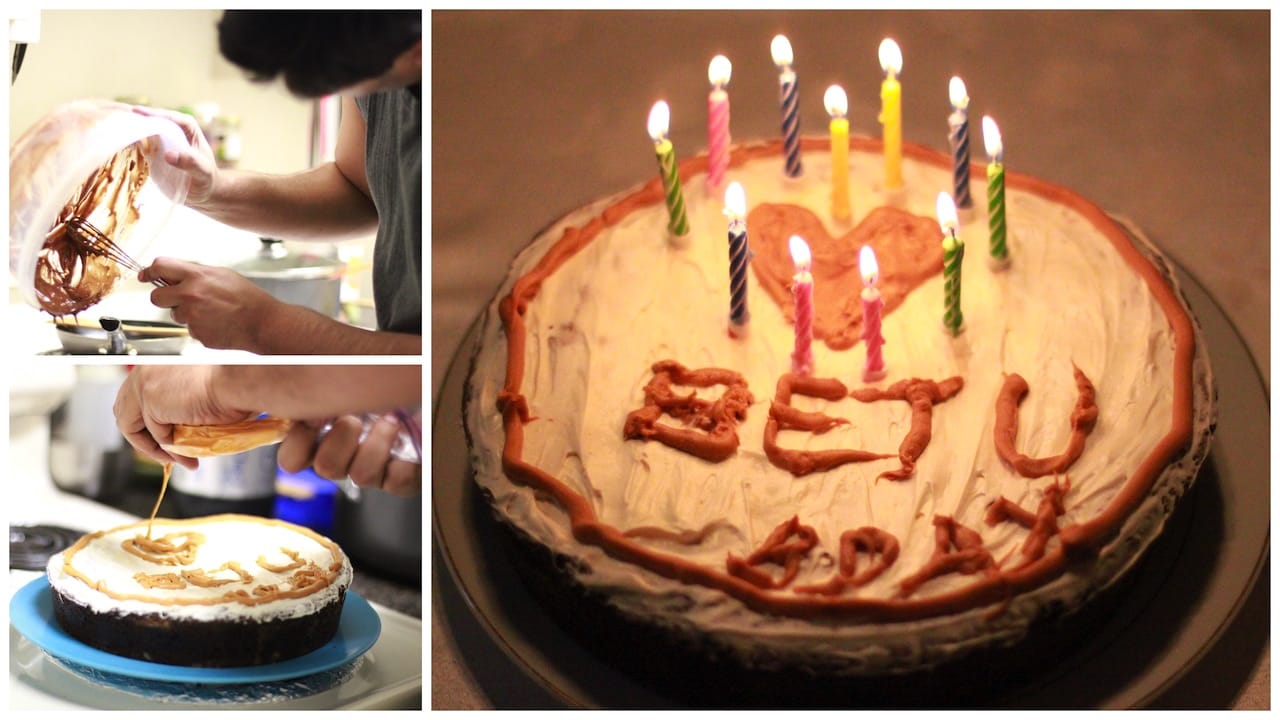 Bitter Sweet Chocolate Cake with Pecan Nuts
Ingredients
1

cup

all purpose flour

(plus extra to dust the baking pan)

3

eggs

1

cup

sugar

½

cup

vegetable oil

(plus extra to grease the baking pan)

½

cup

butter

½

cup

bitter sweet chocolate chips

¼

cup

white chocolate chips

½

cup

coco powder

1

tbs

baking powder

1

tbs

vanilla extract

½

cup

finely chopped pecan nuts
Instructions
Mix all the dry ingredients in a bowl (flour, coco powder, baking powder and pecan nuts).

In a separate bowl, mix the eggs with the sugar and then, mix the oil to it.

In another bowl, add the bitter chocolate chips and butter and microwave it for 30 second to melt it.

Now, add the egg mix to the dry ingredients and whip it properly.

Next, add the melted chocolate to it and keep whipping till it's smooth.

At last, add the vanilla extract and mix it to make sure there are no air holes.

Grease your baking pan with some oil and then, dust it with flour.

Pour half of the content in the baking pan and then add the white chocolate chips. Then, pour the rest of the content in the pan.

Bake it at 375 F for about 55 minutes. Poke with a tooth pick or a chop stick to make sure it comes out clean.

It was very tasty, moist and delicious. Nothing can beat a plain and simple chocolate cake! Happy Birthday to Me 🙂
Nutrition
Sharing it with Tip Day Thursday Carnival, Cooking Thursday - #9